Lynx Vs. DCS Professional BBQ Grills (Reviews/Ratings/Prices)
Professional outdoor BBQ grills deliver an incredible amount of high BTU power to cook anything quickly and thoroughly.
Most now have 50-pound rotisseries. Think about that. Fifty pounds is like a small mammal.
The very pinnacle of grills is the Kalamazoo brand with its hybrid draw. It's probably the single best cooking product you can buy outside or inside your home.
That's when you learn the only downside of pro grills - their price tag. The price for that Kalamazoo starts at $10,000.
However, there are several incredibly good grills in the next tier of high-power pro grills for far less.
You should consider Hestan, Alfresco, Wolf, Lynx, DCS, and Viking.
The two most popular professional grills in that same tier are Lynx and DCS.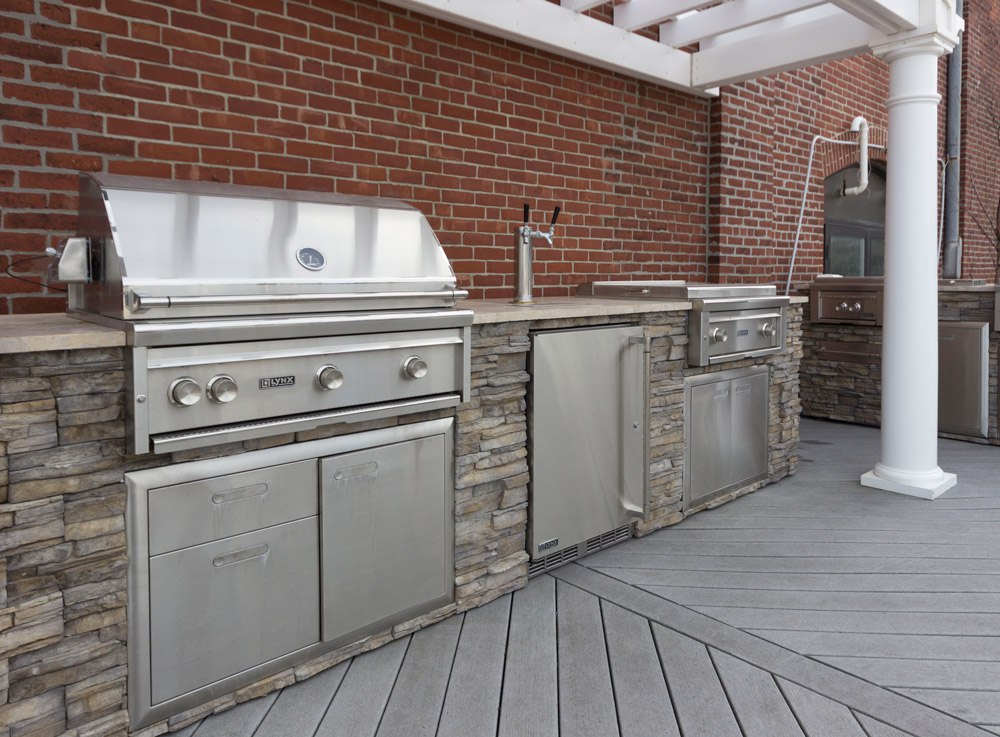 Lynx Professional Built-In BBQ Grill and Outdoor Kitchen at Yale Appliance in Boston
They both have new grills and features since we wrote this post four years ago.
In this article, you will learn about both companies, their best products, and then we'll compare each grill.
Unlike most of our articles, one brand is better than the other.
It will be a fun read if you like to grill. At the bottom, there will be a grill buying guide and other helpful articles about the most popular grill brands.
Let's get started.
Lynx
I had to buy it.
Before we opened our Framingham store, I was at a trade show. The Lynx salesman showed me the first-ever talking grill.
You talk to this grill, and it cooks the way you want the food prepared. It will tell you when to flip that burger and will figure out over time how you like your food.
It resides in the pagoda in our Framingham store.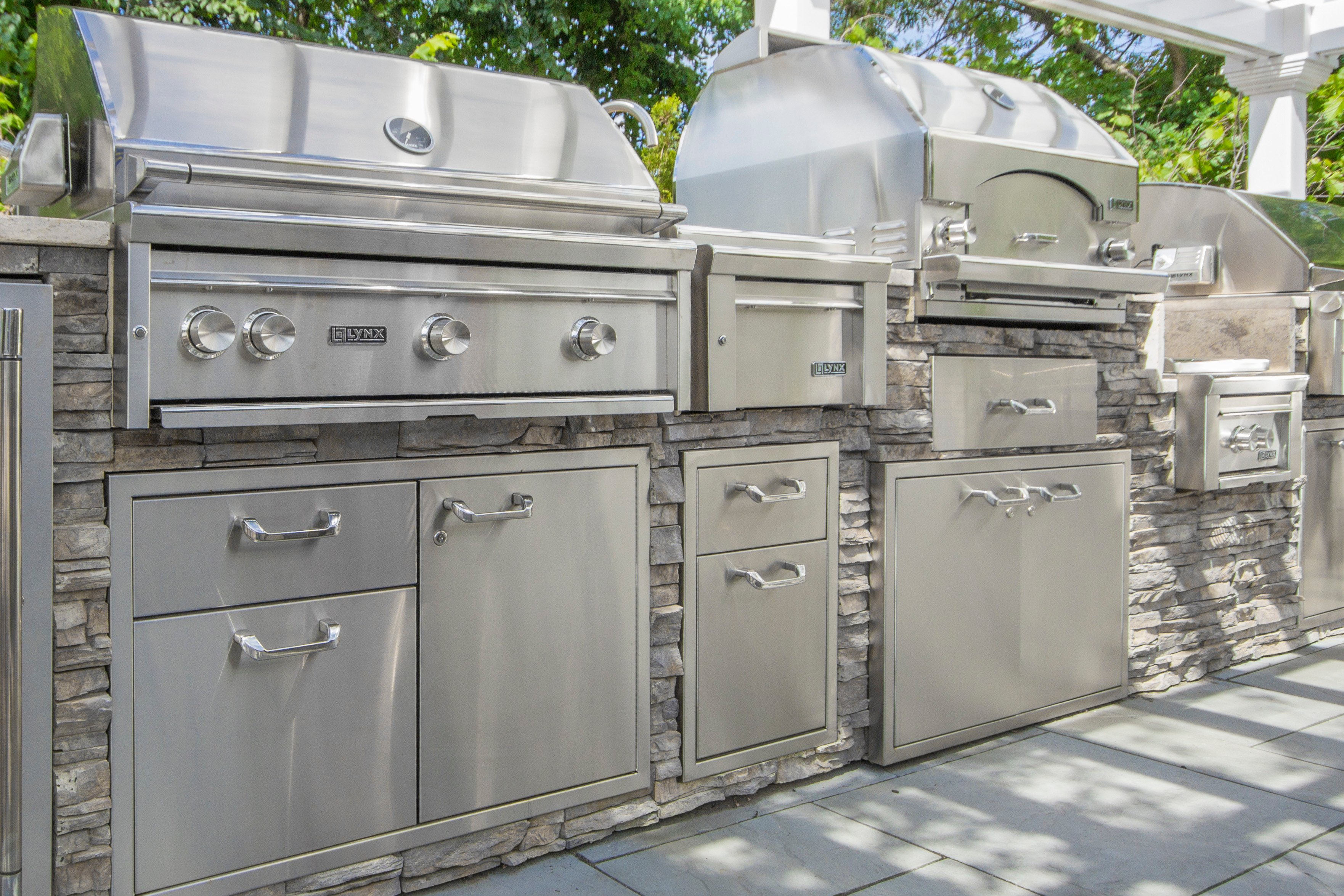 Lynx Built-In Professional Grill and Outdoor Kitchen at Yale Appliance in Framingham
Not too many people talk to it anymore. Now Lynx has developed a whole line of Smart Grills with better functionality.
However, such is the technology and capability of this company.
Lynx ( and Weber) are the pioneers of backyard grilling in the US, with Lynx being the first professional grill.
Lynx is now part of the Middleby company. However, their old president is now the head of Middleby's entire residential division.
Lynx BBQ Grills
Lynx has two lines - their Professional series and lower-priced line, the Lynx Sedona.
The Pro is US made versus the imported Sedona with better features like hotter BTU burners, better-infrared sear, and rotisserie.
The Professional is a better grill, whereas the Sedona is a decent, lower price grill with decent features.
Lynx is available in 54, 42, 36, 30, and 27-inch sizes. You can buy the grill in a cart as an accessory or build in the grill to an island.
Let's look at Lynx's most popular grill in 36 inches.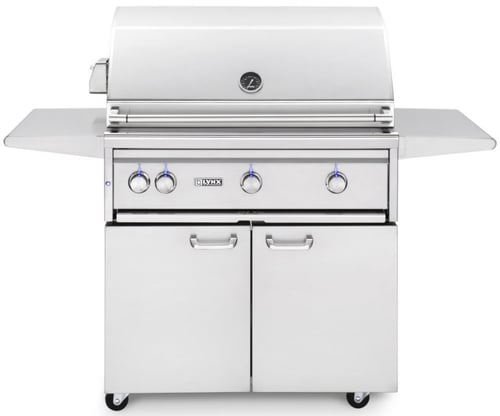 Features:
Precise power-one Trident™ Infrared Burner and two Cast Ceramic Burners combining to provide up to 73,000 BTU
Reliable speed-the Hot Surface Ignition system lights burners quickly and safely
Perfect clarity-dual halogen grill surface lights
Quick visibility-temperature gauge
Easy opening-Lynx Hood Assist Kit
Impeccable precision-with a dual-position rotisserie internally powered by a heavy-duty three-speed motor, and a rear infrared burner delivering up to 14,000 BTU
Indulgent extra-premium smoker box included
Ample capacity-935 square inches of cooking surface (640 primary, 295 secondary)
Beautiful illumination-backlit blue control knobs
Steady performance-heat-stabilizing design
Smooth opening-fluid rotation handle
Premier platform-stainless steel grilling grates
Steadfast durability-heavy-duty welded construction eliminates gaps where grease can collect
You can buy a Lynx 36-inch grill four different ways:
Two gas burners and one infrared burner
All gas burners
All infrared burners
All infrared burners and smart control.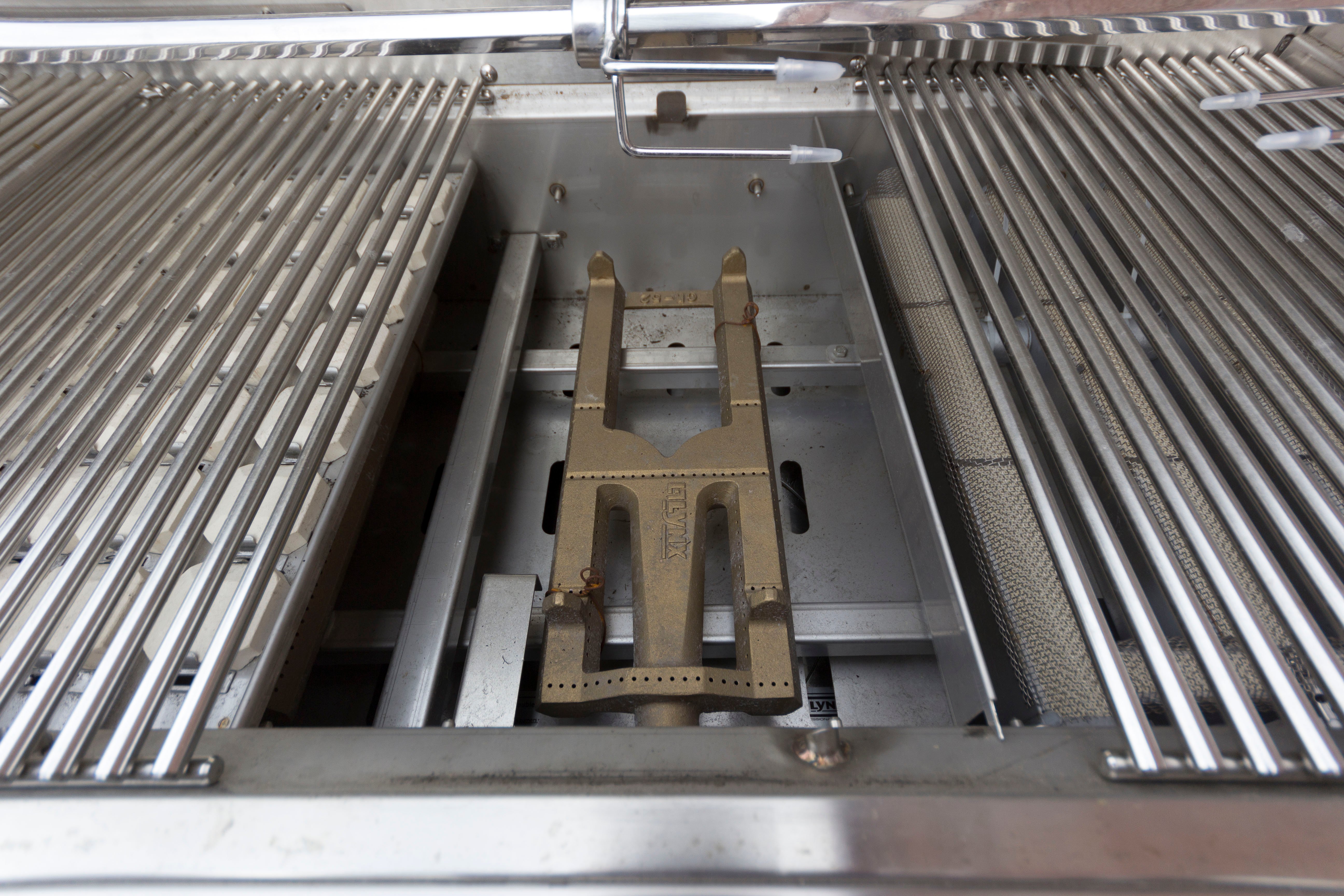 Lynx Trident Burners and Ceramic Briquettes On Display at Yale Appliance in Boston
Infrared Vs. Regular Gas burners
Infrared is a more focused, hotter, and more direct heat than a regular gas burner. Regular burners diffuse or spread the heat.
Infrared is easier to clean. Any residue or drippings evaporate due to the extreme heat from the infrared burners.
What's The Difference Between Infrared And Traditional BBQ Grill Burners [VIDEO]
However, you will cook faster in the infrared, so you have to be more careful not to burn your food.
Lynx has the best infrared burner because it's adjustable from 300-1000 degrees. At lower temperatures, you can cook less dense foods like fruit (love grilled pineapple) or veggies versus just a steak.
Smart Grill
The talking Lynx grill has evolved a bit. MyChef now incorporates recipes. Choose a recipe and the grill will cook it for you. It does send alerts when to flip that burner or when the food is cooked.
DCS
DCS was a strong number 2 to Lynx for premium grills. They sold to Fisher & Paykel after the last recession. Then Fisher & Paykel was sold to Haier more recently.
Haier is a huge Chinese appliance manufacturer best known for buying the GE appliance division. DCS's long term prospects are bright because Haier innovates so quickly.
DCS BBQ Grills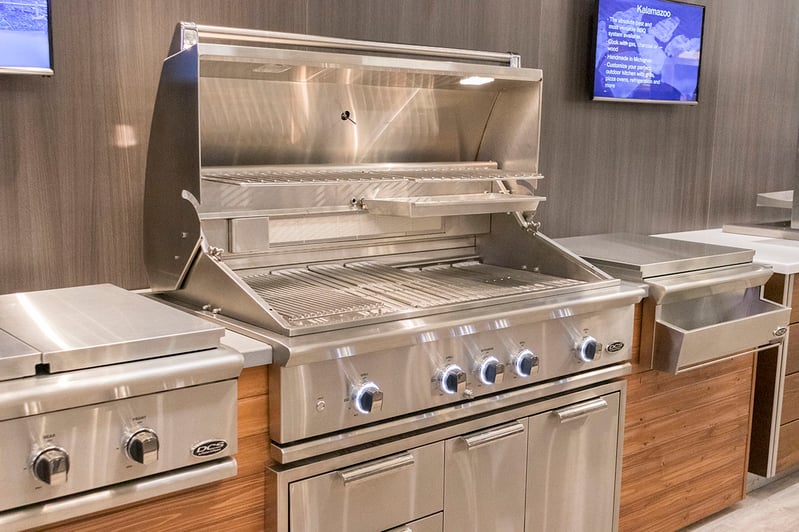 DCS Built-In Grill On Display at Yale Appliance in Framingham
DCS manufactures three grills the series 9, Series 7, and Series 7 Liberty grills.
Differences Between Series 9 and Series 7 DCS Grills BBQ Grills:
Series 9 has a charcoal tray. If you have never cooked with charcoal, it adds the smokey flavor and better texture than a charcoal grill. Series 7 has the smoker basket allowing for the smokey flavor without the texture.
Series 9 has better stadium lighting
Series 9 has a better secondary cooking area
Differences Between DCS Series 7 and Series 7 Liberty BBQ Grills:
They are the same grill. You just buy the Liberty in components. Thereby being "liberated" from buying the traditional grill.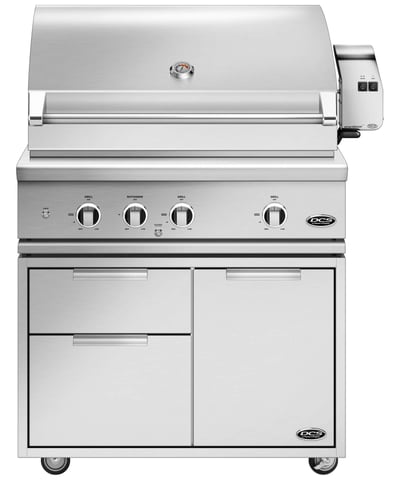 The Series 9 built-in grill is an excellent all-around grill. The charcoal tray is unique in the industry.
Lynx Vs. DCS Professional BBQ Grills
What They Have in Common
1. BTU output: The output is the same at 25,000 BTU output per burner.
2. Rotisserie: Both can handle 50 pounds of meat. They both have 14,000 BTU infrared burners on the back to evenly cook the food on the rotisserie.
3. Ceramic rods or briquettes: Both use ceramics to increase heat. DCS uses rods while Lynx uses pyramid briquettes.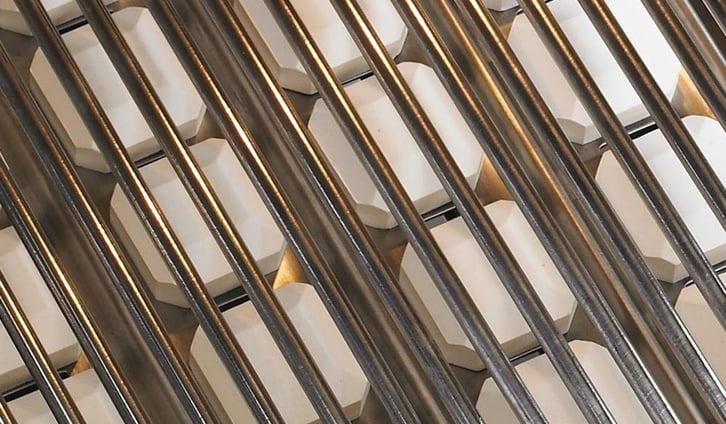 Lynx Pro BBQ Grill Ceramic Briquettes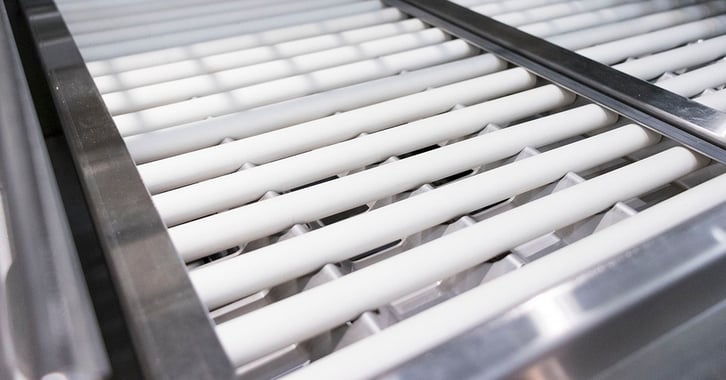 DCS Pro BBQ Grill Rods
4. Easy opening tops: In the old days, you needed to work out to lift the tops of these, now both can open with one finger.
5. Stadium style lighting: Both are well lit.
Differences
1. Composition of burners: DCS is steel, whereas Lynx is ceramic. At first, I was skeptical about a ceramic burner. However, this burner is excellent. It replaced Lynx's solid cast iron burner, which was the previous standard.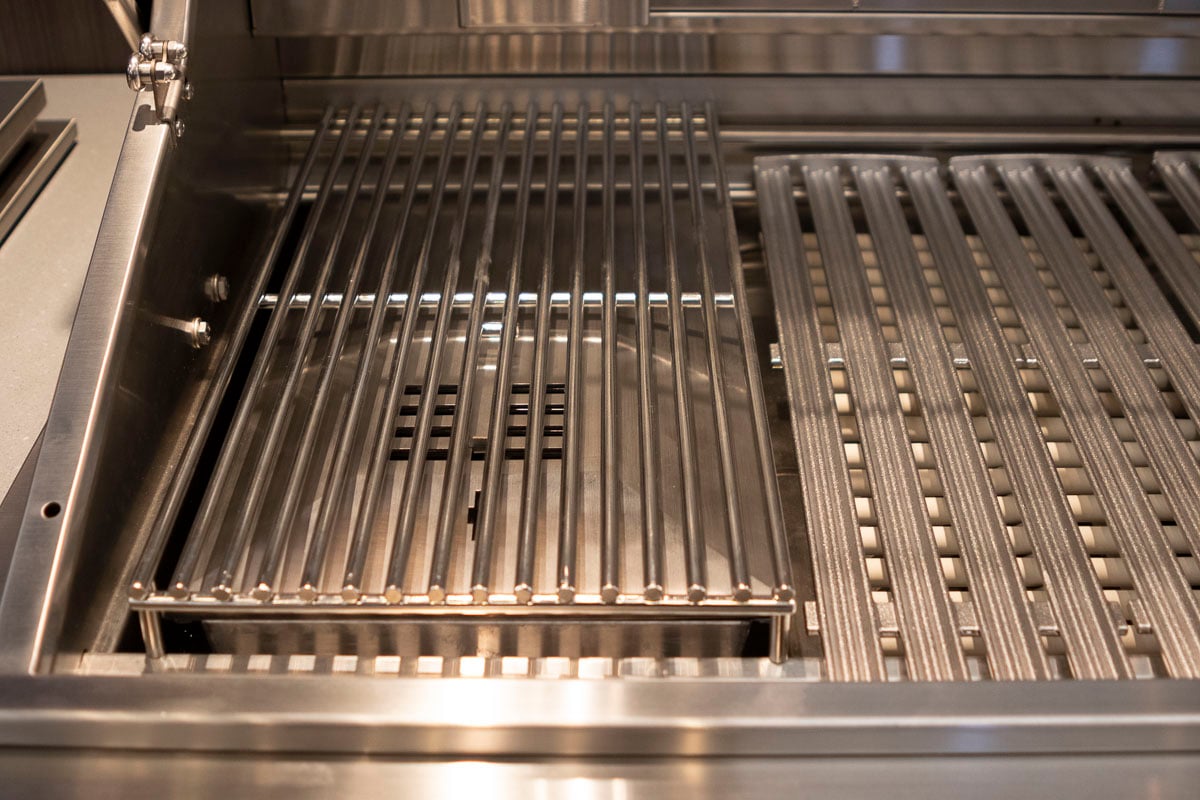 DCS Pro BBQ Grill Grates And Burners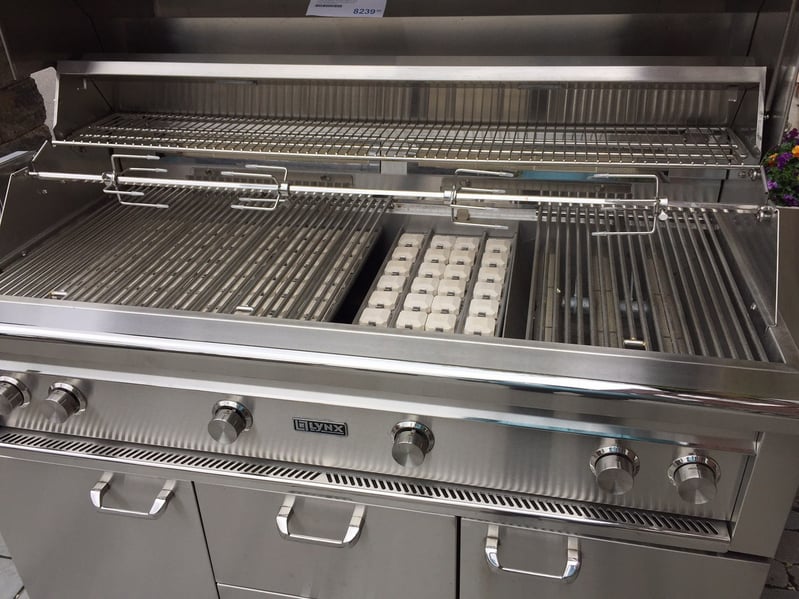 Lynx Pro BBQ Grill Grates and Burners
Ceramic doesn't weather. Even the cast brass would weather after ten years or so. The flame ports are also underneath, not on the top, so the drippings will not flow into the burner itself and lessen output.
2. Charcoal tray: Charcoal is an excellent way to add texture to your food. Lynx has a smoker box, but DCS is a bit better. You have smokey flavor plus the added texture.
3. Infrared Burners: DCS claims 1100 degree heat and that you can sear on every inch of the grill. One thousand one hundred degrees is hot, but it's not focused.
Infrared is a more focused heat. Lynx also has a temperature range of 300-1000 degrees, so it's the best for cooking every type of food.
4. Metal Composition: Perhaps the biggest difference between the two grills is the composition of the metal. DCS uses an 18 gauge metal, whereas Lynx uses a thicker 14 gauge.
How much does that matter?
Well, it depends on where you live. In Vegas, Arizona, and other drier places, it doesn't matter as much.
In Boston or any other coastal cities, it matters because of exposure to the ocean and more salty air.
Metal rusts. Even marine grade metal can develop small amounts of rust.
So the composition of the metal can be incredibly important depending on where you live.
Lynx Vs. DCS Professional BBQ Grills: Key Takeaways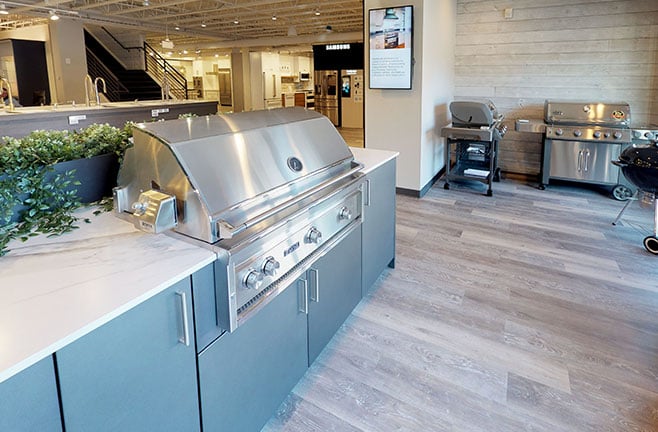 Lynx Built-In BBQ Grill And Outdoor Kitchen at Yale Appliance in Hanover
Both will grill well.
The specs are similar in terms of output as well for BTU, rotisserie, and burner output.
DCS has an interesting feature in the charcoal tray. It also has a great secondary space.
Lynx, however, is the better grill. It's designed better with better materials from the ceramic burners to the outside construction.
If you buy a Lynx, you should consider the Trident infrared burner. It's the best grill burner on the market.
Additional Resources
Want to learn more about BBQ grills? Read the Yale BBQ Buying Guide with differences between ceramic, gas and hybrid grills along with detailed profiles of Lynx, Alfresco, DCS, Kalamazoo, Weber, Broil King, and more. Well over 800,000 people have read a Yale Guide.
Related Articles
Why Should You Trust Us?
It seems that every appliance review has nothing but glowing comments about almost every product, yet you read customer reviews and they are almost universally bad.
We are here to fill in the disconnect. We'll give you the best features, and the drawbacks as well, including reliability based on over 37,000 calls performed by our service team just last year. Our goal is to give you ALL the information so you know what's right for you.
Please consider subscribing or adding to the conversation in the comments below. We appreciate you stopping by.
A Note About Pricing
Pricing on this blog is for reference only and may include time sensitive rebates. We make every attempt to provide accurate pricing at time of publishing. Please call the stores for most accurate price.