Problems With Kalamazoo Grills (Reviews / Ratings / Prices)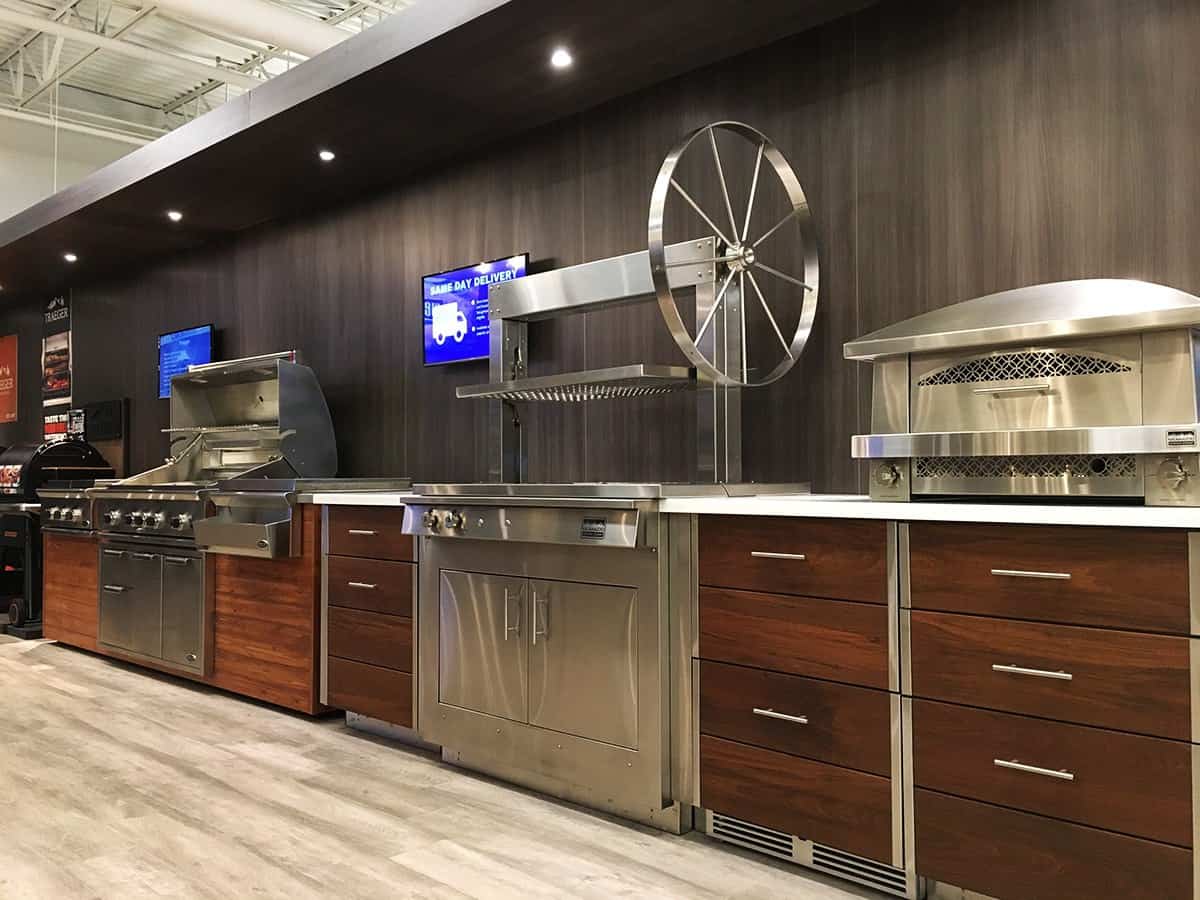 Editor's Note: You now have tons of blogs and information to base your decisions on just about anything. It must be hard in home improvement because you can't read anything objective.
Most bloggers and stores love everything. They tout features you will never use or keep you from understanding the reliability of anything.
Consumer reviews are harsh because everyone hates everything usually with good reason. The service you would expect from an Amazon is the antithesis of what you get in the appliance business.
Most appliance stores have no tech support and certainly no service technicians Even minor problems became significant issues and sources of discontent.
We circumvent that somewhat by dedicating 160 out of our 220 staff to service and technical support.
However, one of the main problems is buying an expensive product you would never use or use sparingly.
We thought we would write a few posts about premium products and their problems. Then you can think twice about plunking down $15-20,000 when there may be better alternatives for you at half the price.
The first article will be about Kalamazoo grills. Without question, this is the best grill made.
In this article, we will tell you why it may not be the best grill for you.
Short on time? Get our free BBQ Buying Guide
Your New Grill
You remove the cover, and to your horror, the grates are rusted, and the grill looks rough from using it all season.
So, you head down to your closest appliance retail store because you know this time around, you won't make the mistake of buying a "regular" grill. You want the look, power, and control of a professional grill.
You've weighed your options, and you have narrowed it down to a Kalamazoo grill. They are premium, gourmet, and expensive. They are powerful and can be constructed out of marine-grade stainless steel.
Not to mention, they are rated as the best high-performance grill you can purchase.
When purchasing a grill, you want to make sure it will fit your lifestyle, grilling style, and that your grill will be reliable.
Kalamazoo grills are incredible overall, but as we all know, nothing can be 100% perfect. We will talk about some of the unknown problems with Kalamazoo grills, and if they are worth the investment.
First, let's talk about why Kalamazoo grills are the best.
Kalamazoo Grills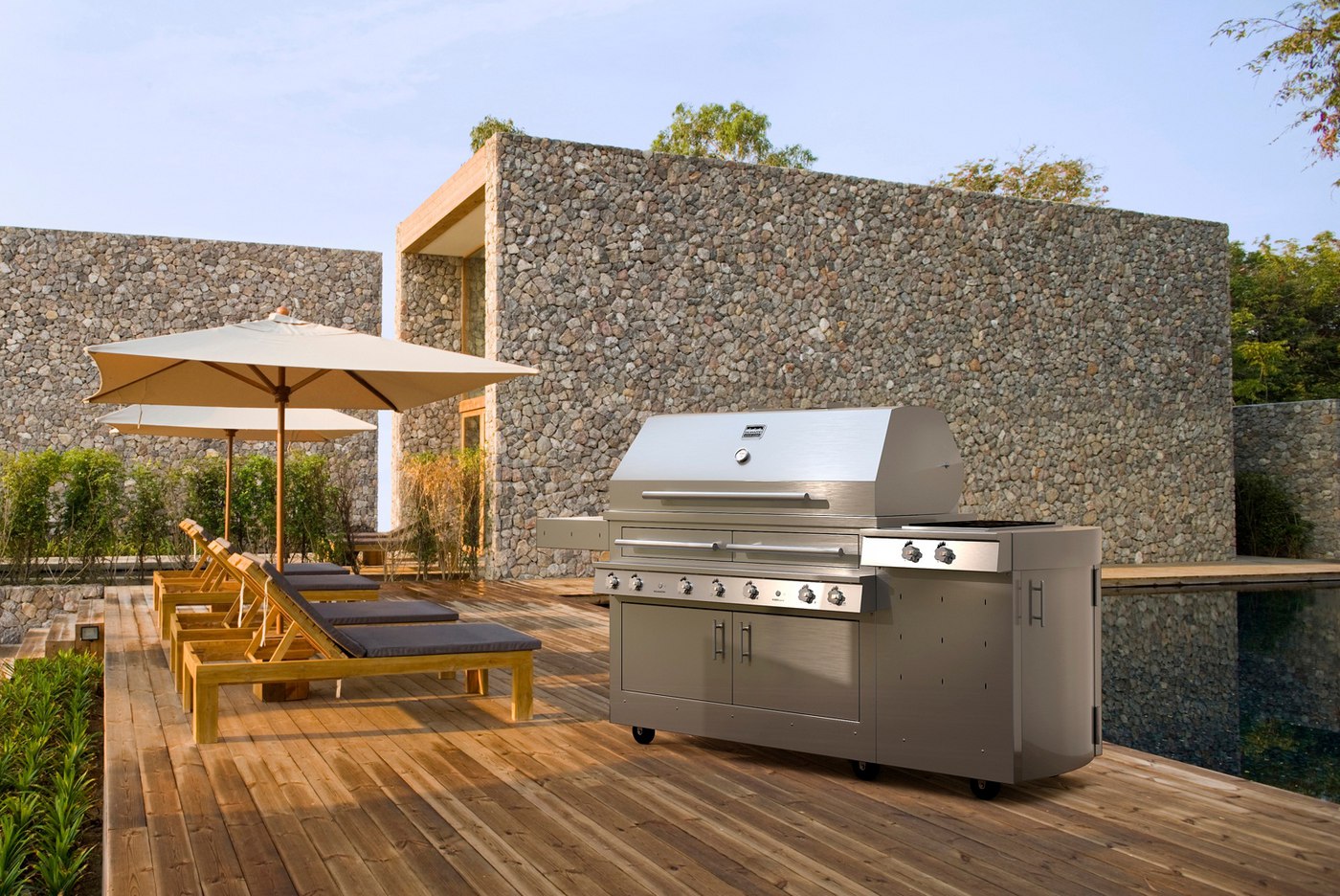 Kalamazoo Freestanding Grill
Each grill has its strengths and weaknesses:
Gas grills will be fast, but the food lacks texture and flavor.
Charcoal is fast and will give you texture, but lacks speed. You also have to spread the charcoal properly and refill the grill as well as remove the ash.
Wood will give flavor and texture as well but lacks speed. Most of the time, you would need wood and charcoal in combination.
Wood pellet grills do not grill but cook as an outside convection oven with flavored pellets. They cannot sear or char food like charcoal or gas.
Kalamazoo Hybrid
The hybrid drawer allows you to cook with all three. You have the speed of pro-gas along with wood and charcoal.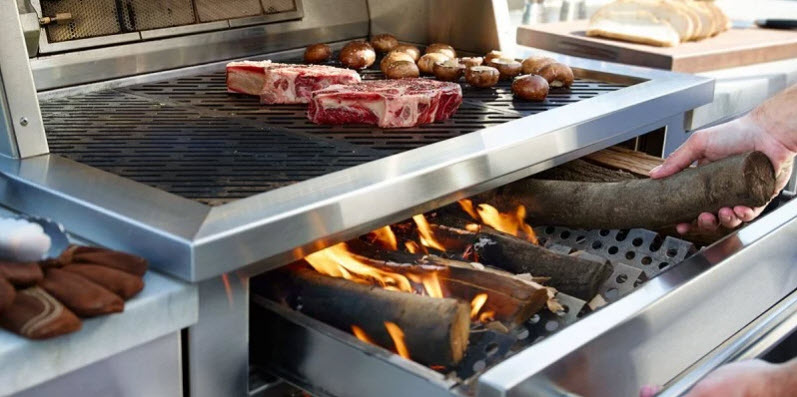 Kalamazoo Hybrid Drawer
That's the main benefit of Kalamazoo: Quite simply, the food tastes better without the problems of cooking with charcoal or wood.
Kalamazoo Hybrid Fire BBQ Grills [VIDEO]
Convection
If you open a Kalamazoo grill, you will notice its deeper than a Lynx or Hestan. That allows airflow to cook more evenly using a natural convection.
Handmade
A Kalamazoo is made for you. The grates can be customized with your initials if you want. They are made to a more exacting standard than any other grill on the market.
Furthermore, Kalamazoo grills are backed by a 25-year warranty that can be transferred. Meaning, if you move to a new home and leave your grill behind, the new owners can use the warranty.
Built For The Coast
If you live near saltwater, then buying a grill will have future issues.
Metal will rust and corrode unless you clean and cover it every time you grill. Even if you clean or cover your grill, you will still have some corrosion.
For that reason, Kalamazoo manufactures a grill with "marine grade" metal designed for saltwater conditions.
Marine grade, or type 316 stainless steel, is coated with Selenium to prevent rusting and corrosion. However, you will still have some surface rusting (industry term teabagging).
Now, here is why you shouldn't buy a Kalamazoo.
Problems With Kalamazoo Grills
1). Price
Kalamazoo grills are handmade from the finest materials in Kalamazoo, Michigan. They are known to make the most rugged and high-performance grills on earth.
That sets high expectations; as it should. But luxury comes at a price. Kalamazoo's entry-level built-in grill, K500HB, is priced at $14,595.00 in 304 stainless steel (regular), and $18,975.00 in 316 (marine-grade stainless).
Kalamazoo Hybrid Fire Built-In Grill K500HB - $14,595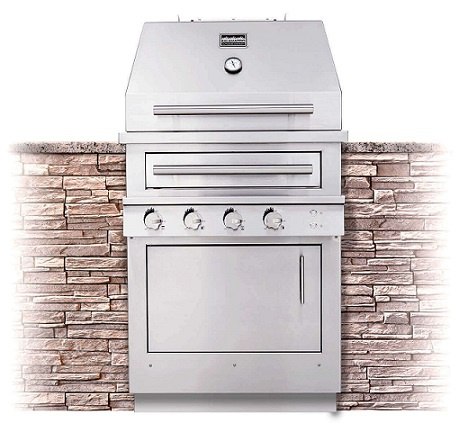 Their entry-level freestanding grill, K500HS, is priced at $21,995 in 304 stainless steel. But that model only has two burners, and that is a high price.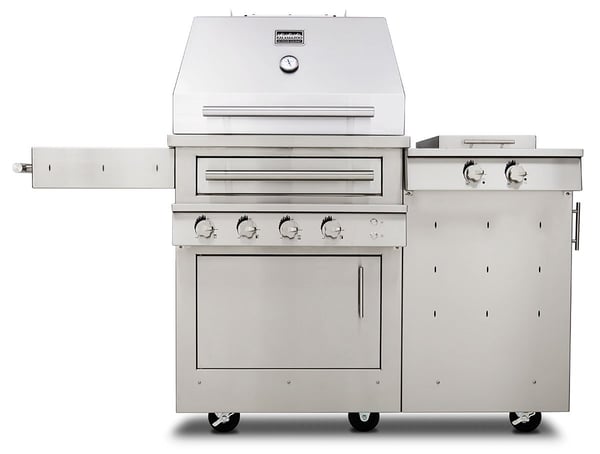 You can buy four and a half Lynx grills at that price.

You should also consider how you grill. Kalamazoo sells hybrid grills, meaning you can cook with many different fuels such as charcoal, wood, and gas.
If you are not cooking using the other fuels, then you should reconsider the brand.
2). No Sear Zone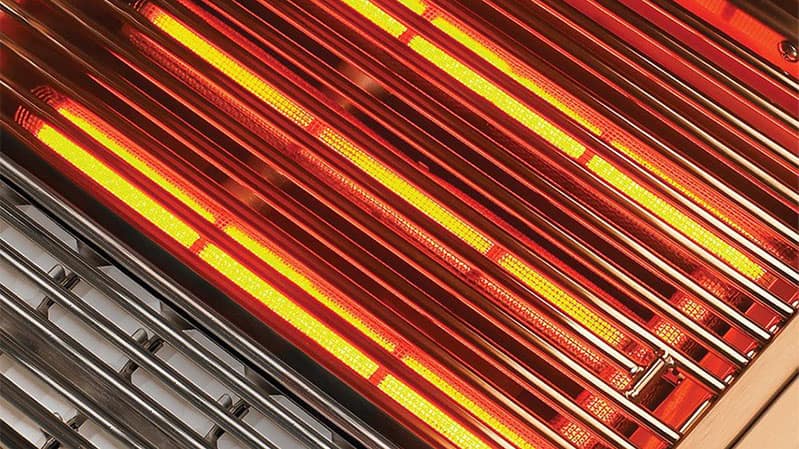 Lynx Infrared Burner
Unlike Lynx and Hestan, Kalamazoo does not have a true infrared sear burner. Infrared is an intense direct heat.
However, it should be argued with gas, charcoal, and wood. Kalamazoo has better heat through the grill. Like DCS, it does not need an infrared to sear evenly.
Still, if you are used to a sear burner, I suppose this counts as a problem.
3). High Fuel and Electricity Consumption
You can cook a full turkey on these grills in about an hour. Due to the intense power of 154,000 BTUs, a Kalamazoo grill can suck a propane tank, that should last about 18-20 hours, dry in 2.5 hours. This means that you will have to stock up on fuel if you are planning on hosting.
You will be spending a fair amount of money just to run the grill since refilling bulk propane tanks frequently is expensive. You may even have to double the gas lines capacity to accommodate rapid fuel consumption.
Kalamazoo grills also require electricity to power the ignition, rotisserie, and lights that shine down onto the knobs.
I do not consider this to be a major problem because the grill does have a backup box that runs off one AA battery.
Also, it's not too difficult or costly to put an outlet outside, but finding an electrician can be a pain.
4). Difficult To Use Depending On The Grill Type
Kalamazoo sells an incredible Wood Fired grill that is inspired by Argentinian wood-fired grilling. This grill is unique as it allows you to cook over a live fire. This will give you incredible tastes and flavor but can bring headaches.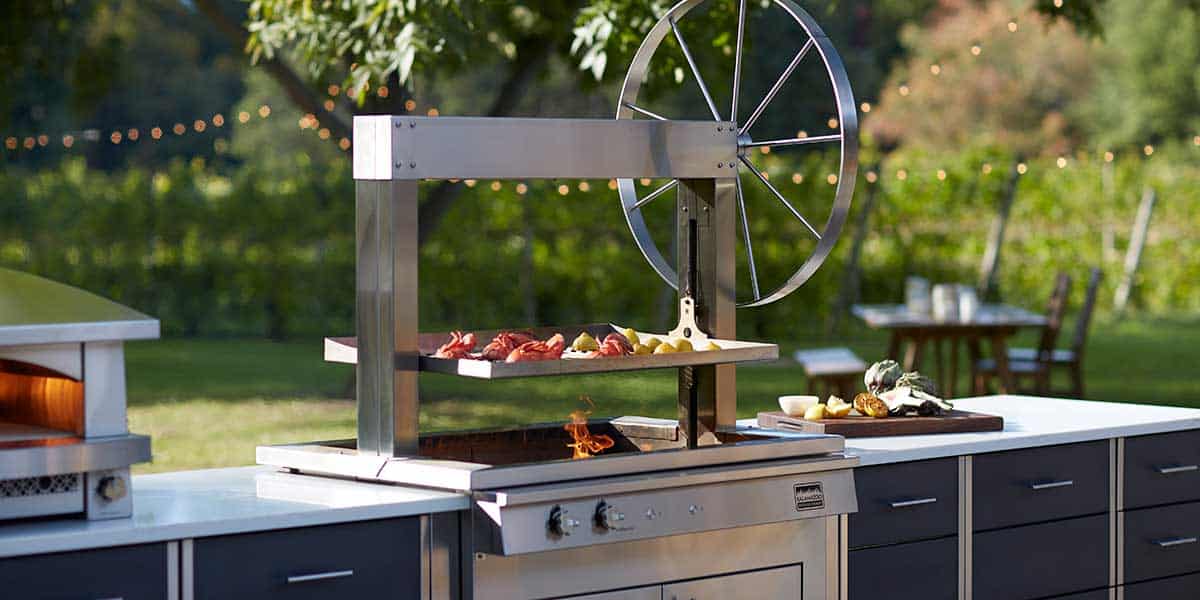 Kalamazoo K750 GS- 42" Gaucho Wood-Fired Freestanding Grill With Side Burner- $30,715.00
It will take you much longer to cook on this grill, and it can be difficult to learn how to do so. You will have to learn how to use the wheel that regulates the cooking temperature by raising or lowering the grill grate over the open fire.
The whole idea in this grill is to enjoy the flavors from the fire, so precision is key. If the grill grate is too low, you will burn everything, and if it is too high, you will miss out on the flavor.
Although there is a gas ignition to get the fire going, you will have to maintain it, which can be difficult if you will be multitasking, like most hosts do. You will also either need to purchase or chop, logs to feed the fire. That can be time-consuming, and you should consider this before purchasing it.
5). Not A Replacement For An Existing Built-In Grill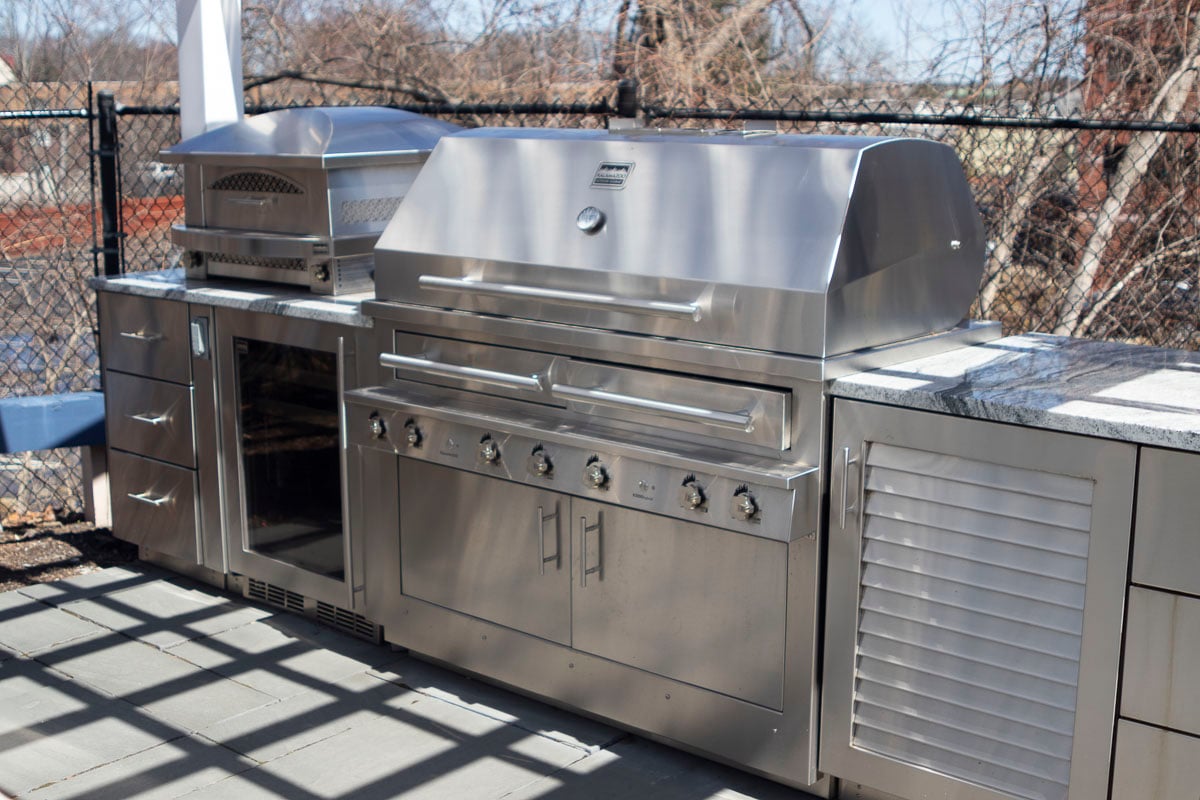 Kalamazoo Grill And Outdoor Kitchen At Yale Appliance In Framingham
All of Kalamazoo's grills are technically freestanding. This means that you cannot just purchase a grill head and drop it into your current outdoor kitchen.
This is great because for the price you are paying you will get a full-size grill with access doors, but that also means that you cannot use a Kalamazoo for replacement. Further, their grills are available in unique sizes; 28, 33, and 51 inches.
Even if they did have just the grill heads, you still would not be able to use Kalamazoo as a replacement. Your outdoor cabinets or masonry must be built around the grill itself. Unless you are planning on completely redoing your current outdoor kitchen, Kalamazoo will not work for you.
6.) You Just Like To Grill
If you are the type of person and many of us are, that like to grill a burger quickly, then nearly any grill can do that for far less.
Should You Buy A Kalamazoo Grill?
It's without question the best grill for food. It is also the only grill for saltwater conditions. It's strange because none of Kalamazoo's problems are performance related.
However, better performance comes with a hefty price tag.
If you're deciding on a Kalamazoo grill, you need to ask yourself, do you value or care about the flavor and texture of better-grilled food? If so, are you willing to pay for it?
Additional Resources
Get the Yale BBQ Grill Buying Guide with features, specs, and tips to all the brands. Over 600,000 people have already found answers in a Yale Guide.
Related Articles:
Why Should You Trust Us?
It seems that every appliance review has nothing but glowing comments about almost every product, yet you read customer reviews and they are almost universally bad.
We are here to fill in the disconnect. We'll give you the best features, and the drawbacks as well, including reliability based on over 37,000 calls performed by our service team just last year. Our goal is to give you ALL the information so you know what's right for you.
Please consider subscribing or adding to the conversation in the comments below. We appreciate you stopping by.
A Note About Pricing
Pricing on this blog is for reference only and may include time sensitive rebates. We make every attempt to provide accurate pricing at time of publishing. Please call the stores for most accurate price.