Traeger Pellet Grills Vs. Weber Gas Grills (Reviews / Ratings / Prices)
Ten years ago, you walked into an appliance store, and you bought a Weber grill or less expensive competitive brand.
If you wanted to spend some money, you would buy a more expensive professional Lynx grill.
Now you have incredible amounts of choices and brands. You can buy gas, pellet, charcoal, ceramic, or hybrid grills.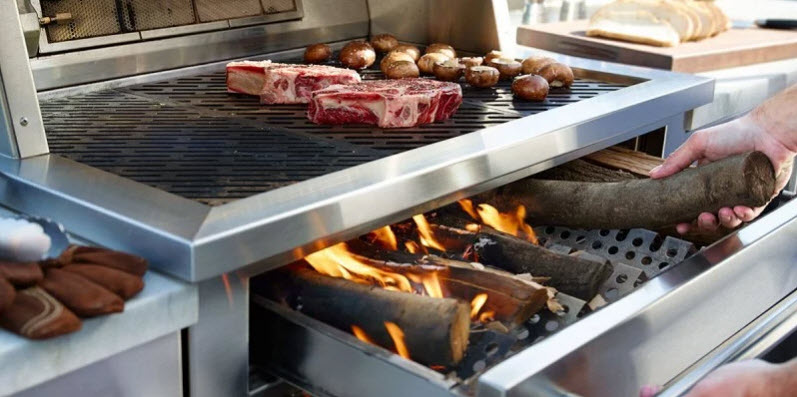 Kalamazoo Hybrid Professional BBQ Grill
Unless you want to spend $15,000 for a Kalamazoo hybrid, there is no best grill for searing, speed, smoking, and slow cooking.
Weber and Traeger are the most popular companies selling different types of grills. In this article, you will learn the difference between the two brands and grilling technologies.
You will then better understand what grill might be better for you.
Short on time? Get our free BBQ Buying Guide
Weber BBQ Grills
Forged from a small kettle shape in 1952 by George Stephen, Weber grills have been a worldwide leader for reliable outdoor family grilling.
They started with charcoal at first and have since moved to gas.
More dogs and burgers have probably been made in the US on Weber grills than any other outdoor grill.
Their Genesis II grills may be their most popular grill series sold.
What's The Difference Between Weber Series Grills? [Video Review]
Traeger BBQ Grills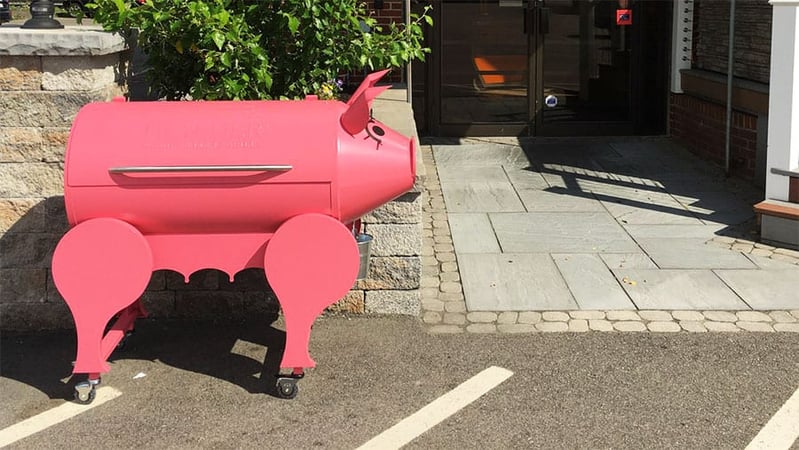 Traeger Lil' Pig Wood Pellet BBQ Smoker
Traeger is a wood pellet grill that runs on electricity and uses wood pellets its heat source.
They were founded in 1985 by Joe Traeger. He was the first to put in an electric ignition system and a hopper to feed the wood pellets.
As backyard smoking gains popularity in the states, the Traeger grill has become an easy to use and affordable choice.
How Do Pellet Grills Work?
A motor turns a screw-like device, an auger, to feed the burn pot. The pellets are then ignited and exhausted by the chimney.

Traeger Wood-Pellet Grill Diagram
Indirect heat means no flare-ups, but pellet grills cannot reach the high temperatures of gas.
It's not a grill in the conventional sense. Traeger is more like an outside convection range with the ability to add flavor.
These are two different types of outdoor cooking products.
Should You Buy A Traeger Wood Pellet Grill? [VIDEO Review]
Traeger Pellet Grills Vs. Weber Gas Grills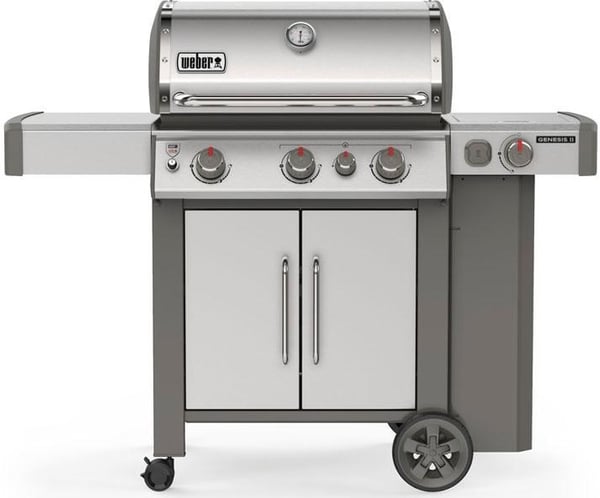 Features:
Main Burner Output- 39,000 BTUs
Sear Burner Output 9,000 BTUs
Total Cooking Area- 669 sq. Inches
Side burner
Closed Cart
Stainless Steel cooking grates
Stainless Steel Lid
Hidden Tank
iGrill Compatible
Review:
One of Weber's most popular models, the Weber Genesis II, has enough output to sear a steak and quickly cooks dogs and burgers.
The stainless grates hold heat well and are easy to clean.
The sear burner adds extra heat and adds to a quicker preheat time if you only have limited time to grill.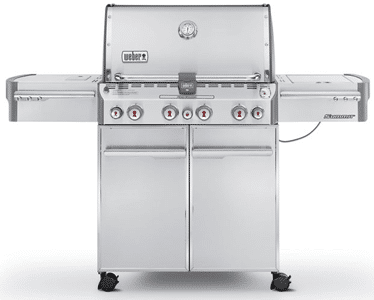 Features:
Main Burner Output- 48,800 BTUs
Sear Burner Output- 10,600
Total Cooking Area- 580 sq. inches
Smoker box
Rotisserie
Lid Light
Side Burner
Snap Jet Individual Burner Ignition
Review:
The Summit is Weber's best grill available in 4 and 6 burner models.
You have higher output up to 60,000 BTU along with the Sear Station of 10,600.
There is a rotisserie with a 10,600 BTU infrared burner and a smoker box to infuse your food with smokey flavor.
Traeger Pro 575 Pellet Grill TFB57GLE - $799.99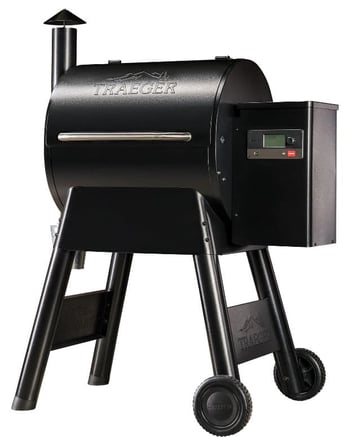 Features:
Pro D2® Controller - As easy as using an oven. Just turn the dial to the desired temp, hit ignite, and you're "Traegering."
WiFIRE® Technology - Allows you to monitor and adjust your grill anywhere.
Pro D2® Direct Drive - Improves searing, and let's you cook low and slow or hot and fast.
TurboTemp® - Lightning-fast start-up times and quicker recovery.
GrillGuide® - Step-by-step cooking instructions and alerts for over 1,500 recipes in the Traeger app.
Review:
This is Traeger's entry-level smoker. The dial allows you to control temperatures just like an oven.
With the WiFire technology, you can use your phone to monitor your cooking, so you don't have to watch your grill.
Traeger Timberline 1300 Pellet Grill TFB01WLE - $1,999.99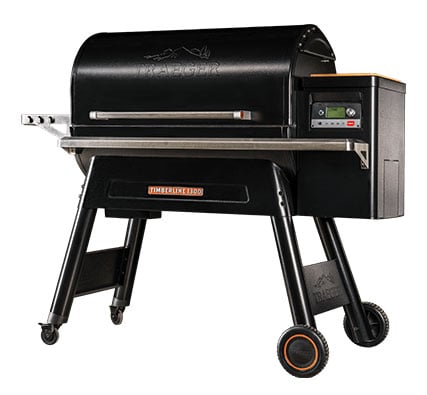 Features:
Timberline D2® Controller
WiFIRE® Technology
Timberline D2®Direct Drive
TurboTemp®
GrillGuide®
Three tiers of stainless steel grates
Double-wall stainless steel interior
Pellet Sensor
Magnetic Bamboo Cutting Board
Concealed Grease Management System
Review:
This is the top of the line for Traeger grills. The grates are stainless, and the interior is stainless as well to absorb heat
An added pellet sensor helps take the guesswork out of knowing when to add more pellets. The grease management system is hidden for a sleeker look.
Pellet Vs. Gas Grills
The difference is enormous. One is gas, and the other is electric.
Gas grills are for fast cooking. The high temperatures allow you to char and sear food better.
Weber Genesis II BBQ Gas Grill with Fast Searing Capabilities
The pellet industry will always counter with the statement, "what does gas taste like." Even the smoker basket on the Summit doesn't smoke thoroughly.

Traeger Wood Pellets
Pellet only reaches 500-600 degrees versus 900-1100 for gas grills. However, you can hold a more precise temperature with pellet types.
The real benefit of pellets is the ability to infuse flavor. You can buy pellets with limitless flavor combinations to infuse your food with a different taste and texture than a gas grill.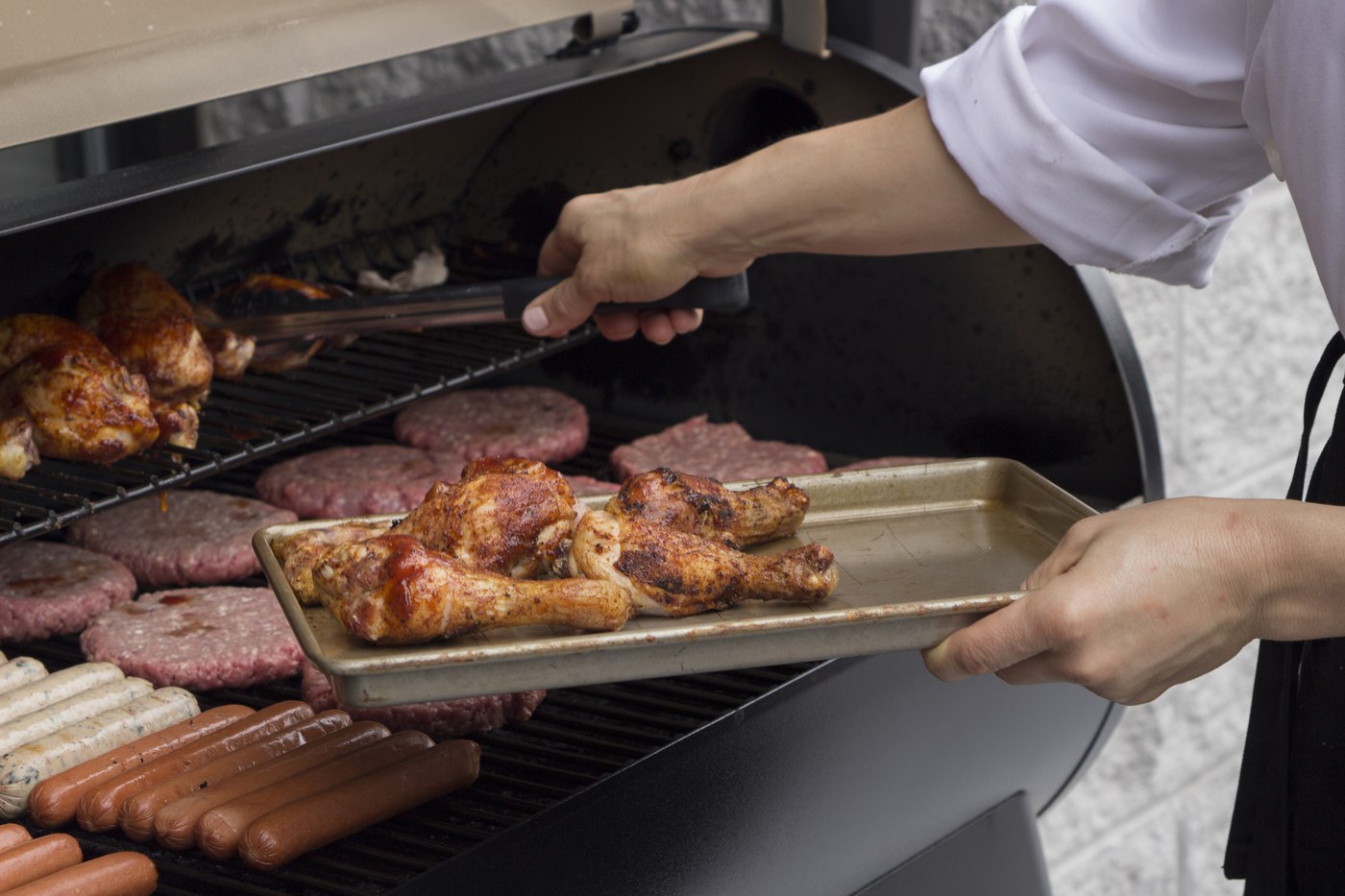 Traeger Wood Pellet Grill Tested at Yale Appliance in Framingham
The indirect convection pellet method of convection also has fewer flare-ups and more even temperatures than a gas grill.
Pellet grills also have Wi-Fi - I mean WiFIRE technology, so you can set it and leave it for hours. The grill will let you know when it's done.
Weber has that Wi-Fi accessory as an optional BlueTooth thermometer, but you cannot leave food on the grill for long periods.
Traeger Vs. Weber Gas Grills: Which Grill Should You Buy?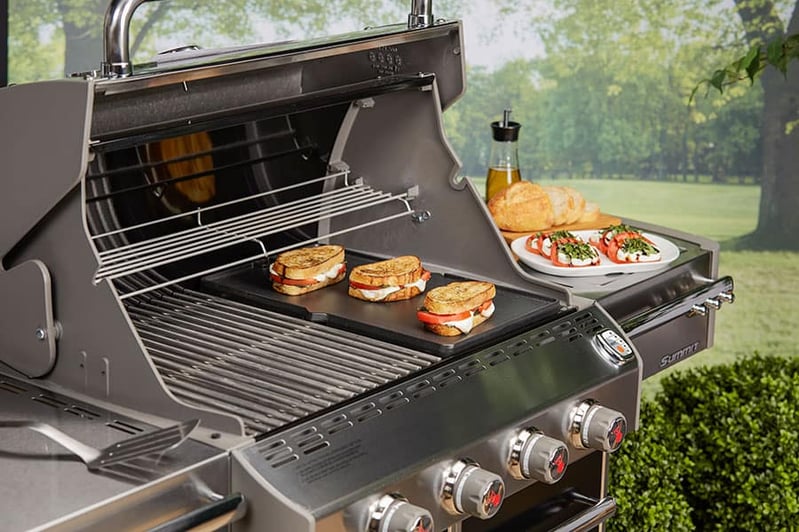 Weber Summit BBQ Gas Grill with Griddle Accessory
These are two different types of cooking appliances.
It depends on how you like to cook. If you want to cook and BBQ traditionally and quickly, then a Weber grill is your best consideration.
The Genesis and Summits have good output, side burners, and are designed to withstand the elements.
Pellet grills are not grills because they cannot reach a temperature above 500. That's a problem when you are looking to grill a burger quickly.
However, if you like to smoke and even follow recipes, a pellet grill is a better choice for you.
You don't have a high temperature of a gas, but you have more even temperatures and can infuse your food with countless flavors.
It ultimately comes down to whether you want speed and high temperature versus precision smoking and flavor.
What do you think?
Additional Resources
Want to learn more about grill? Download our free BBQ Buying Guide for detailed information on all the best brands, features, and more. Over 820,000 people have read a Yale Guide.
Related Articles
Why Should You Trust Us?
It seems that every appliance review has nothing but glowing comments about almost every product, yet you read customer reviews and they are almost universally bad.
We are here to fill in the disconnect. We'll give you the best features, and the drawbacks as well, including reliability based on over 37,000 calls performed by our service team just last year. Our goal is to give you ALL the information so you know what's right for you.
Please consider subscribing or adding to the conversation in the comments below. We appreciate you stopping by.
Todd Rourke
Todd Rourke is a Sales Consultant for Yale Appliance. He has worked in sales for over 17 years. He loves putting dream kitchens together for his customers. In his free time, Todd is a musician and an avid bass fisherman and prefers the Lakes Region in NH. Mainly, he is a Dadda to his 2 beautiful daughters and a housekeeper to his beautiful wife. They take up most of his free time nowadays, but he wouldn't have it any other way. HelloFresh and Blue Apron have saved his nights! Todd loves the outdoors and anything lighthearted and silly.

Schedule a showroom visit with me
A Note About Pricing
Pricing on this blog is for reference only and may include time sensitive rebates. We make every attempt to provide accurate pricing at time of publishing. Please call the stores for most accurate price.