BlueStar vs. Viking Professional Ranges (Reviews/Ratings/Prices)
Viking and BlueStar are two of the most powerful professional ranges on the market. Other than power, the ranges and the companies could not be more different. Your best choice will be based on what features are important to you.
Viking
At one time over 50% of the professional ranges sold in the U.S. were Viking. It could be said the professional range segment was created by Viking back in the late 1980's.
Today, Viking is in transition. After years of neglect, new owner Middleby has started to address the quality concerns (hopefully). This range was a holdover from the old Viking Brigade line and now re-marketed as their new 7 series.
To be transparent, we do not sell any Viking products.
BlueStar
BlueStar Platinum
Thanks for reporting a problem. We'll attach technical data about this session to help us figure out the issue. Which of these best describes the problem?
Any other details or context?
message
BlueStar is one of the oldest manufacturing companies founded in 1880. They manufactured upscale porcelain ranges, and in 2002 started with professional products. Their range is more of a commercial, restaurant type with high heat and open daisy style burners.
BlueStar is a family owned company out of Pennsylvania.
Let's take a look at the ranges.
Viking Pro Range VGR7366BSS - $7,579
Rangetop
One of the coolest features on this unit is their Elevation burner. It is a raised burner system designed for easy cleaning. This is an intelligent design. Thermador has a similar raised burner.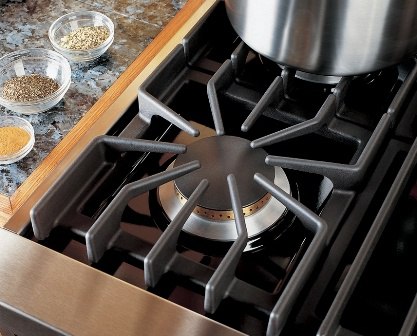 The burners themselves boast really high BTU's. The entire front portion of the unit (3 burners) have 23,000 BTU burners, while the back half has two 15,000 and one 8,000 simmer burner.
Oven
The oven on the VGR7366BSS has a really impressive Gentle close door which opens to glide out racks. The large interior cavity can support an 18 x 28 commercial sheet pan and has, again, a no bake on porcelainized coating for easy cleanup.
This unit is also available with either a gas or electric (dual fuel) oven. The convection oven uses a 30,000 BTU U-shaped burner with infrared broiler, which makes for an intense, restaurant quality sear.
Other
There is some customization with Viking's lineup. As discussed, you can add in a griddle, and the unit is available in 7 different color options. All Viking products feature a 2 year warranty and offer a 5 year limited warranty on the gas burners only.
BlueStar Pro Range BSP366B - $8,069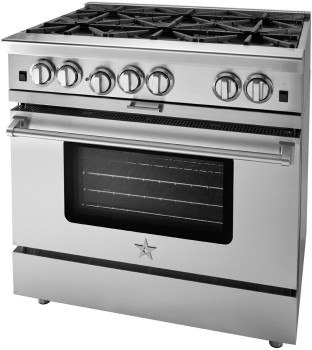 Rangetop
Where Viking has the Elevation burner, BlueStar uses a Primanova burner. The burner output on this range is intense. First off, it is an open burner system. This means it has a direct concentrated flame which allows it to jump up as high as 25,000 BTU's on one of its burners.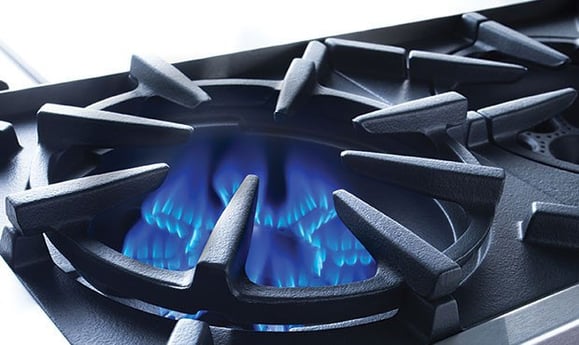 The other burners have the capability to top out at 22,000, 18,000, 15,000, and 9,000 respectively. With all that heat you would think it would not be able to handle a proper simmer temperature. You would be wrong. This unit can hold a true simmer at 130 degrees.
Maybe the coolest part of this range is the interchangeable griddle/charbroiler. Yes, interchangeable! A true 2-in-1 system worth 40,000 BTU's, it is using two cooking zones at a time, creating 4 unique cooking surfaces.
Again, being interchangeable means you decide on what to use based off of that day's menu. You want to make scrambled eggs and bacon for breakfast while grilling some vegetables for your pasta at night? This range can griddle or grill.
Oven
The PowR oven. Cheesy name aside it is pretty impressive. It does sport a pretty fast preheat and BlueStar claims a 30% increase in overall oven efficiency (not a lot of residual heat loss, a common problem with gas ovens).
The oven is only available as gas. The BSP366B boasts a large glass oven door and the oven interior is extra large, so it can easily accommodate a full commercial sheet pan.
However, Bluestar is the only true convection gas oven on the market for the best possible baking. Like Viking, Bluestar is using an infrared broiler. Their broiler heats up to 1,850 degrees, meaning it is one of the better ovens on the market for broiling/finishing.
Other
BlueStar has unlimited customization. There are over 750 color options alone. Couple that with the fact you can customize knobs, burner configurations, trims, and backguards, and you have yourself one of the most customizable lines in the industry.
Bluestar has a one year warranty with a 10 year warranty on the grates and burners.
Viking vs. BlueStar Comparison
Both have more than enough power. Both use an infrared burner in the oven to broil.
However, their burners are different. Viking has the more residential friendly sealed burner, but BlueStar's burners can be removed and cleaning is easier.
The BlueStar oven is interesting. It has the third element convection, so it will be more effective than the fan assisted convection employed by Viking. However, Viking is only dual fuel.
The interchangable grill/griddle is kind of a cool feature for BlueStar as well, if you want that capability as well as 6 burners.
Reliability is the key. We just started carrying BlueStar, and service everything we sell with 23 service technicians. Reliability rates for BlueStar are still unknown. You have to research Viking before you consider any of their products.
Additional Resources
Want to learn more about professional ranges? Download the Yale Professional Cooking Buying Guide with detailed profiles and BTU outputs of every major brand like Wolf, Viking, Thermador, Miele, Jenn-Air, Capital and more. Over 160,000 people have read a Yale Guide.
Related Articles
Jonathan Beresford
Jonathan Beresford is an Appliance Sales Consultant at Yale Appliance + Lighting. Jonathan has over 12 years of sales experience and prides himself over his superior customer service. In his free time, he likes to spend time with his family and play golf.
A Note About Pricing
Pricing on this blog is for reference only and may include time sensitive rebates. We make every attempt to provide accurate pricing at time of publishing. Please call the stores for most accurate price.