Thermador vs Sub-Zero French Door Counter Depth Refrigerators (Reviews / Ratings / Prices)
French door refrigeration is the most popular style of refrigerator sold in the United States right now. It is certainly the coolest looking product with side by side top and a bottom freezer.
Unlike side by side refrigerators, French doors allow you to use the full width to store food like trays and platters.
Thermador has had a French door for 10 years as part of their very successful Freedom collection. Sub-Zero just started marketing a French door in July of 2012.
As these brands seem to compete in other categories, let's compare their French door refrigerators. This a tough comparison of very different units, prices and rebates.
We'll take a look at both companies, their products and then compare the two at the end.
Sub-Zero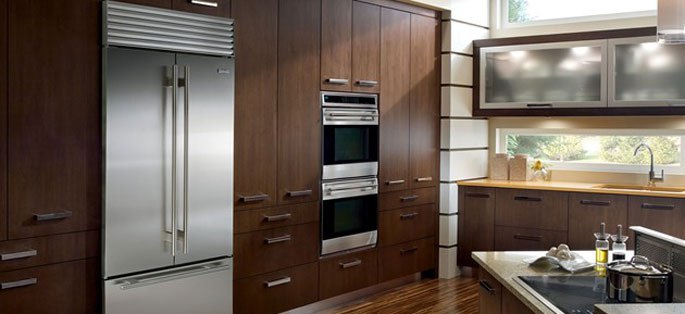 The Sub-Zero Freezer Company was founded in 1945, by Westye F. Bakke in Madison, Wisconsin. It is a third generation family owned company. According to the official company history, Bakke invented the first freestanding freezer in 1943. They also claim to have made the first built-in fridge in the 1950's. Until recently they were the only refrigerator in the industry to have a dual refrigeration system.
Sub-Zero Features
Thanks for reporting a problem. We'll attach technical data about this session to help us figure out the issue. Which of these best describes the problem?
Any other details or context?
message
(Learn all about Sub-Zero products in our free Counter Depth Refrigerator Buying Guide)
Their latest product also offers a pure ice filter as well as an electronic air scrubber designed to clean the gasses off decaying food.
Thermador

Thermador is part of BSH Home Appliances Corporation, the third largest appliance manufacturer in the world. They have been providing cooking innovations for over 75 years. From the world's first wall ovens to their patented star burner system that provides a greater amount of flame coverage than a round burner.
Although they are known as a cooking company, they had the vision to build a technologically advanced integrated refrigeration plant in Turkey about 10 years ago.
Sub-Zero may have been first, but Thermador has been the leader in refrigeration with more models and styles. Sub-Zero finally caught up in 2015 with their own collection.
Thermador French Door Refrigerators
Features:
36" French Door Refrigerator
19.5 Cu. Ft.
FREEDOM® Hinge enables true flush design
Full height door - True cabinet integration without exposed venting grille
ALL LED sidewall and theater lighting
Accepts custom or stainless steel panels
Dual compressor and dual evaporator
Electronic controls for precise temperature management
Full width meat drawer
Carbon air filter reduces odors and keeps air clean and fresh
Gallon door bins
Large capacity freezer drawer
Filtered ice-maker
SuperCool - Chills food quickly
SuperFreeze - Freezes food quickly
ENERGY STAR® Qualified
Sub-Zero French Door Refrigerators
Sub-Zero Panel-Ready

BI-36UFD/O

$8,469

Sub-Zero Stainless Steel

BI-36UFD/S/TH

$9,979
Features:
36" French Door Refrigerator
21.0 Cu. Ft
Dual refrigeration system ensures the freshest food and energy efficiency
Electronic microprocessor constantly monitors entire unit to ensure proper food storage environment
Air purification system reduces odors, bacteria, viruses and ethylene gas
Advanced water filtration system
Illuminated touch control panel
Bright interior lighting throughout, including storage drawer area
Adjustable spill-proof glass shelves, door shelves and dairy compartments
Soft-close crisper and deli drawers form a lower temperature zone ideal for produce and meats
Easy-access flip-up grille
Informational freshness cards
Full-extension, roll-out freezer drawer
Max ice feature increases production for a 24-hour period
Comparison
Let's take a look at some of the differences between the Sub-Zero French door and the Thermador French door.
Dual Compressors
First, they are both excellent products and both have dual compressors and dual evaporators, which keeps food fresher for a longer period of time.
Two compressors maintain a better temperature, level of humidity and eliminates taste and odor transfer from the refrigerator to the freezer. For example, lettuce in a regular fridge lasts about 4-5 days. In a Thermador or a Sub-Zero it will last about 2-3 weeks.
Air Filtration
Thermador does have a Carbon air filter that reduces odors and keeps air clean, but Sub-Zero's air filtration system is impressive.
Sub-Zero has an electronic air scrubber which scrubs the gasses off food, keeping food fresher for a longer period of time. It also eliminates cross contamination from spoiling foods.
Sub-Zero also as a powerful vacuum seal on the door and magnetic drawers designed to keep air out of the refrigerator.
Style
Our refrigeration display shows the difference between a built in refrigerator (left) and an integrated refrigerator (right).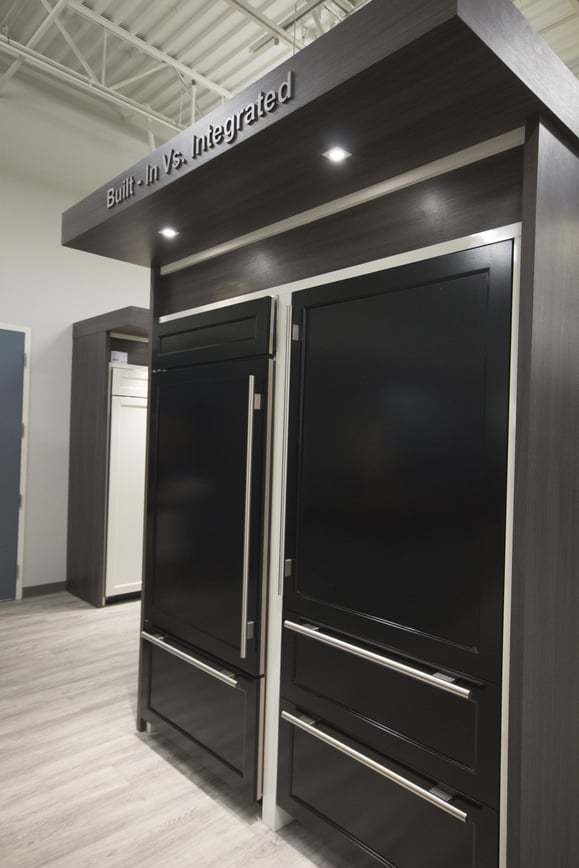 Thermador is an integrated refrigerator, so it is completely seamless to the cabinets for a flush and custom look. An example pictured below.
Sub-Zero is a professional style refrigerator with the compressor on the top. It is a more pronounced look in your kitchen and the doors protrude (like other counter depth refrigerators), but the refrigerator section is longer and you have better access to the refrigerator section.
The Sub-Zero can have a flush install, but it will leave a reveal around the door. You also need to bring the cabinets out to 26 3/16ths for a flush install.
Price and Rebates
Both also have rebate programs, Thermador has a free dishwasher and hood with qualifying purchases. Sub-Zero will have a rebate with qualifying purchases of other Wolf and Sub-Zero products towards counter-top appliances or pots/pans/ knives.
Thermador is less expensive and the rebate program is technically better with a free hood and dishwasher with the purchase of this refrigerator and Thermador cooking products.
Which is Better?
This really depends, and there is no easy answer.
Sub-Zero, as mentioned previously, also has the electronic air filter to scrub gasses off decaying food as well as a vacuum seal and magnetic crispers designed to keep air out of the refrigerator.
I would have to say Sub-Zero is engineered to keep the food the freshest. It is also manufactured in the U.S while Thermador is made in Turkey, so that would be another advantage.
It can depend on the style of your kitchen. The professional style looks better in stainless, and the integrated looks better with custom cabinets.
So there is a ton to consider: price, style, rebates and made in the USA. Which attributes speak to you?
Additional Resources
Read the Yale Counter Depth Refrigerator Buying Guide with features, explanations, pictures and buying tips to all the counter depth, professional and integrated products. 130,000 people have read a Yale Guide (the counter depth is a really good read).
Related Articles
Chris Wurlitzer
Chris Wurlitzer works as an Appliance Sales Associate with Yale Appliance + Lighting. Chris enjoys helping people and is a father of four. He is also an avid Spartan racer.

Read more about Chris here.
A Note About Pricing
Pricing on this blog is for reference only and may include time sensitive rebates. We make every attempt to provide accurate pricing at time of publishing. Please call the stores for most accurate price.