The 5 Best Integrated Refrigerators (Reviews / Ratings / Prices)
Because an integrated refrigerator is designed to sit flush with your cabinetry, it's the perfect product for a custom kitchen.
As energy standards become more stringent, you will see more integrated refrigerators and freezers than larger, less efficient professional refrigerators for high-end kitchen installations.
Short on time? Get our free Counter Depth Refrigerator Buying Guide
(refrigerators on both sides of the oven)
Differences Between Standard, Professional and Integrated Refrigerators
They can be called built-in, shallow or counter depth refrigerators, but they are actually quite different.
A standard counter depth looks like a regular refrigerator with less depth.
Professional counter depths have a more commercial look with the compressor on the top. The handles and door on the professional and regular counter depths protrude.
Integrated refrigerators are flush to the cabinet. Nothing protrudes. So while the other two are noticeable, integrated refrigerators will look like your cabinets.
Integrated Refrigerator Manufacturers
Integrated refrigerators are specialty products.
GE, Whirlpool and Frigidaire either do not manufacture an integrated refrigerator or sell a small amount through a subsidiary like GE Monogram for example. Only niche companies like Viking, Thermador, Gaggenau, Liebherr, Sub-Zero and Bosch actively market the product.
Columns vs. Refrigerators/Freezers
Integrated refrigerators are generally available at 18", 24", 30" and 36 inches to fit standard cabinet sizes containing both a refrigerator and a freezer. Sub-Zero produces one at 27 inches. Columns generally come in smaller sizes like 18", 24", 30", 36 inches which are refrigerators or freezers.
I really like columns because you can customize how much space you want to dedicate toward refrigeration or freezing. Since I tend to use a lot of refrigeration space, I would place a big refrigerator column in a central location in my kitchen. The freezer can be placed anywhere since I use it so sparingly.
The Five Best Integrated Refrigerators
Liehberr CS2062 Integrated Refrigerator - $6,399 (panels extra)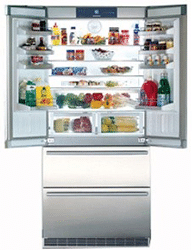 Liebherr is a German company known for manufacturing energy efficient refrigerators. They have a few fully integrated models. Many Liebherr refrigerators are 80'' tall. For many customers looking to replace older integrated 80'' tall Sub-Zero units, Liebherr is a popular, low cost choice.
(Read more about Liebherr integrated refrigerator options in our free guide)
However, it is somewhat difficult to service the machine because the controls are in the back. If you buy a Liebherr, just insure there are service technicians available to fix it.
Bosch B30IB800SP Integrated Refrigerator - $5,799 (panels extra)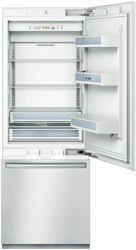 Bosch, Miele, Gaggenau and Thermador integrated refrigerators are all manufacturered in the same factory. Bosch would be the least expensive of the four. It is available in stainless steel or paneled. Bosch has great packages with up to 20% off.
Thermador T36IT900NP Integrated Refrigerator - $7,499 (panels extra)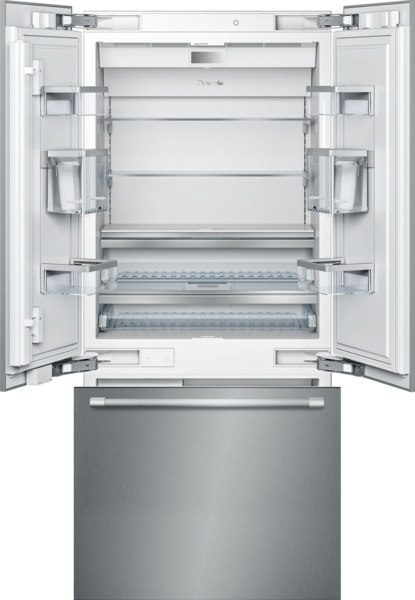 Thermador is a great brand. Their refrigerators feature dual compressors and dual evaporators. Their 36" French door refrigeratror will pull out freezer is one of the most popular integrated products.
Thermador has some great package promotions with free hoods and dishwashers with qualifying purchases.
Sub-Zero IT36CIID-RH Integrated Refrigerator - $7,749 (panels extra)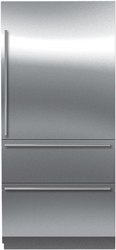 Sub-Zero was the first company to introduce integrated refrigerators in the US. In 2013 Sub-Zero released a new series of integrated refrigeration that are 84'' tall. The model on the right is the most popular at 36'' wide with 2 freezer drawers.
Sub-Zero has many proprietary features like an air scrubber, iPod like controls and spill proof nanotechnology shelves.
Gaggenau is the premium brand in the BSH Corporation. I like Gaggenau for two reasons. The stainless steel interior is really elegant (and hygienic), and the warranty is the best in the appliance industry at up to 10 years.
Integrated Refrigerators Video
Thanks for reporting a problem. We'll attach technical data about this session to help us figure out the issue. Which of these best describes the problem?
Any other details or context?
message
A Word of Caution
Integrated refrigerators are a great look and should be considered in a custom kitchen. I really love the look.
However, its shallow profile lessens the total cubic capacity. Integrated refrigerators are the smallest and most expensive per cubic foot of the three counter depth options.
You also need a skilled carpenter to install the cabinet fronts on an integrated unit. It can be complicated and will be time consuming. We added 3 people on staff just for installation, so make sure your contractor is forewarned.
Additional Resources
Download the Yale Counter Depth Refrigerator Buying Guide with features, specs and inside buying tips to all the major brands of regular, professional and integrated counter depth refrigerators. Well over 100,000 people have read a Yale Guide.
Related Articles
Jessica Petrino
Jessica Petrino is an Appliance Sales Consultant at Yale Appliance + Lighting. Jessica is a graduate of Brandeis University where she studied Economics and Philosophy. In her spare time she enjoys skiing, golfing, and traveling.

Read more about Jessica here.
A Note About Pricing
Pricing on this blog is for reference only and may include time sensitive rebates. We make every attempt to provide accurate pricing at time of publishing. Please call the stores for most accurate price.