Best Hoods for 30" Professional Ranges (Reviews/Ratings/Prices)
Professional gas ranges or any high heat gas cooking product are at least 30%-50% more powerful than ranges 10 years ago.
With that power, more smoke, grease and odor can permeate through your kitchen and home. It is, however, simple to plan for ventilation and choose the right hood with the right information.
Short on time?
Get our free Ventilation Buying Guide »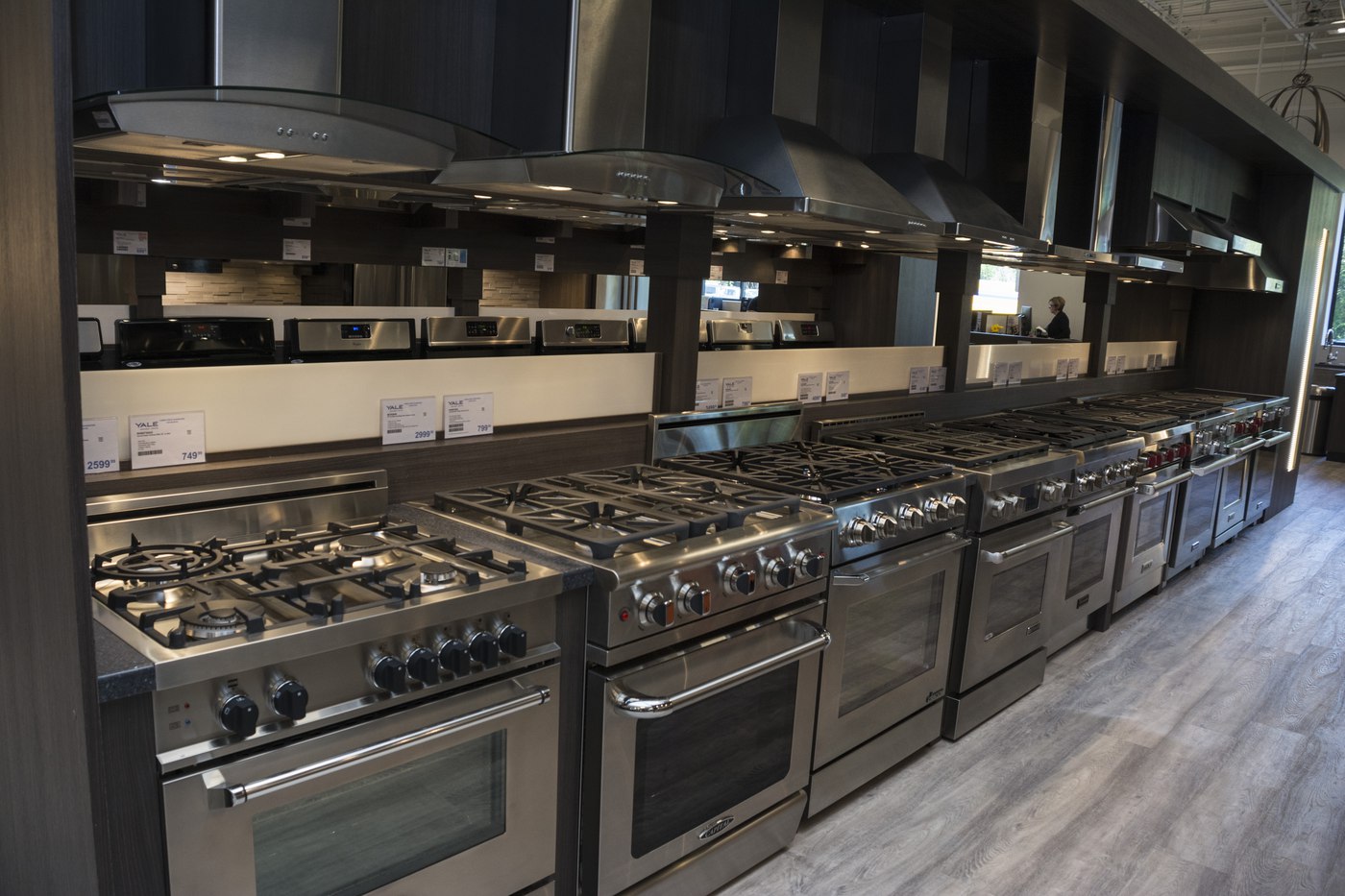 Let's look at the three factors to consider in ventilation, then we will look at some product options.
CFM, Capture Area and Ducting

The three major factors to consider when choosing a hood is capture area, CFM and ducting.
Capture Area
You would certainly want at least a 30" hood over a 30" range, but depth becomes the crucial dimension, because even with a high speed blower, smoke is captured and not immediately exhausted. So, depth becomes crucial in holding the smoke.
For example, over the range microwaves at only 15" deep cannot handle the heat, grease and smoke of a professional or high heat range. We recommend depth of 24"-27".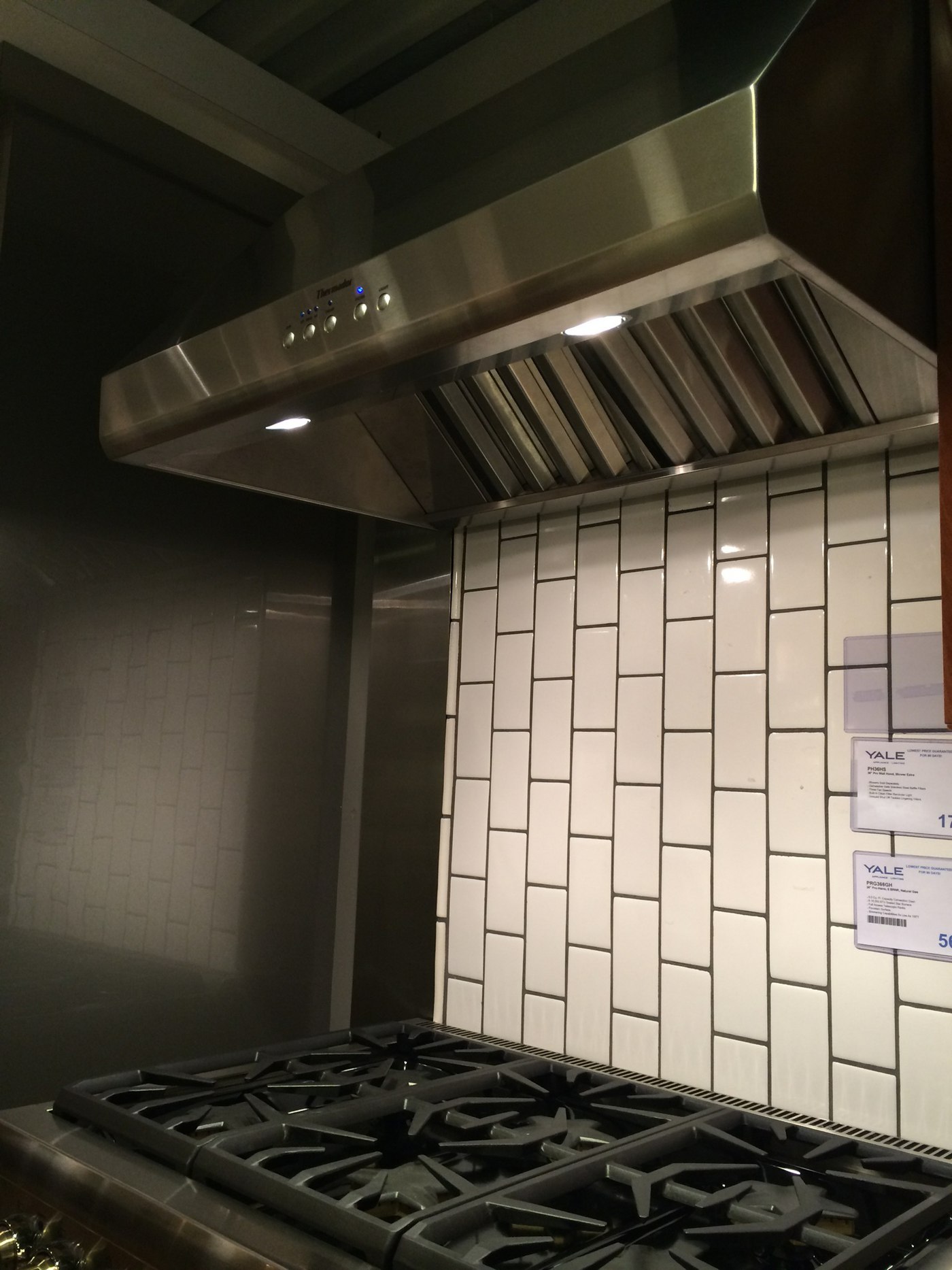 Notice on this particular Thermador hood, the filters angle up into the hood which results in additional capture area. This concavity allows the smoke to "momentarily" occupy in that space before the blower can catch up, venting it outside.
CFM
The second factor is CFM, which stands for Cubic Feet per Minute or how many cubes of air are exhausted in one minute. A simple general measurement for CFM is to divide the total BTU of the range by 100. A range of 55,000 BTUs would require 550 CFM's.
Blowers are available as interior, inline or in the duct run or outside on the wall or roof. I recommend the inside blower, because it is the easiest to fix, and you do not have a huge blower on the outside of the house...like one of these.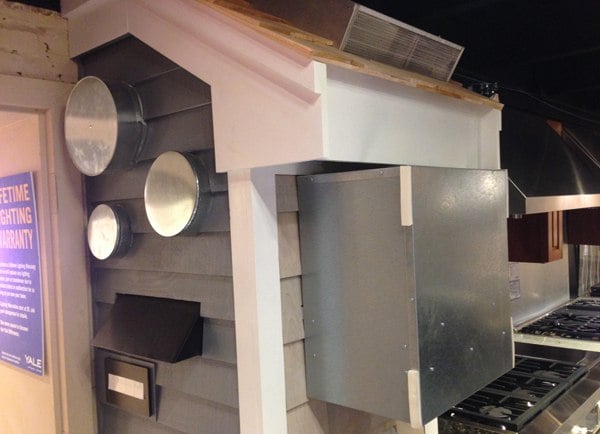 Duct Run
Even with the right hood and blower, you still have to plan the duct properly.
Here is what you need to know: Size of duct should be 8-10" in depth on most hoods. You want the larger duct for the smoke to be exhausted.
The duct run should be straight either through the top or back. Do not turn the duct more than once, because elbows reduce the static flow of the exhaust.
A Note for Massachusetts Residents:
Make-Up Air is a code requiring any ventilation system exhausting more than 400 CFM to have a system in replace or "makeup" air. Energy efficient homes are built so tight that the air is being pulled from the furnace or garage.

It is not a hard fix as many builders replace air through the HVAC systems. If you are replacing a hood and face an inspection, Broan has a fairly simple backdraft device approved for Make-Up Air. Read more about Make-Up Air here.
Best 30" Hoods for Professional Ranges
Now that we got that out of the way; choosing the style and exploring the different features is the easier and fun part.
Below are a few popular hoods you should consider along with prices and unique features.
Yale RH70230AS 30" Traditional Wall Hood (24" Depth) - $1,099


Features
1100 CFM Internal Blower

3 Fan Speeds

Baffle Filters
Jenn-Air JXU9130WP 30" Pro Wall Hood (25" Depth) - $1,349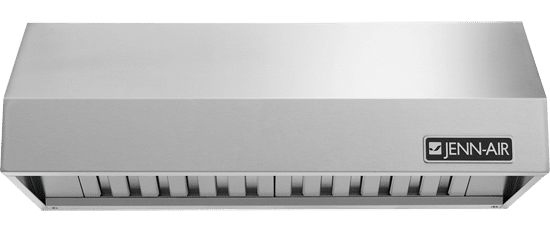 Features
600 CFM Internal Blower

4 Fan Speeds

Baffle Filters
Thermador PH30HS 30" Pro Wall Hood (24" Depth) - $1,699


Features
Multiple Blower Options

3 Fan Speeds

Baffle Filters
Wolf PW302418 30" Pro Wall Hood (24" Depth) - $1,829


Features
Multiple Blower Options

Infinite Fan Speeds

Baffle Filters

Heat Sentry
Which One Should You Buy?
First, any of these choices will work well. All the hoods listed above features baffle filters, (baffle filters allow smoke to travel more easily than mesh) and high CFM blowers except for the Jenn-Air.
The Yale, Wolf and Jenn-Air hood have recessed controls providing a clean look. Thermador has the controls on the surface. Thermador is also the only one to automatically shut off after you finish cooking.
Thermador and Jenn-Air offers a free vent hood with a package of their other appliances.
Wolf features Heat Sentry which automatically turns on the blower or increases the speed as it senses the temperature exceeding 200 degrees Fahrenheit.
The Yale hood offers a great value if you just need a dependable hood with an included blower. The others require an additional blower at $400-$700 more.
1

Choosing a Vent

2

Make-up Air

3

Types of Hoods
message

Final Thoughts
So pick your range, choose a hood with the appropriate CFM's to handle the BTU output of your range and more importantly, plan out your duct run to vent outside of the home and plan accordingly with the Make-Up Air code.
Once you've had all these line up, you can really enjoy cooking on your brand new range without worrying about heat, grease and smoke collecting in your home.
Additional Resources
Get The Yale Ventilation Buying Guide and learn how to vent any range properly. Over 110,000 people have read a Yale Guide.

Related Articles
Tam Nguyen
Tam is an Appliance Sales Consultant at Yale Appliance + Lighting. In his spare time he enjoys watching and playing sports and spending time with his two children.

Schedule a showroom visit with me
A Note About Pricing
Pricing on this blog is for reference only and may include time sensitive rebates. We make every attempt to provide accurate pricing at time of publishing. Please call the stores for most accurate price.