5 Reasons Why You Shouldn't Buy a Dual Fuel Range
Dual fuel ranges have been praised as the best cooking appliance due to the combination of having a precise electric oven with the speed of a gas stovetop.
But is it really the best cooking appliance?
In this article, you will learn the five reasons why you shouldn't buy a dual-fuel range. At the end of the article, I will give you one instance where you probably should buy a dual-fuel range.
Let's first look at a dual-fuel range oven.
Short on time? Get our free Pro Cooking Buying Guide
5 Reasons Why You Shouldn't Buy a Dual Fuel Range
1. If You Like to Roast or Broil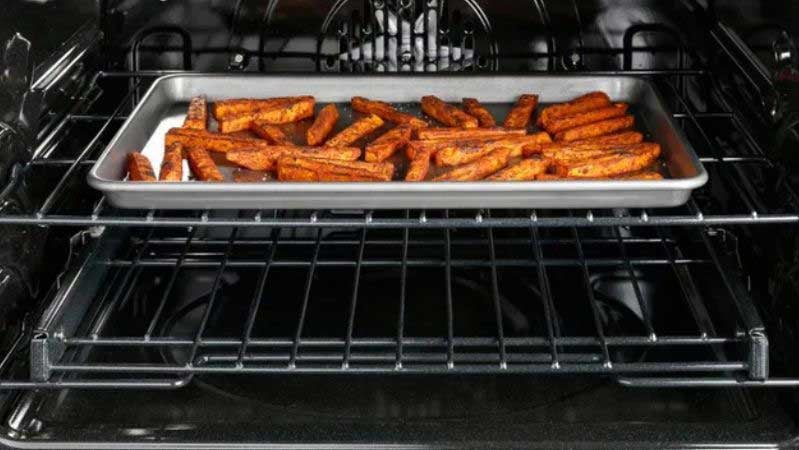 30-Inch Dual Fuel Range Oven
An electric oven has more even heat distribution and is better for baking. It also has drier heat than a gas oven.
A gas oven is better if you like to roast more than you bake.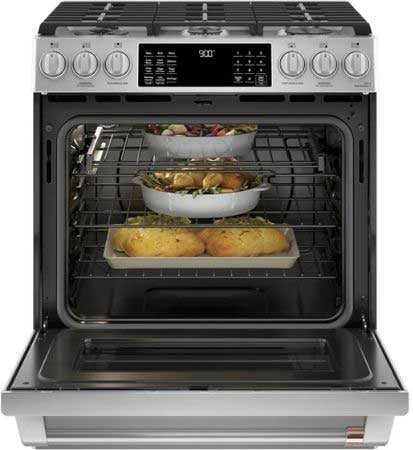 My mom would make a pot roast dinner when I was a kid.
To be honest, I don't like pot roast to this day, but it was never dry because of our old Caloric gas stove.
Now, I have an electric range in my new apartment. (Karma, I know).
An electric oven takes time for the broiler to heat up.
At the same time, a gas broiler comes to temperature nearly instantly. Also, the heat is more concentrated in the middle and better for broiling.
If you are considering a professional range, almost every brand has an infrared broiler that concentrates the heat more directly than a regular gas broiler.
A gas range is a better option if you like to broil or roast.
But what if you use the stovetop more?
2. If You Want a Fast Stovetop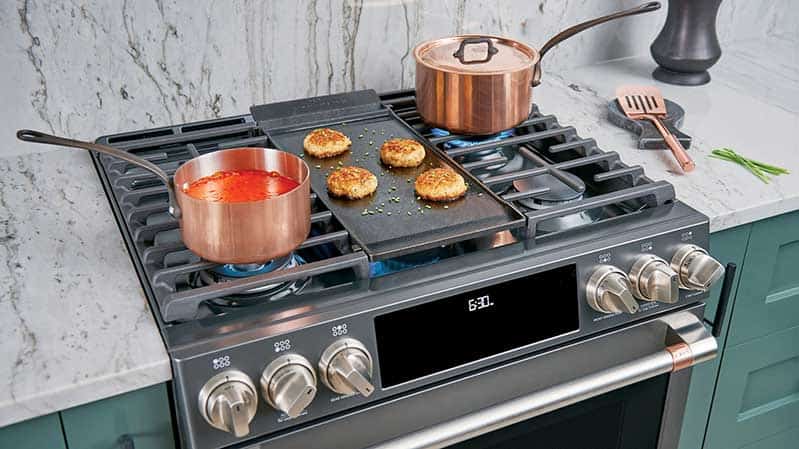 Gas Range
A gas stovetop heats up instantly and is far more responsive than an electric stovetop, with the element heating the glass and the glass heating the pan.
It also takes longer on an electric stovetop if you're trying to lower the temperature quickly. I just use another burner and turn it on low.
Induction Ranges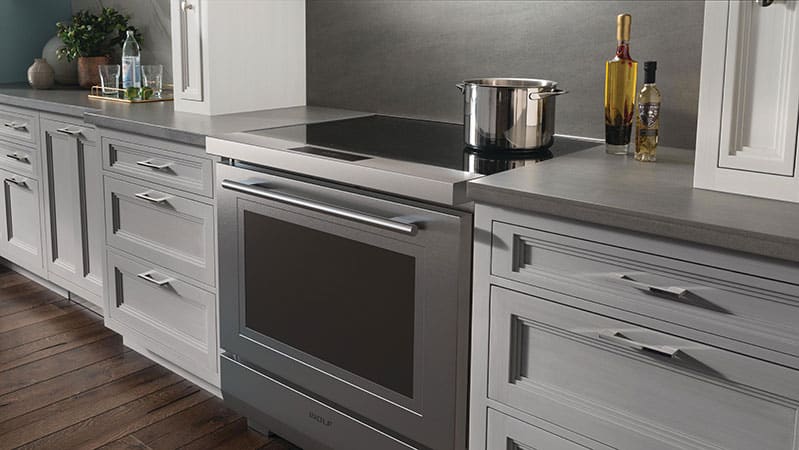 Induction Range
The fastest is an induction stovetop, which uses magnetic heat.
Instead of heating the glass like an electric stovetop, induction excites the metal molecules in the pan, so the pan cooks the food and bypasses the glass.
Induction cooking is much faster than gas and offers the same instant simmer. It's even better than a high-output professional gas range.
An induction range requires less ventilation and less cleaning because the glass never is hot enough to bake any food that falls onto the cooktop.
Induction is also more child safe. My six-year-old can't accidentally turn it on since it requires metal to activate.
Read More: How to Buy an Induction Range
3. If You Can't Meet the Electrical Requirements
Reason number 4 is for both dual fuel and induction ranges.
You can't replace your gas stove with dual fuel or induction without changing your electrical setup. Gas uses only 12 amps of power. Dual fuel uses at least 30 amps, while induction requires 50 amps.
Replacing your range is not always possible in certain condo buildings with limited power. New codes stipulate 100-amp service in condos. However, older apartments may only have 60 amps or less.
The cost of running a line, changing the electrical box and the outlet is roughly $3,000.
If converting from an electric range to a gas range, you must run a gas line and find a plumber. That assumes you have gas in your house or want to convert to liquid propane, which in some cases, diminishes the performance of your gas stovetop.
4. Dual Fuel Ranges Are Costly
The average price difference between a dual fuel and gas range is $200-$400. That's not huge considering.
But there are no less expensive dual fuel ranges. You will spend well over $2,500 for anything decent.
There are four reasons not to consider a dual fuel range, depending on your situation. Reason Number 5 has to do with gas cooking itself.
If you like to broil or roast, gas is better. If you want speed, induction is better, depending on your house's electrical system and budget.
5. Gas Stovetops Can Emit Harmful Gases Into Your Home
Cooking of all types emits a certain number of gases. However, gas emissions are far greater, especially carbon dioxide, formaldehyde, nitrous oxide, and particular matter.
We will talk about gas in other videos, but if you don't have an appropriate range hood, electric or induction will be safer and better for your internal air quality than a gas stovetop.
Read More: Why Are Gas Ranges Being Banned?
Why You Should Buy a Dual Fuel Range
Assuming you can ventilate your kitchen properly, here is one instance where a dual-fuel range may be better.
If You Want a Professional Range
For whatever reason, brands like Wolf, Thermador, and Miele have more features in dual-fuel ranges than all-gas ranges. It's like a different range.
Wolf Dual Fuel Ranges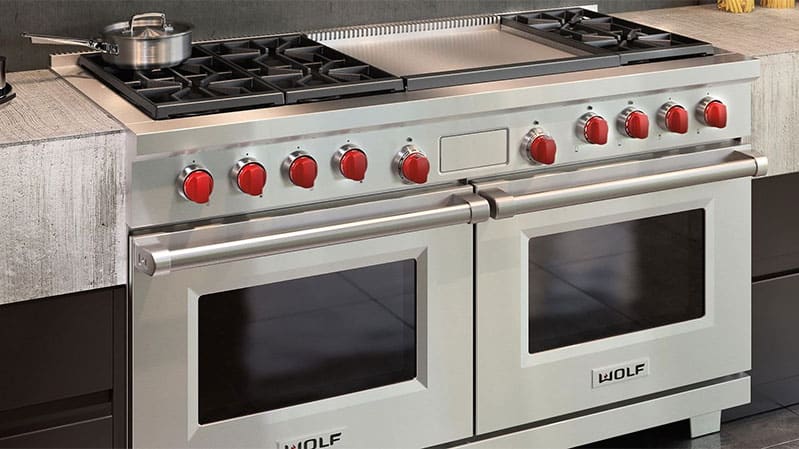 Wolf Professional Dual Fuel Range
In Wolf, the maximum output on all gas burners is 15,000 BTU (British Thermal Units) versus 20,000 BTU for the dual fuel range.
The dual fuel model also features their new blower convection system, is Wi-Fi compatible, and has the Wolf Gourmet guided cooking system.
You input the food and how you like it cooked, and the range will recommend the time, temperature, and even the rack position.
Miele Dual Fuel Ranges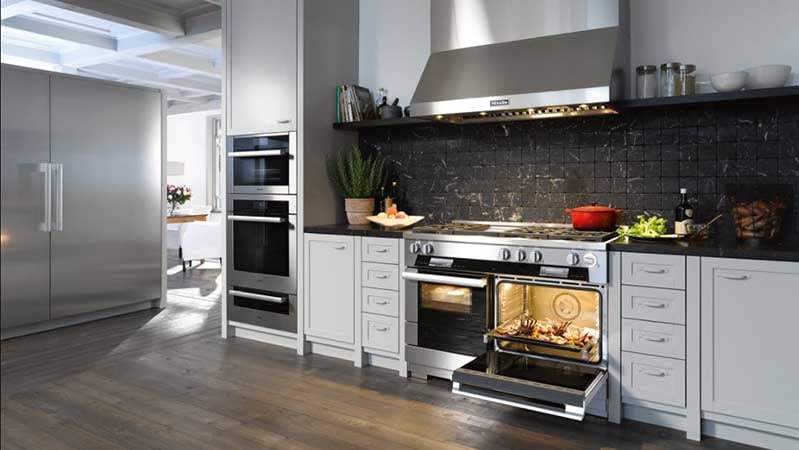 Miele Professional Dual Fuel Range
Miele has their MasterChef touch controls on their dual fuel range only, similar to the Wolf Gourmet.
However, they add steam assist functionality, allowing you to easily bake bread or steam cook other dishes. With the touch controls, you just touch the button for whatever bread you want to make.
Thermador Dual Fuel Ranges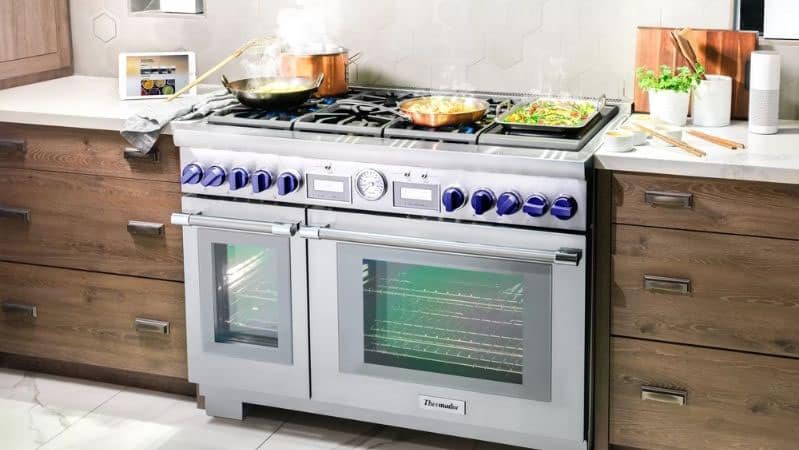 Thermador Professional Dual Fuel Range
Speaking of steam, Thermador's larger dual-fuel ranges offer full steam ovens. You can cook a meal in steam, healthier because it doesn't bake out the nutrients.
Read More: How to Buy a Professional Range
One Last Consideration
For a professional range, dual fuel is a viable option, mostly because of the added features.
But before you buy one, dual fuel professional ranges have a 19.9% service rate, based on over 40,000 service calls logged last year.
That's almost 4% higher than the professional all-gas models. Be forewarned, service in this industry is maddening.
Why You Shouldn't Buy a Dual Fuel Range: Key Takeaways
Before buying any range, assess how you like to cook because there may be better options.
For broiling and roasting, gas will be better, and the gas stovetop is better than electric. Induction is better if you want a faster stovetop and better baking in an electric oven.
Be mindful if converting either way for an electric or gas range. You will need a gas line installed professionally if you want a gas stovetop. If you can't ventilate your kitchen correctly, stick to an electric or induction range.
Lastly, more complicated ranges like dual fuel often require more service. Make sure the brand or store you purchase from can fix your new dual range.
Additional Resources
Looking for more information on pro ranges? Get the Yale Pro Cooking Buying Guide with features, specs, BTU Outputs, and detailed profiles of the major brands. Well over 1 million people have read a Yale Guide.
Related Articles:
Why Should You Trust Us?
It seems that every appliance review has nothing but glowing comments about almost every product, yet you read customer reviews and they are almost universally bad.
We are here to fill in the disconnect. We'll give you the best features, and the drawbacks as well, including reliability based on over 37,000 calls performed by our service team just last year. Our goal is to give you ALL the information so you know what's right for you.
Please consider subscribing or adding to the conversation in the comments below. We appreciate you stopping by.
A Note About Pricing
Pricing on this blog is for reference only and may include time sensitive rebates. We make every attempt to provide accurate pricing at time of publishing. Please call the stores for most accurate price.