Stainless steel has been the finish of choice for home appliances for many years now, far surpassing the old standards of black, white, and the oh so popular bisque finish.
From high-end designer kitchens to quick renovations, stainless steel has been the choice. When stainless steel prices increased 10 years ago, manufacturers started producing a less expensive stainless looking option like GE with CleanSteel and Frigidaire with Silver Mist.
Better than Stainless Steel?
Thanks for reporting a problem. We'll attach technical data about this session to help us figure out the issue. Which of these best describes the problem?
Any other details or context?
message
Let's compare stainless steel to CleanSteel and Silver Mist.
Short on time? Get our free Appliance Buying Guide with brand comparisons for the most popular products »
Stainless Steel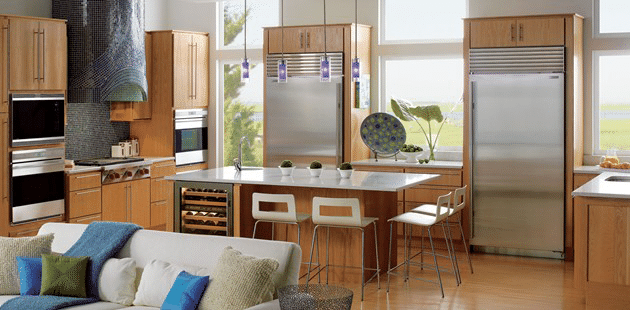 Stainless Issues
There are a few concerns with a stainless finish. Most are not magnetic, so you cannot place your children's artwork, appointment reminders, and other information on the fridge.
Stainless will also show finger prints. Some manufacturers, Frigidaire in particular, will apply a coating to the finished products to help prevent this. You can also buy stainless cleaners which are highly effective as well.
Cost is $50-100 more per piece over white, black or bisque.
Benefits
There are benefits to stainless as well. Stainless does not stain or rust, which is important near salty air (like Boston).
The main benefit to stainless is its looks and lustrous finish. Stainless has the high mystique as it originally was exclusive to professional ranges. Stainless also matches every type of cabinet unlike any other finish.
CleanSteel / Silver Mist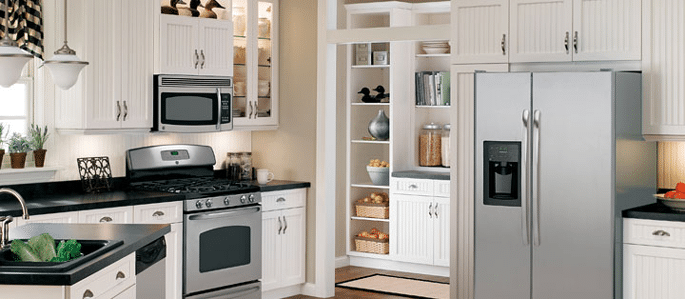 GE CleanSteel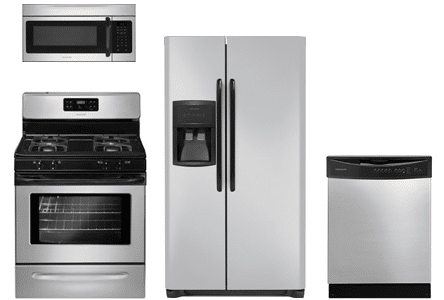 Frigidaire Silver Mist
Benefits
The alternative to real stainless would be CleanSteel or Silver Mist, a stainless look but without the inherent problems of real steel. The manufacturing process happens by applying a paint or laminate to a less expensive carbon steel.
These products will have a similar look, be magnetic, and for the most part are finger print and smudge resistant. All of these products can be cleaned using everyday household cleaners or a mild detergent.
Downsides
There are a few downsides to the faux stainless finish. If you scratch the surface of one of these products, the color underneath the paint or laminate may become visible. These scratches can rust over time.
Overall durability could become an issue. The look of CleanSteel and Silver Mist does not have the same luster as real stainless steel. In fact, it seems more gray than stainless.
Conclusion
Many commodity and lower end builders will still use the imitation stainless. All manufacturers (with the exception of Miele and Gaggeneau) will now offer different rebates and promotions that will bring the price of real stainless steel more in line with the fake finish.
This does not mean the end of the imitation stainless finish, as some manufacturers have invested heavily in factories to produce these items. The CleanSteel or Silver Mist will never take the place of the real thing, still leaving customers with a choice.
If you have a choice, however, stainless is a superior looking finish at a minimal price difference. It is by far the better choice.

Additional Resources
Download a Yale Buying Guide covering all aspects of home improvement with facts, specs and honest conclusions. Over 100,000 people have read a Yale Guide.
Related Articles