So, you are buying a full suite of appliances for your kitchen. It is not easy researching each unit, but there may be a better way. Consider buying the brand.
This strategy works because all your appliances will match. Rebates also increase when you buy a whole kitchen package. It's a much better deal.
At the same time, this is your kitchen. Buy what you like and what you will use. Just be mindful of the different handle styles and shades of stainless of the different brands.
July Packages
We always feature an inexpensive Frigidaire package. However, the basic $1,599 package or the $100 upgrade has a larger refrigerator and integrated refrigerator.
Last month LG had some great deals.This month look at KitchenAid. Their $2,999 package is fantastic with counter depth refrigeration and a front control range.
Samsung is back, but their availability has been poor. Be prepared to wait a bit. The Jenn-Air package at $4,999 is fully featured.
We have 50 packages this month, these are the most popular and best deals.
Just starting your search? Get our Appliance Buying Guide to show you how to choose the perfect products for your kitchen »
Benefits of buying a package of appliances
Best Stainless Steel Kitchen Appliance Packages by Manufacturer
Pricing updated for July 2016
Frigidaire Basic Stainless Steel Package
$1,599 Electric / $1,599 Gas - This package offers up to $180 in rebates.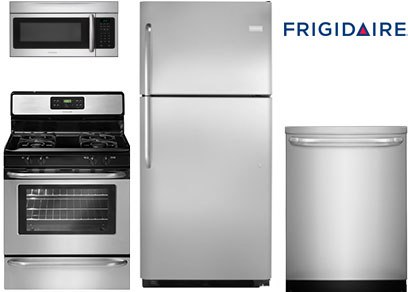 This stainless steel package includes an 21 cu. ft. fridge, electric or range, stainless steel dishwasher and over-the-range microwave.
Frigidaire is a great builder or starter home package. It has a coordinated look, and is actually one of the most reliable appliance brands.
Samsung Basic Stainless Steel Kitchen Package
$1,799 Electric / $1,799 Gas - This package offers up to $430 in rebates.
This Samsung starter package has some great features. It has a 25 cubic foot side by side refrigerator, convection range, over-the-range microwave and stainless interior dishwasher. The appeal is the big refrigerator for a good deal.
You will love the style, but be prepared to wait.
Frigidaire Gallery Counter Depth Package
$2,299 Electric / $2,549 Gas after $340 in rebates
Frigidaire Gallery is the more upscale looking line with stainless handles instead of black and a generally better appearance with more stainless steel.
Counter depth is the best feature to this package.The refrigerator will not protrude into your kitchen. It also has a stainless interior dishwasher, over-the-range microwave and a convection range.
It is unusual to have counter depth at this price.
Get our free Appliance Buying Guide to compare reliability, style, price for all the popular manufacturers »
KitchenAid Counter Depth Refrigerator Package
$2,999 Electric /$3,099 Gas after $890 in rebates
The new KitchenAid has a more professional appearance and style. For $2,999, you have a counter depth French door refrigerator and a convection front control range. Their iconic dishwasher is also excellent.
Samsung 4 Door Refrigerator Package
$3,599 Electric / $4,299 Gas after $430 in rebates
The range has True convection, and the dishwasher has their WaterWall technology. However, their 4 door French door refrigerator is the highlight of this package.
Jenn-Air Stainless Steel Kitchen Package (Limited quantity)
$4,999 Electric / $5,299 Gas after $1,600 in rebates
The Jenn-Air is perhaps one of the best packages to consider with a 22 cubic foot shallow depth refrigerator along with an integrated, quiet dishwasher. The range is a slide-in, so you can see your backsplash.
Jenn-Air also has the largest interior of any range currently on the market and is powered by convection. The bottom drawer can also warm food for up to three hours. The over-the-range microwave is also convection, so it can be used as a secondary oven as well. So you essentially have two ovens and a warming drawer.
Which is the Best Choice?
Well, this list runs the gamut. If you are starting out, Frigidaire, and even Samsung, are decent options. Samsung has the cool factor, but Frigidaire is more reliable and available.
Frigidaire Gallery has a counter depth refrigerator for an inexpensive price. Jenn-Air has every feature under $5,000. KitchenAid has great features at $2,999.
There is not one package for everyone (it would be easier if there were). Just assess your needs and buy what you like. We have approximately 40 more by clicking the link below by Bosch, Maytag, Electrolux and more.
Additional Resources
Looking for more help on appliances? Get the free Yale Appliance Buying Guide with the 10 most frequently asked questions; answered, features on the major brands and advice for the best buying strategies. Well over 160,000 people have read a Yale Guide.