So, you are buying a full suite of appliances for your kitchen. It is not easy researching each unit, but there may be a better way. Consider buying the brand.
This strategy works because all your appliances will match. Rebates also increase when you buy a whole kitchen package. It's a much better deal.
The question is...which brand?
Manufacturer rebates change constantly and we update our packages monthly. This month is different as new KitchenAid products have more aggressive rebates. Samsung has some interesting packages along with Jenn-Air, Bosch, Frigidaire and Maytag.
We have 50 packages this month, these are the most popular and best deals.
Just starting your search? Get our Appliance Buying Guide to show you how to choose the perfect products for your kitchen »
Best Stainless Steel Kitchen Appliance Packages by Manufacturer
Pricing updated for April 2016
Frigidaire Basic Stainless Steel Package
$1,799 Electric / $1,899 Gas - This package offers up to $150 in rebates.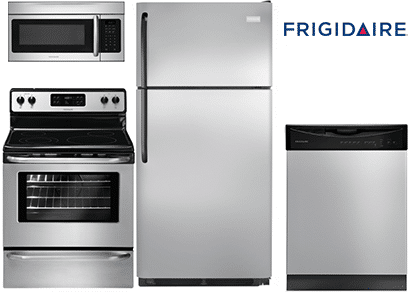 This stainless steel package includes an 18 cu. ft. fridge, electric or range, stainless steel dishwasher and over-the-range microwave. Frigidaire is a great builder or starter home package. It has a coordinated look, and is generally reliable.
Frigidaire Upgraded Stainless Steel Package
$1,999 Electric / $2,099 Gas - This package offers up to $230 in rebates.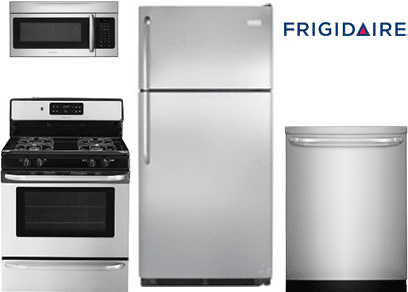 This range features a 21 cubic foot and a better featured dishwasher. The 21 cubic foot is family sized for up to 5 people, and still fits within a standard 30" cabinet.
Samsung Basic Stainless Steel Kitchen Package
$2,099 Electric / $2,199 Gas - This package offers up to $350 in rebates.
This Samsung starter package has a 25 cubic foot side by side refrigerator, convection range, over the range microwave and dishwasher. The appeal is the big refrigerator for a good deal.
KitchenAid Basic Stainless Steel Package
$3,299 Electric / $3,399 Gas - This package has up to $795 in rebates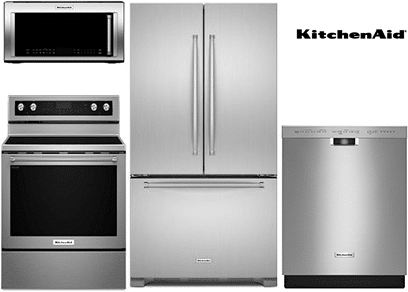 This package includes a 25 cu. ft. regular depth french door refrigerator, a 5 burner range with convection, over the range microwave and iconic dishwasher. I like the new KitchenAid styling. It is cleaner and more sophisticated.
Get our free Appliance Buying Guide to compare reliability, style, price for all the popular manufacturers »
Bosch Basic Stainless Steel Kitchen Package
$3,499 Gas - This package offers up to $1,485 in rebates

The refrigerator is a french door, regular depth refrigerator. The oven is a 5 burner convection with an over the range microwave and their well known, quiet dishwasher. This is a great starter package.
KitchenAid Upgraded Kitchen Package
$3,999 Electric / $4,099 Gas - This package offers up to $695 in rebates.


The refrigerator and microwave is the same as the basic package above. The differences are; a dishwasher with an integrated control panel, and a double oven range, it's a great feature for people who like to bake.
KitchenAid High End Kitchen Package
$4,199 Electric /$4,299 Gas - This package offers $690 in rebates.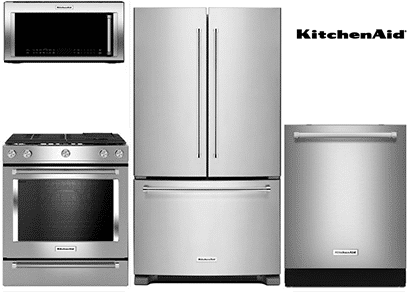 This is the best KitchenAid package with a counter depth french door refrigerator and a slide-in range. Counter depth refrigerators and slide-in ranges are considered high end because of it's seamless, built in look. A decorator's favorite.
Electrolux Stainless Steel Kitchen Package
$4,499 Electric / $4,699 Gas - This package offers up to $1,010 in rebates.
This package features a 26 cu. ft. side by side refrigerator, the range is a slide-in with convection and a warming drawer, dishwasher, and a convection microwave.
This is a actually great package, because the convection microwave can cook like a convection oven. If you set the combination microwave and convection, you can cook in almost half the time without the rubbery microwave taste.
Jenn-Air Stainless Steel Kitchen Package (Limited quantity)
The Jenn-Air is perhaps one of the best packages to consider with a 22 cubic foot shallow depth refrigerator along with an integrated, quiet dishwasher. The range is a slide-in, so you can see your backsplash.
It also has the largest interior of any range currently on the market and is powered by convection. The bottom drawer can also warm food for up to three hours. The over the range microwave is also convection, so it can be used as a secondary oven as well.
Frigidaire Professional Kitchen Package
$5,599 Gas - Save up to $540.
This Frigidaire package is extremely full featured for a package in this price range. It will give you a front control freestanding range that offers great BTU's as well as convection and a temperature probe, over that will be a matching convection microwave.
The dishwasher is surprisingly quiet and also adds a 30 minute fast wash cycle, and the refrigerator is counter depth french door, with ice and water through the door. Standard retail on the fridge alone is $2,999 so this package is great at under $5,000.
Bosch and Thermador Professional Stainless Kitchen Suite
$8,399 Gas - This package has up to $1,339 in rebates.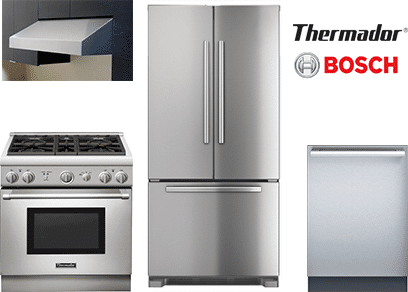 Thermador & Bosch are known for their professional style kitchens that offer a very stylish European design with a simple touch of a commercial look.
The following package includes a pro-style built-in refrigerator with a bottom freezer, a powerful professional range with 6 sealed burners, a great stainless steel dishwasher, and a powerful professional style canopy hood.
Which Is the Best Choice?
Well, this list runs the gamut. If you are starting out, Frigidaire, Maytag and even Samsung are decent options. From there it can be confusing, and really depends on what certain features you like.
The Electrolux has great cooking features and modern styling, but it is a regular depth, side by side refrigerator. KitchenAid looks good with both a slide-in range and a counter depth refrigerator.
There is not one package for everyone (it would be easier if there were). Just assess your needs and buy what you like. View full list of packages here.
You can call us at 617-825-9253 with any questions.
Additional Resources
Looking for more help on appliances? Get the free Yale Appliance Buying Guide with the 10 most frequently asked questions; answered, features on the major brands and advice for the best buying strategies. Well over 120,000 people have read a Yale Guide.