Whirlpool introduced the first French door refrigerator in the 1980s, but discontinued them. They returned about 10 years ago and are now the most popular refrigerator on the market.
French door refrigerators offer the benefit of easier, waist high access to refrigerator items. They are easier to open in island kitchens and offer more refrigerator space than a side by side refrigerator.
Short on time? Get our free Refrigerator Buying Guide for features and reviews of all the major brands »
Double Drawer French Door Refrigerators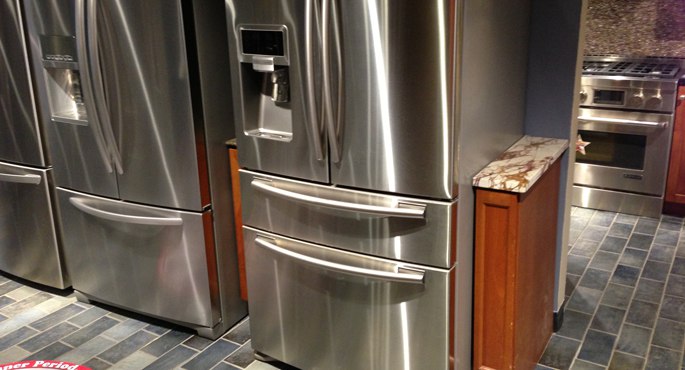 A double drawer French door is an extra drawer compartment between the fridge and freezer. It can be either a fridge drawer or freezer drawer depending on the brand. Although it is purchased for looks and curb appeal, the double drawer is also convenient with immediate access to certain food items rather than opening the whole refrigerator.
For example, the second drawer is great for kids yogurts and snacks. It's also great for fruit, veggies, and meats as the drawer is temperature adjustable. For the freezer drawer option, it will better organize ice cream, popcicles and smaller items.
Manufacturers will make it either refrigerator or freezer, not both. Following are the best of each.
Refrigerator Drawer Models
Samsung RF31FMEDBSR - $3,499

Ultra High Capacity 30 cu. ft.
Twin Cooling Plus - Refrigerator is kept at a moister humidity level and freezer at a dryer level
Makes up to 10 lbs of ice daily
LED interior lighting
Slide in/flip up shelf for larger items
EZ-Open Handle makes opening loaded doors/drawers effortless
Stainless interior trim
Energy Star Rated

Jenn-Air JFX2597AEM - $2,699

PUR® Ice/Water Filter
Glide-Out Drawer with SmoothClose™ Drawer Track System
Max Cold-Max Cold helps keep the refrigerator and freezer temperatures cool during times of excessive use.
Touch Screen Electronic Controls
Flush Cubed/Crushed Ice and Water Dispenser
Ramp-Up LED Theater Lighting
Adjustable Humidity-Controlled Crisper Drawers
Automatic Adaptive Defrost-This defrost feature automatically detects frost buildup and switches to defrost, saving the freezer's contents—and energy.
ENERGY STAR® Qualified –is 25% more efficient than Minimum Federal Energy Standards
Quad Sensor™ climate control system features four independent sensors to help extend freshness and minimize food spoilage by monitoring and regulating temperatures in the refrigerator and freezer.
Freezer Drawer Models
GE Profile PGSS5RKZSS - $3,199

20.7 cu. ft.
Armoire Style Double Drawer Freezer System
In-the-Door Icemaker
Tall, External Ice and Water Dispenser with Temperature Display
Dispenser offers filtered water and ice for taller bottles.
Ramp-Up LED Lighting-Crisp, white lighting increases as the doors are opened until full illumination.
Adjustable Spillproof Glass Shelves
Door Alarm
3 Multi-Level Drawers
6 Glass Shelves in Fridge Compartment
Interior LED Lighting in Freezer

LG LSMX211ST - $3,399

20.5 cu. ft.
Filtered water/ice dispenser
Door alarm
Humidity controlled crisper
Glide N Serve variable temp controlled space
Auto closing hinges
LED interior lighting
2-year manufacturer warranty
Smart diagnosis - transmit fridge data over the phone to LG service tech
Which is Best?
Ultimately, it really depends how you use the refrigerator or freezer. The most convenient part of the refrigerator really is the second drawer, so your selection should be whether you store more ice cream or yogurt for example. I like the refrigerator drawer better, because most people use more refrigerator than freezer (at least I do).
From a product perspective, I like the size of Samsung, but Jenn-Air has better rebate opportunities and the ability to package your whole kitchen. GE has a decent product (we don't sell GE at Yale) and LG is a French door company.
In terms of reliability, although LG and Samsung tend to be a bit more reliable, Jenn-Air is better at handling issues.
Additional Resources
Read the Yale Refrigerator Buyers Guide for information about refrigerators including specs and insider buying tips. Over 100,000 people have read a Yale Guide.
Related Articles