A counter depth refrigerator does not protrude from the cabinets. It is more aesthetically pleasing because you won't see the sides. It is also a benefit to have a shallower refrigerator in a galley kitchen or with an island design. There will be more room between the refrigerator and the island itself. Scroll below to see the 5 best starting at $1,249.
Updated for July 2015
For this article, we will focus on the non-professional shallow depth products. Professional refrigerators are taller at 84 inches, have the compressors on the top and have the "restaurant" or commercial look...and price. Integrated refrigerators fit totally inside the standard cabinet, so they are seamless and indistinguishable from the cabinet itself. Only the doors protrude on the pro and regular counter depth.
Have a look at a professional and integrated refrigerator...
| | |
| --- | --- |
| | |
| Professional counter depth refrigerator at Yale | Integrated counter depth refrigerator at Yale |
Regular Counter Depth Refrigerators
Regular counter depths are basically shallower refrigerators. Have a look at some installations.
| | |
| --- | --- |
| | |
| regular counter depth refrigerator from the front | regular counter depth refrigerator from the side |
5 Best Counter Depth Refrigerators
Bosch counter depth B22CS50SNS
$2,339 (after rebates): I like the style, plus it is even more aggressively priced when purchased in a package.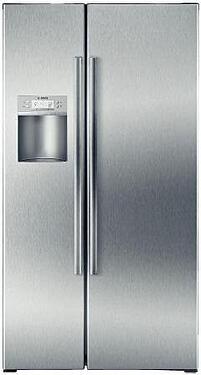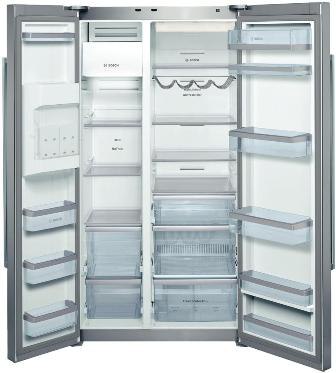 Jenn-Air JFC2089BEM
$2,299 (after rebates): Jenn-Air was the first upscale counter depth French door on the market about 10 years ago at $2,600. It is still a decent refrigerator with an interior icemaker. This refrigerator is also part of our best selling package. This model is being replaced with LED lights and concealed hinges.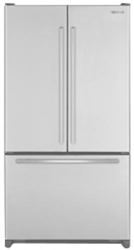 $1,249 after rebates: You buy a refrigerator based on the cabinet openings. 80% of the refrigerator openings are 30 or 33 inch, yet 90% of the counter depth products are 36 inch width. I like the Samsung, because it is the best counter depth french door refrigerator at 33 inches wide. Read this post about 33 inch counter depth refrigerators.
$1,399 after rebates: Frigidaire suffers from an identity crisis, but is actually one of the most reliable brands sold at Yale. I really like this refrigerator especially with $400 in rebates. This side by side is 23 cubic foot with an ice and water dispenser and the stainless is finger proof. You could package this with other stainless appliances for less than $2,999.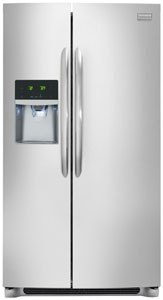 $2,099 after rebates: The Frigidaire Gallery is 23 cubic foot or three cubic feet bigger than the Jenn-Air refrigerator and has an external ice and water dispenser.
One (very) small word of caution: You do sacrifice between 3-5 cubic footage and pay $200-500 more for a counter depth refrigerator. However, counter depth refrigerators are perhaps one of the best products to affordably design into a high-end kitchen. If you have any questions, please call us at 617-825-9253
Related Articles
Have a look at some other posts over the years:
Direct Comparisons
Additional Resources
To understand the differences between integrated, pro, shallow, french, top and bottom mount refrigerators read our post about "Types of Refrigeration".
Download the Yale Counter Depth Buying Guide with features, specs and inside buying tips to regular, pro and integrated counter depth refrigerators. Well over 50,000 people have read a Yale Guide.