The 18 inch dishwasher is almost exclusively an urban phenomenon. Typically, smaller apartments have smaller spaces with smaller kitchens producing the need for smaller appliances. 18" dishwashers are more popular than other smaller appliances like stoves and refrigerators where more space is more often needed.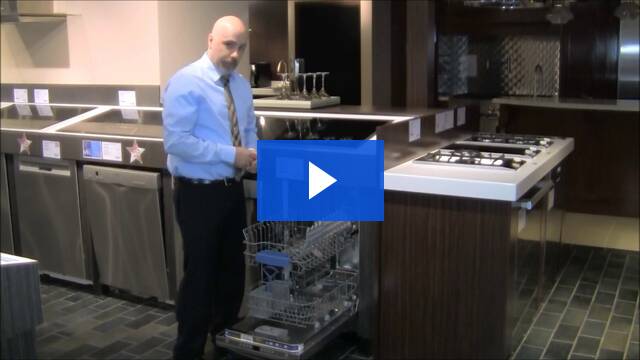 When I started in this industry, 18 inch dishwashers were manufactured by one company, D and M Industries. Frigidaire and others labeled this dishwasher. Then two significant events ocurred; D and M went out of business and the European manufacturers started importing into the US. The Europeans use 18 inch dishwashers almost exclusively.
Now there is more choice then ever. Let's look at the four best:
Best 18 Inch Dishwashers
Monogram
ZBD1870SNSS

Frigidaire
FFBD1821MS

Bosch
SPX5ES55UC

Miele
G4510SCISS
Monogram ZBD1870SNSS $1099: We do not sell Monogram anymore, and this is arguably the best piece in the Monogram line with good features, stainless steel tank and a reasonable price.

Frigidaire FFBD1821MS $539: How does Frigidaire manufacture a better 18 inch dishwasher than the more popular 24 inch size? Seriously. This dishwasher has a stainless steel tank, every feature from pots and pans, normal and china crystal at a decent price. The Frigidaire is perhaps the best value of the four.

Bosch SPX5ES55UC $1039: Bosch was the first dishwasher to focus on quietness at 46 DBs as well as function and all the main cycles (read the post The Quietest Dishwasher Revealed).

Miele G4510SCISS $1399-1499: The best dishwasher sold anywhere is a Miele. The only part not manufactured by Miele directly are the rollers under the racks, so the service rate on a Miele is less than any other appliance. Miele also has a unique drying system. The dishwasher lets air into the exterior of the side wall. The steam becomes attracted to the side and dissipates. At $1399, the price is higher than every other dishwasher. We wrote a post called "Are Miele Dishwashers Really Worth It", which you may find helpful. Miele is also the least serviced brand at Yale
Related Articles
Additional Resources
For more information about dishwashers, including 18 inch dishwashers, read The Yale Dishwasher Buyers Guide Dishwasher Buying Guide. Over 40,000 people have read a Yale Guide.