Like with many other commodities, appliance technology is constantly improving.
Years ago, you had to spend big bucks to get the innovative features. Today, most appliance brands produce a warming drawer and an induction cooking product, and almost every oven has convection and self-cleaning. For gas ranges, every range has at least one power burner equal to an expensive professional range.
For many families, making the decision to purchase a new kitchen is an enormous one. It requires both a financial and time commitment.
Short on time?
Get our free Appliance Buying Guide »
Fortunately, affordable luxury brands produce compelling products with cutting edge features at a more affordable price. What once was a $5,000-$7,000 dollar refrigerator is now a $3,500-$10,000 appliance package of stove, microwave, dishwasher and refrigerator.
Following are the 5 best affordable luxury brands for people who still want good looking, yet functional appliances at a decent price.
The 5 Best Affordable Luxury Appliance Brands
5. Frigidaire Gallery / Frigidaire Professional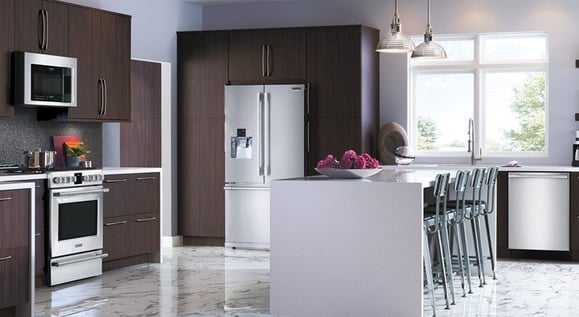 Surprised? Don't be. Frigidaire was the first company to manufacture an affordable stainless steel product. With the addition of French door refrigerators, their packages offer good styling and great value with excellent reliability.
Pros: Smudge proof stainless steel, great value, very well priced packages.
Cons: Need more options in black/white, too many repetitive model numbers for each product category.
4. KitchenAid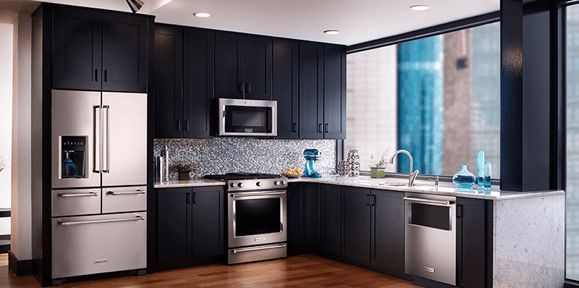 KitchenAid is a well-known affordable luxury appliance brand in the US market, especially for American-style dishwashers and refrigerators. They make everything from integrated refrigerators, double oven freestanding ranges, and even a dishwasher with a viewing window.
Pros: New line of product that is fairly attractive with more industrial-style handles, their package pricing is fairly competitive.
Cons: Their new handles do not match the old generation of KitchenAid appliances. If you are replacing one appliance, you will likely be introducing new handles into your design. They also need more induction products as well as a more differentiated French door refrigerator.
3. Electrolux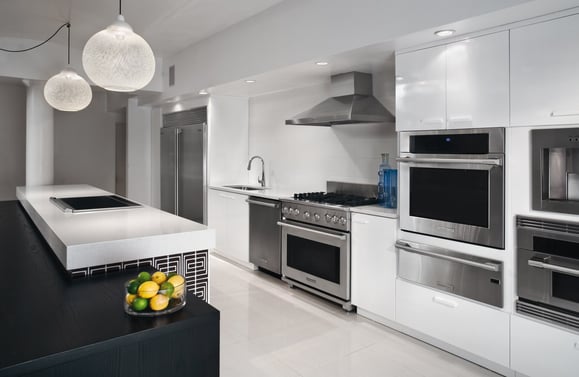 Electrolux is a new brand in the US, yet is the number one brand around the world. They are very strong in cooking with innovative, easy to use cooking modes and have good induction offerings as well. They recently released a new line of dishwashers that give you a ton of high-end features for a lower price point than the competition. I also really like their refrigerator crisper bins. Their laundry is also really good.
Pros: Very attractive, user-friendly product line, laundry, interior of their refrigerators, wave-touch control appliances.
Cons: It's modern styling is different, and that could be a problem.
2. Bosch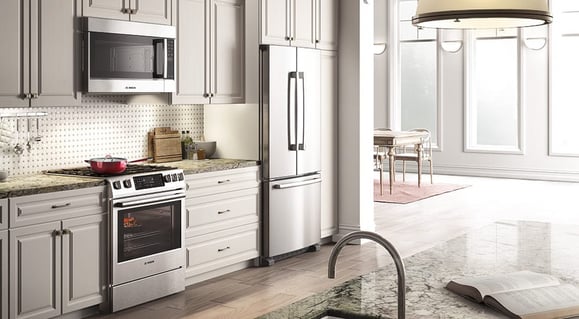 Bosch is perhaps the original affordable luxury brand. They were the first to understand style and also quietness, which has enabled them to sell tons of dishwashers. Their products are distinctive and attractive.
Bosch had an enormous product launch in 2014. One of the most successful aspects of this launch was the introduction of the Benchmark Series. The Bosch Benchmark Series is designed to appeal to the customer looking for luxurious product without breaking the bank on a Wolf or Miele.
You will like the commercial styling and features like side-swing door ovens as well as touch screen controls for more affordable prices. Keep in mind that Benchmark offers ranges, wall ovens, and cooktops (gas, electric, induction) as well as integrated refrigeration.
Pros: Best dishwashers in the industry for an affordable price, Benchmark line offers high-quality products that can compete (from a features perspective) in the high-end market against big name brands such as Wolf and Miele.

Cons: Bosch will soon discontinue a huge portion their value line products. Their freestanding ranges and refrigeration are sourced from other companies. Bosch needs to find a way to manufacture a value line.
1. Jenn-Air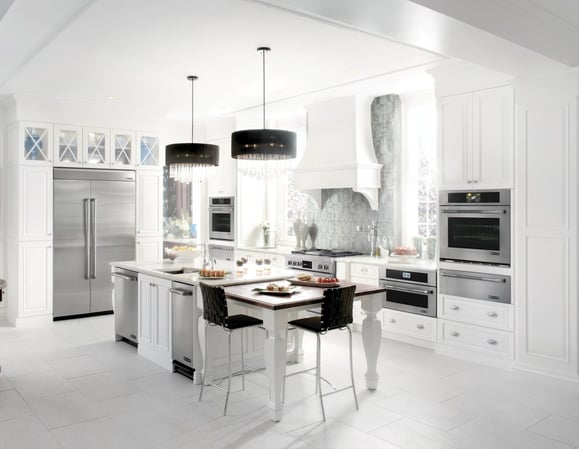 Jenn-Air was an early pioneer of convection and cooking. Whirlpool recently invested 300 million dollars into the brand specifically for pro ranges and wall ovens. Their pro range is really compelling, especially with their free dishwasher promotion. It's actually cheaper than every slide-in range when including the free dishwasher.
Their slide-in package at $5,000 includes a slide-in range with convection and warming drawer. You also have a convection microwave, so you have two ovens and a warming drawer for cooking. Also included is an integrated dishwasher and counter depth French door refrigerator.
Pros: Jenn-Air dramatically improved the appearance of their appliances in their newest product release. The control panels on their wall ovens are much more user friendly.

Cons: Jenn-Air isn't really an affordable luxury line anymore. Their packages are more likely to compete against Wolf and Thermador than the other brands on this list.
Honorable Mention
Samsung
You know their cell phones and televisions, but they also manufacture appliances. They are known for their innovation. Their laundry and refrigeration is extremely popular. We really like the features, fit and finish on their Chef Series line. They need to improve parts availability for service and dishwashers.
Are Bosch and Jenn-Air affordable luxury brands?
Affordable luxury refers to appliances that are designed to give you high end features yet are desirable for the price conscious consumer. In reading this, you might think that it is unfair to rate brands like Jenn-Air and Bosch above Frigidaire, Electrolux and KitchenAid because of their selection of higher end models. There is no doubt that Jenn-Air and Bosch are moving in that direction. I am curious to see what happens for Bosch's non-Benchmark line.
Conclusion
You don't have to spend over $10,000 to get a nice appliance package. The affordable luxury market gives you great options in a variety of brands. Typically, in the same brand you have access to both high end and entry level packages, so you can buy affordable packages with great features.
Click here to see our most popular Affordable Luxury Kitchen Packages
Additional Resources
Download the Yale Appliance Buying Guide with buying strategies, specs and descriptions of every major brand. Over 110,000 people have read a Yale Guide.
Related Articles