Jenn-Air Vs. Thermador Induction Cooktops (Reviews / Prices)
September 3rd, 2019 | 7 min. read
By Stan Pendrak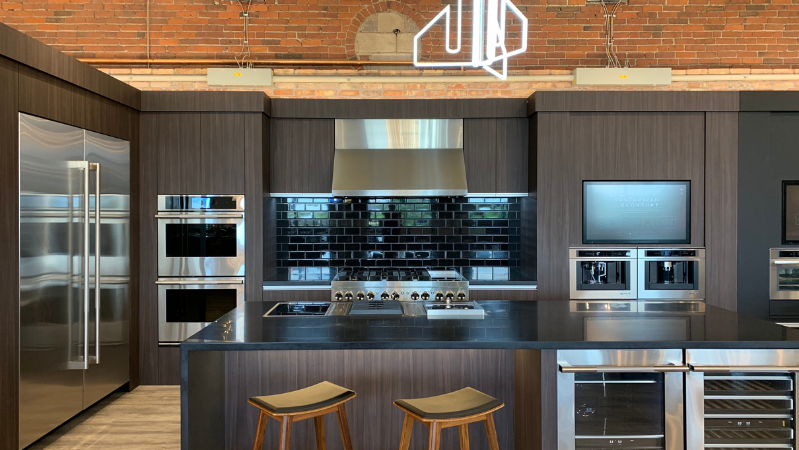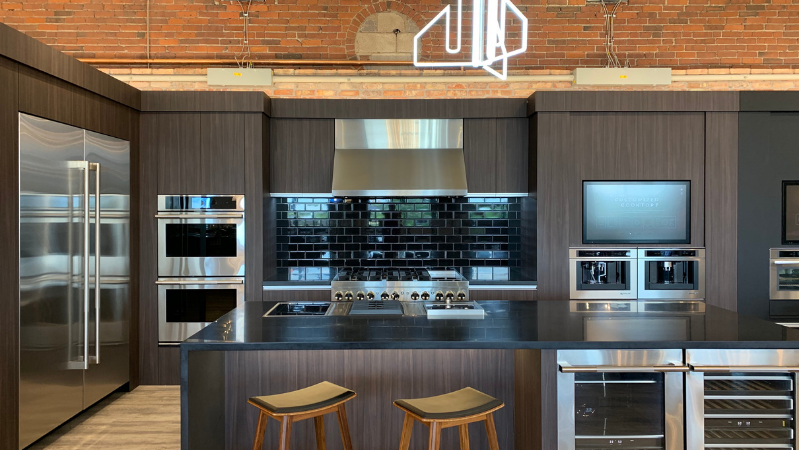 There are many options for premium induction cooktops.
Sub-Zero has its Wolf brand. BlueStar, Miele, Viking, and GE Café are all products you should consider.
However, two of the most popular are from Whirlpool's premium brand, Jenn-Air, and Bosch's premium brand, Thermador.
Both have new products, similar promotions, yet very different features.
In this article, you will learn about Jenn-Air's and Thermador's best induction cooktops, their features, and finally, their reliability.
First, let's learn a bit about induction.
What Is Induction?
Induction elements are located under the cooking surface and create magnetic fields. The magnetic fields excite the molecules of the pan, creating the heat source.
The pan, not the glass surface, cooks the food.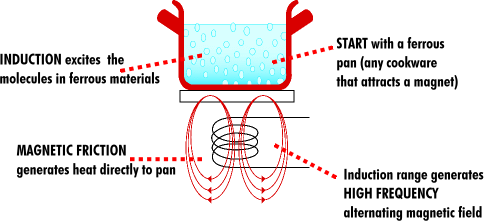 With electric radiant elements, the elements heat up, and then those elements heat the glass. The heated glass transfers heat to the pan for a much slower process.
That is the technology between induction versus electric radiant heating, and it creates performance benefits outlined below.
What Are The Benefits Of Induction Cooking?
Efficiency – Induction is the most efficient cooking application, with the least amount of wasted heat. It also requires the least amount of ventilation. If you live in Massachusetts, an induction cooktop can align with Makeup Air statutes of 400 CFM (click this link if you do not know this killer of a statute). Induction will provide you with the hottest temperatures in the shortest amount of time.
Responsive – Much like gas, induction will quickly adjust/react to changes, from a high- heat to a low simmer, in a matter of seconds.
Safety – Induction is known to be the safest means of cooking. The unit will only turn on, once it recognizes metal cookware. Unlike an electric cooktop or range, induction will begin to cool quickly once the cookware is removed, or the unit is turned off. It is the most child-safe because the glass surface does not directly heat. It is NOT childproof, because there is residual heat from the pan to the glass. Induction will also shut off automatically once you remove the pan.
Cleaning – With the glass not becoming super hot, food doesn't stick as it would with electric or gas and is much easier to clean.
Cost - Aside from induction being more readily available in many more brands today, it has also become a more affordable application than a professional gas cooktop. The average price of an induction cooktop is $2,000-$2,500. The average price of a professional cooktop is $3,000. You also can buy a less expensive hood with induction as well.
Speed - Induction is faster than professional gas as well as having an instant simmer.
If you want to learn more about the benefits of induction and how it compares to gas cooking, check out our free induction buying guide by clicking this link.
Jenn-Air Vs. Thermador Induction Cooktops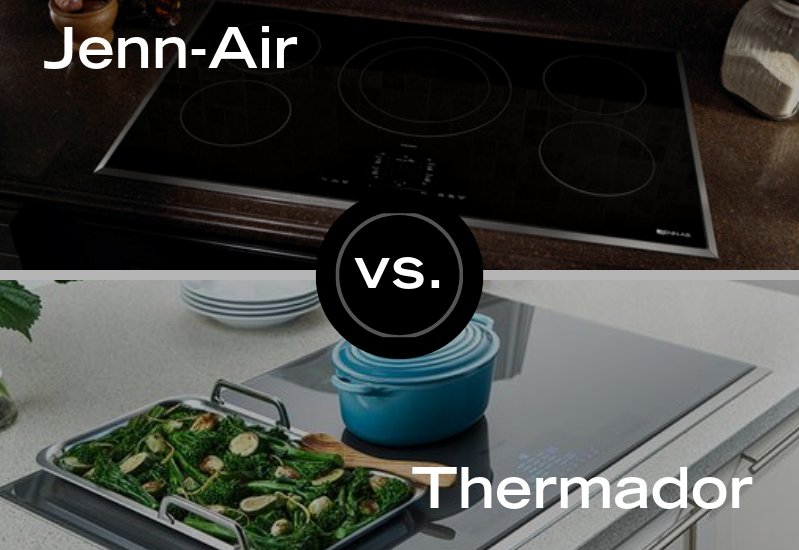 First, let's introduce Thermador and Jenn-Air. Then we'll compare their best induction cooktops side-by-side so you can choose the right one for your home.
Thermador
Thermador is part of the BSH home appliance corporation, headquartering in Huntington Beach California. They are a German-based company since the 1990s but were founded in the US in 1932.
They are the 3rd largest appliance manufacturer in the world. About 95% of Thermador appliances are made in the USA.
Jenn-Air
Louis J. Jenn established Jenn-Air in Indianapolis, Indiana in 1947. In the early years, the company focused on a variety of commercial and industrial applications, which inevitably led them to their signature downdraft range.
In 1982, Maytag then purchased and produced all appliances for Jenn-Air but unfortunately neglected the brand due to its internal issues.
Whirlpool in 2003 purchased Maytag and invested 300 million in Jenn-Air.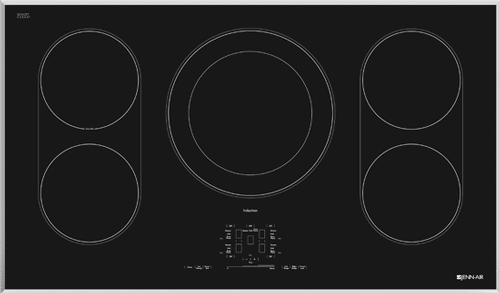 Highlights
Performance Boost Function - Performance Boost function, which is Jenn-Air power boost takes power from the adjacent burner and adds that additional power to the burner.
Pan Size Detection - Detects the pan position on the element and will shut down 30 seconds after its removed
(5) Induction elements
(4) 2500 watt burners and (1) 5000 Watt center burner
(5) Individual burner timers
This model offers decent features based on the price, and can also accommodate griddles.
It's effortless to use with its temperature slide controls and can be installed over a single wall oven. The Jenn-Air can be framed as shown or frameless for a flush installation.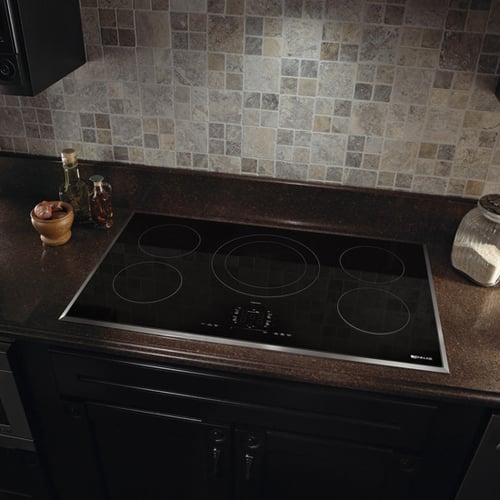 Flush Installation of a Jenn-Air Induction Cooktop
The power boost feature stands out as you can boost your main burner while only reducing your adjacent burner by 50%. So both burners can be used at the same time.
It also can be packaged with other Jenn-Air appliances for an additional $1,200 in savings.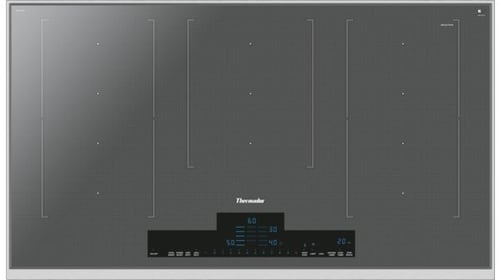 Highlights
Offers 3 Large Cooking Zones with five burners
(2) 3600 Watt and (1) 3700 Watts
Power Boost- This increases the power of your burner and heats the pot or pan very quickly
Heat Shift mode- You can set 3 different power levels by just moving the pan across the cooking surface.
Move Mode- allows the user to move the pot or pan across the cooking surface without changing the power level.
Teppanyaki feature lets you cook with very little oil. Great for searing and browning
Wi-Fi Homeconnect- Can control your cooktop via your smartphone.
Thermador Liberty offers three cooking zones, which in turn can give you more flexibility with certain cooking styles. The Liberty has a Teppanyaki feature and can accept griddles.
This model also comes in three different finishes. ( Titanium Gray framed, Titanium Gray frameless, Silver Mirrored frameless).
Like Jenn-Air, Thermador has its package called 1, 2, free. Buy qualifying Thermador appliances and get a free dishwasher and hood.
Jenn-Air JIC4536XS vs. Thermador CIT367XMS Induction Cooktops
Overall, the Liberty offers more features than the Jenn-Air model. The Liberty has excellent flexibility with the heat shift model.
Essentially you can cook rice by automatically setting your temperature to 9 which will boil the water then 6 to cook and then finally to 1 to simmer.
However, the Liberty Power Boost will use all of the power, which in turn will take power from any other burner. You will not be able to use the other burner.
The Jenn-Air only takes a little power from an adjacent burner. You can still use it with 50% power.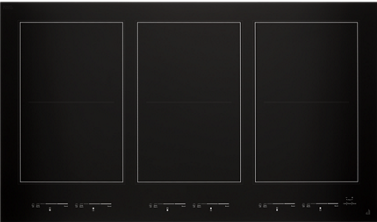 Highlights
Oblivion Glass with True Flush Installation- Fully flush installation capability. Black surface to meld into the countertop
Performance Boost Function- Performance Boost function, which is the Jenn-Air power boost takes power from the adjacent burner and adds that additional power to the burner.
Responsive controls- Very intuitive and easy glide display
Pan Detection- a sensor-driven element that only activates upon contact with the right-sized cookware.
Two Induction Bridge Function-great option for larger griddles or braisers
Hot Surface Indicator Light
11100 Total Wattage
(3) 3700 Watts burners
This hot off the presses "new" model offers tremendous flexibility with the three bridge burners at a high output of power.
Unlike other brands, this cooktop can be paired over the top of a Jenn-Air wall oven or steam oven (24", 27", 30" 24-inch steam oven). It also offers slide controls to adjust the power level.
The sleek lines offer a flush installation with Oblivion glass or can be installed just 3 millimeters above the countertop.
The main feature, just like the other Jenn-Air cooktop, is the performance boost feature. You can also buy other modules with induction wok, griddle or gas burners.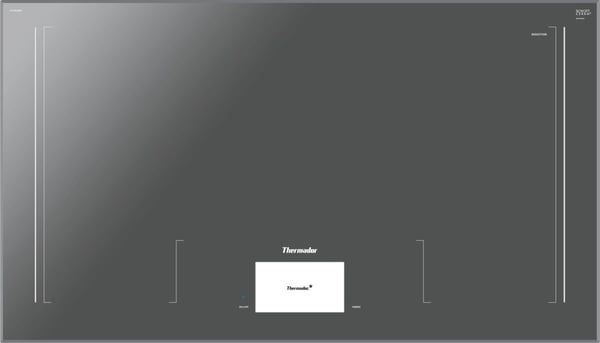 Highlights
36-Inch Cooking Surface - Has the largest Induction cooking surface on the market today with up to 6 burners
Frameless Design
PowerBoost increases element power by up to 50%
PanBoost function allows for faster 30-second pan heat-up time
Heat Shift mode- You can set 3 different power levels by just moving the pan across the cooking surface.
Cookware detection - the position, size and shape of the cookware used is automatically detected by the cooktop
Transfer function- allows you to transfer all of the settings of one cooking position to another cooking position
Cooking Sensor ready - prevents overcooking of food by means of a sensor that measures the temperature inside the pot (optional sensor sold separately)
MyZone feature allows you to change a preset power level by merely moving a pot or pan on the cooktop
Wi-Fi connectivity enables the cooktop and matching hood to communicate with one another
The Freedom offers the "freedom" no pun intended, to maneuver more freely on the surface. This cooktop gives you more flexibility of moving your pots and pans on the cooktop surface.
Freedom affords you the opportunity to select pots and pans that suit your specific needs at that time. It also gives a six-burner output. The Powerboost and the Panboost features offer faster cooking times and significant control with power level adjustment settings.
Jenn-Air JIC4736HB Vs. Thermador CIT36XWBB Induction Cooktops
The Thermador Freedom induction cooktop is more powerful. It also has better flexibility and features such as My Zone, Heat Shift, and the 6-burner capability.
Unlike the Jenn-Air, the Thermador offers a Teppanyaki feature and a griddle feature. Both Jenn-Air's and Thermador's induction cooktops offer Wi-fi connectivity.
The best feature Jenn-Air offers is their Performance (power) Boost. It takes only a portion of the power of the adjacent burners and reduces their power by 50%.
You will be able to use the adjacent burners unlike the Thermador Power boost feature which uses the power of the adjacent burners, rendering them off.
Which Induction Cooktops Are The Most Reliable?
Our top four most reliable induction cooktops for 2019 are:
Bosch 4.35%
Jenn-Air 6.94%
Wolf 8.07%
Thermador 25%
We logged 34,687 service calls in 2018. Reliability is measured by service calls divided by sales over 12 months.
Most Reliable Induction Cooktops for 2019
| | | | |
| --- | --- | --- | --- |
| | Service Qty | Shipped Qty | Service Ratio |
| BlueStar | 0 | 2 | 0.00 % |
| Whirlpool | 0 | 1 | 0.00 % |
| Dacor | 0 | 1 | 0.00 % |
| Samsung | 0 | 1 | 0.00 % |
| Bosch Appliances | 2 | 46 | 4.35 % |
| Jenn-Air | 5 | 72 | 6.94 % |
| Wolf | 13 | 161 | 8.07 % |
| Kitchenaid | 1 | 9 | 11.11 % |
| Thermador | 9 | 36 | 25.00 % |
| Gaggenau | 4 | 15 | 26.67 % |
| Miele | 13 | 48 | 27.08 % |
| Bosch - Benchmark | 21 | 33 | 63.64 % |
| Grand Total | 68 | 425 | 16.00 % |
Which Induction Cooktop Should You Buy?
It's almost two different cooktops. Both are nice looking and have similar promotions at about $1200 with other purchases.
The Case For Jenn-Air
Jenn-Air is the less expensive and more reliable of the two. Their base cooktop has plenty of output and can be operated with a heat boost without losing power in an adjacent burner.
The Case For Thermador
Thermador is the most technologically advanced cooktop on the market with the heat shift, My Zone, and ability to move the pot and match the settings.
You also have Wi-Fi and can control the cooktop remotely.
So, the question remains. Is reliability, price, and features most important to you or is it other matching appliances?
These brands change by the product category, so an all Jenn-Air kitchen will have different attributes than an all Thermador kitchen.
Additional Resources
Read our Induction Cooking Buying Guide for features, buying tips, and ratings of every available induction cooking product in the market. Well over 580,000 people have read a Yale Guide. Induction is our most popular.
Related Articles
Why Should You Trust Us?
It seems that every appliance review has nothing but glowing comments about almost every product, yet you read customer reviews and they are almost universally bad.
We are here to fill in the disconnect. We'll give you the best features, and the drawbacks as well, including reliability based on over 37,000 calls performed by our service team just last year. Our goal is to give you ALL the information so you know what's right for you.
Please consider subscribing or adding to the conversation in the comments below. We appreciate you stopping by.
Stan Pendrak is an Appliance Sales Consultant at Yale Appliance in Hanover. Stan has over 25 years of sales experience within the hospitality and appliance industry. Stan's passion is to provide exceptional appliance sales and service solutions to everyone. In his spare time, Stan enjoys golfing and yoga.

Schedule a showroom visit with me
A Note About Pricing
Pricing on this blog is for reference only and may include time sensitive rebates. We make every attempt to provide accurate pricing at time of publishing. Please call the stores for most accurate price.