Most Powerful Induction Cooktops (Reviews/Ratings/Prices)
Induction appliances have been improved in the past few years. They are also more affordable than the 1990's when they were being sold for $3,999.
Now, induction cooktops are significantly less and have effectively become the high-end electric cooktop. In fact, you should definitely consider an induction instead of a comparably priced electric stove.
We will look at the benefits of induction cooking and then the most powerful cooktops to consider now right now.
Short on time? Get our free Induction Cooking Buying Guide to learn all about how induction works and the best products available »
Induction Cooking
Induction cooking is simply a more efficient way of applying heat to food. A powered coil in the appliance produces an electromagnetic field that interacts with the cookware to create the heat for cooking. Effectively, the magnets in the cooktop excite the molecules in the pan. The pan cooks the food. The glass of the cooktop does not emit the heat.
This method enables us to quickly reach boiling temperatures and more importantly, precisely control power for simmering soups, sauces or chocolates instantly. Induction is way better on the simmer as gas will extinguish at low temperature and an electric coil is not responsive (read more on The Science of Induction here).
Benefits of Induction Cooking
Induction is the fastest cooking method
Induction gives off the least residual heat (less venting required)
Induction is the safest cooking method
Induction is very easy to clean
Watch Induction Cooking in action here:
How to Buy
All major appliance brands now offer a few induction cooktop models. They are available as big as 42" and as small as 12" to accommodate any size kitchen. In addition to the size, some other things to consider when looking for induction cooktops are power, boosting, bridging, framed/frameless, installation and controls.
Size - most brands will offer the common 30" and 36" sizes. Miele offers a 42". Wolf offers a 15" and Miele a 12".
Power - Generally most induction cooktops will have enough power to provide boiling times rivaling gas burners. We'll look further into the most powerful ones below.
Boosting - Enables the unit to pull maximum power for heating quickly
Bridging - allows you to join adjacent elements to accommodate different size cookware.
Framed/Frameless - Framed units offers protection against accidental damage to the glass.
Installation - some models enable a flush installation. Most unframed models can be installed flush to the countertop. Gaggenau is one of the few that offers a framed unit that looks great when installed flushed.
Controls - most offers touch controls. A few brands like the Gaggenau offers an induction cooktop with a knob control for ease of use.
Most Powerful Induction Cooktops
For this review, we'll compare 36" premium induction cooktops. Listed with each brand is the total output (in watts) calculated with the normal wattage of each induction element or "burner".
The second number is the wattage of the most powerful element on boost. Boost enables you to pull maximum power to bring your cooking up to heat quickly. In most of these induction cooktops, boost is achieved by pulling power from the adjacent element or zone.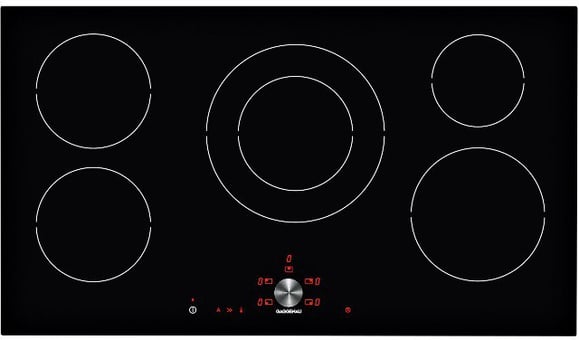 Total output: 10,000
Most powerful individual burner with boost: 4,400
Key Features:

5 Induction elements
Unique Twist-Pad control that features a removable knob
Stainless Steel frame design that enables a flush installation
Gaggenau is a German based manufacturer of high-end kitchen appliances and tends to offers unique styling and features that no other brands offers. They're part of BSH, one of the largest appliance manufacturer in Europe, which also owns brands such as Thermador and Bosch.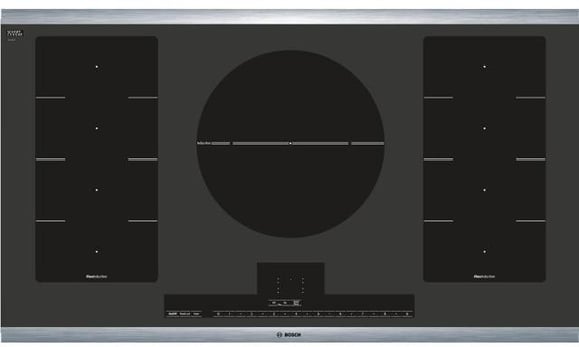 Total output: 11,300
Most powerful individual burner with boost: 4,500
Key Features:

5 Induction elements
Flex Zone - combine two cooking zones into one
PotSense - automatically adjusts cooking element to the size of the cooking vessel
A brand that is part of BSH corporation and is more mainstream. Bosch has the super element in the middle.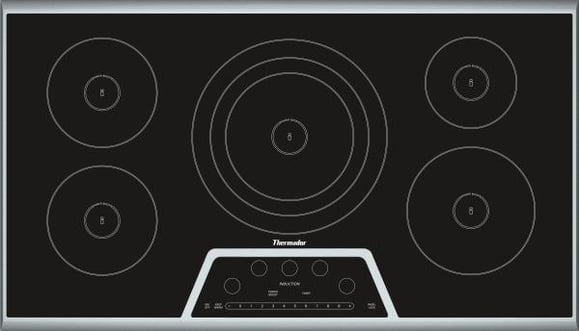 Total output: 10,500
Most powerful individual burner with boost: 4,600
Key Features:
5 Induction elements
Anti-Overflow System - shuts off related elements in the event of a spill over
Pan Recognition - prevents smaller items such as ladles from becoming hot if placed on the induction surface
Thermador is also part of BSH with the powerful center burner. Thermador is very similar to Bosch.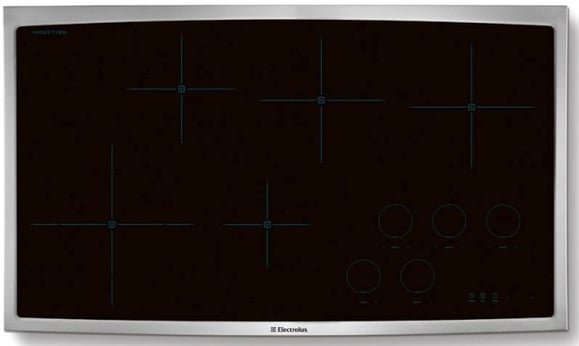 Total output: 11,650
Most powerful individual burner with boost: 4,800
Key Features:
5 Induction elements
Dual Element - enables usage of multiple size pot/pans
Perfect Set® Controls - enables up to 25 preset cooking settings to save time
Electrolux is an international appliance manufacturer based in Sweden. They are considered to be one of the largest consumer appliance producers. They're more recognized for products under the Frigidaire branding.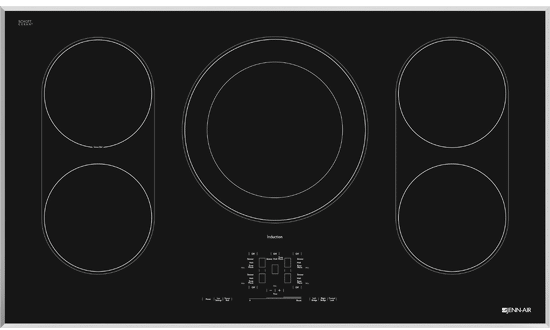 Total output: 10,000
Most powerful individual burner with boost: 5,000
Key Features:
5 Induction elements
Bridging - combine two elements to be used as one large cooking zone
Sensor Boil Function - selects the appropriate power to quickly bring liquids to a boil and then reducing the power to minimize spillovers
Jenn-Air had many "firsts" such as the downdraft range, a cooking and ventilation product engineered into one unit. Their parent company, Whirlpool, has pumped 300 million into the Jenn-Air brand...all in cooking. It also has the large burner as well as two bridge elements.
Honorable Mentions
Viking VIC5366BST - $4,839
Total output: 13,800

Most powerful with boost: 3,700
Of all the brands listed here, their cooktop offers the most overall power. The wattage of each of their 5 burners add up to 13,800 W but the highest individual burner power is listed at 3,700. This seems to give the ability to cook multiple pots/pans at higher end of the power band but it is not the fastest to boil.
Miele KM6370 - $3,099
Total output (240V electrical required): 10,300
Most powerful with boost: 3,850
7,700 W can be achieved using the PowerFlex (combining two zones)
*The Miele induction cooktop is currently not available as of yet.
Wolf CI365T/S - $2,699
Total output: 11,000
Most powerful with boost: 3,700
Not the most powerful but is solid cooktops in terms of quality. Offers a unique 4-way bridging function.
GE CHP9536SJSS - $2,299
Has big overall power but the manufacturer doesn't specify if these power levels are normal or boost.
Comparison
Jenn-Air
In terms of raw power, Jenn-Air is on top offering 5,000 W on the middle element. This seems to be achieved by lowering the maximum power of the surrounding elements hence the overall power of the cook topping out at 10,000 W. If you tend to only boil one pot or cook primarily on a single pot/pan, this model might be the best suit as it offers the most powerful individual element.
However, since induction is so much more efficient than gas, you can reach boiling temperature much faster using less energy. In other words, you really don't need to have the most powerful element. I would recommend at also looking at other features like bridging and controls.
Wolf
Wolf offers the most versatile cooktop with its 5 bridging options. The four smaller elements can all be bridged to form one really big cooking surface. It's really great when using a big square grill or even a big lobster pot. Horizontal & vertical bridging can also happen between two elements as well.
Gaggenau
Gaggenau offers the most versatile controls in my opinion. Whereas every other brand uses some form of touch controls, Gaggenau incorporates a knob to quickly change settings. This is great for those who are transitioning from using knobs on gas products.
The knob is magnetically attached to the cooktop so it can easily be removed for cleaning purposes. This is an amazing feature as it offers the familiarity of the knob while still providing nice clean look.
Bosch
A good consideration would be the Bosch NITP666SUC. It has a relatively powerful boost element and very good overall power. It has the flex zone which features 4 coil elements to be activated to form an oblong cooking surface to party trays or simply bigger cooking vessels.
The trim on the front and back edges will help prevent accidental damage to the glass edge. There is also a model without the trim for a smooth contemporary look.
Final Thoughts
First of all, induction is the fastest cooking unit available better than either type. Yes, even faster than gas cooking.
However, stylistically Gaggenau is the sharpest plus the controls are easy. Jenn-Air has the most varied cooktop with the big burner for super quick cooking and bridge elements for different sized pans. Bosch would be similar to the Jenn-Air. You should also consider Wolf, because their performance in the showroom has been outstanding.
Additional Resources
Read our Induction Cooking Buying Guide for features, buying tips and ratings of every available induction cooking product in the market. Well over 150,000 people have read a Yale Guide. Induction is our most popular.
Related Articles
Why Should You Trust Us?
It seems that every appliance review has nothing but glowing comments about almost every product, yet you read customer reviews and they are almost universally bad.
We are here to fill in the disconnect. We'll give you the best features, and the drawbacks as well, including reliability based on over 37,000 calls performed by our service team just last year. Our goal is to give you ALL the information so you know what's right for you.
Please consider subscribing or adding to the conversation in the comments below. We appreciate you stopping by.
Tam Nguyen
Tam is an Appliance Sales Consultant at Yale Appliance. In his spare time he enjoys watching and playing sports and spending time with his two children.

Schedule a showroom visit with me
A Note About Pricing
Pricing on this blog is for reference only and may include time sensitive rebates. We make every attempt to provide accurate pricing at time of publishing. Please call the stores for most accurate price.