Samsung vs. Thermador Freedom Induction Cooktops (Reviews / Ratings / Prices)
Thermador had the first real innovation in the market by offering a borderless cooktop without traditional burners. What this means is that you can place the pan anywhere on the cooktop's surface, or move it while cooking, and the cooktop will automatically adjust to where the pan is placed.
Samsung released their first ever induction cooktop this year. It has some pretty nifty innovations like Wi-Fi and BlueTooth. So we will compare both. First, let us look at induction itself.
What Is Induction Cooking?
Benefits of Induction Cooking [VIDEO]
Thanks for reporting a problem. We'll attach technical data about this session to help us figure out the issue. Which of these best describes the problem?
Any other details or context?
message
Induction cooking provides faster, more consistent heating, and allows for precise temperature control. It works by heating a cooking vessel through magnetic induction. Basically, a coil of copper wire is under the pan and has an alternating electric current running through it.
This creates a magnetic field and repeatedly magnetizes the pan creating loops of electric current. Because the pan has resistance, this causes the pan to heat up, making the pan the heat source.
In basic terms, the magnets in induction excite the metal in the pan. The pan cooks the food. It bypasses the glass itself, so you are not waiting for a burner to heat the glass and the glass to heat the pan.
Advantages of Induction
Induction is the best cooking method on the market. It is even better than commercial gas cooking. An induction cooktop is faster and has the best simmer. Additionally, it is the most cleanable cooking method because the glass does not heat for baked on stains. Lastly, induction is also the most child safe because it can only be activated when a magnetic pan is on the cooktop.
Now that we understand how induction works let's look at our two cooktops.
Thermador vs. Samsung Induction Cooktops
Features:
Burner Wattage Ratings (1 - Burner)
Full Surface Burner – 3,600W (4600W Boost)
Largest Cooking Surface – Has 63% more usable surface area than most competitors
Flexibility – Place up to 4 pots or pans anywhere on the cooktop
Pan Recognition – Element won't turn on if small objects are on the cooking surface
Power Boost - Focused heat for faster boil times
Brilliant Interface – 6.5" color touch screen for faster access to cook settings
Freedom to Move – Can slide pans over and the cook setting will follow it
Control Lock - Prevent controls from being turned on accidentally
Thermador really stepped up the idea of induction cooking with their Freedom design. The entire surface is a single burner making it the largest single cooking surface on the market.
It can sense exactly where a pan is, the size of the pan, and it allows 4 pans to be on the cooking surface at one time in any configuration.
It has an 18" by 28.5" cooking surface with a 10" x 4.5" area within that surface, for controls, centered on the bottom. The controls are a 6.5" color touch screen.
It's a great design, but some might say that the cooking area isn't big enough for multi-pan use because the different temperatures may conflict with each other.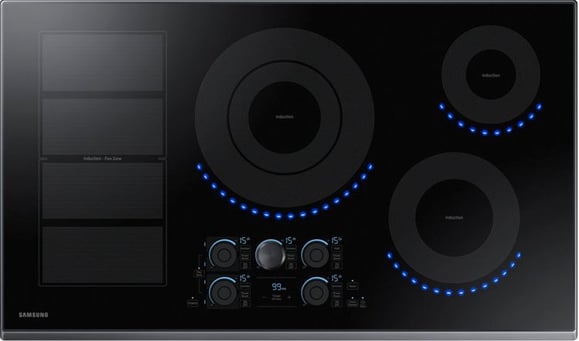 Samsung Wi-Fi Induction Cooktop
Thanks for reporting a problem. We'll attach technical data about this session to help us figure out the issue. Which of these best describes the problem?
Any other details or context?
message
Features:
Burner Wattage Ratings (5 - Burners)
Left Rear Burner – 1,800W (Boost 2,600W) Flex Zone
Left Front Burner – 1,800W (Boost 2,600W) Flex Zone
Right Rear 6" Burner – 1,400W (Boost 1,800W)
Right Front 8" Burner – 2,200W (Boost 3,200W)
Center 7"-11" Burner – 3,600W (Boost 4,800W)
Flex Zone – Combines 2 specific cooking zones to create 1 larger cooking zone
15 Heat Settings – Offers precise adjustment to control the cooktop
Power Boost – Focused heat for faster boil times on all burners
Simmer Control – Ensures constant and even temperatures
Melt Mode – Maintains extra low temperatures to temper chocolate or melt butter
Bluetooth Connectivity – Syncs with Samsung hood and automatically turns it on
Wi-Fi Connectivity – Monitor and control your cooktop from your smartphone
Virtual Flame – LED surface lights that mimic a gas cooktop flame
Digital or Analog Controls – Choose between removable knob or digital controls
Control Lock – Prevent controls from being turned on accidentally
As I said before, Samsung is just getting its feet wet in the induction cooktop market and built-in cooking. That being said, they are coming in swinging with some really cool features.
They have a dual flex zone element that covers 8" x 15" when combined (left side), which will keep an even and consistent heat throughout oval pans and griddles.
For ease of use, you have the option of using digital controls or analog controls. (Analog is a removable magnetic knob). They even have blue LED lights to simulate a flame under the pan when the burners are in use.
The most innovative thing Samsung has done is adding Wi-Fi and Bluetooth connectivity. It can connect via Bluetooth to a Samsung hood and automatically turn it on when the cooktop is being used.
You can also monitor the cooktop from your smartphone using an app in case you forgot to turn it off, especially if you rushed out of the house. We've all had those mornings.
Which Cooktop Would I Purchase?
After looking at both of these cooktops, there were a few things that jumped out at me. The max wattage ratings are very close, Thermador at 4,600W w/ Boost, and Samsung at 4,800W w/ Boost. Thermador applies that to up to 4 pans at a time as oppose to one, which is something to think about. The Thermador Freedom still has the best interface.
Samsung offers the flex zone feature to somewhat compete with the surface coverage of Thermador. So, Samsung has more output and the blue LEDS to tell you it is on. The Wi-Fi functionality is a bit limited, but is a nice peace of mind feature.
The only thing I'm worried about is reliability. Thermador has proven itself in the industry while Samsung is new to this built-in cooking market.
To that end, I'm willing to give them a shot. With all the features you get on the Samsung cooktop, and the price difference of just over $2,500 it is pretty compelling. I suppose I should buy the hood also, you know, to utilize the Bluetooth connectivity.
Additional Resources
Looking for more information on induction? Get The Yale Induction Buying Guide with outputs of every major induction cooking product, features as well as an explanation of induction itself. Over 210,000 people have read a Yale Guide
Related Articles
Jason Anemaet
Jason Anemaet is an appliance sales consultant at Yale Appliance and Lighting. Prior to working for Yale he spent 12 years building, installing, and designing custom kitchen cabinetry. He is very passionate when it comes to kitchen appliances and layouts. His main concern is doing what is best for the costumer's interests and needs. On his free time he enjoys spending time with his son, exercising, and cooking.
A Note About Pricing
Pricing on this blog is for reference only and may include time sensitive rebates. We make every attempt to provide accurate pricing at time of publishing. Please call the stores for most accurate price.