Induction vs. Gas: What's the Fastest Way to Sear a Steak?
In our industry, there is always a lot of talk about which cooking surface would be faster for searing a steak - induction or gas?
Our Test
For this quick experiment, we chose one of our most popular induction cooktops, the Wolf 36" induction cooktop, and one of our most powerful gas ranges with a power burner of 22,000 BTUs, the Thermador Pro Grand.
I admit, surely I thought that the 22,000 BTU burner was going to exceed, but in the back of my mind, I knew the induction would heat up quickly.
Each test was performed using a cast iron sizzle pan for an optimum sear and a piece of rib eye steak similar in size. Oil was kept to a minimum for searing and salt and pepper were the only seasonings used.
Searing Comparison: Induction vs. Gas
Thanks for reporting a problem. We'll attach technical data about this session to help us figure out the issue. Which of these best describes the problem?
Any other details or context?
message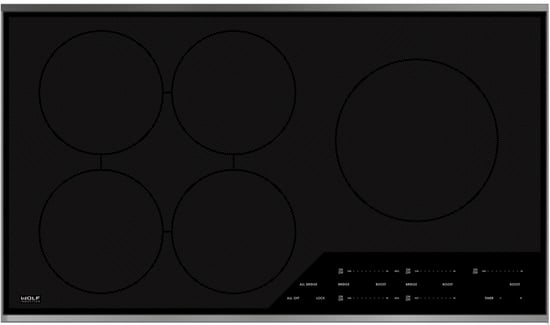 The sizzle pan was set on one of the top burner units. As soon as I pressed "start" on the stopwatch, I unlocked the safety feature and turned on the unit to boost, it's the highest setting, to preheat the pan. Within 35 seconds, the pan began to smoke…so down went the steak!
Each side of the rib eye was seared for 1 minute and 30 seconds, then it was removed from the cooktop and placed in a cooler area to rest. Total cook time was from start to finish was 3 minutes, 35 seconds.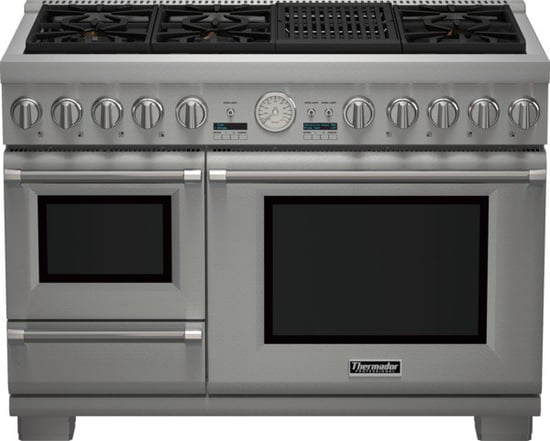 The sizzle pan was set on the power burner (22,000 BTUs). As soon as I pressed "start" on the stopwatch, I turned the knob to XHI, the extra high heat setting…. the highest it will go. My excitement started to wane when we surpassed the 35-second mark, then 50 seconds went by.
Finally, it was 1 minute and 40 seconds before the pan started to smoke. The rib eye went into the pan and started to sear. I kept the same cook time for each side because of the relatively similar thickness and size of the steaks. Like the previous test above, the steak was removed from the heat and allowed to cool after 3 minutes of cook time. Total cook time from start to finish was 4 minutes and 40 seconds.
Conclusion
As you can see from the finished products, the coloring and sear markings were very similar, and both steaks were cooked to medium rare. Can you tell which steak has been seared on induction and which has been seared on gas?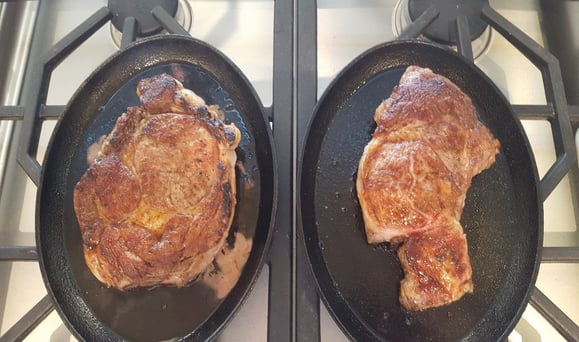 Cook-wise, there were no differences between the two subjects: as stated above, both steaks were the same size; seared on the same cast iron sizzle pans; prepared with the same ingredients (very little oil, salt, and pepper); cooked for the same amount of time, and rested for the same amount of time.
The Difference
The biggest difference here is the cooking time. Induction wins, hands down, as the fastest way to sear a steak! In conclusion, it is obvious that the induction cooktop is far more superior to gas when it comes to speed.
Additional Resources:
Read our Induction Cooking Buying Guide for features, buying tips, and ratings of every available induction cooking product in the market. Well over 220,000 people have read a Yale Guide. Induction is our most popular.

Related Articles:
Nicole Parmenter
Nicole Parmenter is our resident Chef at Yale Appliance + Lighting; she has multiple culinary degrees and is an appliance expert. Chef Nicole can teach you how to use your new appliances and give you tips, recipes and honest opinions on products.

Schedule a showroom visit with me
A Note About Pricing
Pricing on this blog is for reference only and may include time sensitive rebates. We make every attempt to provide accurate pricing at time of publishing. Please call the stores for most accurate price.