Sub-Zero vs. Miele Integrated Refrigerator Columns: Which is Better?
Sub-Zero and Miele are the largest family owned companies in the world, yet they really compete minimally.
Sub-Zero focused on refrigeration and cooking while Miele really was a dishwasher and laundry producer. That all changed when Miele decided to market a refrigerator a few years ago. Have a look at a few pics: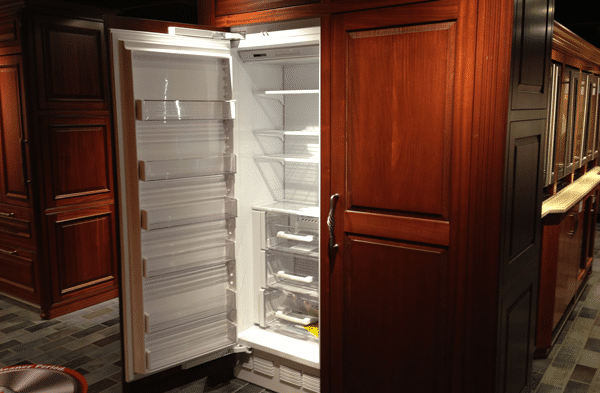 Sub-Zero Integrated Columns at Yale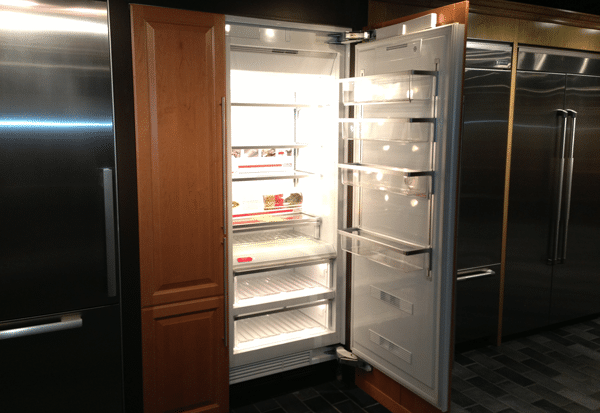 Miele Integrated Columns at Yale
Short on time? Get our free Counter Depth Refrigerator Buying Guide
Counter-Depth, Professional + Integrated Refrigerator Differences [VIDEO]
Thanks for reporting a problem. We'll attach technical data about this session to help us figure out the issue. Which of these best describes the problem?
Any other details or context?
message
Why Refrigerator Columns?
Refrigeration columns are becoming more and more popular in today's kitchen design. A large reason is due to the endless possibilities for looks and configuration.
Short on time? Get our free Counter Depth Refrigerator Buying Guide with features and reviews of all the major brands »
You can add custom cabinetry to them so that they blend in with your cabinetry, or you can get stainless panels to complete the look of a professional kitchen.
They can be installed side by side to create a seamless side by side configuration, or installed in different parts of the kitchen separately allowing you to decide how much refrigeration vs freezer storage you really need. Their flush installation makes them virtually invisible, while also maximizing kitchen space.
Columns are also incredibly energy efficient. With efficiency standards increasing, more companies will market and produce this style of refrigeration.
Because the units are separate, food preservation is also much better. There is no odor or flavor transfer from freezer to refrigerator, so typically foods last a lot longer. A head of lettuce may last a month vs roughly seven days with the traditional style refrigerator.
Let's compare Sub-Zero and Miele Columns; two of the industry's leading innovators for appliances.
Sub-Zero
Sub-Zero is an American Company which has always specialized in refrigeration. They are produced out of Madison, Wisconsin and are the oldest built-in refrigerator brand on the market.
For the longest time, their exclusive dual refrigeration system was what set them apart from the rest; end result, better food preservation. It's not until recently where other brands have caught up to the two compressor system.
Sub-Zero manufactured the first 27" wide column instead of the more popular 18, 24, 30 and 36 inch sizes. However, in 2014, they introduced the standard sizes as well.
They offer an integrated all refrigerator, all freezer or combination unit with a single side swing door on top and double freezer drawers, which has become popular in the design community. You can put custom cabinetry on them, or purchase stainless steel panels.
Miele
Miele is a German company typically known for their attention to detail and high standards of service and quality. Miele has always been known for their cooking appliances, coffee systems and dishwashers.
What's unique with Miele is they assemble 90% of their appliances in one factory from start to finish. Because of this, they have a high level of quality control and can often reduce the risk of any positional issues, usually before the units get into a customer's home.
It not until recently that they launched their refrigeration lineup. Their refrigeration is sourced from BSH. BSH is part of Bosch and Thermador, one of the largest European appliance Brands.
Miele's built-in refrigeration will be very similar to the BSH line, using similar hinge systems and offering the same configurations but with additional features.
Sub-Zero vs Miele Integrated Refrigerator Columns
Sub-Zero IC30-R/F All Refrigerator or All Freezer

30 inches wide - Available 24, 30 and 36
Microprocessor maintains precise control, within 1° of set temperature
Easy-access, illuminated touch control panel
Bright interior lighting
Adjustable spill-proof glass shelves, door shelves and dairy compartment
High-humidity drawer keeps fruits and vegetables crisp and fresh
Soft-close glide system on storage drawers
Alarm feature will sound an audible beep if door is left open
90° door stop built into hinge
Star-K compliant with harness kit
2 year warranty, and up to 3 if installed by certified installer
Electronic air scubber to remove gasses from spoiling foods
Miele K1801VI Built-In Columns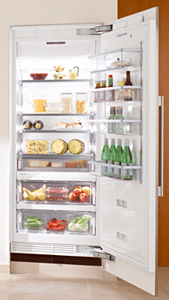 Available in a variety of widths from 24"-36"

ClearView

TM

lighting system:

Nicer lighting than Sub-Zero. LED lighting lined along the front of the refrigerator vs. recessed in the back
Stainless accents that dress up their shelving and deal better with cold temperatures
SmartFresh Produce Drawers: have preset temperatures for better food preservation depending on the specific foods being stored
Remote Vision Option: an additional option the customer can purchase, that allows their refrigerator unit to be linked by wi-fi directly to Miele's service warehouse in Germany. The manufacturer can then wirelessly monitor the refrigerator to help avoid any potential service issues reducing the need for in home service calls
More installation options. They will offer freezer columns in either 18 or 24 inch widths as well as refrigeration columns available in 18, 24 and 30 inch widths
Drop and LockTM shelving system
FullViewTM extendable storage drawers
RapidCool loading function
Stability-HingeTM
1 year warranty
Summary
Miele seemingly has better lighting and the remote vision for service issues is interesting.
However, Sub-Zero offers better filtration and has added a lot of upgrades like spill proof shelving, the digital controls (like your smartphone) for better temperature control of 1 degree as well as the air scrubber to reduce food spoilage.
One note about the electronic air scrubber: It is NASA technology. When foods spoil, they emit an ethylene gas. The scrubber removes the gasses off the spoiling food turning it into carbon dioxide. It also eliminates cross contamination with other foods.
In addition, they offer a unit with two drawers on bottom, which is a unique look over the standard Miele.
Miele is manufactured in Turkey with a limited track record. Sub-Zero is manufactured in Wisconsin with much more experience in refrigeration. Both are good, but Sub-Zero has better features and up to a 3 year warranty (when installed by certified installer).
Additional Resources
Read the Yale Counter Depth Refrigerator Buyers Guide with differences of every type of refrigerator including integrated versus other counter depths. Well over 120,000 people have read a Yale guide.
Related Articles
Danny Nguyen
Danny Nguyen is an Appliance Sales Consultant at Yale Appliance + Lighting. Danny has completed 2 half marathons and enjoys spending time travelling and snowboarding.

Read more about Danny here.
A Note About Pricing
Pricing on this blog is for reference only and may include time sensitive rebates. We make every attempt to provide accurate pricing at time of publishing. Please call the stores for most accurate price.