Sub-Zero vs. GE Monogram 36 Inch Refrigerators (Reviews/Ratings/Prices)
This article was first published in 2012. At that time, GE was produced in Slovenia. Now it's made in the US. Still, much remains the same for Sub-Zero and GE Monogram, but their refrigerators couldn't be more different.
Keep in mind, you probably will not compare these at a retail store because the GE Monogram is sold mostly through a builder channel.
Still, we will compare both companies, both products, and then compare their refrigerators.
The Companies
Sub-Zero
Sub-Zero was actually the first to manufacture a shallow depth refrigerator with a compressor located on the top for a more professional look. The company is the second largest family-owned appliance company in the world, Miele being the first. Sub-Zero is manufactured in the US.
Sub-Zero Refrigerator
Thanks for reporting a problem. We'll attach technical data about this session to help us figure out the issue. Which of these best describes the problem?
Any other details or context?
message
GE Monogram
GE Monogram was once a part of GE, but now is part of the Chinese Haier company. Monogram is the upscale luxury line of GE.
We do not sell GE Monogram because it is primarily sold to builders. If you have a Monogram in your kitchen, chances are it was chosen for you.
Warranties are virtually the same, both 2 years (Sub-Zero is full, Monogram is limited), 5 years on the sealed system, and 12 years on the sealed system parts.
Professional Counter Depth Refrigeration
| | | |
| --- | --- | --- |
| | VS | |
| Sub-Zero BI-36 | | Monogram ZICP360NHLH |
Sub-Zero Bi-36u
Dual Refrigeration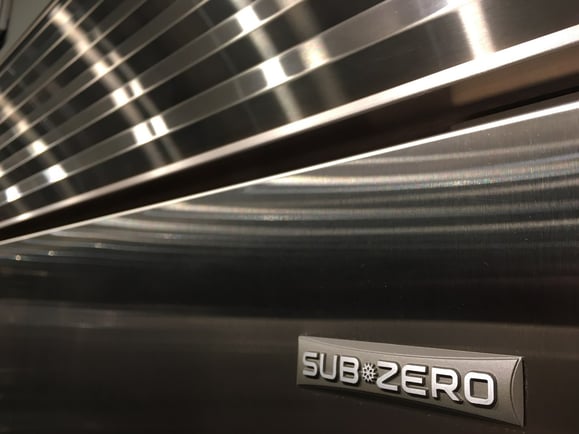 This technology pioneered by Sub-Zero features separate compressors and cooling systems for the refrigerator and freezer. Food stays fresher in cool, moist air on one side, while frigid, dry air prevents frost and freezer burn on the other side.
Low-Temperature/ High-Humidity Storage Zones
Crispers and deli drawers are strategically located near the evaporator to maintain temperatures a few degrees cooler than the rest of the unit. Drawers are sealed to lock in humidity and ensure freshness.
Air Purification System
Many fresh foods emit ethylene gas, a natural compound that hastens spoilage. Sub-Zero's built-in refrigerators come with an anti-microbial air purification system (based on technology developed by NASA) that scrubs the air of ethylene, as well as mold.
Microprocessor Control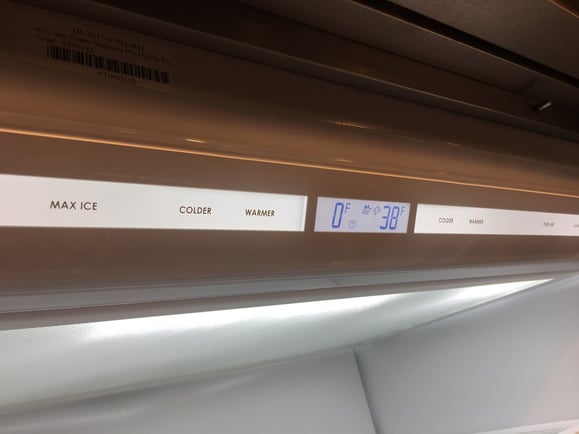 The microprocessor preserves your food by adjusting to your preferred temperature and your schedule. It continuously monitors each section of your Sub-Zero to pinpoint climate control, so foods are kept at their ideal temperature.
Water-Filtration System
Designed to reduce contaminants and chlorine taste and odors when purifying water for ice, this low-maintenance system uses a filter built to last 1 year or 750 gallons.
Automatic Ice Maker
High-efficiency units provide crescent-shaped ice cubes and include a "max ice" feature capable of increasing ice production by an average of 30 percent for a 24-hour period - just the boost you need for parties and holidays.
Magnetic Door Seal System
One-piece construction, extra-heavy insulation, and magnetic gaskets around every door lock in cold air.
Interior LED Lighting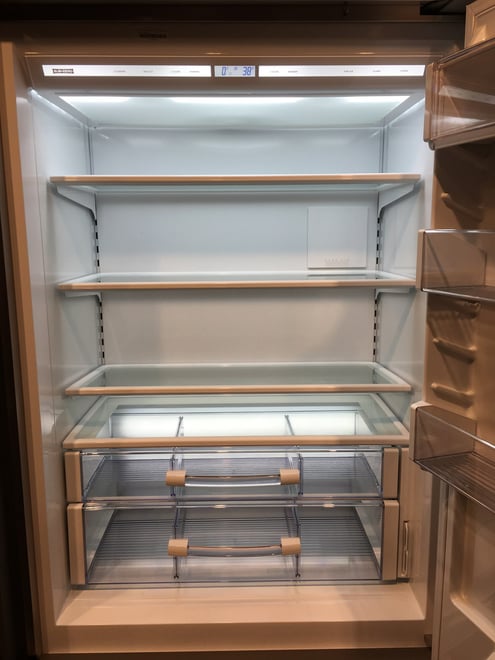 See all your fresh foods more clearly and easily. LED lighting is also more energy-efficient - designed to last the life of your refrigerator.
GE Monogram
Professional Appearance with Stainless Steel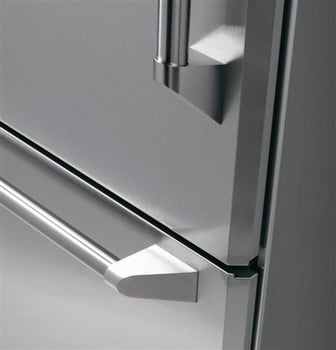 Upfront Electronic Controls with Digital Readout - allows precise temperature settings and are positioned for maximum ease of use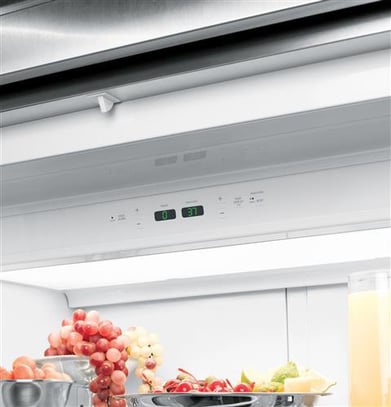 Humidity Controlled Vegetable Compartments and Sealed Snack Pans - helps maintain freshness and help preserve foods longer.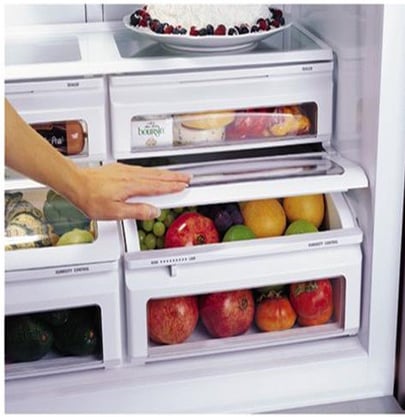 Adjustable, Spill Proof Glass Shelves - makes it easy to customize storage to handle foods and containers of various sizes.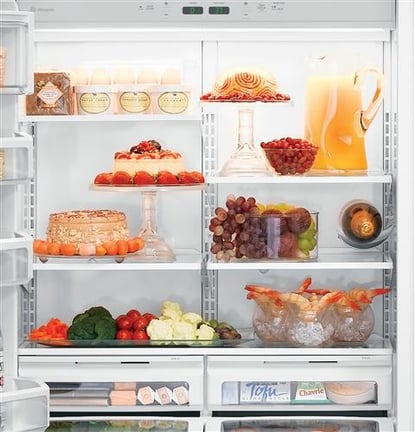 Six Adjustable Door Bins - offers added storage flexibility.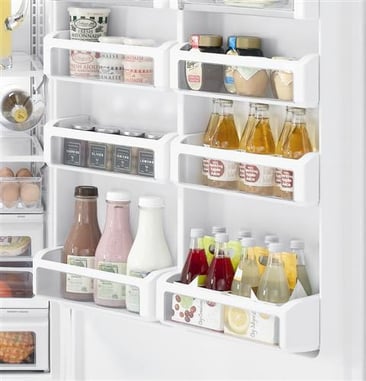 GE Water Filtration System - delivers clean, great-tasting ice
How do they compare?
Let me be frank. GE Monogram has improved. Then again, their 2012 version was not good, to be kind. Many of the features are similar to the temperature control and the humidity controlled drawers. GE has even added two evaporators, so the tastes and aroma do not mix.
However, Sub-Zero is still a way better unit and will keep food fresher longer. They have two compressors, not just evaporators, so temperature is more precisely controlled.
The vacuum seal (try opening one) does not allow air in and out of the refrigerator along with the magnetic closing crispers.
The nanotechnology shelves mean spills congeal, so you do not have to clean the whole refrigerator when there is a spill.
Sub-Zero is still the only company to offer an air scrubber to reduce spoilage. GE has improved but Sub-Zero is still a much better unit.
Additional Resources
Download our free Counter Depth Refrigerator Buying Guide with features, specs and inside buying tips to counter depth refrigerators. Well over 200,000 people have read a Yale Guide.

Related Articles:
William Hanley
William Hanley is an appliance sales consultant at Yale Appliance + Lighting. Before joining Yale, William worked for twenty years in jewelry sales and is a lifelong Patriots and RedSox fan.

Schedule a showroom visit with me
A Note About Pricing
Pricing on this blog is for reference only and may include time sensitive rebates. We make every attempt to provide accurate pricing at time of publishing. Please call the stores for most accurate price.