The Largest Counter-Depth French Door Refrigerators (2022 Update)
Counter-depth refrigerators are popular in better kitchens because you don't see the unfinished side of the refrigerator protruding into your kitchen.
However, you will lose capacity relative to traditional full-depth freestanding refrigerators by going counter-depth.
Think about it.
Depth is 1/3 of a cube and cubic footage.
Even in a standard 36-inch cabinet, counter depths can skew from 19.5 cubic feet to 24 cubic feet, or about 20% capacity.
In this article, you will learn all about the largest counter-depth refrigerators, so you can go to the grocery store and not worry about fitting every item.
Why Should You Consider a Counter Depth Refrigerator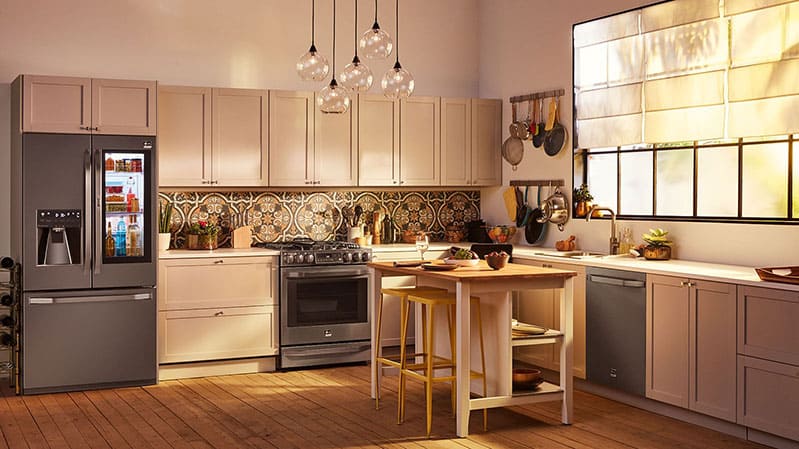 LG Studio Counter-Depth French Door Refrigerator
A counter-depth refrigerator sits deeper within your cabinets for a sleeker look.
Excluding the door and handles, a counter-depth refrigerator is 24 inches deep.
Counter depth relates to the distance of your refrigerator from the back wall to the front of your countertops.
This means that in a standard 24-inch-deep cabinet, you will only see your refrigerator doors and handles.
In other words, your kitchen will look better because the refrigerator won't be protruding into your space.
Not seeing the unfinished sides is a bonus.
However, you lose 5-7 cubic feet from a standard refrigerator and pay more for the counter depth.
Pro Tip: If you want the size of a standard refrigerator and the look of a counter depth, build your cabinets out around the refrigerator.
Types of Counter-Depth Refrigerators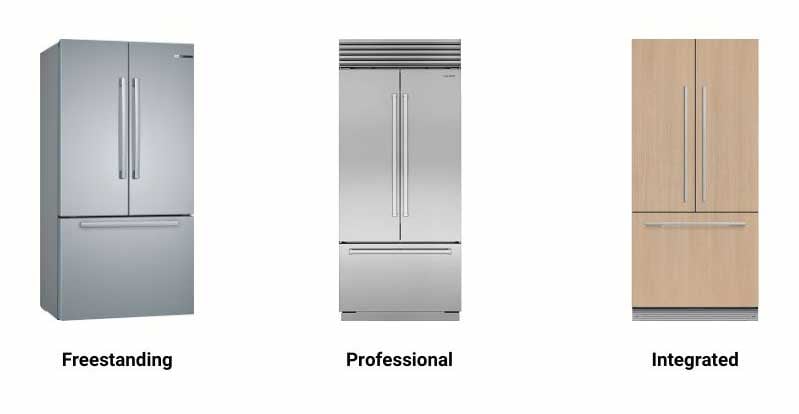 Manufacturers produce counter-depth refrigerators in professional (built-in) and freestanding, so they are available in various sizes and prices.
This article will focus on the industry's largest French door counter-depth refrigerators.
Counter-Depth French Door Refrigerators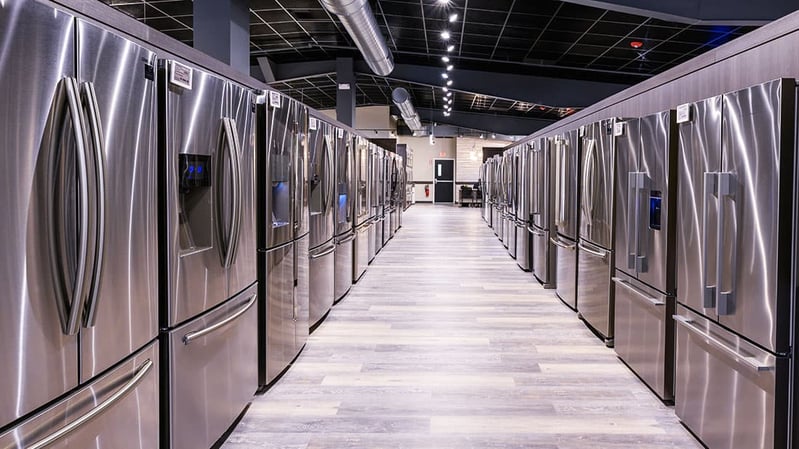 Counter-Depth French Door Refrigerators at Yale Appliance in Hanover
French door refrigerators have become a leading trend in upscale kitchens because all the refrigerator contents are at eye level.
The freezer is below the side-by-side refrigerator doors in an easy-to-access drawer.
You can buy them with three doors, three doors with two drawers, or with four-doors.
Freestanding Counter-Depth vs. Professional Refrigerators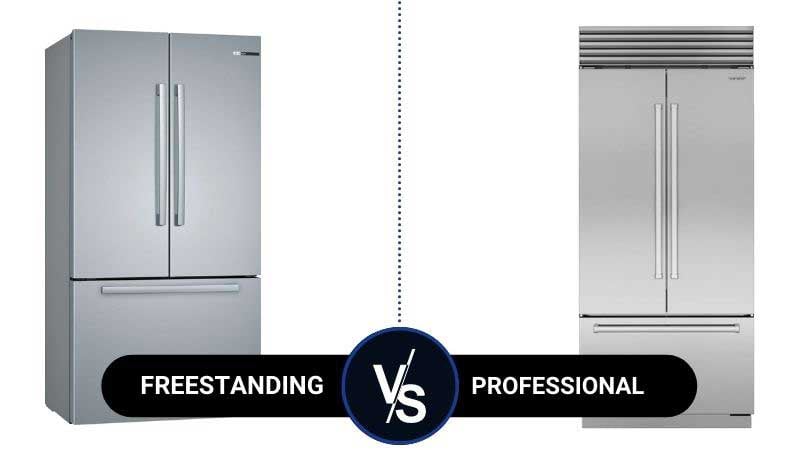 Professional (pro) is a commercial-style refrigerator designed for the home.
It is easily identifiable by the compressor on the top and can be purchased in stainless steel with panels to match your cabinetry.
Brands like True and Sub-Zero have twin compressors and more solid doors, shelving, and crispers.
Pro refrigerators are 2-3 times more expensive than a regular counter-depth refrigerator.
Freestanding counter depths are a regular-looking refrigerator but shallower, so it does not protrude into the kitchen.
The main benefits of pro refrigerators are price, style, and the ability to be customized with a cabinet panel.
Yes, you can buy the regular Fisher & Paykel and KitchenAid to be paneled, but that's uncommon.
What Makes a Counter-Depth French Door Refrigerator Larger?
The main difference is height. Look for the taller styles over 70 inches.
For new kitchens, plan accordingly because this does not automatically happen.
You will also see minor differences between brands from a sizing difference of ½ a cubic foot or features like an icemaker or dispenser.
Read More: How to Buy a Counter-Depth Refrigerator
Short on time? Get our free Counter Depth Refrigerator Buying Guide
The Largest Counter-Depth French Door Refrigerators for 2022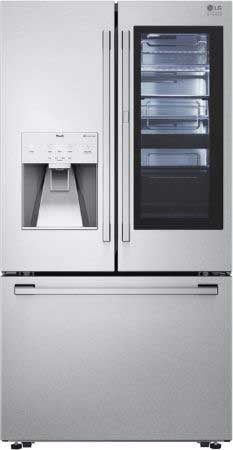 LG is a Korean company best known for laundry and refrigerators. They market under four names, LG, LG Studio, LG Signature, and SKS (Signature Kitchen Suite).
LG Studio is a unique refrigerator with two evaporators to keep the refrigerator and freezer air separated, so your food will taste better.
LG has six sensors monitor the temperature of the linear compressor to keep an even temperature.
Although their inverter compressor was targeted with a nationwide class action lawsuit in 2019, LG was the most reliable refrigerator sold at Yale last year, needing service only 3.5% of the time.
The Instaview door will allow you to see what's in the refrigerator by tapping the panel twice.
If your refrigerator is like mine, tap it twice again not to see what's inside.
The Door-in-Door panel allows you to open a second door to access the milk and juices in the bin without having to open the main door of the refrigerator.
You have crushed cubes plus slower dissolving craft ice cubes produced in this refrigerator.
The LG Signature absorbs and retains the cold better with a metal interior.
The LG Signature is the largest and most featured in the LG line. The regular LG doesn't have the same features and is 0.5 cubic feet smaller.
JennAir JFFCC72EFS at 23.8 cu. Ft. - $5,199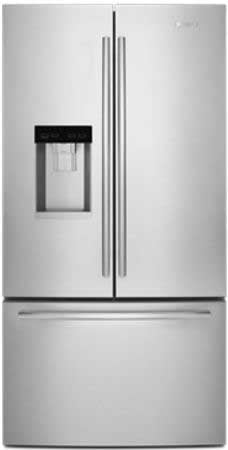 KitchenAid KRFC704FBS at 23.8 cu. Ft. - $4,999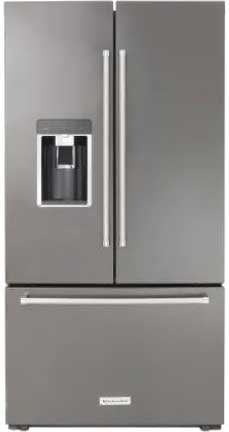 JennAir and KitchenAid are two American brands that the Whirlpool Corporation produces. They are the same refrigerators but with different interior treatments.
JennAir is their top-of-the-line brand producing a wide variety of professional pieces for an upscale look.
As part of their premium brand, JennAir now offers a two-year warranty. KitchenAid offers a standard one-year warranty.
Both of these refrigerators are nearly identical in terms of capacity and overall layout.
All brands under the Whirlpool corporation have inverter compressors.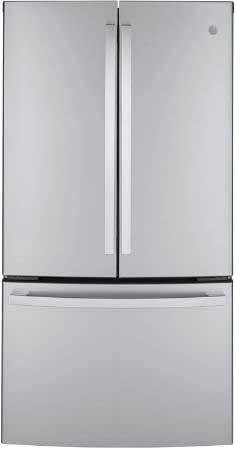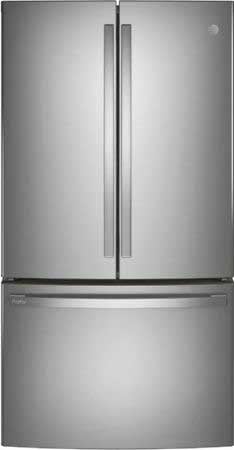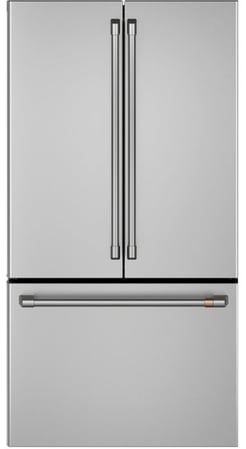 Monogram ZWE23ESNSS at 23.1 cu. Ft. - $4,500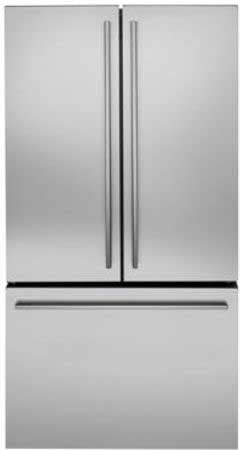 GE has a huge selection of models and styles. All have twin evaporators and their SmartHQ app.
Their regular GE line is their least expensive. In the Café, you can buy your refrigerator with a Keurig coffee maker, customizable handles, and three finishes.
Samsung Bespoke RF23A967541 at 23 cu. Ft. - $3,299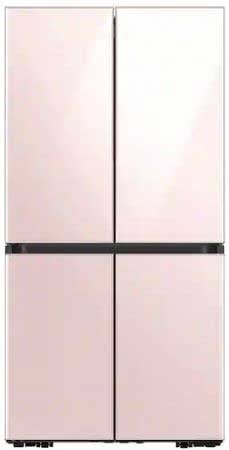 Samsung RF23A9071SR at 22.9 cu. Ft. - $2,599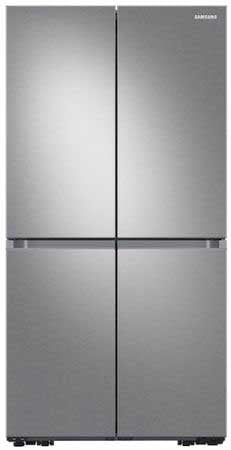 You know Samsung from their phones and TVs, but they are the most popular appliance brand in the US.
They have the most options with three doors, four doors, and three doors with a drawer.
They have the Wi-Fi-enabled FamilyHub allowing you to communicate through your refrigerator.
Bespoke allows you to customize your refrigerator fronts in 17 different ways. Great idea, but the stove is the focal point, not the fridge.
Years ago, they introduced their flex refrigeration.
Unlike the other two, this concept allows you to convert a section of your freezer to a refrigerator and then back again, depending on your needs.
Read More: The Problem with Samsung's Bespoke Appliances
Frigidaire FRFC2323AS at 22.6 cu. Ft. - $3,349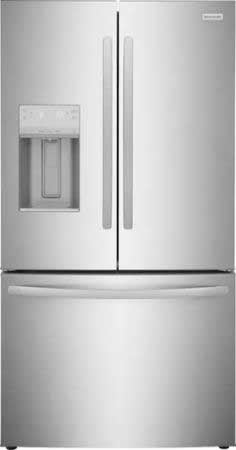 We don't sell Frigidaire and haven't sold it in five years or so. The brand hasn't changed much since then.
It is the only single evaporator refrigerator on this list, so the air cycles through your refrigerator and freezer.
Frigidaire also does not have any smart capabilities.
At 22.6, it does have the dispenser, plus Frigidaire does allow you to put together some less expensive kitchen packages.
What Are the Most Reliable Counter-Depth Refrigerator Brands?
We calculate appliance reliability by dividing the products we serviced by the products we sold.
For this article, we looked at the number of counter-depth French door refrigerators sold and serviced from December 2020 to October 2021.
Most Reliable Counter-Depth French Door Refrigerator Brands for 2022
The following service rates are based on a minimum of 90 refrigerators sold and a sample of over 2500 products.
| | |
| --- | --- |
| | Service Rate |
| LG | 4.5% |
| Samsung | 8.4% |
| GE Profile | 10.2% |
| Café Appliances | 12.6% |
| Bosch | 14.9% |
| JennAir | 15.8% |
| GE Appliances | 16.5% |
| KitchenAid | 17.0% |
| Beko | 32.6% |
| Grand Total | 15.5% |
The most reliable counter-depth refrigerator brands are LG, Samsung, Profile, Café Appliances, and Bosch.
LG is the most reliable, with a 4.5% service rate. However, Profile and Café have the best and largest service networks.
According to our service reports, the most common reasons for service calls for counter-depth refrigerators were for freezers, ice makers, and dispensers.
Read More: Most Reliable Counter-Depth Refrigerators
Key Takeaways
Well, it looks like the largest counter depth refrigerator is 24 cubic feet or 20% larger than the smallest counter depth refrigerator of the same size.
In terms of what to buy, you have some decent choices. LG is reliable, while GE and Samsung have tons of available choices.
Of course, you can always build your cabinets out and buy a 28 cubic regular depth refrigerator, so it looks like a counter depth.
Check out the Best Counter-Depth Refrigerators to learn about the best counter depth refrigerators, including professional and integrated styles.
What do you think? Which brand looks good to you?
Additional Resources
Download the Yale Counter Depth Refrigerator Buying Guide with features, specs, and inside buying tips for regular, pro, and integrated counter-depth refrigerators. Well over 1 million people have read a Yale Guide.
Related Articles
Why Should You Trust Us?
It seems that every appliance review has nothing but glowing comments about almost every product, yet you read customer reviews and they are almost universally bad.
We are here to fill in the disconnect. We'll give you the best features, and the drawbacks as well, including reliability based on over 37,000 calls performed by our service team just last year. Our goal is to give you ALL the information so you know what's right for you.
Please consider subscribing or adding to the conversation in the comments below. We appreciate you stopping by.
A Note About Pricing
Pricing on this blog is for reference only and may include time sensitive rebates. We make every attempt to provide accurate pricing at time of publishing. Please call the stores for most accurate price.