Best Appliance Maintenance Tips (Pro Appliance Tips)
Congratulations on your appliance purchase.
Now the bad news: Your appliance has a 13.4% chance of being serviced within the first year.
It escalates after that.
Some of these service calls can be avoided with some preemptive maintenance. Reading your appliance's Use & Care Manual is also a good idea.
In terms of maintenance, here are the best appliance maintenance tips to prolong the life of our appliances.
Best Appliance Maintenance Tips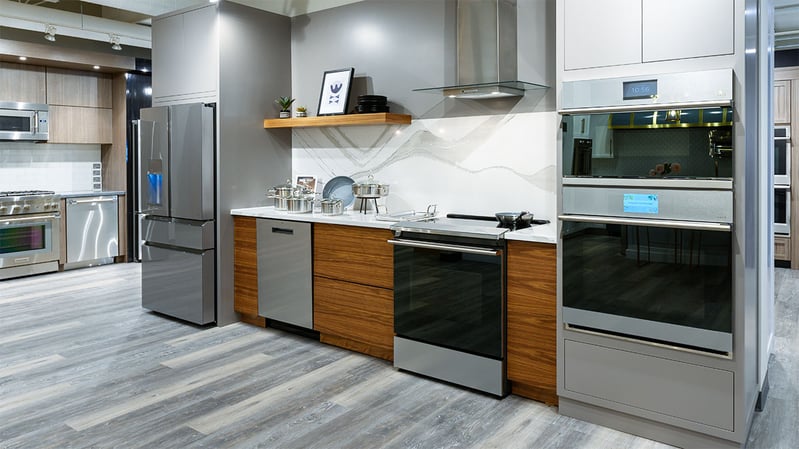 GE Kitchen Appliances at Yale Appliance in Hanover
Refrigeration Maintenance Tips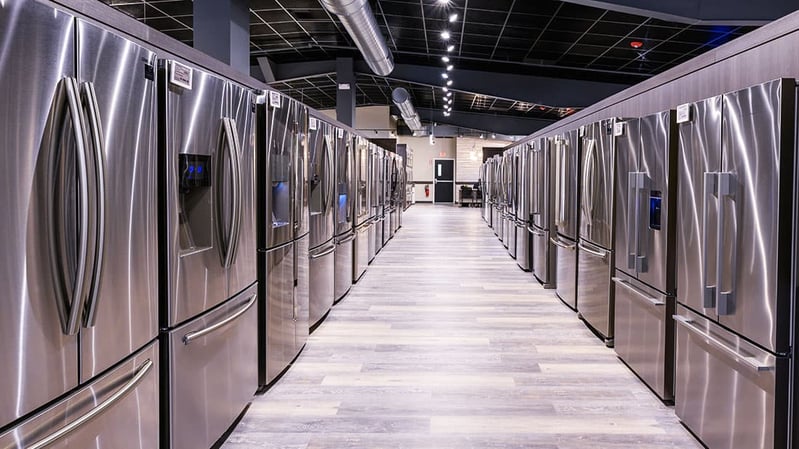 Refrigerators at Yale Appliance in Hanover
My friend called me a couple of months ago. He was mad that his Sub-Zero wine cooler was malfunctioning after seven years.
I listened patiently through his tirade (I have a toddler. I am used to it)
I asked him when the last time he cleaned the compressor below. Guess he didn't know judging by the pictures below.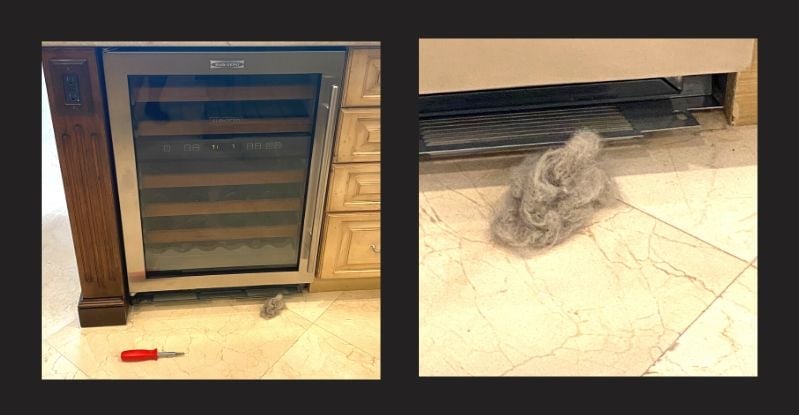 Where Is A Refrigerator's Compressor?
In most conventional refrigerators, it is located at the bottom of the refrigerator.
For professional refrigerators like a SubZero, the compressor is above the refrigerator.
Cleaning Refrigerator Coils
You will need a vacuum cleaner and a coil cleaning brush.
Your first step is always unplugging your appliance before doing any maintenance.
Next is removing the lower kick plate located at the bottom of your refrigerator (at that point you will see the buildup).
Use the coil brush to loosen and unclog the coils while using the vacuum to draw out the debris.
Regular cleaning of the coils will help prevent the strain of the reduced airflow and will allow your refrigerator to run more efficiently.
If you live in our area, we professionally maintain the tougher integrated and pro refrigerators.
You can click here to schedule your repair.
Cleaning Refrigerators Gaskets
Cleaning the refrigerator gaskets can help your refrigerator maintain a constant temperature, increase the life of your food, reduce condensation, and improve efficiency.
I usually recommend using warm water and mild detergent with a soft sponge to clean gaskets. (No abrasive cleaners).
You do not want your gaskets to dry out from harsh chemicals.
You should also use a very light coating of Vaseline on the gasket where it contacts with the refrigerator for a stronger seal.
Replacing Your Water filter
Yes, a simple thing like replacing a filter can help your icemaker last longer. Generally, waters filters made today have an estimated suggested replacement time.
Most average around six months. But your filter can last more or less based on the water quality coming into your home and your usage.
Most filters can only absorb only so much, so once the filter reaches its limit, the effectiveness is greatly reduced.
Short on time? Get our free Appliance Buying Guide
Dishwasher Maintenance Tips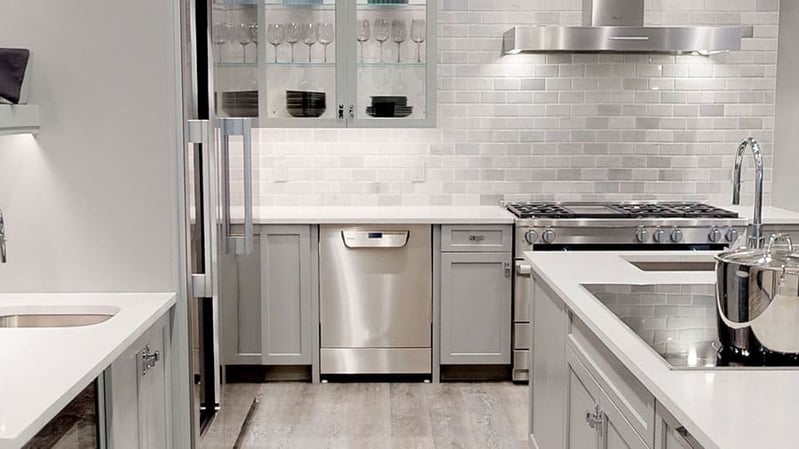 Miele Dishwasher at Yale Appliance in Hanover
For dishwashers, you should always inspect and clean in and around your filter inside the tub interior. (Always shut off the power before cleaning out your filter)
If your filter is clogged, it will restrict the water flow and reduce the effectiveness of the cleaning.
You may need to get a wet vacuum to suction out the filter area and draw out any restricted water and food leftover blocking the line.
Also, it is good to check the float switch located on the bottom of your dishwasher. Lift the switch up and down to check for any restrictions and, if needed, clean that area around it.
I have also found it is good to clean the gasket on the door or inside of your dishwasher. Cleaning away the debris will help prevent the door from leaking.
My last suggestion is to run your dishwasher every day. Waiting for a full load will only create odors and make it harder to clean.
Most dishwashers made today use much less water, so waiting for a full load does not save you much.
Affresh tablets can also be used to remove odors in a dishwasher.
Range Maintenance Tips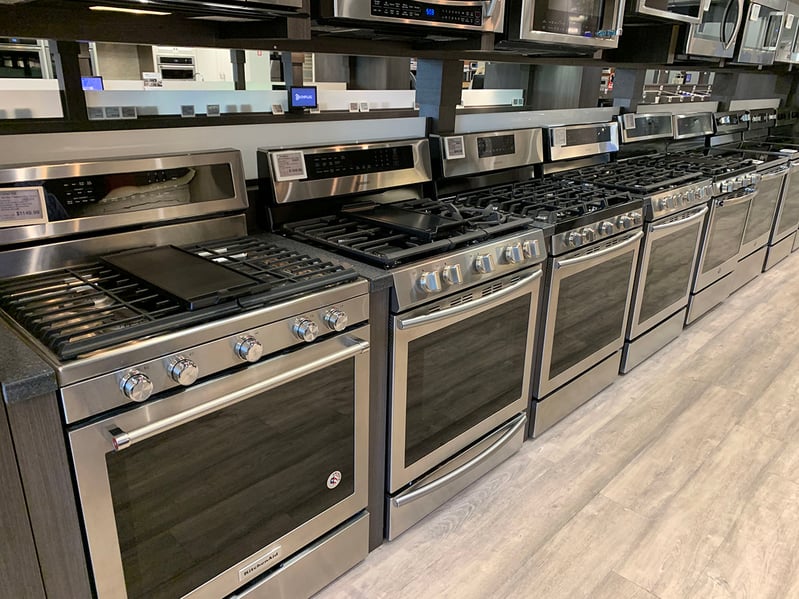 Gas Freestanding Ranges at Yale Appliance in Framingham
For both electric and gas ranges, the same rule applies - the longer you wait to clean it, the harder it is to clean.
For gas ranges cleaning around the igniter with a toothbrush will help prevent any lighting issues and give you clog-free flame.
For electric, I always suggest putting multiple coats of the cooktop cleaner on when you first receive your new electric stove to seal your cooking surface before you start using it.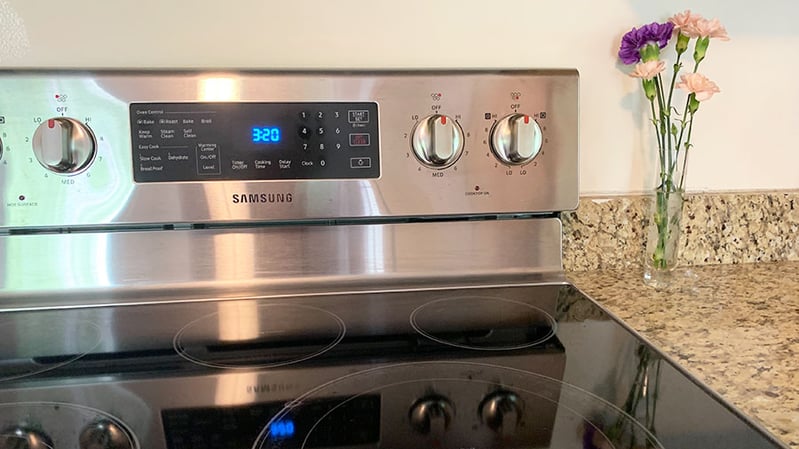 Shiny Samsung Electric Freestandin Range Surface
It will help reduce the scratches and also make it easier to clean the next time.
Never use ammonia-based cleaning products on any electric cooktops.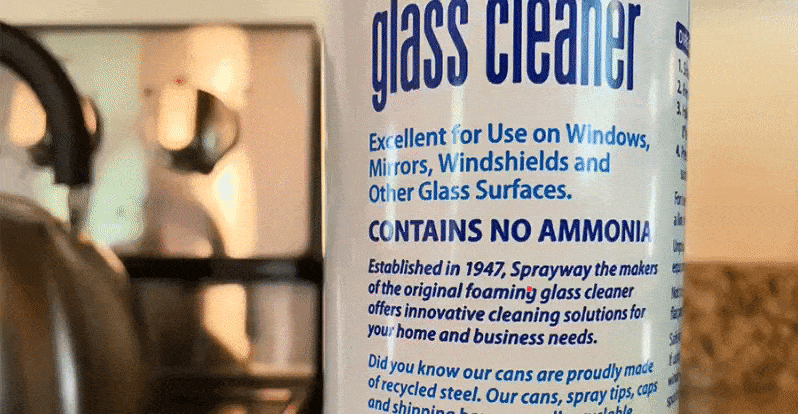 Only use non-ammonia based glass cleaner for your electric cooktop. Bar Keeper's Friend cooktop cleaner is our top recommendation.
Doing so can remove the protective coating on most ceramic cooktops, making it even harder to clean.
Do not use oven cleaner on the inside of your self-cleaning oven. It could cause damage to the interior finish and could also affect your appliance warranty.
Over-the-Range Microwave Maintenance Tips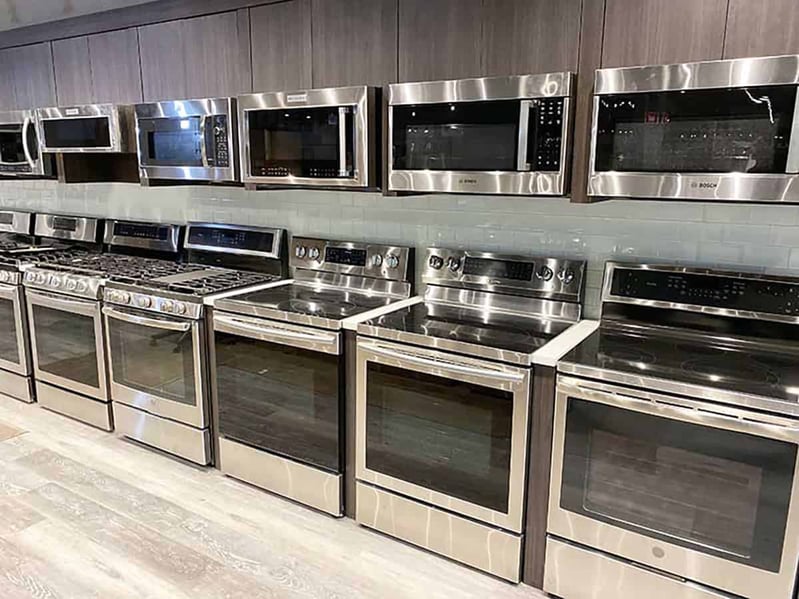 Over-the-Range Microwaves above Freestanding Ranges
Here is a trick: I have found cutting up a lemon in a bowl of water will help clean the interior of the microwave.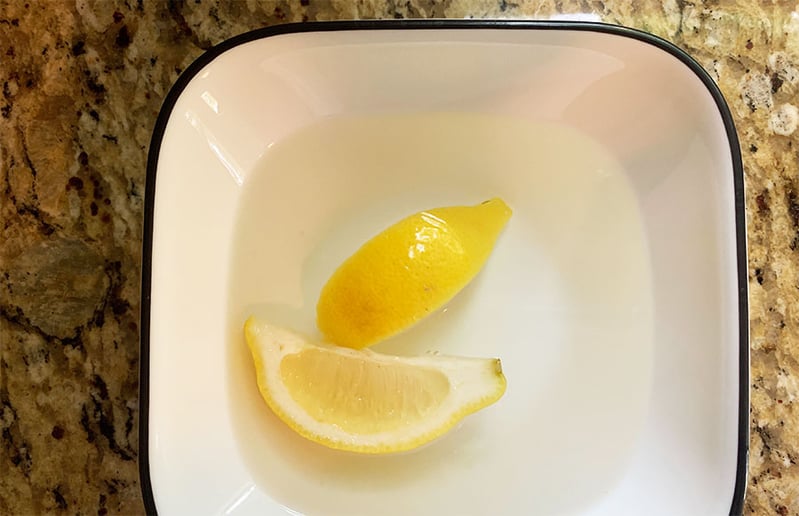 You also want to clean or change the filters periodically.
Washer Maintenance Tips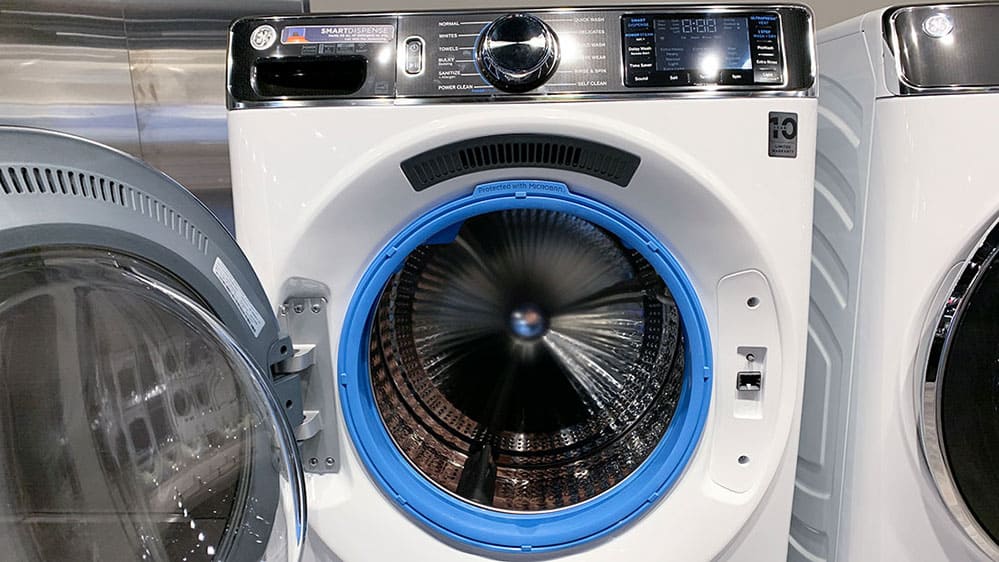 GE Interior of a Front Load Washer at Yale Appliance in Hanover
Two problems to consider with any front load washer.
Mold, mildew, and odors are a by-product of standing water. At the end of the wash cycle, I always dry the gasket in the front where most mold starts.
Just dry it with a towel or other absorbent item before you add it to your dryers.
You should consider leaving the washer door open to help dry any residual water as well.
Oversudsing is the main cause of the front load washer service.
People tend to place too much detergent in the dispenser. Over time, that excess detergent can eat away at the bearings, causing an expensive service call.
Remember for detergents: You only need a capful at the most.
Dryer Maintenance Tips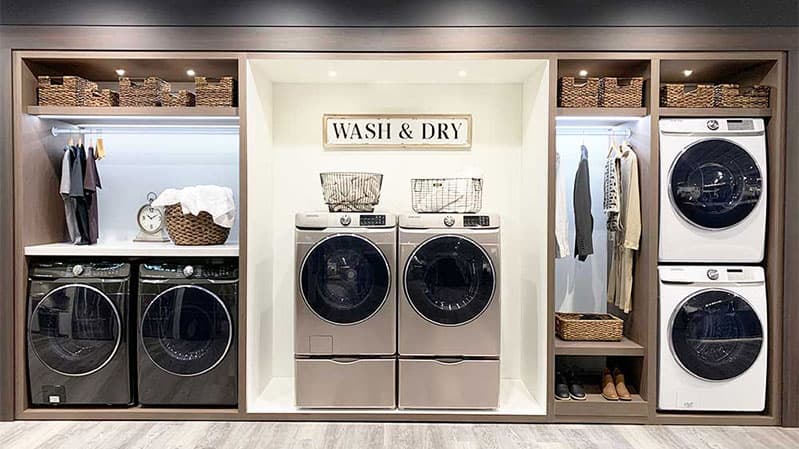 Front Load Laundry Learning Center at Yale Appliance in Hanover
Cleaning Your Dryer's Exhaust
One of the biggest factors of a dryer breaking down is clogged or partially clogged vent line. When your vent line becomes clogged, it can cause the coils in your electric dryer to overheat and break.
Dryers can run the risk of a fire if they become clogged. The lint can be combustible over time.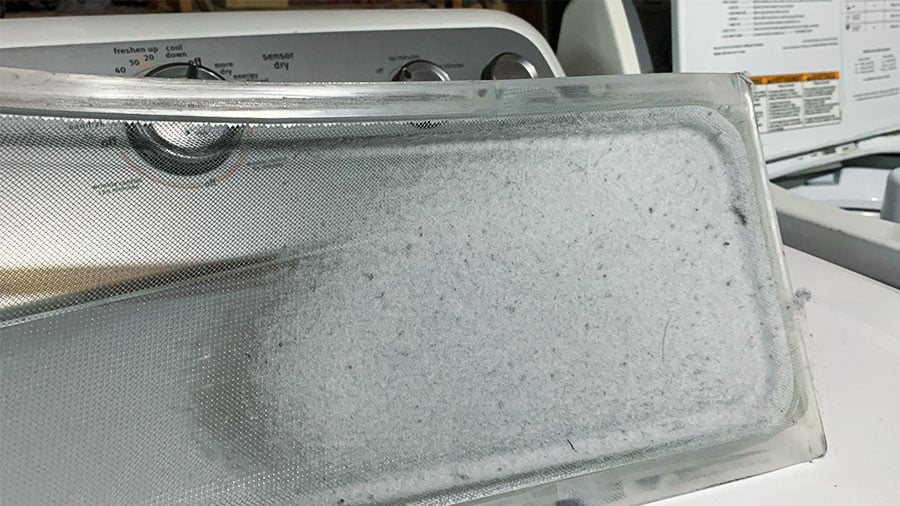 Vent Trap Pulled from Dryer
Regular cleaning of the lint trap inside your dryer and exhaust venting can help prevent extended drying times and excessive energy use.
I always suggest cleaning the dryers exhaust vent at least once a year.
If you are planning your vent, always use rigid, not flexible ducting. Lint can be trapped in the joints of the flexible duct.
If you use fabric dryer sheets in your dryer, I suggest using a little rubbing alcohol on a soft cloth on the sensor strips located on the interior of your dryer.
Removing the buildup will allow the sensor to read the moisture more effectively, saving you money, which is why they put them in the dryer.
Key Takeaways
These simple tips will prolong the life of your appliance with fewer service calls.
Remember to clean your gaskets and the compressor on your refrigerator. Be mindful of the filter in the dishwasher.
Dry the gasket on the washer and leave the door open. Clean the filters of your dryer after every use.
Maintain your appliances, and you will see these guys a lot less: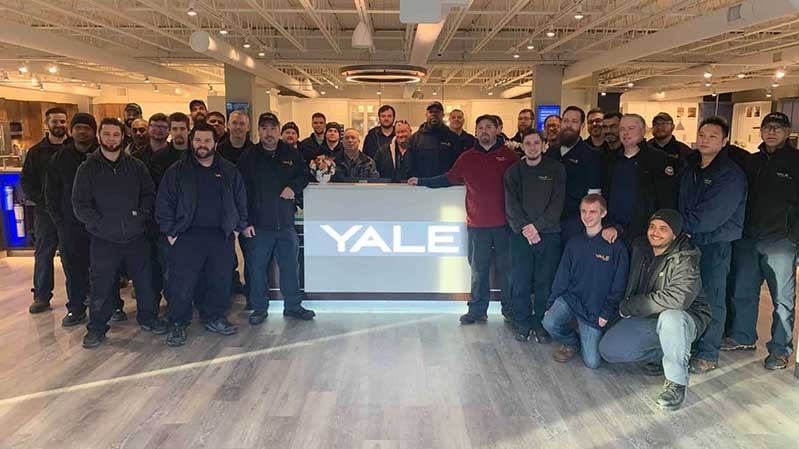 Yale Appliance Service Team
Additional Resources
Want more information on appliances? Get the Yale Appliance Buying Guide with features, specs, buying strategies, and the answers to the top 10 appliance questions. Well over 820,000 people have read and trusted a Yale Guide.
Related Articles
Why Should You Trust Us?
It seems that every appliance review has nothing but glowing comments about almost every product, yet you read customer reviews and they are almost universally bad.
We are here to fill in the disconnect. We'll give you the best features, and the drawbacks as well, including reliability based on over 37,000 calls performed by our service team just last year. Our goal is to give you ALL the information so you know what's right for you.
Please consider subscribing or adding to the conversation in the comments below. We appreciate you stopping by.
A Note About Pricing
Pricing on this blog is for reference only and may include time sensitive rebates. We make every attempt to provide accurate pricing at time of publishing. Please call the stores for most accurate price.