The Largest Capacity Counter Depth French Door Refrigerators (Reviews / Ratings)
If you are in the market for a new refrigerator chances are you might be considering a counter depth model. Counter depth refrigerators have gained a ton of popularity lately because they give you a built-in look at (typically) a more affordable price than integrated models.
The tradeoff, by going counter depth, you will lose capacity relative to traditional full-depth freestanding refrigerators.
If you are looking to maximize your capacity and benefit from the counter depth look, this article will help answer some nagging questions.
Short on time? Get our free Counter Depth Refrigerator Buying Guide
What is a counter depth refrigerator?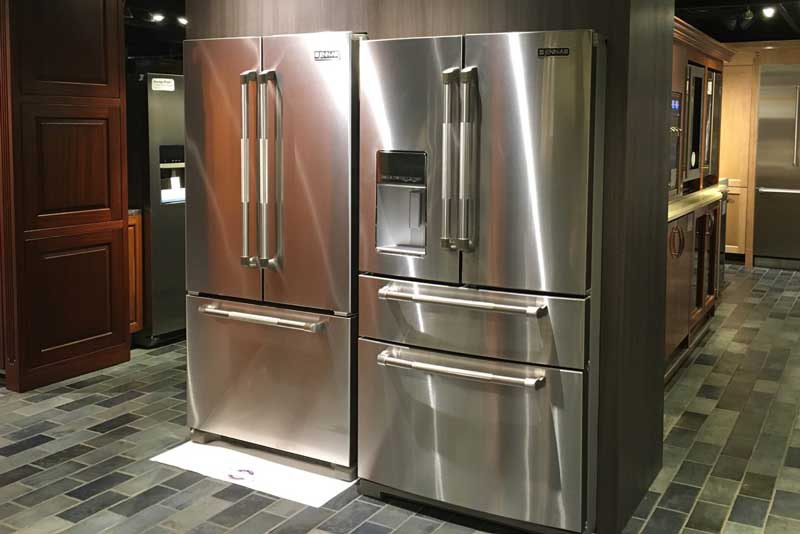 A refrigerator is a counter depth when it's casing, excluding the door and handles, is 24 inches deep. This means that in a standard 24-inch deep cabinet, you will only see your refrigerator doors and handles.
These refrigerators are especially desirable in galley kitchens or kitchens with a narrow island layout because the sides of the refrigerator will not protrude from your cabinets.
Counter depth refrigerators are produced in both professional and non-professional series so they are available in a wide array of sizes and prices.
This article will focus on the largest French door counter depth refrigerators in the industry.
French door refrigerators have become a leading trend in upscale kitchens because all the refrigerator contents are at eye level. The freezer is below the refrigerator in an easy to access drawer. If you are looking for a bottom mount refrigerator but are concerned about a narrow space the French door design is a great alternative.
Professional vs. Regular Counter Depth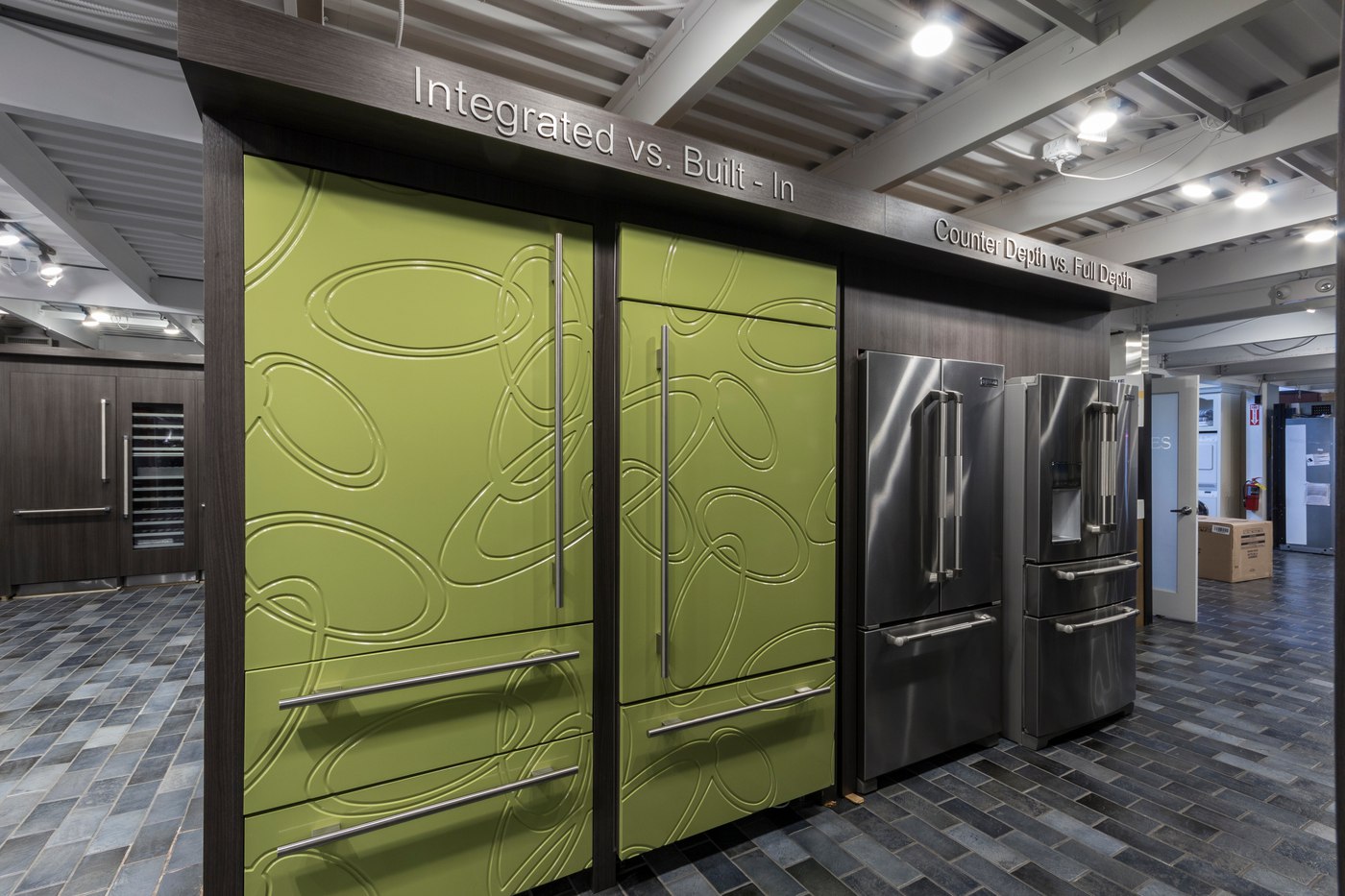 Professional is a commercial style refrigerator designed for the home. It is easily identifiable by the compressor on the top and can be purchased in stainless as well as with panels to match your cabinetry. Pro refrigerators are 2-3 times more expensive than a regular counter depth refrigerator.
(Learn about the different styles in our free guide)
Regular counter depths are just that, a regular looking refrigerator just shallower, so it does not protrude into the kitchen. The main benefit is price, but it should only be purchased in stainless steel. The doors protrude (not the main body), so it does not look very good, to say the least.
Counter-Depth, Professional + Integrated Refrigerators
The Largest Counter Depth French Door Refrigerators
5. Jenn-Air and KitchenAid
Jenn-Air and KitchenAid are two American brands that are produced by the Whirlpool Corporation.
Jenn-Air is their top of the line brand producing a wide variety of professional pieces for an upscale look. As part of their premium brand, Jenn-Air now offers a 2-year warranty over 1 on the KitchenAid, and if Jenn-Air is installed by a certified installer, you receive an additional 1-year warranty for a total of 3.
KitchenAid is another recognizable brand that produces a high-quality product. Both of these refrigerators are nearly identical in terms of capacity and overall layout.
If you are considering these two refrigerators in your project, Yale offers many great appliance packages in both of these brands. Since these products are so similar, your decision could ultimately come down to the price of the package you choose.
Jenn-Air JFFCC72EFS - $4,399 - 23.8 cu. ft.
KitchenAid KRFC604FSS - $3,509 - 23.8 cu. ft.
Features:
Wi-Fi connectivity, allows you to monitor and adjust refrigerator functions and temperatures.
Twin fresh climate control system has two evaporators intended to prolong food freshness
Pure freeze mode allows you to reduce temperature in your freezer to avoid freezer burn
Interior theater LED lighting
Adjustable door bins with attractive interior, the Jenn-Air model has metal accents and the KitchenAid with wood trim
Air filter designed to reduce refrigerator odors
Herb container to prolong freshness of herbs
Max ice allows you to increase ice production for your entertainment needs
Measured fill allows you to dispense a present quantity of drinking water
Soft close on doors and crispers
Variable capacity compressor optimizes cooling and avoids start/stop cycles on single-speed compressors maintain consistent food temperature
Wine bottle rack
4. LG
LG is a major South Korean company that has made a large impact on the American household appliance market. Their brands are best known for manufacturing large capacity refrigeration and laundry. Like Samsung, LG is known for technological innovation.
They presently make refrigerators with a see-through door and laundry that can communicate directly with your phone or tablet.
LG LFXC24726S - $2,399 - 24 cu. ft.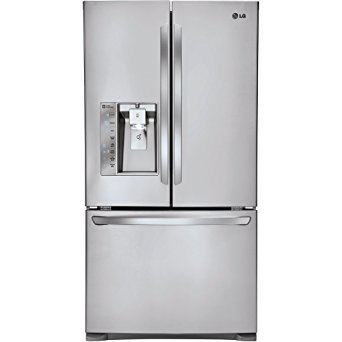 Features:
Dual evaporators to prolong food freshness
Three tier freezer to optimize organization
Fingerprint resistant stainless
Spill-proof shelves
Three internal crisper bins with humidity control and full-width deli drawer
White LED interior lighting
3. Samsung
Samsung is a South Korean company that is involved in a variety of industries especially electronics. Appliances are a small sector but they are growing in popularity due to the inclusion of technological innovations into some of their products.
Over the past year, they have introduced a flex refrigeration zone. This concept is really neat because it allows you to convert a section of your freezer to refrigerator and then back again depending on your needs.
Samsung RF24J9960S4 - $5,399 - 24 cu. ft.
Features:
Triple Cooling feature uses three evaporators to keep temperature consistent and your food fresh
Spill-proof glass shelves
Upscale stainless steel trim interior keeps sides of the refrigerator cool, just like in commercial kitchens
Flex zone allows you to convert from refrigerator to freezer in this section
Four door design allows you to have your fresh food at waist level, yet have the organization of a side-by-side down below for your freezer and flex zones
Four pillar high-efficiency LED lighting
Produces up to 10lbs of ice daily, ice and water on the door and additional ice maker in the freezer
External dispenser with chilled or sparkling water
Two humidity adjustable crisper bins and a chef pantry
2. Jenn-Air and KitchenAid
This comparison focuses on their premium professional-style models. Both brands are fully secured into cabinetry and can either be panel-ready to match your cabinets or stainless steel.
Jenn-Air JF42NXFXDE - $8,499 - 24.2 cubic ft.
KitchenAid KBFN502ESS - $8,279 - 24.2 cubic ft
Features:
Over the past several months, Jenn-Air released built-in refrigerators with an obsidian interior and KitchenAid with a platinum interior. In a world where many refrigerators look the same, these professional style counter depth refrigerators allow the colors of your food to pop, it's also easier to hide spills and imperfections
42'' width and 84'' height gives these models a high-end commercial-style appearance
TwinFresh climate control implies the refrigeration system has two evaporators designed to keep temperature more consistent in the refrigerator and freezer to prolong food preservation
Bright LED theater lighting
Soft close crispers
Air filter helps preserve produce freshness by removing food odors
Variable capacity compressor operates at variable speeds to avoid abrupt stop/start cycles of single-speed compressors to manage temperature control
Max ice allows you to increase the ice production rate for 24 hours prior to fulfill your entertainment needs
1. Sub-Zero
Sub-Zero was the original manufacturer of professional counter depth refrigeration. Over the past several decades they have earned a reputation for focusing on high-quality product and keeping food fresher for a longer time with two compressors, air scrubber to reduce spoilage and a vacuum sealed door to keep air out.
Today Sub-Zero is a very popular refrigerator brand at Yale and across New England. Sub-Zero refrigerators can either be stainless steel or covered with cabinet panels to match your kitchen.
Sub-Zero BI-42UFDID/O - $9,350 - 24.7 cubic ft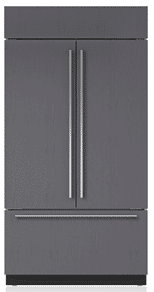 Features:
42'' width and 84'' height for high-end look
Professional counter depth refrigerator that is fully secured to cabinetry
Dual compressors and dual evaporators for complete separation of airflow between the refrigerator and freezer for optimal food preservation
Internal ice maker and internal water dispenser, giving you the convenience of both without compromising exterior aesthetics
LED interior lighting
Air purification system targets ethylene gas to remove odors and spoilage
Two soft close humidity control crispers and full-width deli drawer below
Two column split shelving to optimize organization
Two tier freezer storage
Which is Best?
Korean companies, LG and Samsung, would not be on this list 5 years ago. Now they manufacture technologically forward products. Between the two, the Samsung Flex is a more impressive feature than the LG door within a door.
As gadget oriented as they may be, both are concerning when there are issues. The KitchenAid/Jenn-Air products are not as compelling, but easier to fix with issues.
Sub-Zero has the freshness story with air scrubber, water purifier, magnetic crisper and the best seal. Then again at over $9,000, you should expect that.
Additional Resources
Download the Yale Counter Depth Refrigerator Buying Guide with specs, features and inside buying tips to every regular, professional and integrated refrigerator. Well over 220,000 people have already read a Yale Guide.
Related Articles
Editor's Note: This article was originally published on November 16, 2015 and has been updated for accuracy, freshness and comprehensiveness.
Why Should You Trust Us?
It seems that every appliance review has nothing but glowing comments about almost every product, yet you read customer reviews and they are almost universally bad.
We are here to fill in the disconnect. We'll give you the best features, and the drawbacks as well, including reliability based on over 37,000 calls performed by our service team just last year. Our goal is to give you ALL the information so you know what's right for you.
Please consider subscribing or adding to the conversation in the comments below. We appreciate you stopping by.
A Note About Pricing
Pricing on this blog is for reference only and may include time sensitive rebates. We make every attempt to provide accurate pricing at time of publishing. Please call the stores for most accurate price.