Samsung Vs. LG French Door Counter Depth Refrigerators (Reviews/Ratings/Prices)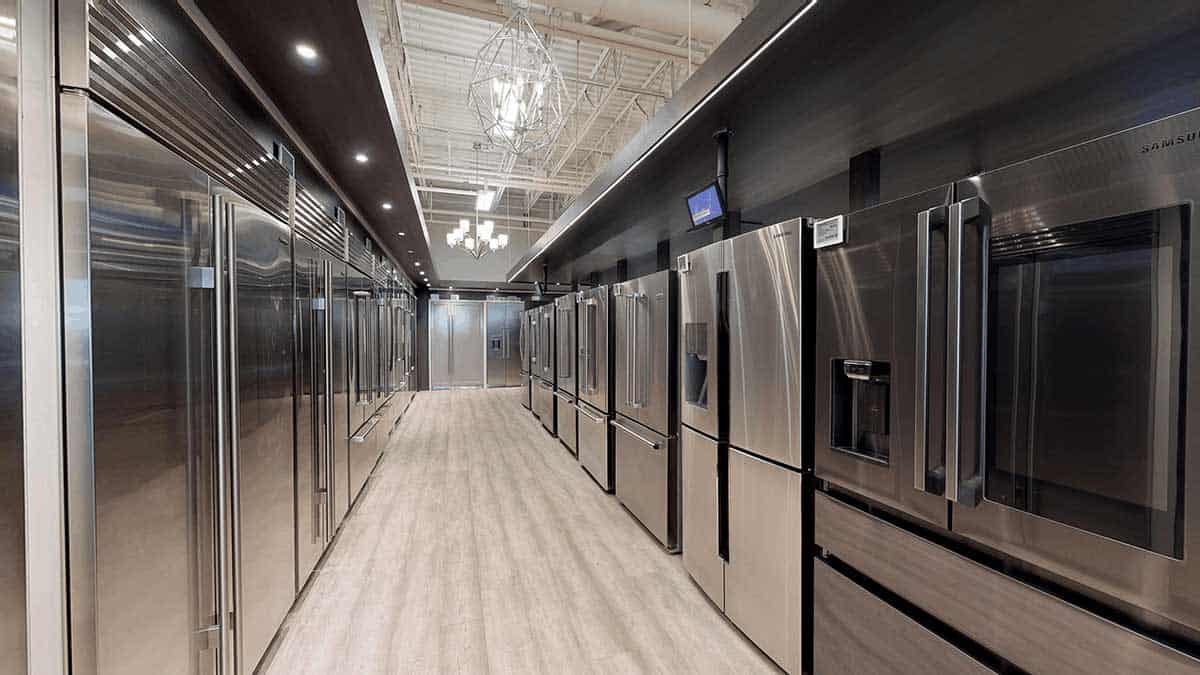 When you shopped last for a refrigerator, you probably bought a Whirlpool, GE, Frigidaire, Maytag, JennAir, or KitchenAid refrigerator.
Now, refrigerators generally come in 3 different implementations; integrated, full depth, and counter depth.
Integrated means it's built-in or connected to cabinetry. Full depth is a freestanding fridge that protrudes 8-10" from a standard 24-inch cabinet. Counter-depth means that the box of the fridge is 24 inches, and only the door and the handles will protrude from a standard 24-inch cabinet.
Counter-depth refrigeration is one of the most favored types of refrigeration sold, and LG and Samsung are the two most popular counter depth refrigerator brands.
These companies are rival Korean companies but are so similar. Both compete and promote the same way.
Both LG and Samsung use design and technology before any other company.
They are extremely likable, cutting edge products. However, I would be careful before you buy either brand. There are some questions to ask before you buy either.
In this article, we will look at both companies' popular features, then look at unique products from both products. I will show what is better to buy in Black Steel based on a scratch test.
You will also learn the reliability of both brands based on actual service calls.
In the end, you will know which brand (if either) may be right for you.
Let's look at some different models and features.
Short on time? Get our free Counter Depth Refrigerator Buying Guide
Samsung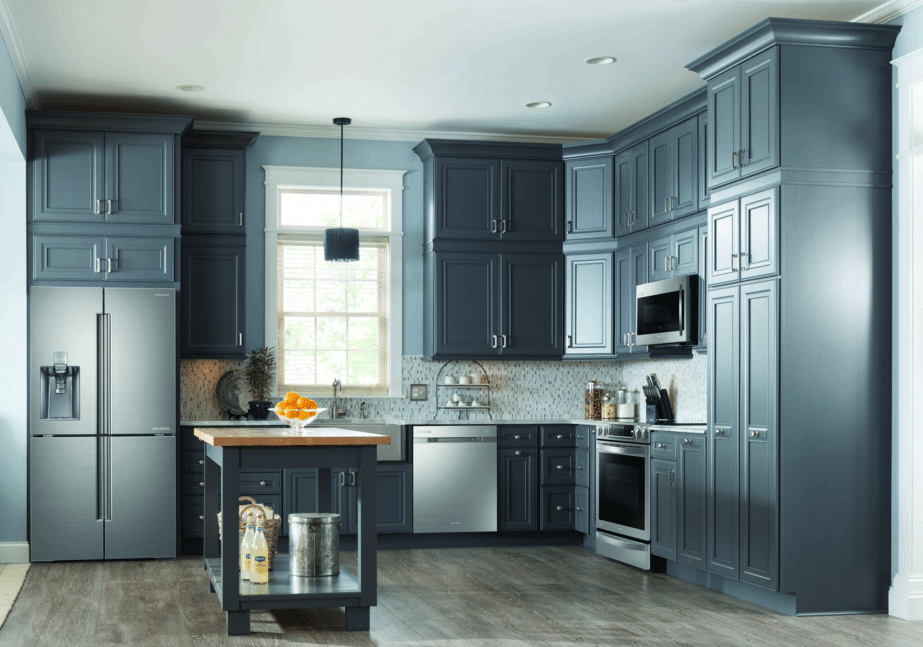 Samsung has been making appliances since the late 1960s.
In a very short period, Samsung has become the number 1 selling line of appliances in the US. Amazingly, they surpassed Whirlpool in such a brief period. They design beautiful equipment and are technology forward.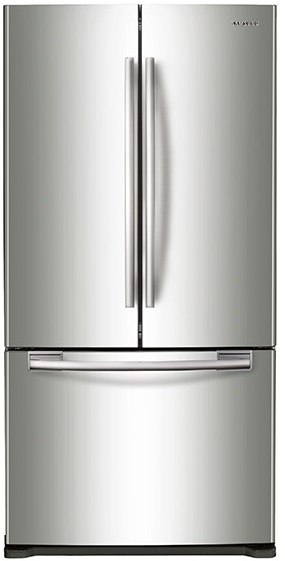 Features
Counter depth - sleek design adds style and allows for more workable space
18 cu. Ft. capacity - spacious fridge provides food storage flexibility
Twin cooling system ® - keeps perishable fruits and vegetables fresher
The automatic ice maker in the freezer
Twin crisper drawers
LED lights
The special part of the refrigerator is the size. It fits a 33-inch cabinet. Every other counter depth refrigerator is 36 inches width.
Although 36 inches is the most popular by far, 33-inch widths are common in smaller kitchens.
LG does not manufacture a 33 inch counter depth. Most companies do not either. GE and Fisher & Paykel have products but are $300-800 high than Samsung.
This may be the most basic of the products on this list, but it's the most popular by far. It keeps food fresher with its twin cooling system.
The twin crisper drawers for fruits and vegetables and LED lights will give a bright, long-lasting light.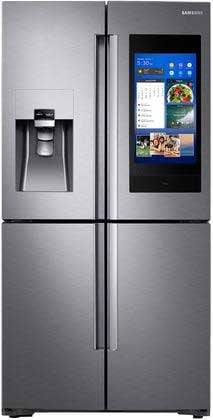 Features:
Food Management - Create shopping lists and see inside from anywhere with 3 built-in cameras
Family Connection - Calendars, notes and photo sharing
The Samsung Family Hub refrigerator can be personalized, and you can access the internet and stream music. You can also monitor other devices like your baby monitor or see who is at your front door right on the refrigerator.
As far as the refrigerator function, you can look inside through an app. If you are shopping for food, you will know how many bottles of mustard you have and not buy a 4th (I have three as I write this).
The Samsung Counter Depth Family Hub Refrigerator [VIDEO]
LG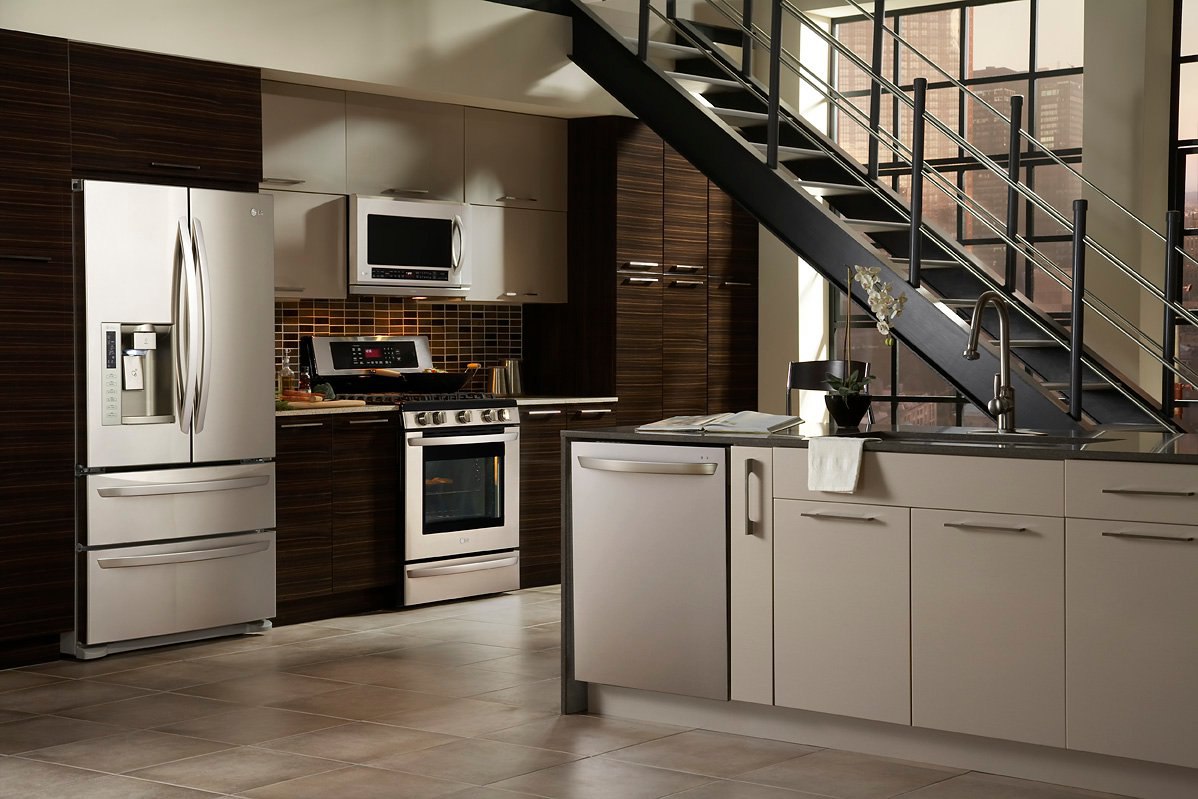 LG was the first manufacturer with a internet-ready refrigerator. It had a TV, camera and could play music. The refrigerator never sold well, because, in 2003, people either weren't ready for it or didn't understand it.
Flash forward 16 years, now you are controlling your thermostat on your phone or perhaps monitoring your house.
The technology doesn't seem as intimidating, and the prices are also less expensive with cheaper, more abundant technology.
LG Counter Depth InstaView Refrigerator LRFVC2406D -
$3,332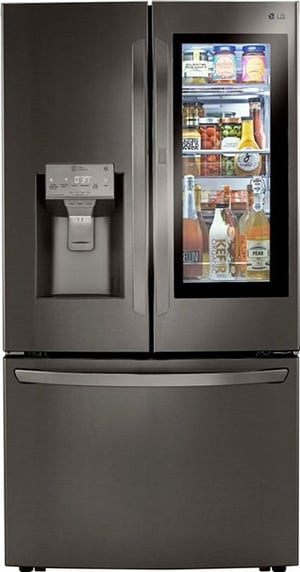 Features:
24 cu. ft. Capacity
InstaView™ Door-in-Door® with adjustable bin
Dual Ice maker with Craft Ice™
Tall Ice & Water Dispenser® with Measured Fill
Innovative Cooling Features
CoolGuard™
Stainless Steel Black Stainless Steel
I have never seen this model, but it showcases most of LG's unique features.
The Instaview door is a glass panel. Tap it twice, and you can see into the refrigerator. I open my refrigerator and stare, but the look of the panel is different.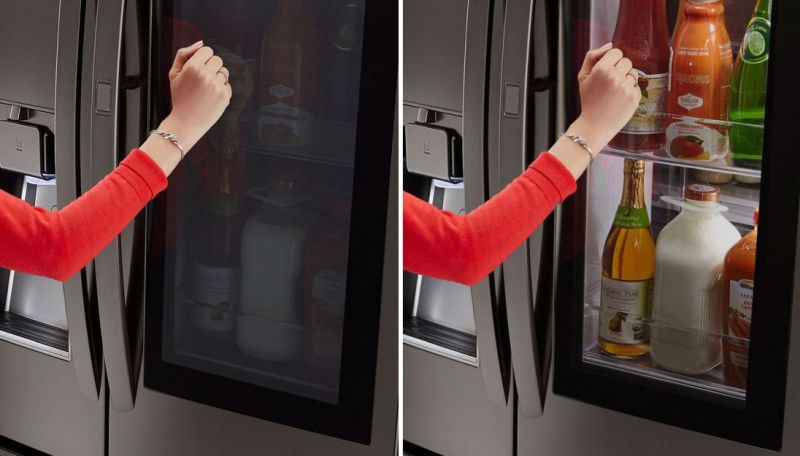 LG Counter Depth InstaView Refrigerator
LG offers two ice makers as well in some of their models. You have more ice for parties or whenever needed.
You can also dispense water from the dispenser from 4 pre-measured levels 4, 8, 16 and 32 ounces.
This model also has Craft Ice. Have you ever walked into a high-end bar and seen these big ice cubes in certain drinks like whiskey and other call brands.
They are heavy with a round shape, so they do not dissolve quickly. You taste more whiskey and less water from melting ice.
You may have to replace your filter religiously because Craft Ice implies clear ice with no impurities.
LG Signature Counter Depth Refrigerator LUPXC2386N -
$6,519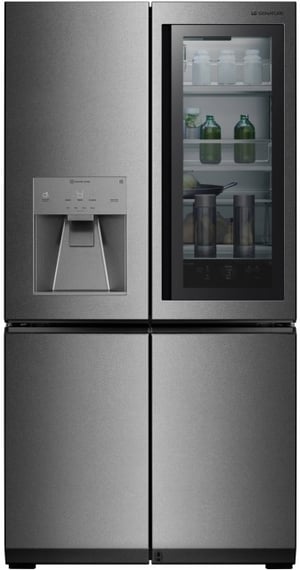 Features:
LG SIGNATURE
InstaView™ Door-in-Door®
Auto Open Door™
Textured Steel™ Finish
Fresh Filter
Custom Chill™
And now for something different. Many appliances are going from you, pulling a door to pushing a door.
Thermador has it in its built-in Freedom line of refrigerators. You can knock to open a Miele dishwasher as another example.
It's a good idea. Think about it. If your hands are full, you can push a door open. You can keep your hands on that tray and easily access your refrigerator.
This LG Signature uses light at the bottom of the refrigerator. Place your foot in the beam of light, and the refrigerator opens automatically.
This counter depth refrigerator is also all stainless on the sides. It will look good even as a standalone because it doesn't have black textured sides.
Samsung Vs. LG Counter Depth Refrigerators
As I said in the beginning, these companies and many of the products are similar. Let's take a look.
Features
Two Evaporators - Until Bosch recently debuted their two compressor models, twin evaporators were the best way to keep food fresher for a longer period.
Instead of moist and warmer air of your refrigerator circulating through your drier, colder freezer, both LG and Samsung keep the air in the same compartment with individual evaporators. The odors and tastes from the fridge will not end up in your freezer.
Three Zones - Both refrigerators have drawers and compartments with the ability to change from freezer to refrigerator. It's convenient if you need an extra refrigerator space for a party.
Stainless Back Walls (on some models) - You are starting to see more stainless on the inside of refrigerators in some brands. Stainless absorbs cold quicker more thoroughly than plastic. You want to put your milk and juices against stainless for a faster cold.
Wi-Fi - Both have Wi-Fi and the ability to control the temperature and diagnostics remotely. Samsung has the Family Hub, which allows you to look inside the refrigerator.
Food Showcase - Both companies have the door within a door, so you can open the fridge without opening the whole refrigerator to access juices and condiments.
Style
Multi Configurations - Whereas most companies have side-by-side and a French door only in counter depth, LG and Samsung have French Door, side by side, four-door, and door with two drawer models.
Black Stainless Steel Finish - Black steel has become the rage in kitchen design. It's different than stainless with its darker hue. If you are sick of stainless, it's an option.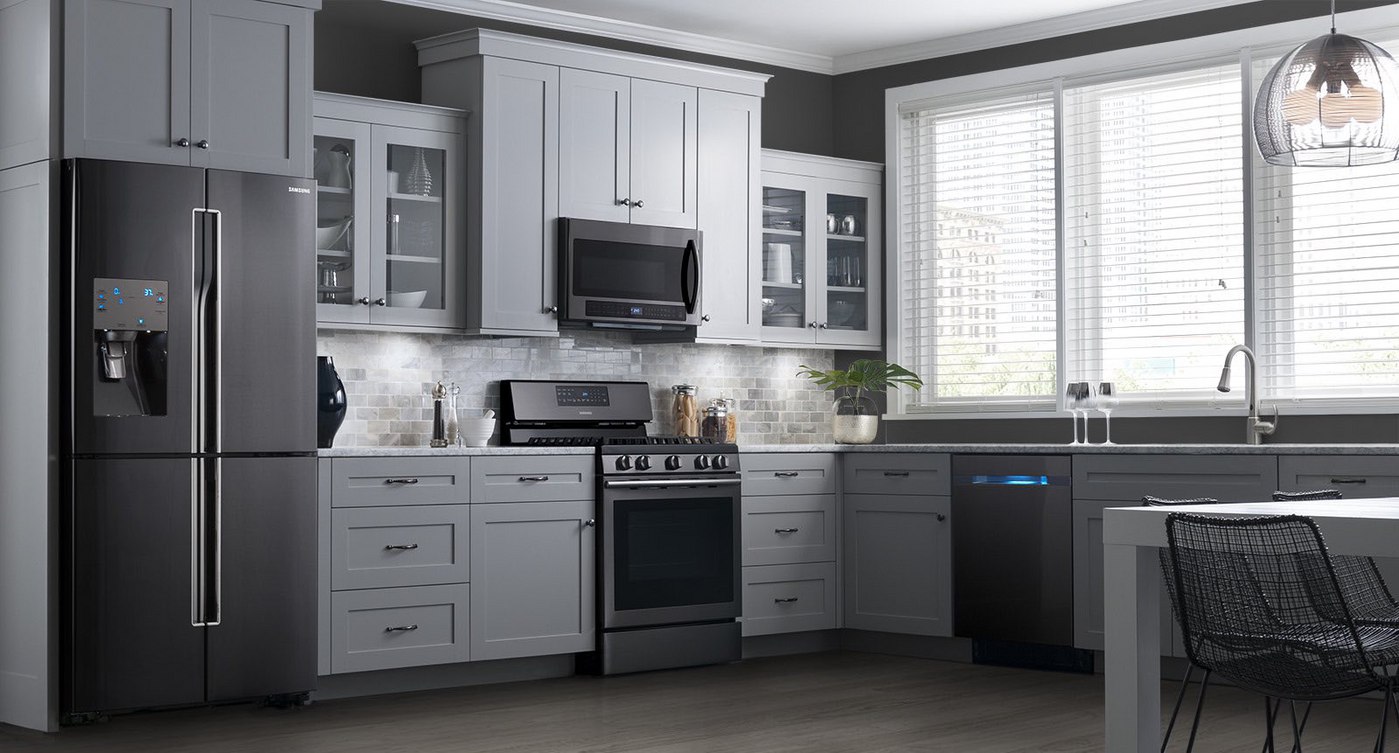 Now the bad part - Black stainless is an oxidized coating on both LG and Samsung. If you scratch off the black, it reveals the shinier stainless underneath.
It is also impossible to repair. Based on our scratch tests, Samsung is more scratch-resistant than the LG. Black Stainless is a nice finish, but with kids, it may not be your best option.
Service and Repair
Both companies have become popular, and they have outstripped their ability to service problems in certain areas.
Based on our repair stats, LG is a bit better. However, we did not sell as many as Samsung by a 12-1 ratio, so it's hard to know.
Most Reliable Counter Depth Refrigerators For 2019
| | | | |
| --- | --- | --- | --- |
| | Service Qty | Shipped Qty | Service Ratio |
| Signature Kitchen Suite | 2 | 33 | 6.06 % |
| LG Electronics | 6 | 71 | 8.45 % |
| Samsung | 133 | 1051 | 12.65 % |
| Fisher & Paykel | 41 | 261 | 15.71 % |
| Whirlpool | 7 | 44 | 15.91 % |
| Maytag | 1 | 5 | 20.00 % |
| BlueStar | 3 | 14 | 21.43 % |
| Bosch Appliances | 105 | 408 | 25.74 % |
| Jenn-Air | 270 | 780 | 34.62 % |
| Liebherr | 6 | 15 | 40.00 % |
| Amana | 3 | 7 | 42.86 % |
| Kitchenaid | 152 | 334 | 45.51 % |
| Blomberg | 25 | 30 | 83.33 % |
| Grand Total | 807 | 3062 | 26.36 % |
They both are well below the average in terms of at least initial quality.
However, both companies have problems in certain areas when there are problems. Their problem is keeping up with their popularity.
At 8 and 12% repair rate with millions sold, there are lots of problems. Many repair agencies do not work on either brand, because they do not sell LG or Samsung.
So be careful and inquire before you buy.
Promotions and Value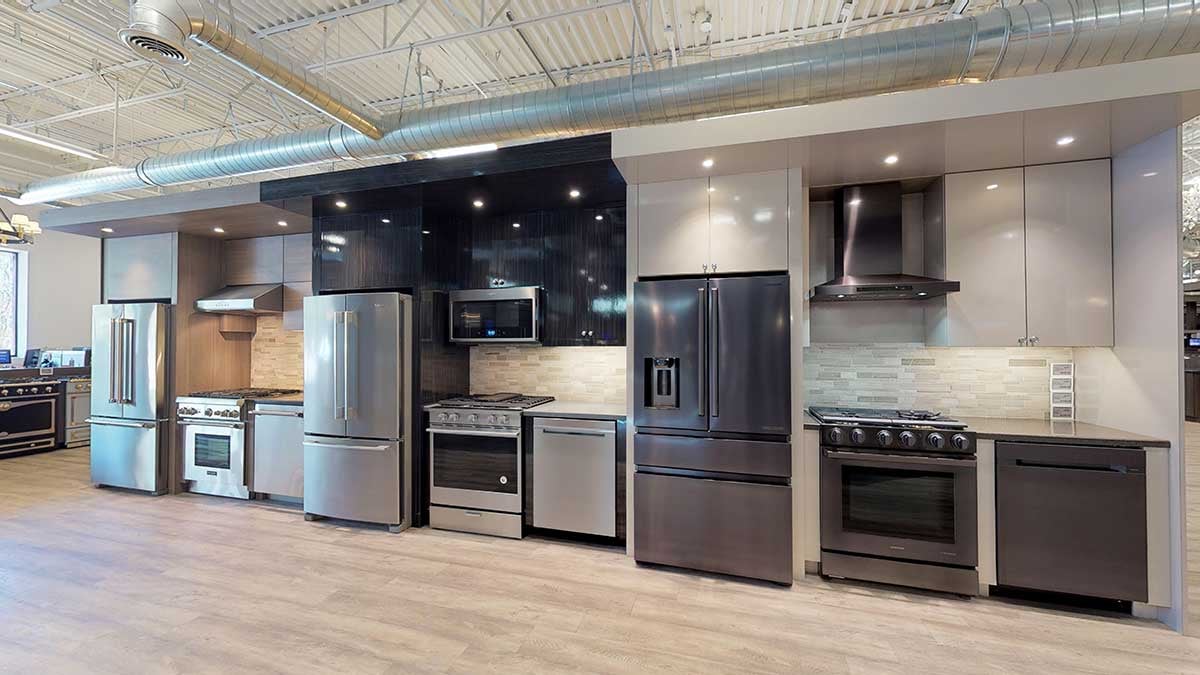 Samsung Kitchen Packages At Yale Appliance In Framingham
Both companies promote the same. Every holiday, there is a promotion, especially Black Friday, Presidents' Day, Memorial Day, Labor Day, and July 4th.
You can save 10-35% on those days. Some products even have steeper discounts, so it pays to wait.
Should You Buy A LG Or Samsung Counter Depth Refrigerator?
I have shown you some more cutting edge products you probably will not consider. Most people buy the straight French door counter depth.
I would say buy whichever is cheaper or better repaired in your area because the products are so similar.
However, Samsung outsells LG by a wide margin for other reasons.
First, they have more models available at low prices in three and four doors than LG.
Also, Samsung has better ranges than LG at this writing, so people pick Samsung to coordinate their kitchens.
In straight French doors, choose the best price. Samsung has the edge on most of the other refrigerators.
Additional Resources
Download the Yale Counter Depth Refrigerator Buying Guide with features, specs, and inside buying tips for regular, pro, and integrated counter depth refrigerators. Well over 620,000 people have read a Yale Guide.
Related Articles
Why Should You Trust Us?
It seems that every appliance review has nothing but glowing comments about almost every product, yet you read customer reviews and they are almost universally bad.
We are here to fill in the disconnect. We'll give you the best features, and the drawbacks as well, including reliability based on over 37,000 calls performed by our service team just last year. Our goal is to give you ALL the information so you know what's right for you.
Please consider subscribing or adding to the conversation in the comments below. We appreciate you stopping by.
Todd Rourke
Todd Rourke is a Sales Consultant for Yale Appliance. He has worked in sales for over 17 years. He loves putting dream kitchens together for his customers. In his free time, Todd is a musician and an avid bass fisherman and prefers the Lakes Region in NH. Mainly, he is a Dadda to his 2 beautiful daughters and a housekeeper to his beautiful wife. They take up most of his free time nowadays, but he wouldn't have it any other way. HelloFresh and Blue Apron have saved his nights! Todd loves the outdoors and anything lighthearted and silly.

Schedule a showroom visit with me
A Note About Pricing
Pricing on this blog is for reference only and may include time sensitive rebates. We make every attempt to provide accurate pricing at time of publishing. Please call the stores for most accurate price.