Professional ranges have changed over the years even since I wrote this original article four years ago.You can choose ranges from Wolf, GE Monogram, the ever beguiling Viking company, Dacor, Capital, DCS, Jenn-Air and a few others.
The different options include more powerful burners, twin convection, Wi-Fi enabled technology, steam and automatic cooking are now all available. It can be daunting for you or (even for me) as the technology has changed so remarkably.
Today, we will look to clarify 48" models from two very different yet popular manufacturers in the dual fuel range industry, Wolf and GE. To be totally transparent, we stopped selling GE Monogram a couple of years ago.
Nationally, Monogram sells well through their builder division where builders will buy large quanities for a building or project. Wolf is sold more through stores with their other powerful label, Sub-Zero.
First, we will look at how dual fuel works. Then we'll compare the GE against the Wolf.
Short on time? Get our free Pro Cooking Buying Guide with features and reviews of all the major brands »
Dual Fuel
Dual fuel is the best of all cooking worlds in professional ranges. It has gas burners and an electric oven.
You will benefit from the power of gas on the cooktop and the evenness of electric convection in the oven. Dual fuel ranges will typically cost $1,500-$3,000 more depending on the brand.
Wolf
Wolf was originally a manufacturer of commercial cooking equipment, supplying restaurants and hotels. In 2000 Wolf was acquired by refrigeration pioneer Sub-Zero.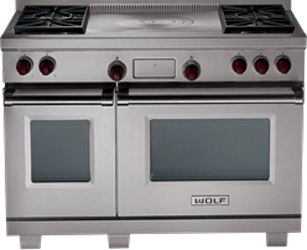 They offer 5 different 48 inch dual fuel models, all with the same ovens. The main oven is 4.5 cubic feet, the secondary is 2.5. Both ovens offer self-cleaning convection. The main oven has twin convection for more even distribution of heat.
Other features include electronic controls for accuracy, a temperature probe, and cobalt blue interior. There are 10 pre-programmed cooking modes, including proof, dehydrate, and a bake stone for pizza.
(Read more about Wolf in our free Pro Cooking Buying Guide)
The cooktops offer multiple configurations, with 4 or 6 burners. These burners are a dual stacked design, and are now 20,000 BTU's for high heat cooking and a very low simmer. They increased the power of their burners in November, 2015.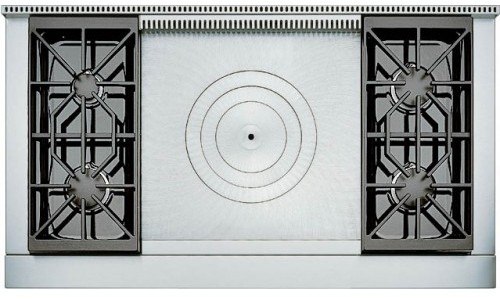 Wolf French Top range with four burners
In addition to the burners, you have a choice of a grill, griddle, grill and griddle, double griddle, Wolf also offers a French top where heat is hotter in the middle with less heat on the outside, so you can cook multiple items at different temperatures.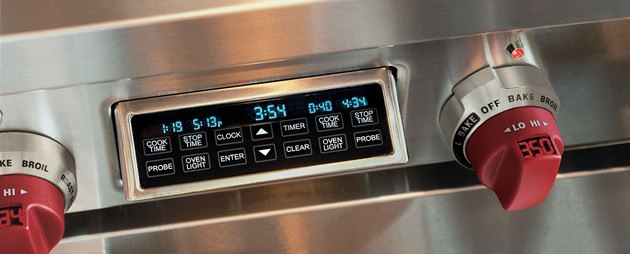 The Wolf classic control panel and red knobs
These options make the Wolf a very versatile piece. You can choose from black, stainless, or the signature Wolf red knobs.
GE Monogram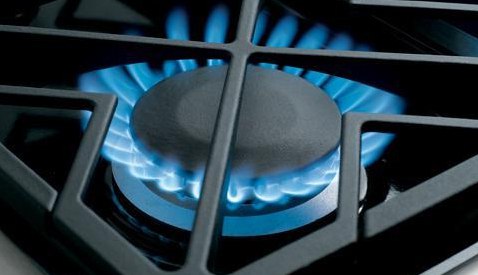 GE Monogram Stacked Burners
GE is a huge international company, with 300,000 + employees worldwide. Businesses under the GE flag include aviation, finance, energy, health care, transportation, and yes, appliances. They offer 4 distinct lines, with Monogram being the best. GE is in process of being acquired by Electrolux in Sweden. It has been a long process as the government is heavily involved.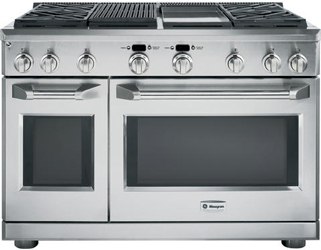 Monogram is the GE professional series offering refrigeration, ventilation, dishwashers, compactors, and cooking products. Their 48 inch dual fuel is available in 3 configurations, all with the same ovens. The main oven is 5.75 cubic feet, the smaller is 2.5. Both are self-cleaning with convection, and a temperature probe in the larger oven. The main oven is designed to accommodate full size sheet trays.
Present options include a proof function. The cooktop options are 4 burners with a grill and griddle, or 6 burners with either option. They also offer dual stacked burners for high heat and a low simmer. A unique feature of the Monogram is the reversible grates. These can be flipped form a flat surface to a wok grate on all burners.
Wolf vs. GE Monogram Pro Ranges
Both ranges from these well known manufacturers are great products. The Monogram price ranges from $10,000 to $10,300 and the Wolf ranges from $12,600 to $13,999. The price range is dependent on the cooktop configuration, but Monogram should be about $2,000 less than the Wolf.
Wolf recently upgraded their BTU power to 20,000 versus 18,000 for the Monogram. They also both manufacture a gas grill (14,000 BTU) and gas griddle (16,000 vs.15,000) for the Wolf. Gas is faster than electric, so both companies share the same advantage.
What separates the Wolf is dual convection in the larger oven to spread heat more evenly. The dual convection in a larger 36" space is truly better than just a single fan.
Wolf also features a temperature probe in both ovens for a more accurate roast along with more pre-programmed cooking modes.
Final Thoughts
In my opinion, as evidenced by watching clients choose between the two, Wolf may be the better choice.
Although Monogram is a decent product, consumers seem hesitant about the label. It is mostly builder driven. There seems to be more of a comfort level with the Sub-Zero/Wolf brands on the very high end of the appliance industry.
Additional Resources
Read the Yale Professional Range Buying Guide with terms features and benefits to every major brand of professional range. Over 120,000 people have saved time by reading a Yale Guide.