LG versus Samsung. They are both Korean manufacturers that recently burst on the appliance scene.
For LG it was about 10 years ago and Samsung about five. Both are widely regarded for style, features and technology.
Short on time? Get our free Washer Buying Guide for features and comparisons of all the major brands »
They also both have similar machines and marketing strategies. The Asian companies always initiall look for high-volume stores. This is a unique strategy. Most companies will first sell to niche retailers and then sell more broadly when they have systems, processes and people to support the volume.
It's a mixed bag for the consumer. On one hand you have earlier access to more choice and better technology. On the other hand, you have an issue when there's a problem. You can also buy Samsung and LG cheaper at different times of the year. Buying both brands around a major holiday will save you 10 to 20%. That's their sales strategy.
Now let's compare.
LG Front Load Washer
LG WM3470HWA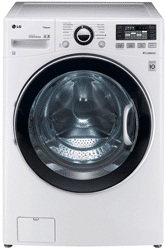 4.0 Cu. Ft. Ultra Large Capacity with NeveRust Stainless Steel Drum
Direct Drive Motor with 10-Year Limited Warranty
1,200 RPM
12 Washing Programs
5 Temperature Settings (All Cold Rinses)
TurboWash Technology
Steam Technology
AAFA Certified Allergiene Cycle
NSF Certified Sanitary Cycle
ColdWash Option
SmartDiagnosis
TrueBalance Anti-Vibration System
Magnet Ventilation
ENERGY STAR Most Efficient 2012
LoDecibel Quiet Operation
SenseClean
Delay Wash (Up To 19 Hours)
10° TilTub
Samsung Front Load Washer
Samsung WF405ATPAWR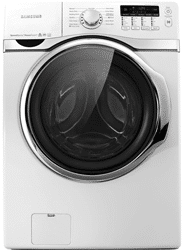 Total Capacity: 4.0 Cu. Ft.
SpeedSpray
PowerFoam Technology
Steam Wash
PureCycle
15 Wash Cycles
Diamond Drum
Direct Drive Motor
1,200 RPM Max. Spin Speed
Internal Water Heater
5 Temperature Setting Options
LG vs Samsung Front Load Washers
I do like both these machines. They both have interesting features.
Samsung has their new foam cycle which pre-dissolves detergent into a more deep cleaning foam. LG has their cold wash cycle which is more energy-efficient.
They both will do more than what is required...when they work. There lies the problem. LG will be repaired almost 50% of the time within the first five years. Compounding that issue, LG pays the lowest labor rates in the industry. Although it does not matter for Yale consumers (we have 20 techs), it becomes a huge issue for consumers trying to have problems rectified in other markets. Nobody wants to fix these machines in warranty at a huge loss. Read the independent reviews.
For that reason, Samsung almost by default is the better choice. I have a ton of respect for Samsung (both brands actually) however they will certainly have the same growing pains as LG due to their strategy. It's only a matter of time.
In the transparent internet age, you must be able to handle issues.
Additional Resources
Read the Yale Washer Buying Guide, packed with features, brands and terms of many aspects of home improvement. Over 100,000 people have read a Yale guide.