When you really think about it, every wall oven should be open from the side. You shouldn't have to lift a heavy turkey or roast over a door.
A side swing oven allows easy access to the oven.
Yet there are only a few side swing ovens on the market. I see these type of ovens specified on jobs and multi-use dwellings to fulfill ADA compliance with most being lower-end Frigidaire.
However, there are more companies introducing better products with side swing doors. I think it should be considered by more clients. We will look at the companies and their products.
Short on time? Get our free Wall Oven Buying Guide for features and reviews of all the major brands »
Companies
Bosch
Bosch is part of BSH, Bosch and Siemens Home Appliance Group, based in Munich, Germany. As part of the third largest appliance manufacturer in the world, Bosch has been selling high performance German engineered home and cooking appliances in the United States since 1991.
They are consistently well rated, reasonably priced and offer a full range of products. Benchmark is Bosch's newest premium line of cooking, refrigeration and dishwashers.
American Range
American Range began when the Deminjian family immigrated to the United States in the 1960's. The family had a plumbing background and they developed their own commercial cooking equipment.
The company supplied cooking equipment in the United States and Internationally. In 1989 there was a demand to develop a line of commercial grade residential appliances.
The American Range company continues to grow with products in the commercial and residential markets.
Gaggenau
Gaggenau was founded in 1681 by Margrave Ludwig Wilhelm von Baden. He started an iron works company in a small town in Germany called Gaggenau.
The company started with coal-fired cookers and gas cooktop. Over the years new technology came in play. Gaggenau embraced it and became a leader in manufacturing of European convection and paralytic self-cleaning 36" wide wall-ovens.
In 1995, Gaggenau became part of BSH Bosch, and Siemens home appliance division.
Viking
Viking was started by Fred Karl in the late 1980s and was the first company to market a professional range. Middleby acquired Viking in 2013 to improve the company's manufacturing and quality issues.
To be transparent, Yale does not sell any Viking products as of June 1, 2014.
Best Side Swing Wall Ovens
Genuine European Convection
Wall oven can be installed flush
TFT control panel with SteelTouch buttons
Auto Probe: takes the guesswork out of rare medium and well done cooking.
Model needs to be ordered Left or Right Hinge Specific
Full Extention telescopic rack
Fits most competitors cut outs for easy replacement
Large 4.6 cubic ft. size.
American Range AROFG-30 (Gas) and AROFE-30 (Electric) Model - $3,550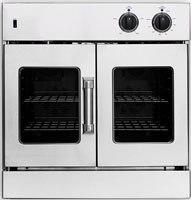 Innovection System- comes with dual convection motors and louvered side panels to enhance uniform heat throughout the oven cavity. In the gas model it reduces the amount of time used by 19% versus a regular convection system.
Multiple functions – include standard bake, convection bake, infrared broiler and fan mode.
Fits full size commercial sheet pans.
Dependent French doors open 130 degrees with the pull of one handle.
Standard and convection bake can have a cooking range between 200 to 500 degrees.
Gas and Electric Differences:
Inconel Banquet broiler- gives you a rapid searing at 1800 degrees using 18,000 BTU's.
Quick preheat- it uses a 30,000 BTU bake burner to give a uniform cooking temperature.
Electric Model:
InstaGrill- uses a 3500 watt element to reach a searing temperature in 3 seconds
A 2200 watts Concealed bake element which reduces the preheat time and gives you a uniform cooking temperature.
Gaggenau BO280/BO281 - $5,619-$6,199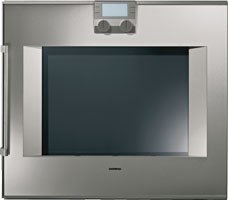 Universal heating system - 17 heating modes, meat probe, rotisserie, and optional pizza stone functions
Electronic precision temperature - Controls from 85 to 550 degrees F.
Paralytic self-cleaning - Heats up to 905 degrees to remove all the left over splatter from broiling and baking. The oven will determine the length of the cleaning cycle.
Air cleaning catalyst - The first company to have air cleaning system in the oven. It does not matter at what temperature, the catalyst does not let any grease or oders escape from the oven, when is closed.
Super Quick pre-heating - When you have the convection mode on, the bottom heating element turns on, and heats up the oven faster. It takes about 8 minutes and then goes back to the normal convection mode.
Thermo-Test - Temperature display which allows you to check the actual temperature inside the oven at any time. If you raise or lower the temperature it will tell you the temperature at any moment.
Size - 30" wide (Also 24" wide is available)
ADA Compliant - No
Sabbath mode - Yes it will keep nonperishable food warm from 24-74 hours without operating the oven. Plus the light in the cooking compartment is off.
Door swing - Need to be specific
Comparison
When comparing different spectrums of quality between side swing wall-ovens, Bosch Benchmark is the least expensive yet with great features. It's a reliable brand and is reasonably priced. In addition, Bosch usually has some type of multi purchase rebate incentives. They will offer everything in every category making it super easy to get a full matching Bosch Kitchen, whether for resale or personal use. I really like the styling as well.
Gaggenau, in my opinion, is one of the best appliances manufactured in the world. The fit and finish of the product is outstanding. Features like the Air Cleaning Catalyst keep the smell and grease from escaping the oven. The precise temperature from 85-550 degrees will allow you to preset any temperature.
You are also are able to check the temperature inside the oven at any time. The quality and features are a premium as Gaggenau is one of the most expensive appliances in the world. They test every single unit, so generally the quality control is the best. They have a solid 20 year life expectancy. Gaggenau also offers a two year warranty compared to one with most brands.
(Read more about all types of Wall Ovens in our free guide)
American Range is a commercial grade French door single wall-oven at a price between the Gaggenau and Bosch. It features analog controls and commercial grade stainless steel construction. Commercial grade allows for higher watts on the electric and more BTU'S on the gas broilers. It will also accommodate a full size cooking sheet.
I like the Viking look and features. The issue with Viking, however, will always be reliability. Gaggenau is the lowest service incidence at 2.1% within the first year. Viking is over 50%. I like the product if it works.
Summary
So, it is hard to compare these wall ovens. Gaggenau is the standard for product quality with truly remarkable Bang & Olufsen styling. I love this oven, but it is also the most expensive.
American Range's focus is mostly on commercial brand products. They are built and designed for heavy duty consistent use. You also have a red or blue color option. The features tend to be more "bare bones" which sometimes is easier. American is really niched to ovens, and you will have to mix other brands.
I am super excited about Benchmark, this is what they've needed. I truly believe the fit, finish and feel will give some of the other brands a new level of competition. They offer an attractive price, are well rated and a well known brand name. This oven deserves consideration against the more pricey brands.
Additional Resources
Read the Yale Wall Oven Buyers Guide with specs, features and insider tips on how to buy the right wall oven (for you). 100,000 people have already read a Yale Guide.
Related Articles