Internal, In-Line and External Blowers (Reviews)
One of the most important elements in a kitchen design is the ventilation.
Choosing the style is one thing, but insuring the hood will provide adequate ventilation is essential. If the vent does not work, then grease, smoke and odors stay in your kitchen.
You might say we are vent crazy at Yale. We have more vents, downdrafts and other special application blowers than almost any other product.
How to Choose a Proper Vent


Short on time? Get our free Ventilation Buying Guide
What is CFM?
Hoods are rated by CFM, or cubic feet per minute. This measures how many cubes of air are exhausted by the blower in one minute.
There are three different types of blowers, internal or inside the hood, in-line or within the duct, and external or on the house. There are advantages to all three.
Other Factors:
CFM is only part of proper ventilation. You want to vent in a straight run either straight up or back (horizontally) and use rigid duct of the right size. Also, you want a deeper hood for adequate capture area to hold the air before it is exhausted. Download our Ventilation Buying Guide for all the nuances. Let's look at the blowers.
Internal Blowers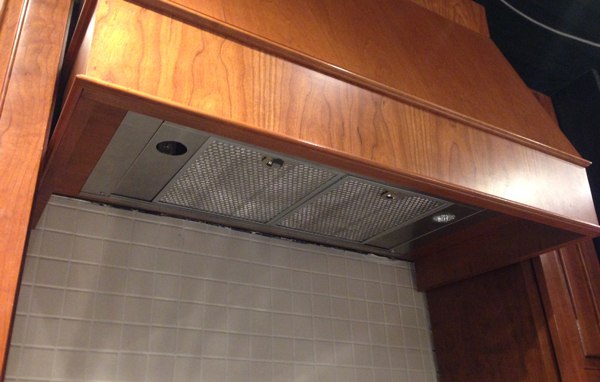 An internal blower is located in the hood itself. The unit is fully self contained. You will have the hood, blower motor, filters, fan controls and lighting all in one box. Noise is always a concern with buying an internal blower. Internal is noisier than the other types, especially the higher CFM units. You do still hear the air moving through the duct with in-line or external blowers.
There are, however, some advantages to having the internal blower. They will be easier to install and easier to access for service. If you ever need to replace the hood you may be able to do so and use the existing duct work. There are a variety of blower sizes available from about 160 to 1200 CFM to go over any type of cooking product starting at $60.
Some popular styles with powerful blowers include:
External Blowers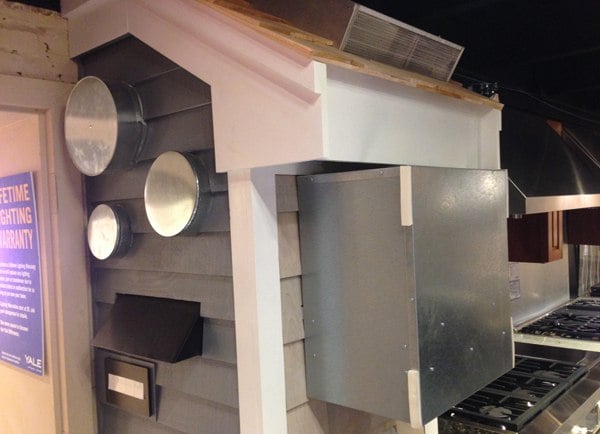 External hoods are also very popular. These units mount on an outside wall or even on the roof of the home. You would buy the hood shell and then duct to the outside blower (just make sure the blower and hood work together), like the ones below. External hoods are purchased separately
Since the blower is further away they are somewhat quieter although you do hear the exhausted air. External will be the most powerful option, up to 1,500 CFM.
External blowers, however, are relatively large. Placing one on the outside or roof presents challenges. If you need to service the unit for any reason, especially in bad weather, it can be difficult. You will also need to find a way to enclose the blower. These motors, as pictured, are relatively large and have an unfinished aluminum look to them, so you should place them out of sight lines.
Internal/in-line/external options available
Internal/in-line/external options available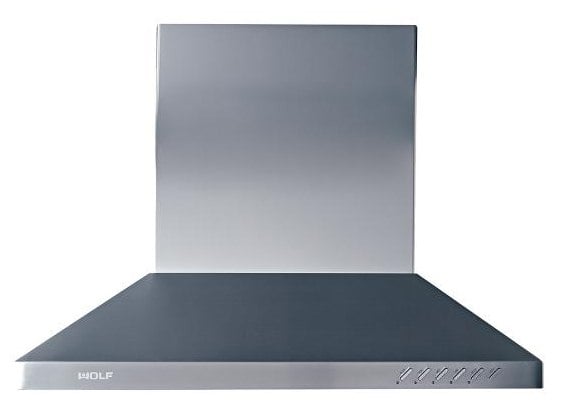 Requires custom cabinet/internal blower
Best CP Series - $1,199-$2,599
Requires custom cabinet/multiple width and blower options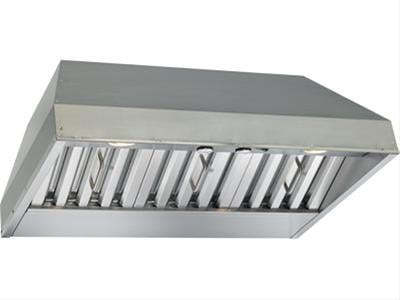 In-Line Blowers
An in-line blower will mount outside of the hood and has the relative quietness of the external blower without seeing a bulky blower outside your house. It must be placed inside the house but somewhere in the run of ducting.
You need to place the blower in either a basement or attic. They cannot be fully enclosed and need to be accessible if you ever need to service them. In-line blowers can be pretty powerful, they usually range from 600 to 1,100 CFM. The real downside of in-line is its relative newness. Most contractors are unfamiliar with the installation.
Key Takeaways
First, venting correctly is about a good plan using the right hood, duct and a powerful enough motor. I personally like the internal blower, because it is easy to maintain and service. All three, internal, in-line and external will work with the right plan.
Additional Resources
Download the Yale Ventilation Guide with features, specs and advice on how to vent properly. Over 100,000 people have read a Yale Guide.

Related Articles
Mark Bennett
Mark Bennett has over 10 years of experience at Yale Appliance + Lighting. Mark began working in the delivery and warehouse departments before transitioning to appliance sales.

Schedule a showroom visit with me
A Note About Pricing
Pricing on this blog is for reference only and may include time sensitive rebates. We make every attempt to provide accurate pricing at time of publishing. Please call the stores for most accurate price.