U-Line vs. Sub-Zero Clear Ice Makers (Reviews/Ratings/Prices)
Clear ice makers spray the water through a sheet of metal so the impurities and air bubbles are drained and removed from the water resulting in higher quality clear ice. Clear ice takes longer to melt and does not change the flavor of the drink. Regular ice makers simply freeze tap water impurities, just like an ice maker in a refrigerator.
U-Line and Sub-Zero are both premier and highly popular undercounter ice makers. We will compare both and even look at the differences between clear and regular ice makers.
Click on this short video about Clear versus Regular Ice
U-Line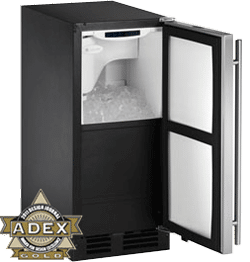 U-Line is family owned and based in Milwaukee, Wisconsin. They are a manufacturer of built-in
undercounter refrigeration products for the home. They started in 1962. They were the first built-in ice makers and wine units for residential use. Now, the U-Line Corporation manufactures several undercounter built-in appliances such as ice makers, refrigerators, freezers, wine storage systems, and refrigerator drawers.
U-Line's most popular clear ice maker is the CLR2160S01 model for $2,249.99 in stainless steel. This model has the following features:
Makes 60lbs. of ice in a 24 hour period
Stores 30 lbs. of ice
Touch glass digital controls
3 hour temporary shut off option
Clean indicator light to let you know when to clean the ice maker
When the clean indicator light is illuminated there will be a 45 minute self-cleaning cycle. This is very important because it will help the ice maker operate more efficiently, make sure you get clear ice cubes, and cut way down on service calls. Clear ice makers also require a drain. The CLR-2160 has two ways you can drain the unit. The first is a gravity feed drain, which drains into a drain pipe.
The other option is the highly recommended U-Line P60 pump. The ice maker will have less of a chance for the drain to clog as well as a much lower chance of needing a service call when installed with a pump. The ice maker can be built-in under the counter or freestanding. You can put on a ¾" wood panel on the door by using a U-Line overlay kit. It also is available in stainless steel.
Sub-Zero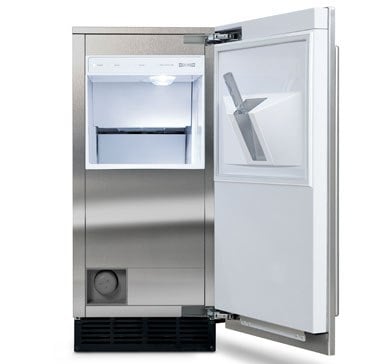 Sub-Zero is also family owned. They were founded in 1943 and also specialize in residential high-end built-in appliances. While U-Line primarily manufactures undercounter units, Sub-Zero also manufacturers the full height built-in refrigeration appliances and is considered the leader in that category.
Sub-Zero has the UC-15IP clear ice maker with a pump, which is about $3,700 when you add the stainless steel panel and handle to it. It has the following features:
Makes 50lbs. of ice in a 24 hour period
Stores 25 lbs. of ice
Produces ice in temperatures up to 100 degrees F
Clean indicator light to let you know when to clean the ice maker
Water filter
The Sub-Zero costs more money because of the name, reputation, and water filter. Is it $1,500 better? It depends on what else is in the kitchen, and whether or not it is being covered with a wood panel that matches the cabinets. In the end, we do sell more of the U-Line because it is a low risk way to save money on a more or less comparable and proven product.
U-Line vs. Sub-Zero Clear Ice makers
Both are really good choices.
Sub-Zero has the name, reputation and also has the water filter. The ice maker can be combined in their $2,500 rebate program.
U-Line is reliable, with a 16.67% repair record within the first year and is also $1,500 less expensive. It will also make and store 10 pounds more ice than Sub-Zero.
Related Articles
Additional Resources
Download the Yale Undercounter Refrigerator Buyers Guide with specs, features and inside tips to every type of bar refrigerator, beverage and wine cooler as well as icemakers. Well over 45,000 people have read a Yale Guide.
Steve Sheinkopf
My goal has always been simple: I want Yale to be the best retail experience anywhere. I have tried to create a compelling environment for customers and employees alike.
A Note About Pricing
Pricing on this blog is for reference only and may include time sensitive rebates. We make every attempt to provide accurate pricing at time of publishing. Please call the stores for most accurate price.