Sub-Zero vs. GE Monogram Undercounter Wine Coolers (Reviews / Ratings / Prices)
Amy Ross | October 31, 2018 | 4 Min. Read
Out of nowhere, the popularity of wine over the last 20 years has increased demand for better wine storage units. You may not know this, but wine is the toughest item to store.
It can react to almost anything such as vibration, light, humidity, temperature changes, and, of course, heat.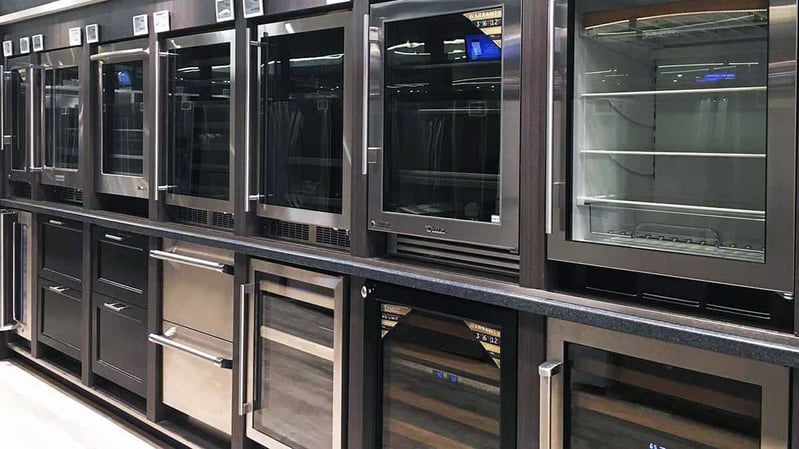 Beverage Center Display in Framingham Showroom
If your wine storage cannot address all these elements, your wine will taste differently than intended.
For example, the term "corked" refers to spoiled wine due to a dry cork allowing air into the bottle.
It's due to a lack of humidity in your wine storage unit.
Yet most wine undercounter refrigerators or "coolers" as well as beverage centers do not address these issues and are not fit for long-term storage of wine.
To solve these issues, some brands made a few changes to their existing undercounter wine coolers. They replaced their doors with low-E glass to eliminate the possibility of harmful UV rays ruining your wine.
They also added slide-out shelves for reducing vibration and removed heat-generating incandescent bulbs.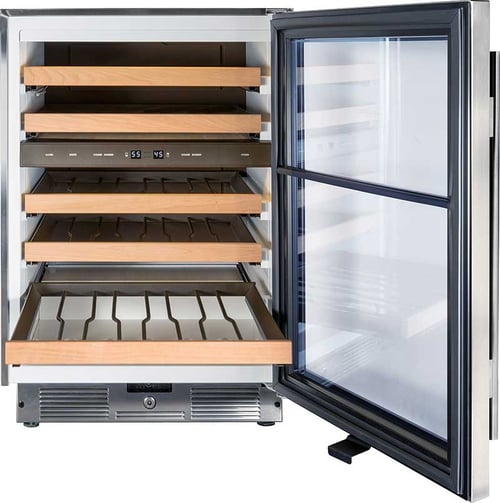 Sub-Zero Wine Cooler Interior with Slide-Out Racks
Sub-Zero and GE have designed a wine storage system addressing nearly all the inherent problems of storing wine.
We will look at both companies, their products, and then compare.
Sub-Zero
Sub-Zero was founded in 1945 and is still family owned. Their products are durable, innovative and built to last. The founder of this company, Westye F. Bakke, invented the first freestanding freezer in 1943 and later the first built-in refrigerator.
Their wine storage unit is fairly new (for them) being debuted in 1990. Sub-Zero is made in the US.
Sub-Zero 400 Series 24" Undercounter Wine Storage Refrigerator - $3,290-$3,900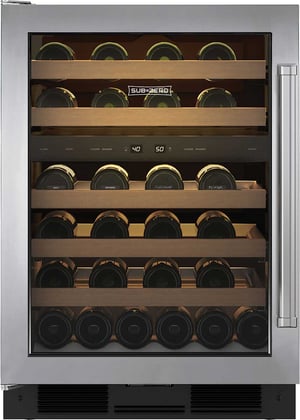 Features:
Undercounter wine storage unit with 46 (750 ml) bottle capacity
Overlay and stainless steel design options
Refrigeration system allows individual temperature control of the two wine compartments and ideal humidity environment
Sturdy, rustproof wire shelves accommodate standard 750 ml bottles, half-bottles, as well as magnums
Roller-glide shelves faced with natural cherry wood have a three-quarter extension for easy access
Soft low voltage lighting
Service light indicator, optional lock and tie-in to home security system
Solid door unit can be special ordered
UV resistant glass protection
Two, five and twelve-year residential warranty
Door Options:

Glass Door (standard)
Solid Door
High Altitude Glass Door
Capacity: Wine storage capacity: 46 Bottles (750 ml)
Short on time? Get our free Undercounter Refrigerator Buying Guide
GE Monogram
GE Monogram is the luxury division within the GE appliance company. Monogram products are mainly distributed through their builder division.
GE was recently acquired by the Chinese conglomerate, Haier. To be transparent, we do not sell any GE products with no plans to do so in the future.
GE Monogram 24" Wine Reserve ZDWR240HBS - $1,900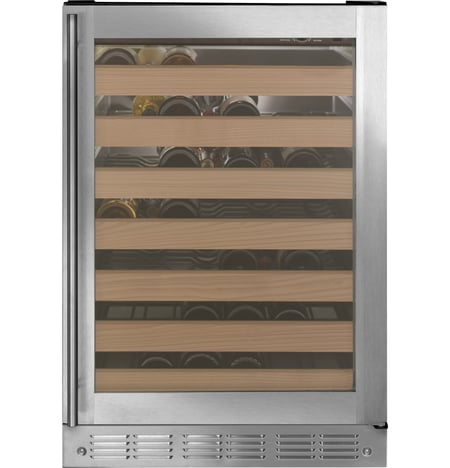 Features:
57-Bottle Capacity
Cherry Wood Shelf fronts
Adjustable temperature control Maintains a consistent temperature
Red or white wine temperature setting maintain the ideal temperature for aging or serving wine
Full-extension sliding wine racks Positions bottles either horizontally or vertically to maximize space
LED lighting Places contents into the clear, brilliant view
Unfinished heart-of-cherry wood wine shelf fronts Can be finished to complement surrounding cabinetry
UV resistant, tempered glass door Affords a full view of wine reserve contents
Flush installation Allows near-seamless integration with surrounding cabinetry
Sub-Zero vs. GE Monogram Wine Storage Comparison
First, let's talk about their common features.
Both can accept custom paneling to match your cabinets. Both have doors to protect your wine from harmful UV lighting. Sub-Zero added the blacked out rear wall to dampen any remaining light.
Both prevent vibration with glide-out racks.
GE Monogram Features Over Sub-Zero
GE Monogram's wine storage units can hold more wine at 57 bottles versus Sub-Zero's 46 bottle capacity. It is also half the price of the Sub-Zero at $2,000 instead of $3,000.
Sub-Zero Features Over GE Monogram
The real difference is the temperature control.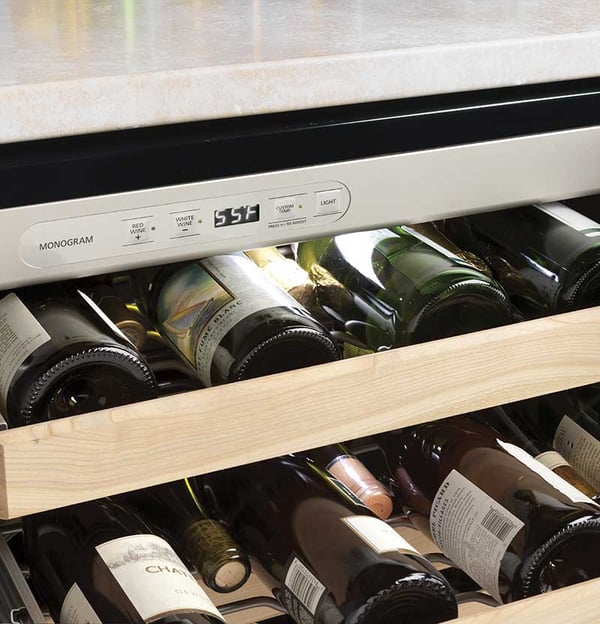 GE Monogram Temperature Controls
GE Monogram has one temperature setting plus a bottom area for red or white wine, assuming red would be kept at a higher temperature, roughly around 55 degrees.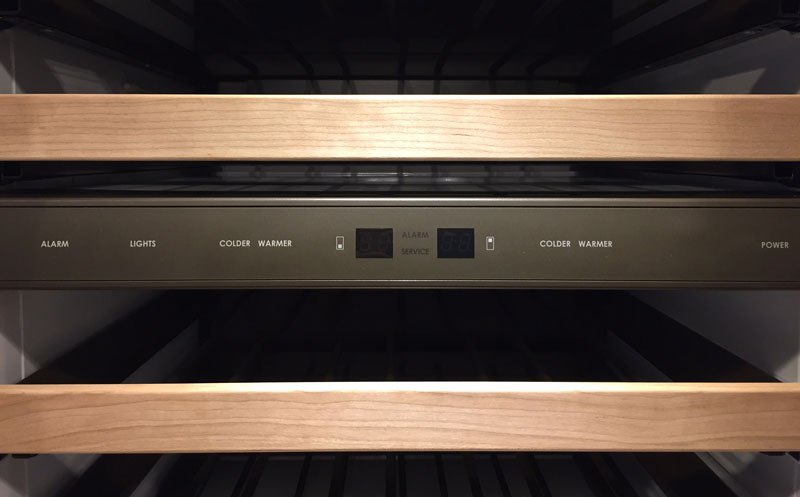 Sub-Zero Temperature Controls
Sub-Zero has two individual thermostats with settings from 39-65 degrees. You can store all red, all white or both in individual compartments. Gaskets in the middle prevent temperature crossover between compartments.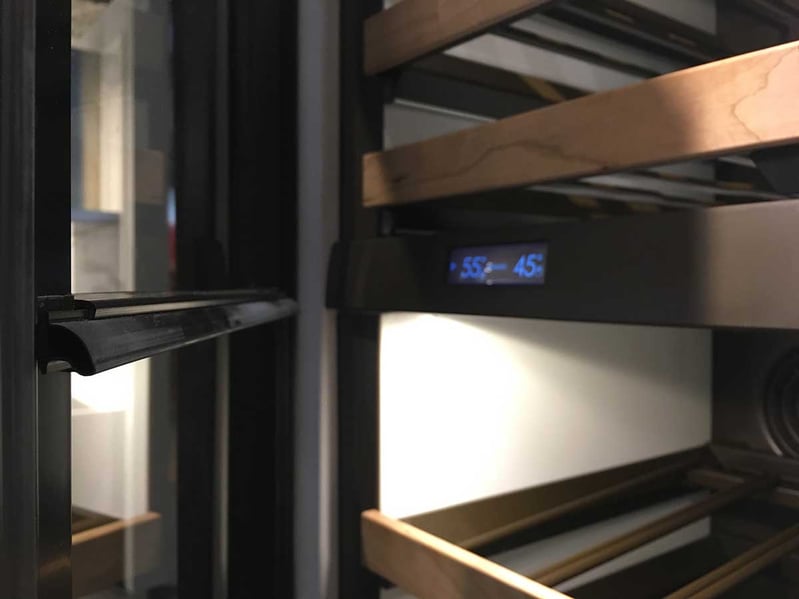 Gasket Separating Two Temperature Zones
Twin Evaporators
Sub-Zero has two evaporators to protect against too much humidity or not enough versus one for the GE Monogram.
Additional Vibration Control
The Compressor unit on the Sub-Zero is mounted on rubber grommets to eliminate vibration when the unit is running.
Alarm
Sub-Zero has a service alarm and can also be tied into your home alarm system.
Should You Buy Sub-Zero or GE Monogram Wine Storage Refrigerators?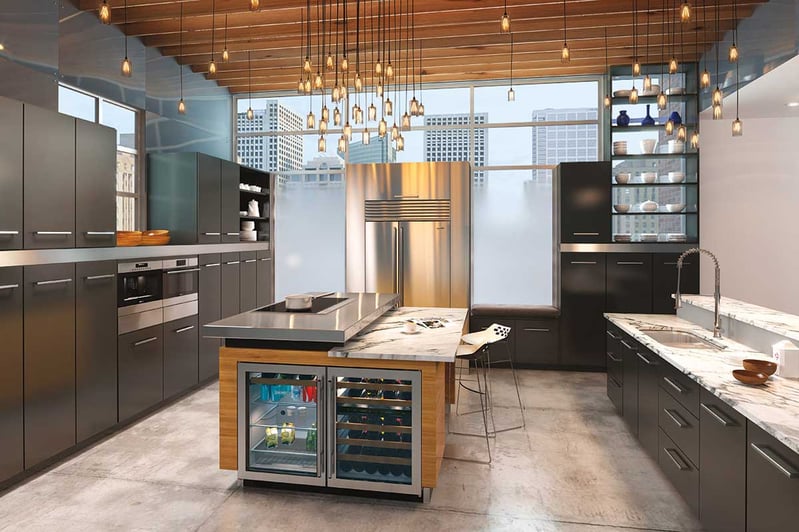 It depends on what you value and need. GE Monogram has a better price and capacity.
However, almost 30 years after introducing wine storage, Sub-Zero is still the only company invested in truly protecting your wine.
Our best advice is to buy the GE Monogram for its price. If you are a wine collector or want to store wine for a long periods of time, the Sub-Zero is the better unit
Additional Resources
Want more information on Undercounter refrigerators? Get the Yale Undercounter Refrigerator Buying Guide with information on beverage centers, clear ice makers, wine coolers and more. You will understand brands and products after reading this guide. Over 355,000 people have read a Yale Guide.

Related Articles
Amy Ross
Amy Ross is an Appliance Sales Consultant at Yale Appliance + Lighting. Amy once competed in the junior Olympics and enjoys spending time with her family .

Schedule a showroom visit with me
A Note About Pricing
Pricing on this blog is for reference only and may include time sensitive rebates. We make every attempt to provide accurate pricing at time of publishing. Please call the stores for most accurate price.