Speed Queen vs. Maytag Commercial Style Washers for the Home
You may be reading this because you are tired of front-load washers or you've heard horror stories about expensive repairs, mold, mildew and unreliable products. Do not buy either the Maytag commercial or Speed Queen based on any of the above.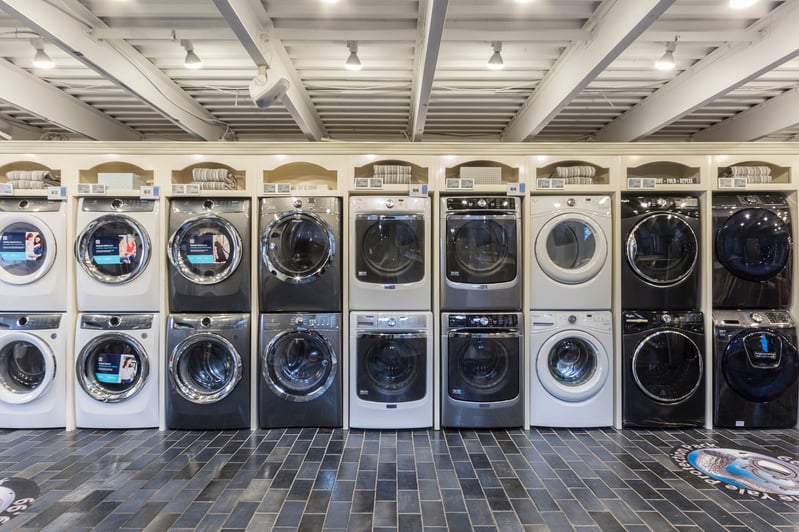 Front loaders are as reliable as top loads statistically and the mold issues can be mitigated by simply drying the gasket and leaving the door open after every wash. They are also larger and way more efficient to operate.
However, if you remain convinced, Speed Queen and Maytag Commercial are good machines to consider due to their solid construction and incredible warranties. We will look at both companies, both models, and then compare them.
Maytag Commercial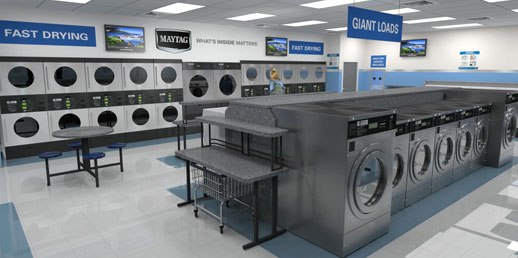 Maytag is probably the best-known brand name in the residential laundry market. Maytag originally came out with one of the industry's first front load machines, the Neptune. Unfortunately, the Neptune machine was not successful and the company struggled financially until Whirlpool purchased them in 2006.
Today, Maytag is owned by the Whirlpool Corporation and laundry is the brand's major focus. In addition to making a commercial style top loader, Maytag is known for making the most reliable high- efficiency front loader.
Their commercial laundry is made in Ohio. For Massachusetts residents, their true commercial laundry is made in Fall River.
Short on time? Get our free Washing Machine Buying Guide
Speed Queen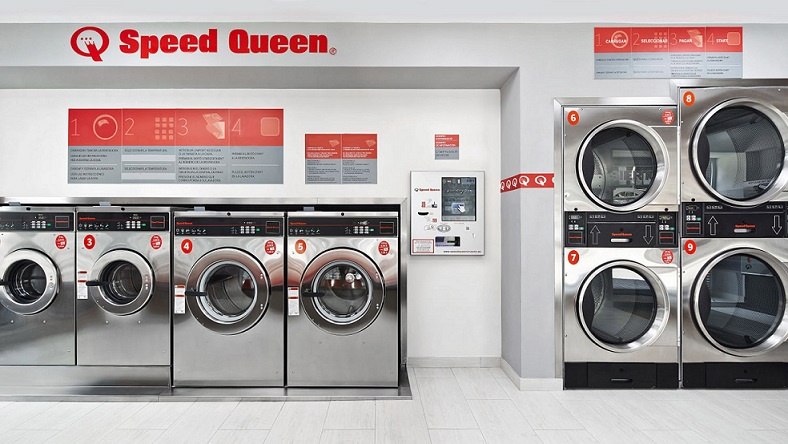 Speed Queen is an independent laundry company out of Wisconsin. They are known for making both residential and commercial products with commercial components. Speed Queen produces both top loading and front-loading machines. Haven't heard of them before? That's probably because Speed Queen only sells products to independent stores. You can't find them in the big box giants.
Speed Queen Laundry
Commercial Machines
Commercial machines are designed to a different specification with more metal and more solid construction than residential. They are designed to withstand the abuse in a laundry mat where both brands dominate.
Maytag Commercial vs. Speed Queen
Comparison:
| | | |
| --- | --- | --- |
| | Maytag | Speed Queen |
| Model | | AWN432SP113TW04 $879 |
| Width | 27'' | 25 5/8'' |
| Depth | 26'' | 28'' |
| Capacity | 3.5 | 3.2 |
| Washer tub material | Stainless | Stainless |
| Spin speed | 700 RPM | 710 RPM |
| Basket size opening | 17'' | 14'' |
| Deep water wash cycles | Yes | Yes |
| Pre soak option | Yes | No |
| Extra rinse option | Yes | Yes |
| Shortest cycle time | 30 min | 28 min |
| Spin fill | Yes | No |
| Control console material | Metal | Plastic |
| Unlocked lid | Yes | yes |
| Warranty | 5 years full | 3 years full |
Which is better?
Both are good machines and both sport similar features. To be transparent, I really need to knit-pick to tell you which is better. Going feature-for-feature, I think that Maytag has a slight upper-edge over the Speed Queen.
Maytag does have a better soak feature to saturate clothes with water, but it uses almost 60 gallons of water.
Warranty
Maytag has 5 years full coverage; Speed Queen has 3 years full coverage. Beyond the full warranty, Maytag covers the motor for 10 years, Speed Queen for 5.
Maytag has a 5-year warranty on the transmission, Speed Queen has a 12-year. For rust and corrosion on the stainless tub, Maytag has a 10-year warranty, Speed Queen has a lifetime limited. Keep in mind, beyond the full warranty, you are responsible for labor. For this reason, the longer full warranty is always better.
Dimensions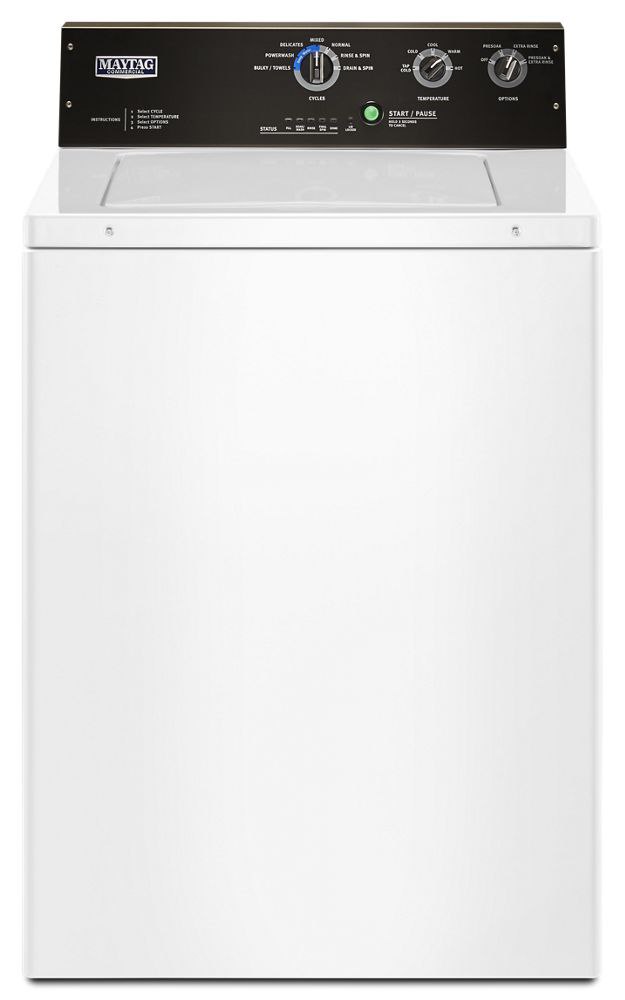 Older machines were shallower at one point. Today, Maytag Commercial is the shallowest full-size machine with a standard 27-inch width. Speed Queen is deeper but narrower from side-to-side.
Capacity
Top loading machines with an agitator are not known for capacity. Maytag is bigger than Speed Queen. It also has a wider opening which makes it easier to get big items in and out of the washer.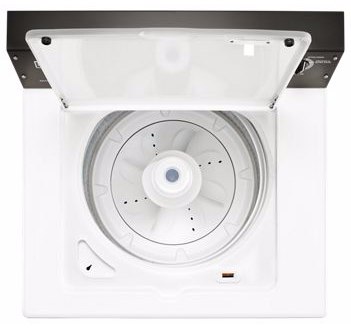 Maytag Top Load
The table above details the features that are most relevant. What this table does not address is the serviceability of Maytag and Speed Queen. Overall, Maytag parts are easier for a technician to access.
Both machines are very similar. Both have a relatively similar spin speed, wash duration, cycle selection, and price.
Reliability
You are spending $849-879 for reliability. It doesn't matter how heavy the machine may be. It depends if the parts all work together.
However, Speed Queen is at a 12% service rate within the first year or double a Maytag front load. Initial service is decent when compared to other appliances. But slightly below average compared to a front or top load washer.
The good news is you will not be paying for the problems until year 3 or 5 years depending on the machine.
Service
Warranties are only good if there is tech support behind them. Speed Queen is exclusively sold at independent stores, but most do not offer service. Check before buying.
Additional Resources
Download our Yale Washer Buying Guide with all the features, terms and brands of laundry. Over 210,000 people have already found answers in a Yale guide.

Related Articles:
Steve Sheinkopf
My goal has always been simple: I want Yale to be the best retail experience anywhere. I have tried to create a compelling environment for customers and employees alike.
A Note About Pricing
Pricing on this blog is for reference only and may include time sensitive rebates. We make every attempt to provide accurate pricing at time of publishing. Please call the stores for most accurate price.