Samsung vs. KitchenAid Counter Depth Refrigerators (Review / Ratings / Prices)
Counter depth refrigerators are the best and least expensive way to improve the overall look of your kitchen.
If you are narrowing down your decision between brands, then KitchenAid and Samsung is a valid comparison (kudos).
However, these companies and their products could not be more different.
The major differences between Samsung and KitchenAid Counter Depth Refrigerators are their features including:
Twin Cooling
Metal Cooling
FlexZone
In this article, we'll go into depth about their major differences, compare KitchenAid's and Samsung's counter-depth refrigerators, as well as cover their features, reliability, and technology.
You will also learn when to buy for the best price (manufacturers hate this, and yes, I know you are reading), the tariff implications for both companies, and what is easier to fix.
KitchenAid
KitchenAid was established in 1919 and is one of the most well-known American-made appliance brands. They are part of the Whirlpool Corporation which also includes Whirlpool, Maytag, Amana, and Jenn-Air.
KitchenAid and Jenn-Air are the premium appliance lines of Whirlpool with a whole suite of matching products and promotional rebates.
KitchenAid Counter Depth Refrigerator KRFC302 Features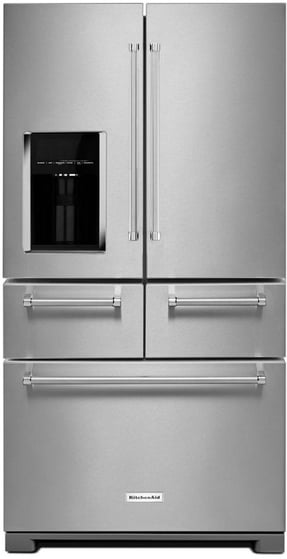 Features:
22 cu. ft. Counter-Depth Design
Extend Fresh Temperature Management System
Interior Water Dispenser
Professionally-Inspired Design
Humidity-Controlled Crispers
Fresh chill Temperature-Controlled Full-Width Pantry
Pull-Out Tri-Level Freezer Drawer
LED Lighting
Automatic Ice Maker
Metallic Accents on Shelf Trim
Max Cool- automatically adjusts the temperature in the refrigerator and freezer to the lowest setting when appropriate
Metal Wine Rack
Samsung
In a very short period of time, Samsung has become the number one sold brand in the US. You may know Samsung for their phones or televisions, but Samsung is also a huge multinational technology company.
They were the first to incorporate technology into their appliances. They were also the first to aggressively promote products around the holidays changing the landscape of how and when you should buy appliances...more about that later.
Samsung Counter Depth Refrigerator RF22KREDBSR Features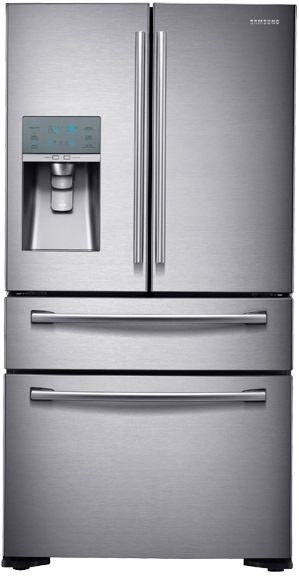 Features:
22 cu. ft. Counter-Depth Design
Food Showcase Door with Metal Cooling
FlexZone Drawer with Metal Cooling
Ice Master
LED Lighting
Adjustable Shelves
LED Display with Water and Ice Dispenser
Power Freeze and Power Cool-Easily drop the temperature in each compartment within minutes with the push of a button
Samsung vs. KitchenAid Counter Depth Refrigerators
First, they are similarly priced and have the same cubic footage. Samsung has the dispenser for ice and water on the door. KitchenAid has an internal water dispenser.
Samsung offers way more in terms of features. Samsung has the following advantages compare to KitchenAid:
Samsung RF22KRED - The Best Value in French Door Refrigeration?
Showcase Door (Door N Door)
The two-door refrigerator door allows you to access your juices and milk on the door's separate compartment without having to open the door itself. It's nice for the kids so they don't rummage through your refrigerator.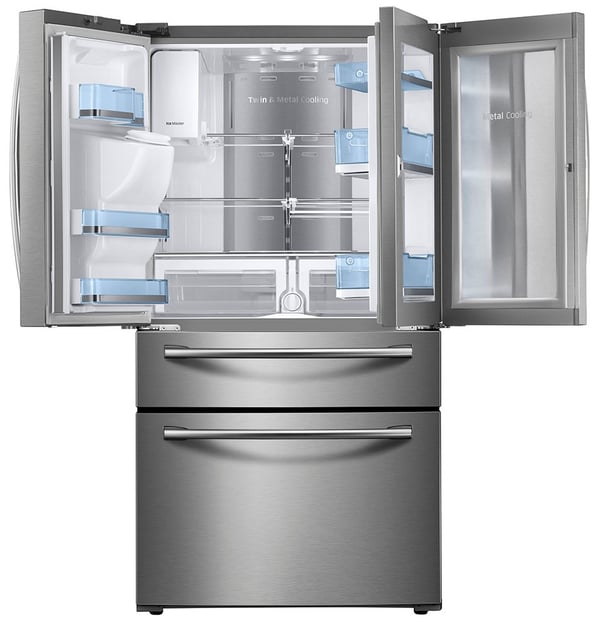 Showcase Door and Metal Cooling
Metal Cooling
Metal absorbs the cold better than plastic, so food placed next to it becomes colder, faster. Samsung has metal on the refrigerator door and drawer.
FlexZone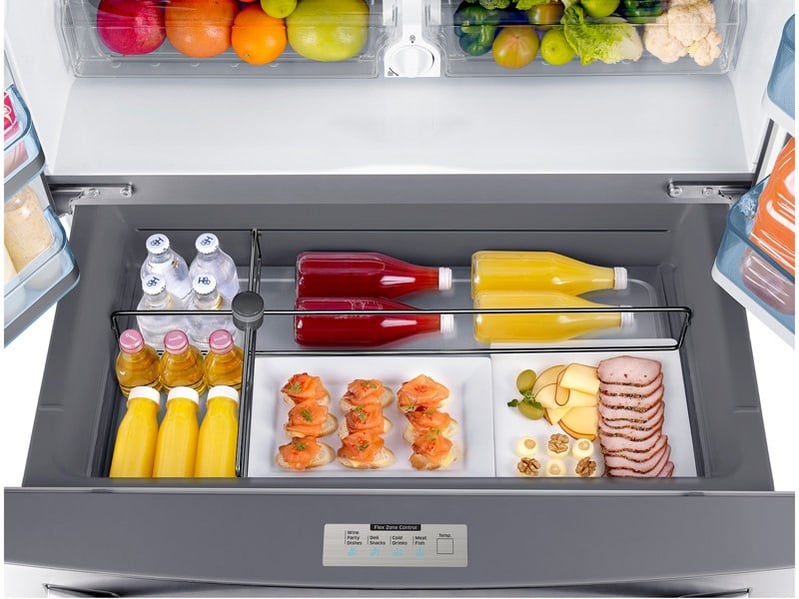 Samsung FlexZone Drawer
You can convert this drawer to be a refrigerator or freezer for parties or storage. It's also another great place to store milk, juice, and yogurt for kids.
These are interesting features, but probably not compelling by themselves. Let's look at price and reliability.
Twin Cooling
Samsung has two evaporators so the cooler, moister air does not commingle with the drier colder air of the freezer.
Tastes and odors also do not transfer, so your fresh fish won't be tasted in your ice cream.
Frequently Asked Questions
Short on time? Get our free Counter Depth Refrigerator Buying Guide
When Do You Buy Either Samsung Or KitchenAid Appliances?
First, you should buy your appliances around promotional holidays like Black Friday, Labor Day, Memorial Day, President's Day, and Independence Day.
You will save 10-35% around these days depending on the manufacturer, so check prices then.
You need a refrigerator more immediately, but it's worth the wait if you can.
Are Samsung and KitchenAid Appliance Prices Affected by The New Tariff Implications?
Samsung has been affected by dumping tariffs but on laundry, not refrigeration. There is confusion about this, but the dumping tariffs affect only Samsung laundry products.
Every appliance company, however, has been affected by tariffs on foreign steel of 25% and aluminum of 10%.
The Whirlpool Corporation overall (including KitchenAid) has been much more affected by these metal tariffs.
Their stock price has dropped by 50% since the tariffs were announced due to ongoing disputes with their steel vendors.
You should be concerned with the availability of most brands as they figure out who their steel suppliers will be.
Buy in stock products from local warehouses as best you can to guarantee shipment when you need it.
Lead times of 3-4 months are normal for an industry once known for immediate shipping. So, plan your purchases as best you can.
Which Counter Depth Refrigerators Are the Most Reliable?
Most Reliable Counter Depth Refrigerators for 2017-2018
| | | | |
| --- | --- | --- | --- |
| | Service Qty | Shipped Qty | Service Ratio |
| Electrolux Icon | 1 | 1 | 100.00 % |
| General Electric | 1 | 1 | 100.00 % |
| Electrolux | 56 | 104 | 53.85 % |
| Liebherr | 2 | 4 | 50.00 % |
| Frigidaire Gallery | 43 | 114 | 37.72 % |
| LG Electronics | 6 | 18 | 33.33 % |
| Jenn-Air | 172 | 637 | 27.00 % |
| Fisher & Paykel | 28 | 136 | 20.59 % |
| Samsung | 48 | 239 | 20.08 % |
| Frigidaire Professional | 20 | 101 | 19.80 % |
| Bosch Appliances | 50 | 284 | 17.61 % |
| Kitchenaid | 30 | 199 | 15.08 % |
| Whirlpool | 4 | 42 | 9.52 % |
| Maytag | 0 | 1 | 0.00 % |
You would think Samsung would have a higher rate especially with the dispenser, but it's the best refrigerator brand for reliability.
That's good news.
However, at 16% repair, you will need to know who will be fixing your new appliances before you buy them.
Which Counter Depth Refrigerator is Easier to Fix?
We logged 30,761 service calls last year and serviced both Samsung and KitchenAid Appliances. I can tell you definitively, one is not any harder to fix than the other.
Samsung has fewer service agents and, in some areas, cannot keep up with their explosive growth. You should definitely find out who is available to repair both brands before you buy.
Which Counter Depth Refrigerator Do I Buy?
This is a complicated answer.
Samsung has a more reliable and feature-oriented product without question.
However, prices do change, especially around promotional holidays.
If you are in an area without a Samsung service agent, then the repair will be a problem.
Both brands will require service eventually, however. KitchenAid will need to be repaired more on average.
Of course, availability due to tariffs is another consideration. Both companies, especially KitchenAid, are struggling to find a US-based source for steel and aluminum
You need to factor all these elements, timing, tariffs, availability, and repair along with features before you purchase either brand.
Additional Resources
Want to learn more about Refrigerators? Get the Yale Refrigerator Buying Guide with features, specs and detailed descriptions of every refrigerator available. Well over 385,000 people have read a Yale Guide.
Related Articles
Why Should You Trust Us?
It seems that every appliance review has nothing but glowing comments about almost every product, yet you read customer reviews and they are almost universally bad.
We are here to fill in the disconnect. We'll give you the best features, and the drawbacks as well, including reliability based on over 37,000 calls performed by our service team just last year. Our goal is to give you ALL the information so you know what's right for you.
Please consider subscribing or adding to the conversation in the comments below. We appreciate you stopping by.
Kenny Keefe
Kenny Keefe is an appliance sales consultant at Yale Appliance. Prior to working at Yale, he spent 10 years as a Golf Professional. Since becoming a team member here in 2014, his passion, drive, and pursuit to exceed customers' expectations has made him a valuable asset to Yale. During his free time, he enjoys traveling, golfing, cooking, and keeping active.

Schedule a showroom visit with me
A Note About Pricing
Pricing on this blog is for reference only and may include time sensitive rebates. We make every attempt to provide accurate pricing at time of publishing. Please call the stores for most accurate price.