Samsung NE58H9970WS vs. Jenn-Air JIS1450DP Slide-In Induction Ranges (Reviews/Ratings)
Amy Ross | February 24, 2016 | 3 Min. Read
When it comes time to update your kitchen there are so many choices and options that it can seem daunting.
Samsung and Jenn-Air are two newer induction slide-in ranges joining GE Profile, Miele, GE Cafe, Electrolux, Frigidaire and Bosch in a suddenly very crowded field.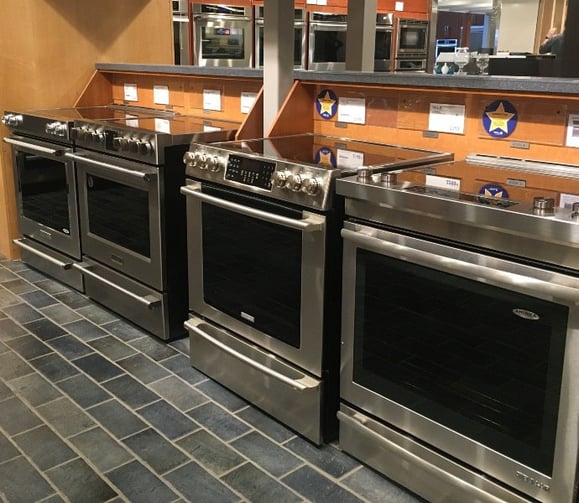 Both have great features, but are very different. The right range for you may depend between Samsung and Jenn-Air.
Before we jump right in though let's take a look at what exactly induction is and the tangible benefits.
First, What Exactly Is Induction Cooking?
Induction cooking uses magnets to have heat generated directly from your cookware instead of your cooktop for the most accurate and precise control of your cooking temperature.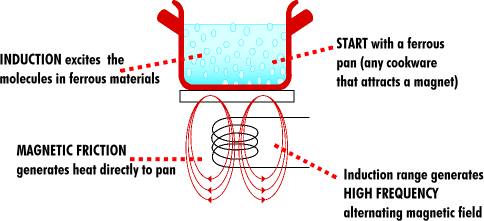 In other words, the cooktop excites the molecules in the pan to generate heat. So the pan cooks the food bypassing the cooktop. This means you can bring a boil to a simmer and vice versa much faster than other cooktop options.
Learn all about how induction cooking works here.
How Is This A Benefit To Me?
Other than the precision control and speed of your heat, it is safer because no heat is being generated to your cooktop. If you move the pan, only moments later it will be cool/warm to the touch unlike standard electric or gas cooktops which will hold the residual heat for a while after.
This makes cleanup easy. It is also beneficial around kids, because the cooktop only turns on when sensing metal. You can also use downdraft venting with induction, which cannot be done in a pro gas range with high BTU's.
Let's now review and compare our Samsung & Jenn-Air induction ranges.
Short on time?
Get our free Induction Cooking Buying Guide »
Samsung
Samsung is a Korean based company founded in 1938 as a food import and export, moving to televisions in the early 70's and only a few years later brought their name to the appliance industry with their first laundry sets.
Since then, Samsung has be one of the most common names you will see on appliances in many households and for good reason. After years of competing with Apple, they understand the importance of design.
The appliances are functional, but in many cases have a innovative design.
Jenn-Air
Louis J. Jenn from Indianapolis, Indiana started Jenn-Air in 1947 but wasn't noticed on the market until the early 1960's with their introduction the first downdraft range.
Jenn-Air was purchased by Whirlpool Co. in 2004, investing 300 million dollars into the brand and have really turned it around, making it the Whirlpool family's top of the line selection.
Now they are a very well known and recognized brand in the appliance industry. They to have also begun to move more into the cooler Sci-Fi realm of cooking with some of its own intuitive controls and mobile connectivity depending on what you are purchasing.
Features:
Induction Technology
Induction Bridge Element
Performance Boost
Keep Warm™ Function
Melt Function
Simmer Function
Sensor Boil
Telescoping Glide Rack
Soft-Close Door
6.9 Cu. Ft. Total Baking Capacity
Baking Drawer
Auto Convection Conversion
Keep Warm™ Option
Proofing Option
Sabbath Mode
Offset Rack
Glass-Touch Electronic Controls
Features:
Full Induction Cooktop with Virtual Flame Technology
Intuitive controls
Flex Duo Oven Technology
Chef Bake
Glass Touch Controls with Guiding Light System
Dual Convection
Gliding Rack
Temperature Probe
Large 5.8 cu. ft. oven capacity
Warming Drawer
SteamQuick (20 min. oven cleaning) and Self Clean
Hot Surface Indicator Lights
Proofing
Sabbath Mode
Auto Shut-Off Option
Child Safety Lock
5 Healthy Cook Presets
Samsung NE58H9970WS vs. Jenn-Air JIS1450DP
First, they are both very good considerations. They both are convection (Samsung is twin convection) with warming drawers.
Samsung is more futuristic with virtual flame tech for looks (this actually makes it look like there is a flame beneath the cookware).
Samsung's Flex Duo technology allows you to have a double oven within your single oven for more cooking options. I like the child safety lock feature because this also works well if you have a big dog like myself keeping them from turning on your range when you're not looking.
The Jenn-Air is more practical. You have a larger oven capacity than most ranges at a whopping 6.9 cubic foot. Although the burners are nearly identical in size, Jenn-Air has better output at 3,600 vs. 3,300 on the power burner. The other burners are more powerful as well between 200-600 watts per burner.
Final Thoughts
Looking at both of these options, you really can't go wrong with whatever your choice is. I would say it depends really on if you want something very modern and futuristic like Samsung or something a little more traditional with more focus on functionality like the Jenn-Air.
That being said, the Jenn-Air is larger. In fact, it is the largest oven on the market. The burners are also more powerful as previously stated, so it really depends on how you like to cook.
If you like to cook many different foods, then the Flex Duo technology of Samsung may be a better options. Otherwise, Jenn-Air may be a better bet.\
Additional Resources
Read our Induction Cooking Buying Guide for features, buying tips and ratings of every available induction cooking product in the market. Well over 150,000 people have read a Yale Guide. Induction is our most popular.
Related Articles
Amy Ross
Amy Ross is an Appliance Sales Consultant at Yale Appliance + Lighting. Amy once competed in the junior Olympics and enjoys spending time with her family .

Read more about Amy here.
A Note About Pricing
Pricing on this blog is for reference only and may include time sensitive rebates. We make every attempt to provide accurate pricing at time of publishing. Please call the stores for most accurate price.