New Hestan Grills (Reviews / Ratings / Prices)
Free Delivery & Assembly of Grills Over $499
So there is a yet a new super premium grill available. Hestan joins a crowded arena of very good, premium, professional grills like the Weber (Summit series), Kalamazoo, Lynx, Viking, and Wolf.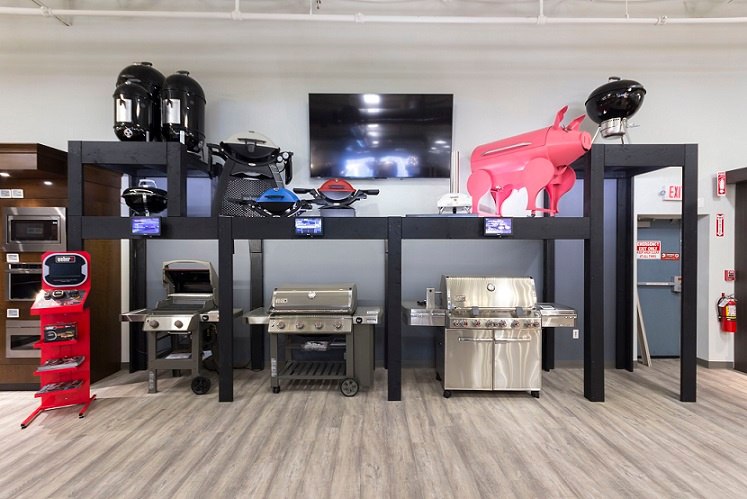 We will look at the features and see if you should consider a Hestan grill.
The first question you may have is:
Who is

Hestan

?
Based out of Anaheim, CA, they are a subsidiary of Meyer Corporation, the largest cookware designer in the United States who distribute to over 30 different countries. They produce such brands as Farberware, Paula Dean, and Rachel Ray.
Their pans and commercial ranges are built to withstand and perform high-cooking temperatures. Hestan is a company born of the restaurant industry.
Having focused on the commercial kitchen world, they have shifted their focus to the outdoor residential kitchen industry after years of development.
Models
Just a note: We will be demonstrating all the grills in both locations throughout May. Click this link for our upcoming grill demos in Boston and Framingham.
Hestan offers both built-in and cart models of their grills. The built-in heads are available in 30", 36", or 42". The cart models are available in 49", 55" or 61". The cart models come with the option of a built-in worktop or a double side burner.
For 2018, they added a less expensive "Aspire" unit as well.

The grills also have 12 different colors available and vary in price from $4,300-$6,800, while the cart models are $6,550 to $11,500. The following are some of the standout features of Hestan grills.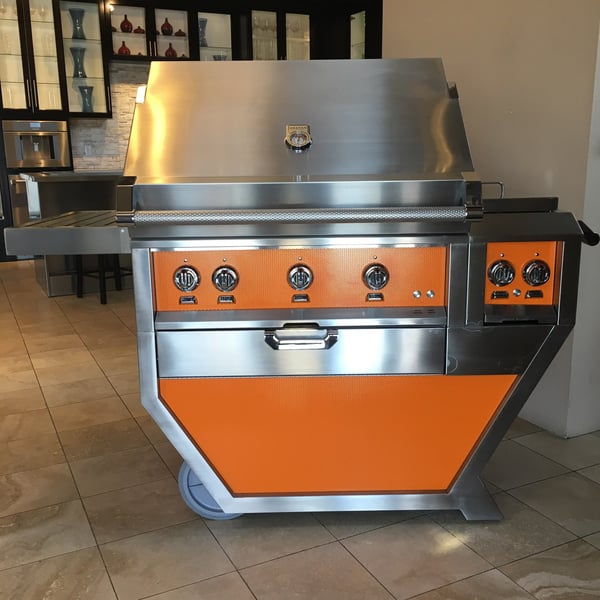 Features
Hood opens easily with spring-assisted hinges and holds at the desired height. Unlike some of the competitors, this hood will not slam down or fly up in windy conditions or when you are simply trying to check on the foods being grilled.
Stadium™ halogen under-hood lighting illuminates the cooking area compared to some models where the lighting is located on the handle instead of being attached to the inside of the hood. This is a great feature for a late night barbeque under the stars.
Control panel LED lighting keeps controls visible
Ceramic infrared top burner delivers 12,500 to 18,000 BTUs for perfect rotisserie/searing/finishing
Heavy-duty built to last 321 stainless steel Trellis™ tubular burners provide 25,000 BTUs of power which is a high comparison to most grills in this class
DiamondCut™ (a unique method of cutting stainless steel) 5/16″ grates provide even heat distribution.
Variable ceramic infrared sear burners offer 25,000BTUs each - giving you fast cooking times and better results
Symmetrical flip-to-clean radiant tray with ceramic briquette - no need to scrape and scrub every time you cook. This design allows you to simply rotate the briquette and let all of the grease and grime burn off.
Hidden whisper-quiet rotisserie motor system features a chain-driven, single-speed, 6 rpm, 50 lb motor. Imagine you are roasting a chicken with the goal of an even, golden finish. This chain driven technique will give you a smooth, continuous rotation.
Stainless steel warming rack with three vertical positions. This resting area keeps food warm while you continue to prepare the rest of your meal.
One-push automatic ignition system – no need to rely on matches or tricky ignitors to start this grill. Now it is as easy as a click of a button!
Lifetime warranty on welded body, DiamondCut™ grates, warming
Racks, variable sear burners, and a rotisserie burner. Strongest warranty of all its competitors
Short on time? Get our free BBQ Buying Guide
Key Features
The average price on these grills is around $8,000, so you are really comparing this to the upper echelon of premium grills. Let us look at a few key features and compare them with other premium brands.
Elements
The elements are chromium based similar to Kalamazoo. Chromium will stand up to the elements in the North-East.
Output
The max output is 25,000 BTU. Their Aspire unit is 23,000 BTU.
Once again, it is similar to Lynx, DCS, and Kalamazoo. Viking is the most powerful at 29,000 BTUs but is not widely sold due to quality issues. They bought Lynx grills for that reason.
Like the Lynx, Hestan has the ceramic briquettes to add heat and vaporize drippings. You will like this grill for the ease of cleaning the briquettes. Simply flip the cartridge and fire up the grill and it will cook off the grease for you.
Grates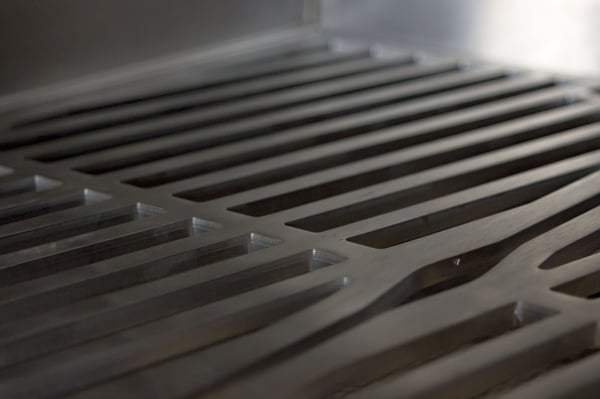 Best grates in the industry, they are diamond cut and heavy, so they will retain more heat for a better sear. The Aspire has regular stainless grates.
Rotisserie
The rotisserie will hold 50 pounds of meat, but it has another infrared burner on the top with a variable heat of 12-18,000 BTU.
The average for most competitors is about 14,000 with no control. The Aspire is 14,000 BTU on the rotisserie.
It is an infrared burner for a very direct, concentrated heat source as well.
You can cook different types of meat at different temperatures unlike any other grill. You can also finish your food on the shelf leaving you more room for the grill.
What does it not have?
There are a few grills with proprietary features.
Lynx has the variable sear, which can sear between 285-1,000 degrees. You can sear at lower temperatures for veggies and fish versus steak at a higher temp. Hestan can only sear at higher temperatures.
Kalamazoo is the best grill, but way more expensive than the Hestan. It has the hybrid drawer allowing you to cook with charcoal and wood for better flavor.
They also have the deepest grill so it acts almost like convection for the most evenly cooked piece of meat.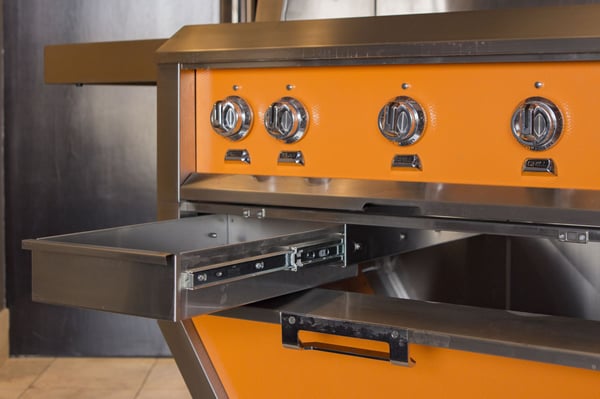 Read this article to see how Hestan and Kalamazoo compare.
Should you buy a

Hestan

?
There are many grills you should be considering. Kalamazoo is the best but almost double the price of the Hestan. DCS has decent specs.
Lynx has the best searing but will move away from their solid cast burner this year to ceramic. (Hard to believe).
Hestan does have the best grates for a better sear throughout the grill surface as well as the best rotisserie and another 18,000 BTU infrared burner for the rotisserie or a secondary cooking surface.
The specs are competitive and definitely a premium grill consideration. For a lesser expensive, premium product, The Aspire has very competitive features for $2,000 less on average.
In fact, following is a brief video on The Aspire.
Hestan Aspire
Additional Resources
Get the Yale BBQ Grill Buying Guide with features, specs, and inside tips to all the brands. Over 320,000 people have already found answers in a Yale Guide.

Related Articles:
Steve Sheinkopf
My goal has always been simple: I want Yale to be the best retail experience anywhere. I have tried to create a compelling environment for customers and employees alike.
A Note About Pricing
Pricing on this blog is for reference only and may include time sensitive rebates. We make every attempt to provide accurate pricing at time of publishing. Please call the stores for most accurate price.