How to Buy Appliances During a Supply Crisis
October 12th, 2021 | 10 min. read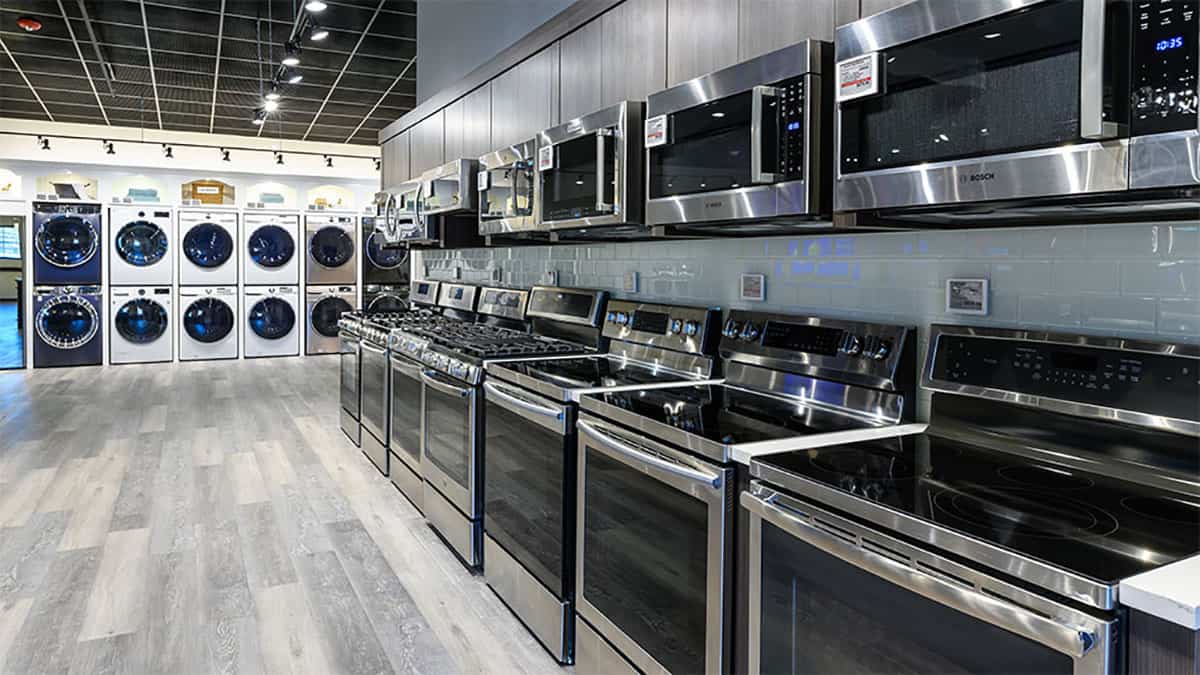 You have heard horror stories about appliances and other household products not being available for months on end.
I originally wrote this article in September 2020, when appliance shipments started to become a problem.
I never expected them to be worse than they are now. In 2021, instead of waiting 3-6 months, you could be waiting for 12-14 months. It's that bad.
In this article, we'll first cover the extent of the issue. Then we'll share some possible solutions so you can finish your kitchen remodel on time or replace your old appliance quickly.
First, let me share two stories that illustrate the problem with one success story.
The Problem With Bosch
Bosch Kitchen Appliances at Yale Appliance in Hanover
One of the most likable people in this industry is Barry Reef, the head of Bosch for New England. His area is one of the best for Bosch, so he is also influential in his company.
He is a good guy to know, but I like him on a personal level. We have lunch occasionally. He was insistent about lunch this time. So, as we were eating, he sprung the news.
"We can only allocate 25-50% of our normal stock."
My reply: "You mean 25-50% of the 25-50% of the previous allocation?"
"Yes," he said.
In summary, it's possible you won't be able to buy a Bosch dishwasher until they catch up with their backlog. A dishwasher is a common item, not a specialty appliance like a professional range or steam oven.
A Success Story
Two to three days a week, I drop my daughter off at school in Brookline. It's a nice 20-minute ride from my home in Boston. We are greeted by the Assistant Principal every day. So, one-day last year, she said, "You sell appliances. What're the best brands?"
I told her there are no best brands, only brands that may be best for using them.
She was in the preliminary stages, so we talked about 5-10 minutes every drop-off. I started to warn her about delays and price increases, especially the last one on October 1. Last week, she said she bought the appliances.
I was waiting for the "Can you help me get them sooner?" It is something I hear daily. If you need an appliance quickly, I will tell you some unorthodox strategies later in the article.
Anyway, she was happy. She hadn't hired the contractor, so it didn't bother her the Wolf stove wasn't available until May 26, 2022. That's an 8-month lead time. It also didn't bother her that the Miele dishwasher wasn't available until March 30, 2022, a 6-month lead time.
That's what success looks like post-pandemic. But not the only way.
Let's look at the problem.
Problems in Appliance Supply Chains in 2021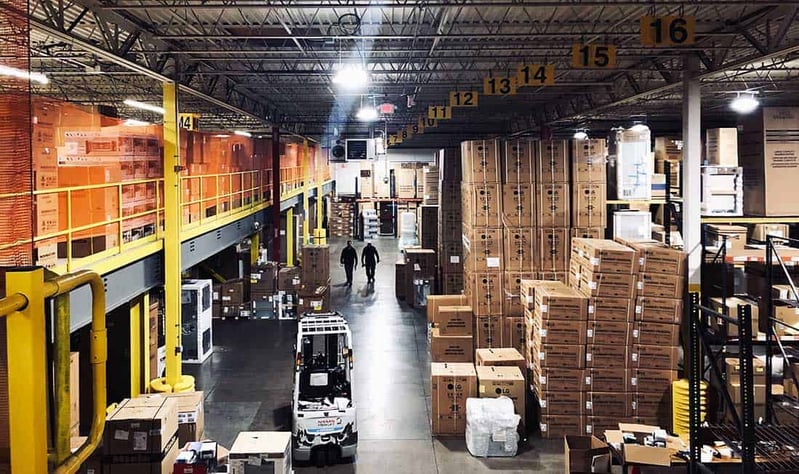 Yale Appliance Warehouse
When I originally wrote this article, it addressed the COVID-19 reality last year. The pandemic hit the supply chain at different times, causing warehouses and factories to shut down. Then they had to be reopened with social distancing guidelines causing efficiency problems.
On top of that, demand skyrocketed as many people stayed home and focused on their homes. So, you had exploding demand and a shaky supply chain. In 2021, it became much worse.
Component Issues
You probably didn't know that most of the insulation for refrigerators was manufactured in Dallas, Texas.
Don't feel bad. Neither did I. Then again, it has never been a topic of conversation in the 36 years I have been at Yale. However, the main factories for insulation were damaged during the freak ice storms last winter.
Computer Chips
As I write this, the industry and world are experiencing a chronic shortage of computer chips. Demand for computer chips has exploded in our industry and for automobiles as well.
There is a worldwide shortage of chips everywhere.
This is on top of Port issues. Many appliances and components are imported through the Port of Los Angeles, which has a chronic backlog. This means that your appliance or the components to make your appliance could very well be sitting offshore waiting to be unloaded.
Lack of Appliance Parts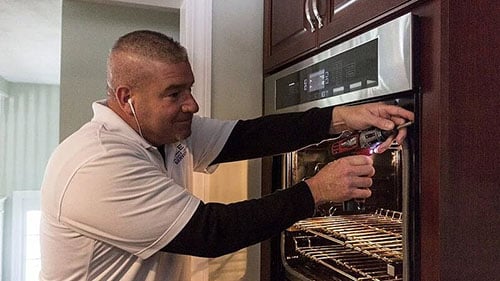 Yale Appliance Service Technician Repairing a Wall Oven
Repairing your old appliance could be an excellent option and normally is my recommendation - except now.
Any parts sent to the repair channel are now placed in the limited amount of new products.
That is a huge issue. We have so many loaner appliances in the field. Let's say a few new products didn't work for whatever reason. We can't fix them without parts, and we can't replace them without an inventory of new products. So, we deliver loaners people can use in the interim.
Appliance Store Problems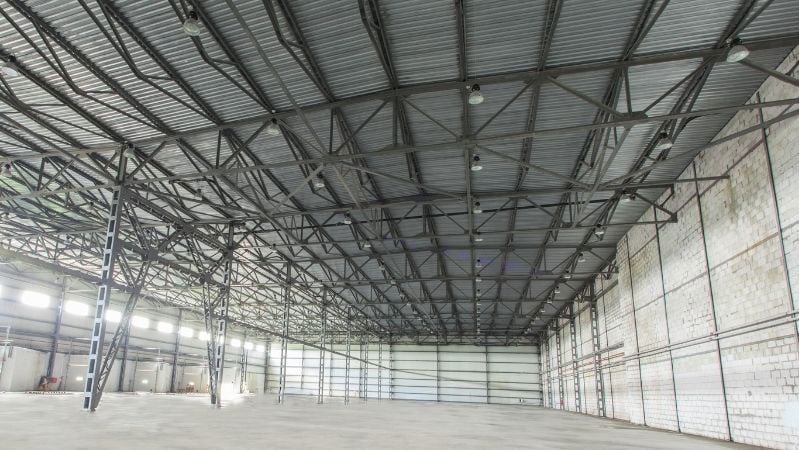 Empty Warehouse With No Inventory
Added to supply problems is the nature of the unique structure of the appliance supply chain. Many appliance stores or dealers operate on a just-in-time inventory basis, meaning you buy the appliance, then they pick it up locally and deliver it to you.
Given there is no local inventory anywhere, an appliance dealer now has a 6-12 month supply issue.
Many local and regional stores will have a hard time surviving this. Appliance stores also need aggressive purchasing and tons of warehousing along with certain flexibility across many brands.
That can't be built quickly.
Warehousing is also in a chronic shortage in New England. You cannot lease a warehouse in our area. We will be building one. Hopefully, it will be opened in 2022.
In just ten years, the cost is almost six times more than our original warehouse on a per square foot basis.
Many dealers do not have warehouses or minimal space. Where will they place all these appliances when they show up all at once?
Appliance Promotions
The last two years have been the worst years for appliance promotions. Prices for certain products have increased 20-25%. You should still consider promotions because it's the only time when prices haven't increased.
It's also the last time to buy an appliance before its price increases.
Most Unavailable Appliance Categories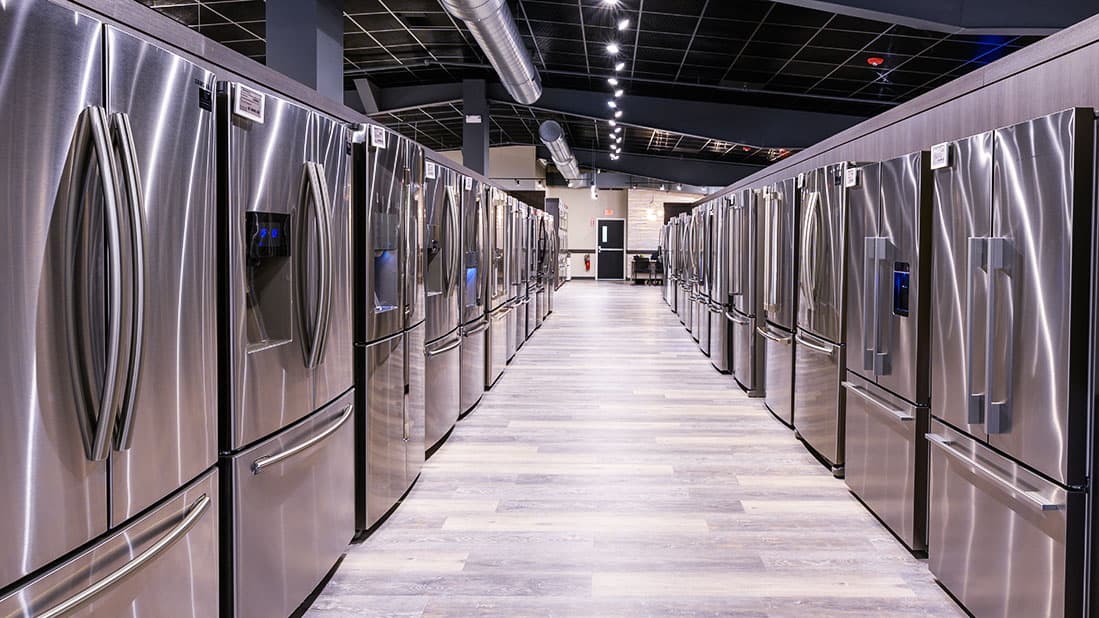 French Door Refrigerators at Yale Appliance in Hanover
While we see supply shortages in nearly every category, we are seeing these categories getting hit the worst.
Outdoor Grills: People are cooking more at home, and after months of being indoors, they just want to be outside. Grills are the perfect opportunity to be outside and still be productive.
Full-depth 36-Inch refrigeration, Top Mount Refrigeration, and 33-Inch Refrigeration: People were shopping for food in bulk due to the pandemic. Hence, a lack of supply in freezers, secondary refrigerators, or larger refrigerators.
Laundry All Categories: Washers and dryers are a special case. Against faltering supply, there is skyrocketing demand. They are the third most popular product at Yale after grills and vacuums.
Read More: How Long Will It Take to Have My Appliances Delivered?
How to Buy Appliances During a Supply Crisis
Planning a Full Kitchen if You're Just Getting Started
Let's take the Assistant Principal earlier in the post as an example. If you plan far enough ahead, then it won't matter. Placing your appliance order one year before you need it will almost guarantee delivery (then again, I said almost).
You would place your order one year beforehand on a holiday like Black Friday or Presidents' Day for the best deal in a perfect world.
Planning a Kitchen You Hope to Finish in 0 to 6 Months
Well, you probably will not be able to buy a Miele or Bosch dishwasher. But brand loyalty will be a problem because every brand has a problem.
Look at the best available choices like Beko, LG, GE, and KitchenAid. They are among the most reliable appliance brands with great features, and they're available.
Below are our service rates for each major category of appliances. To find these service rates, we divided the products our service team repaired by the products we sold from December 2019 to November 2020.
Dishwasher Reliability
| | |
| --- | --- |
| | Service Ratio |
| Blomberg | 0% |
| LG | 1.9% |
| Whirlpool | 2.1% |
| Thermador | 7.6% |
| Beko | 7.67% |
| Miele | 8.2% |
| GE Profile | 10.5% |
| Samsung | 10.6% |
| JennAir | 11.0% |
| KitchenAid | 11.0% |
| Asko | 11.6% |
| Bosch | 12.8% |
| Bosch Benchmark | 18.4% |
| Café Appliances | 18.8% |
| GE Appliances | 19.5% |
| Fisher & Paykel | 27.8% |
| Average | 11.2% |
Each brand represented has a minimum of 50 units sold and a total sample of over 10,000 pieces.
Front Load Washer Reliability
| | |
| --- | --- |
| | Service Rate |
| Whirlpool | 1.85% |
| Samsung | 2.90% |
| LG Electronics | 4.14% |
| GE Appliances | 8.61% |
| Maytag | 17.61% |
| Total | 6.18% |
Based on a minimum of 300 washers sold from December 2019 to November 2020.
Gas Range Reliability
| | |
| --- | --- |
| | Service Ratio |
| KitchenAid | 1.75% |
| Whirlpool | 2.14% |
| Beko Appliance | 3.91% |
| Bosch | 3.95% |
| Samsung | 4.33% |
| JennAir | 12.20% |
| Grand Total | 4.62% |
These figures are based on a minimum of 100 ranges sold with over 2400 total pieces.
Electric Range Reliability
| | |
| --- | --- |
| | Service Ratio |
| Whirlpool | 0.59% |
| Samsung | 2.38% |
| Bosch | 4.76% |
| GE | 7.41% |
| Beko | 8.25% |
| KitchenAid | 8.54% |
| Grand Total | 3.06% |
These figures are based on a minimum of 90 ranges sold and a sample of over 1900 total pieces. Don't be brand loyal unless you have plenty of time to wait.
Instead, be open to different brands.
Pick the features you want the most, and then buy that brand. Be open to 2-3 brands and don't focus on any one brand or model.
What to Do If You Need an Appliance Now
First of all, you should never be shut out if you are open to every brand. However, here are a few tips for buying the right appliances.
1. Ask for a Different Handle Style

Different Styles of Bosch Dishwashers
Bosch has five styles of dishwashers, Beko has three, and Miele has three. Perhaps they have a pocket handle, towel handle, or regular handle in stock. It's worth the ask. Many stores don't know exactly what they have in inventory.
2. Ask for a Different Model
Bosch has 54 models available. That's down from 100 in 2019. If you are looking for a particular model, ask if they have something similar in the same series.
That's true with almost every manufacturer. Look at the series and take any model - bonus points for asking for any style of handle.
3. Outlet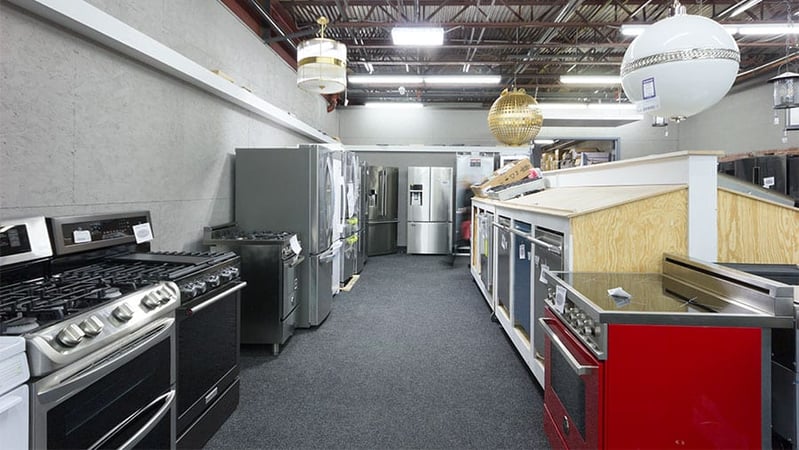 Yale Appliance Outlet in Boston
I am not a fan of damaged products unless it's just cosmetic damage. However, every day, a refrigerator doesn't fit, or it has the wrong swing. Laundry is a problem as well. Front loads are larger than top loads and sometimes don't fit.
You want to ask if any of that product has been returned due to not fitting.
4. Customer Cancellations
You have to believe people have canceled orders, given the challenge construction has been. If you call around enough, you might find a few appliances as well.
Leave your number with several stores and have them call you with an outlet or cancellation.
Now let's look at some other brands.
Should You Buy Off-Brand Appliances?
Probably not, unless they have decent reviews or can be repaired easily. In some cases, they could be a useful purchase.
Do your research first.
There are good opportunities to buy decent appliances at more competitive prices, especially if the major brands are out of stock. The following are some interesting brands to consider.
Beko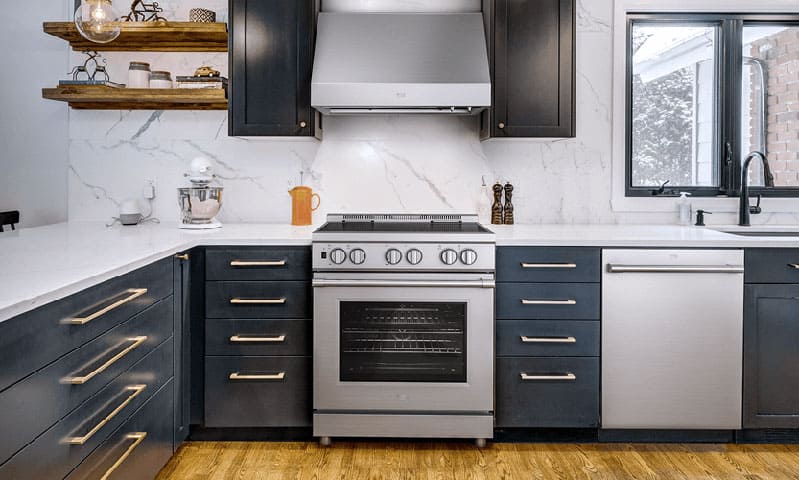 Beko Kitchen Appliances
They load a dishwasher with features for $549. Their best is 39 dB with special intense sprays for heavily soiled dishes, Wi-Fi, and a ton of cycles. It even sends negative ions to counteract the positive ions of odors, leaving your dishwasher smelling fresh.
Their refrigerators are modestly priced and won our Project Produce competition keeping food fresh the longest. Their compact laundry is the most reliable so far this year.
Signature Kitchen Suite (SKS)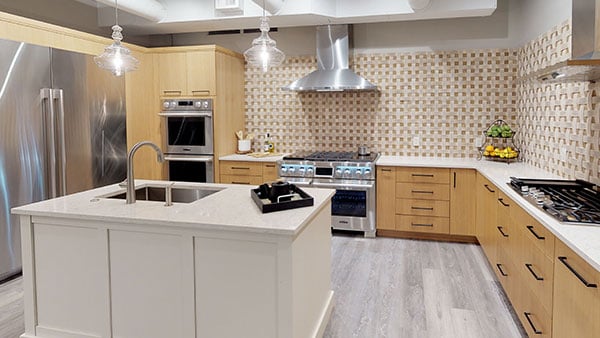 Signature Kitchen Suite Appliances at Yale Appliance in Hanover
SKS is the premium line of LG. Their ranges feature 23,000 BTU output, induction, and a sous vide water bath on the cooktop. Their columns are the largest available and have stainless interiors and Wi-Fi.
True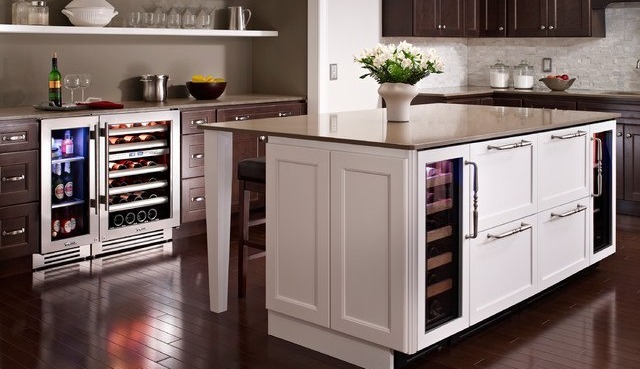 True Refrigeration
Their refrigerators are available in 10 colors with six accents and are all stainless.
True is the largest supplier of commercial refrigeration in the world, based out of St Louis. (I know they are from St Louis, I had to buy them clam chowder when they won The Cup).
How to Start Your Kitchen Project Without Cabinets
We had a webinar on how to start a kitchen project with appliances.
The important appliances to remember are a sink (not an appliance but used the most), a range or cooktop, and a dishwasher.
The so-called "kitchen triangle" is the most used appliance. You stir your soup frequently. Going to your refrigerator is not as urgent. Have any doubts? Tape or chalk off the area to see what works.
Most Common Appliance Sizes
I added this section so you can start planning now. Appliances should be an easy purchase, yet they are made to seem hard. Appliances fit cabinets, not the other way around. You will never see a 22-inch dishwasher or 26-inch stove because those cabinets don't exist.
Refrigerators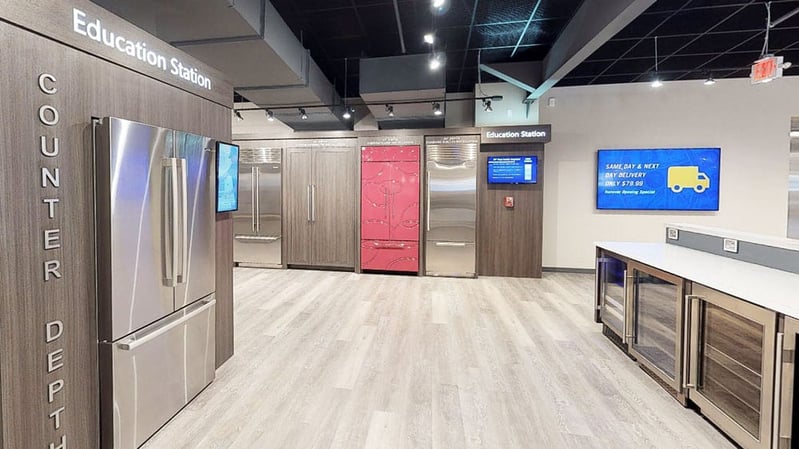 Refrigeration at Yale Appliance in Hanover
Thirty-six inches is the most common size.
Other sizes include 18, 24, 30, 42, and 48 inches. Forty-two and 48 inches are the larger professional refrigerators. Eighteen inches is for integrated types and is not that common. Twenty-four and 30-inch refrigerators are apartment-sized.
Dishwashers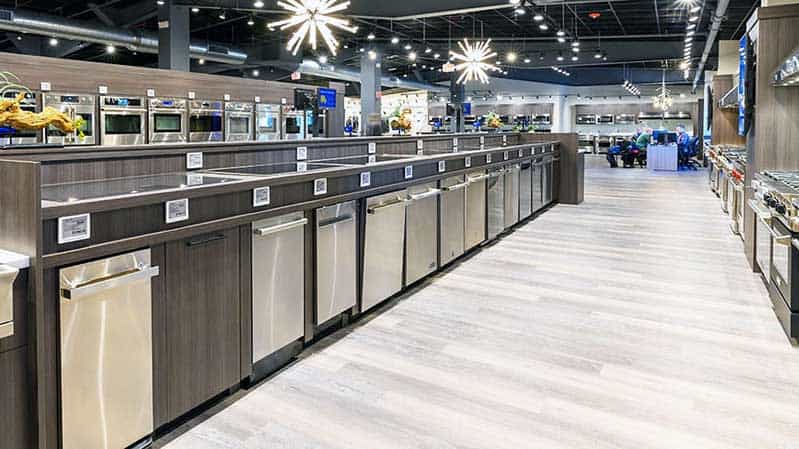 Dishwashers at Yale Appliance in Hanover
Twenty-four inches is by far the most common. Eighteen inches is another available size.
Stoves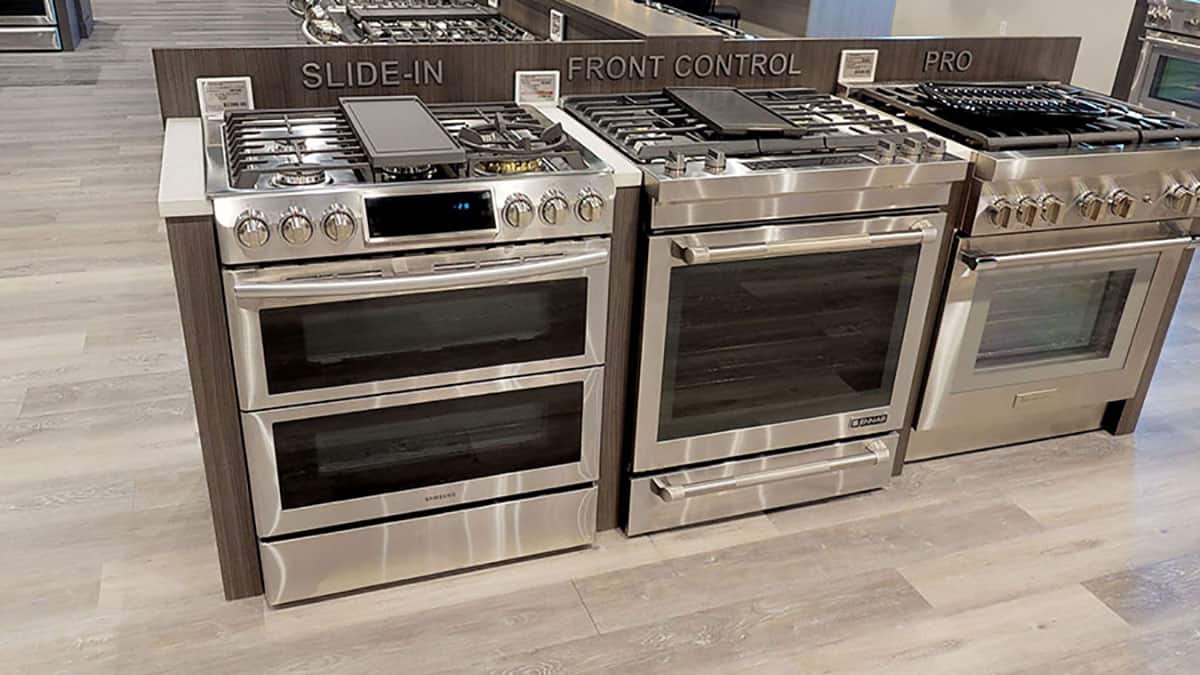 Gas Ranges at Yale Appliance in Hanover
Thirty inches is again the most common. Twenty and 24 inches are apartment sizes. Thirty-six, 48, and 60 are the larger sizes, typically for professional ranges.
Microwave Drawers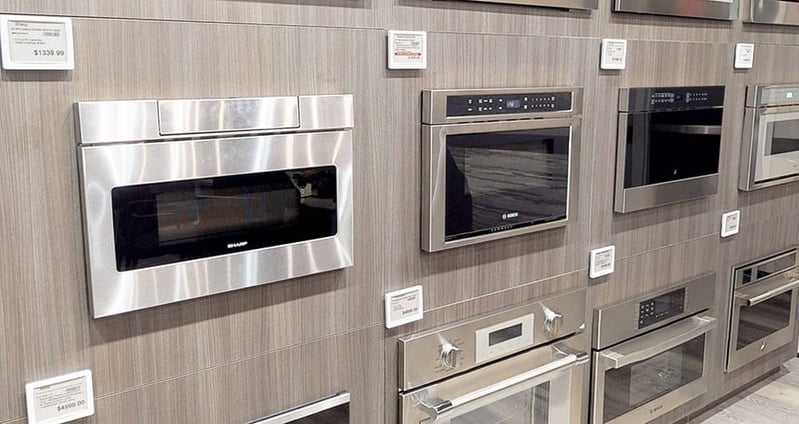 Microwave Drawers at Yale Appliance in Hanover
Microwave drawers are available in 24 and 30 inches exclusively.
Beverage Centers, Wine Coolers, and Under Counter Refrigerators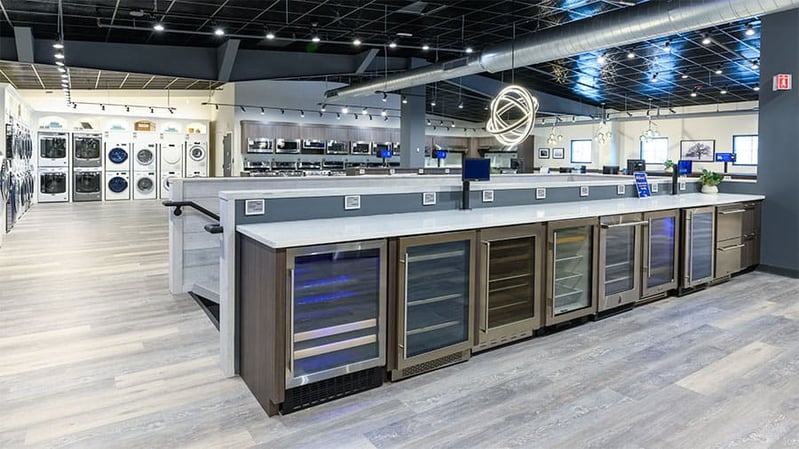 Undercounter Refrigeration at Yale Appliance in Hanover
Undercounter refrigeration is usually fifteen and 24 inches, with 24 inches being the most popular size.
We cover this topic extensively in our Buying Guides. Check out the webinar on How to Start Your Kitchen Project With Appliances by clicking here.
Appliance Prices
In a scarce market, you would think prices will skyrocket. And you would be right this year.
Prices have been up 20-25% since the beginning of the pandemic.
However, these 10-35% promotions around July 4, Labor Day, and Black Friday have not happened either, as we said. They may promote, but in many cases, they will not have the product to deliver. Sales and marketing don't talk in many larger companies.
Many of the lower-priced products will be scarce.
For example, top mount refrigerators are tough to find because manufacturers place compressors in more expensive French door and side-by-side refrigerator styles. It's the same compressor, but there is more revenue on the more expensive item.
Buying Appliances Online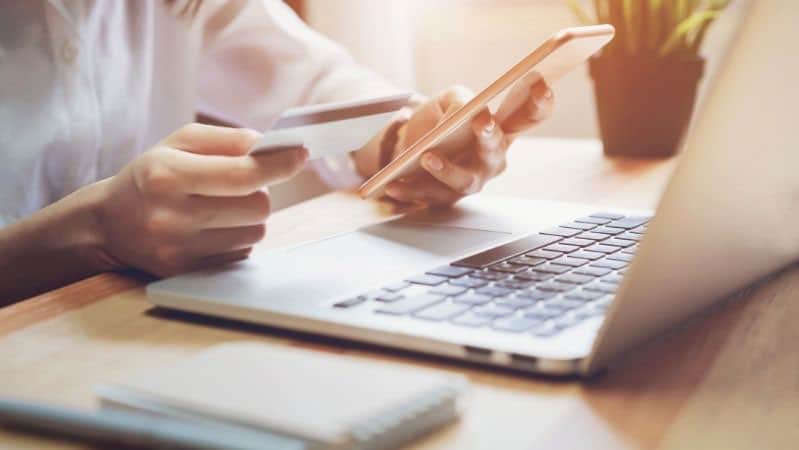 By the way, just because you added that French door refrigerator to the cart online doesn't mean it's in stock.
If you buy online, call to schedule immediately. If you cannot schedule, then cancel it before being hit with a restocking charge.
Read reviews on each store before entering your card to buy an item. Use that logic to buy anything online. It is a huge problem. Many stores are "overly optimistic "when quoting delivery times. Don't be fooled.
Key Takeaways
Start the process now or a year before you need your kitchen. Then you should be OK. Like we said earlier, don't be brand loyal. Be feature loyal.
Buy the features you want from any reliable, available brand. If Samsung or Maytag don't have laundry units available, buy comparable GE, Whirlpool, or LG models.
Off-brands have the potential to save you money.
They usually have inventory because they are generally not in-demand items. You may end up with a whole different package of brands. Instead of a Samsung or LG kitchen, you may end up with KitchenAid or GE.
If you pick the best features for how you live and use your appliances, you will not notice much difference. Ask your dealer for different models, handles, returns, or cancelations.
One last comment: Just because that internet site accepted your credit card on an "in stock" item doesn't mean it will be delivered.
Call to confirm and be careful as always. You can do this.
It's much harder than in 2019 or even last year, but you can still buy an appliance or kitchen to match your lifestyle.
Webinar: How to Buy Appliances During a Supply Crisis
Building a dream kitchen (or any kitchen) will be a problem in the next two years. In this webinar, you'll learn how long you'll wait for an appliance from each manufacturer. Then you'll learn different strategies on how to buy appliances in these uncertain times, including when to order and alternate brand considerations.
You can still have a functional kitchen if you know where to look. This webinar will help guide you into making the right decisions.
Additional Resources
Download the Yale Appliance Buying Guide covering all topics of appliances and lighting. Over 820,000 people have read a Yale Guide.
Related Articles:
Why Should You Trust Us?
It seems that every appliance review has nothing but glowing comments about almost every product, yet you read customer reviews and they are almost universally bad.
We are here to fill in the disconnect. We'll give you the best features, and the drawbacks as well, including reliability based on over 37,000 calls performed by our service team just last year. Our goal is to give you ALL the information so you know what's right for you.
Please consider subscribing or adding to the conversation in the comments below. We appreciate you stopping by.
Steve Sheinkopf is the third-generation CEO of Yale Appliance and a lifelong Bostonian. He has over 38 years of experience in the appliance industry, and he is a trusted source of information for consumers on how to buy and repair appliances.

Steve has also been featured in numerous publications, including the New York Times, Consumer Reports, The Boston Globe, Bloomberg Radio, the New York Post, The Wall Street Journal, and Entrepreneur, for his knowledge of how to buy appliances and appliance repair.

Steve is passionate about helping consumers find the best appliances for their needs, and he is always happy to answer questions and provide advice. He is a valuable resource for consumers who are looking for information on appliance buying, repair, and maintenance.

Despite being the worst goalie in history, Steve is a fan of the Bruins and college hockey, loves to read, and is a Peloton biker. The love of his life is his daughter, Sophie.
A Note About Pricing
Pricing on this blog is for reference only and may include time sensitive rebates. We make every attempt to provide accurate pricing at time of publishing. Please call the stores for most accurate price.