GE Monogram vs. Thermador 36 Inch Gas Cooktops (Reviews/Ratings/Prices)
Before you think about brands, or models, or even features, you may want to first consider which type of cooking appliances are right for your kitchen.
Cooking is a particularly flexible category of appliances. It is also the most important singular decision in a kitchen, because only cooking can radically change the layout of your kitchen.
There are ranges, wall ovens, cooktops, warming drawers, steam ovens, and more. Given that you have the space, you could choose a number of different combinations. One of the most common of these options is a gas cooktop, with a single or double wall oven. Cooktop and wall oven are more ergometric, so there is less bending. The configuration does require more space.
If you're looking at gas cooktops, GE Monogram and Thermador offer higher-end options that you may want to consider. Let's compare the top-of-the-line 36" models within both respective brands.
Short on time? Get our free Gas Cooking Buying Guide
Kitchen With Cooktop and Wall Oven
Kitchen With Freestanding Range
General Electric
General Electric was founded in 1907. They have production plants all around the world, and produce a vast array of different products. Within GE's appliance line, there are sub-categories like Café, Monogram, and Profile. Monogram is GE's premier sub-category. GE appeals to large builders rather than higher end consumers. To be transparent, we do not sell any GE products at Yale.
GE Monogram 36" Gas Cooktop ZGU385NSMSS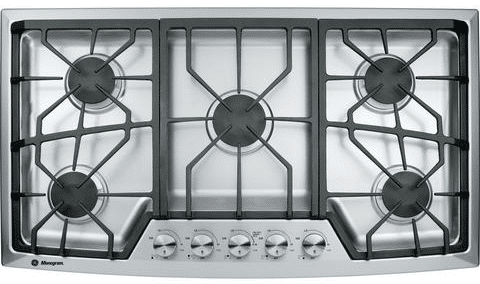 Dual Flame Stacked Burner; provides 140F simmer-to-rapid-boil flexibility on all burners, sealed for easy cleaning
High-Output Cooking Power – 18,000-62,000 BTUs
Stainless steel knobs – red indicator light embedded in each knob
Interlocking, continuous grates
BTU Ratings, (2) 10,000 BTU, (2) 12,000 BTU, and (1) 18,000 BTU
Thermador
Thermador is part of the BSH Corporation, which is the third largest manufacturer of appliances in the world. Thermador is one of BSH's two premium brands, and is most well-known for innovation and reliability in the cooking category. (Gaggenau is their other premium brand.) Thermador's gas cooking products are unmistakable due to their patented star-shaped burners.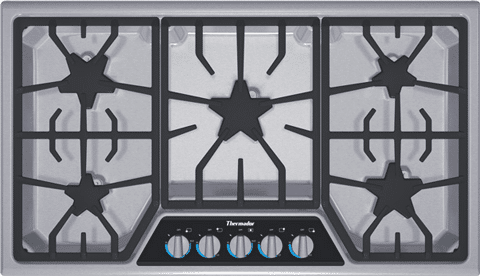 Patented Star® Burners – Coverage area allows for more ports and flame distribution than a round burner

Extra Low ® feature – Exclusive 200 BTU feature for perfect simmering
Illuminated Control Panel with Metal Knobs – Blue illumination that adjusts to whether the burner is on regular or ExtraLow settings
Continuous Grates
Knobs are a safety "push to turn" system
BTU Ratings: (2) 9,100 BTU, (1) 12,000 BTU, (1) 18,000 BTU
GE Monogram vs. Thermador Gas Cooktops
There are many similarities between these two models. Both offer continuous grates, making it easy to slide pans from one burner to the next. Both cooktops offer 18,000 BTU output on their largest burner. Both cooktops offer the controls in the front, so you're not reaching over flames to adjust the burner. They both offer very good simmers, which is important in order to avoid scorching.
Thermador's star burners are a true differentiator. Thermador actually owns the patent for this shaped burner, so you will not see it available in any other gas cooktop in the industry. A circular gas burner of the same size as Thermador's star burner has a 56% shorter perimeter. As a result, the star burner offers greater heat coverage and a smaller cold spot on the pan.
Which Do You Choose?
As I said, the specs are pretty similar from a BTU standpoint. That's being said, I like the reliability of Thermador. They are the only mass luxury brand on a most reliable list. I also like the packages. If you add a wall oven, you will receive a free dishwasher.
Related Articles
Additional Resources
Get the Yale Gas Cooking Buyers Guide with features, specs and inside tips to all the brands. Over 55,000 people have trusted a Yale Guide.
Chris Tavares
Chris Tavares is an Appliance Sales Associate at Yale Appliance + Lighting and has been with Yale for over 10 years. When not helping clients, Chris is a huge Patriots fan and enjoys cooking.

Read more about Chris here.
A Note About Pricing
Pricing on this blog is for reference only and may include time sensitive rebates. We make every attempt to provide accurate pricing at time of publishing. Please call the stores for most accurate price.