The Difference Between Commercial and Professional Refrigeration
Despite having a similar physical style, there are huge differences between commercial and professional refrigerators in terms of energy efficiency and repair.
I wanted to take a moment and explain why each is popular and the important differences.
Short on time? Get our free Counter Depth Refrigerator Buying Guide
Commercial Refrigerators
Commercial refrigerators…they look really good, don't they?
I sold commercial refrigerators from 1986-1988. Traulsen was the brand back then. Like professional stoves, these refrigerators were inspired by commercial kitchens. Restaurateurs had to have one ... until they actually had one.
Energy
Commercial refrigerators are not bound by the same energy laws as residential refrigerators. The big Sub-Zero uses less energy than a 100 watt light bulb, but commercial types are uninsulated and use far more. Traulsen was removed from the market because it didn't pass the energy laws back then. Nowadays, the laws are much tougher.
Repair
Repair is also difficult. Presently, we have 5 dedicated refrigeration specialists, but repair back then was super specialized and incredibly expensive.
In most areas, you may need a variance to place a commercial unit in your home, so it's probably not worth it.
However, you can achieve the same look from many different companies. Also in 2015, 80% of our sales are stainless. By definition, that is already commercial looking.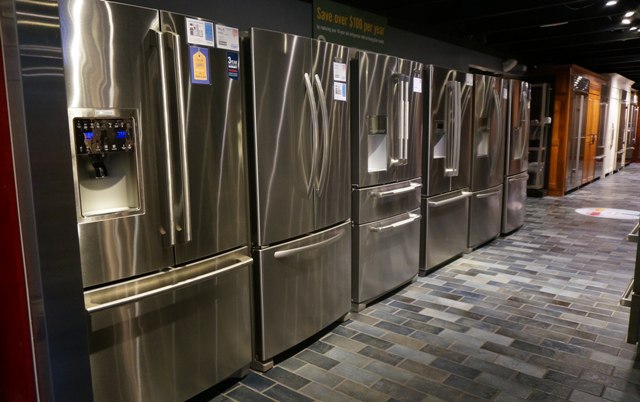 But let's look at residential refrigerators with a commercial, restaurant look.
Professional Refrigerators
Professional refrigerators were originally designed to look like a commercial unit with the compressor on the top. However, they were designed for the residence with more usable features.
Over the last few years, there has been greater emphasis on emulating the restaurant look.
Sub-Zero
The Sub-Zero is the most authentic with the glass door available as an option. It has drawers at the bottom for really convenient storage at 48 inches wide.
True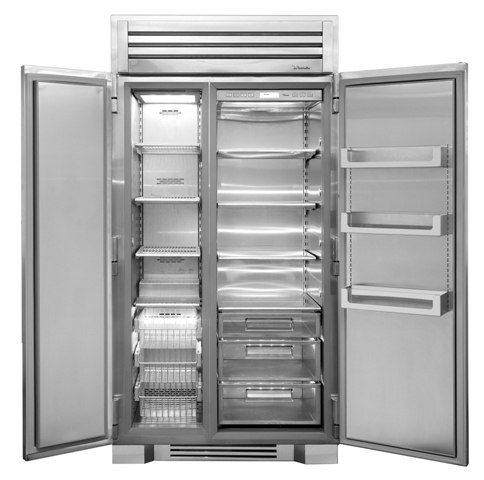 We profiled this in the Top Appliances from the Architectural Digest Show. True is now the best commercial refrigeration company. They are the brand of choice in convenient stores and supermarkets everywhere.
True is 42 inch (not common) and a side by side, but is built like a metal tank from the stainless inside to the metal shelving.
Frigidaire / Electrolux
Traulsen, Sub-Zero, True…Frigidaire? Not quite the same products, I realize. Frigidaire is the only brand under $15,000 or even $5,000. It is not a real commercial as the others.
It is also not counter depth, but I like the look. If you buy the top and base grills like the above picture, it looks decent for 1/3 the price of the others.
Final Thoughts
You can still buy a commercial unit, but consider the energy and repair issues. Plus it will probably never pass inspection. I do not think it's really necessary anymore as you have plenty of decent alternatives. Remember, you can always buy a straight stainless refrigerator.
Related Articles
Additional Resources
Get the Yale Counter Depth Buyers Guide with features, specs and inside tips to all the brands of professional, integrated and regular counter depth refrigerators. Over 80,000 people have read and trusted a Yale Guide.
Steve Sheinkopf
My goal has always been simple: I want Yale to be the best retail experience anywhere. I have tried to create a compelling environment for customers and employees alike
A Note About Pricing
Pricing on this blog is for reference only and may include time sensitive rebates. We make every attempt to provide accurate pricing at time of publishing. Please call the stores for most accurate price.