Bosch Vs. Samsung Counter Depth Refrigerators (Reviews/Rating/ Prices)
Bosch has a new, technologically advanced counter depth French door refrigerator. It has some decent features, but how does it compare against Samsung, a brand known for its technology?
There are 5 major differences between Bosch and Samsung counter depth refrigerators:
How They Keep Food Fresh
How They Distribute Ice And Water
Second Drawer Flexibility
Price
Reliability
In this article, we'll compare Samsung's and Bosch's most popular counter depth refrigerators, including their features, prices, and reliability. In the end, you should know which refrigerator is right for you.
Short on time? Get our free Counter Depth Refrigerator Buying Guide
Bosch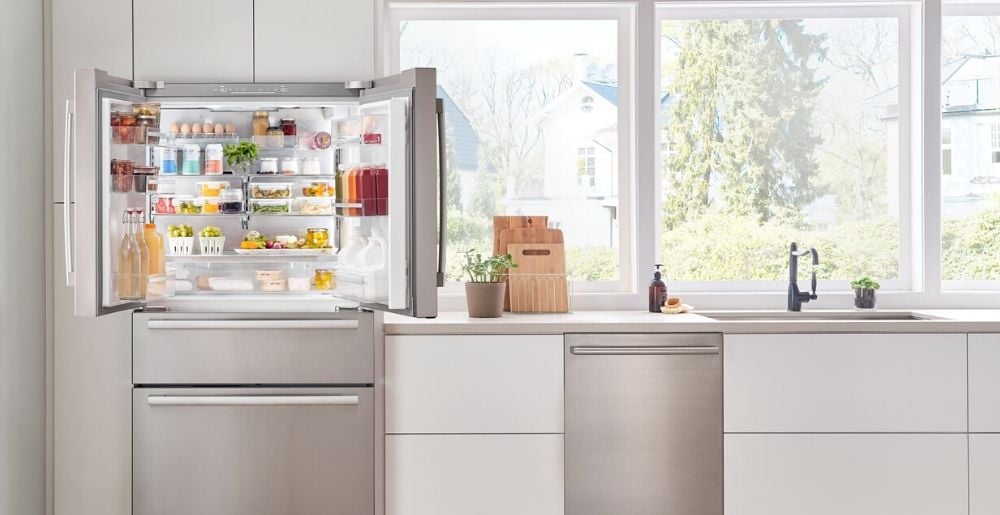 Bosch Appliances is a division of the German BSH company. Many of their appliances produced in the US. They operate the largest dishwasher manufacturing facility in North Carolina. Their Thermador division is constructed almost entirely in the US.
For some reason, their refrigerators never have been. They were always built in China. Their new ones are made in a Bosch factory but still located in China.
In this industry, almost every appliance was produced here back when I started in 1986. The Bosch (German) and Asko (Sweden) were the first to export in the US.
LG and Samsung started around 2000-2004, mostly in refrigerators and laundry.
The next wave is Haier. Haier is the owner of GE and Fisher & Paykel. They are the fastest-growing company in the US.
For a full account of the best counter depth refrigerator brands to consider, how they compare, and the new smart technology they are producing, click here for our free Counter Depth Buying Guide.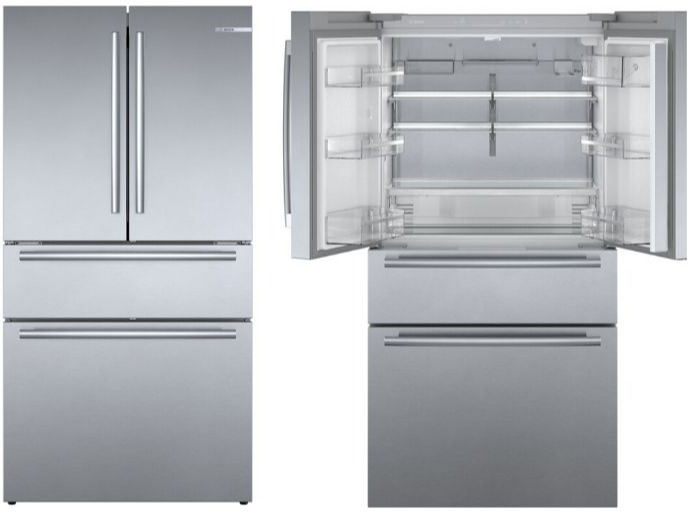 Features:
Freestanding
Counter-Depth
Glass Shelves
Humidity-Controlled Crispers
FarmFresh System
VitaFreshPro
Home Connect
AirFresh Filter
Ice Maker
Touch Control Panel
Bosch B36CL80S Counter-Depth French-Door Fridge [VIDEO REVIEW]
Samsung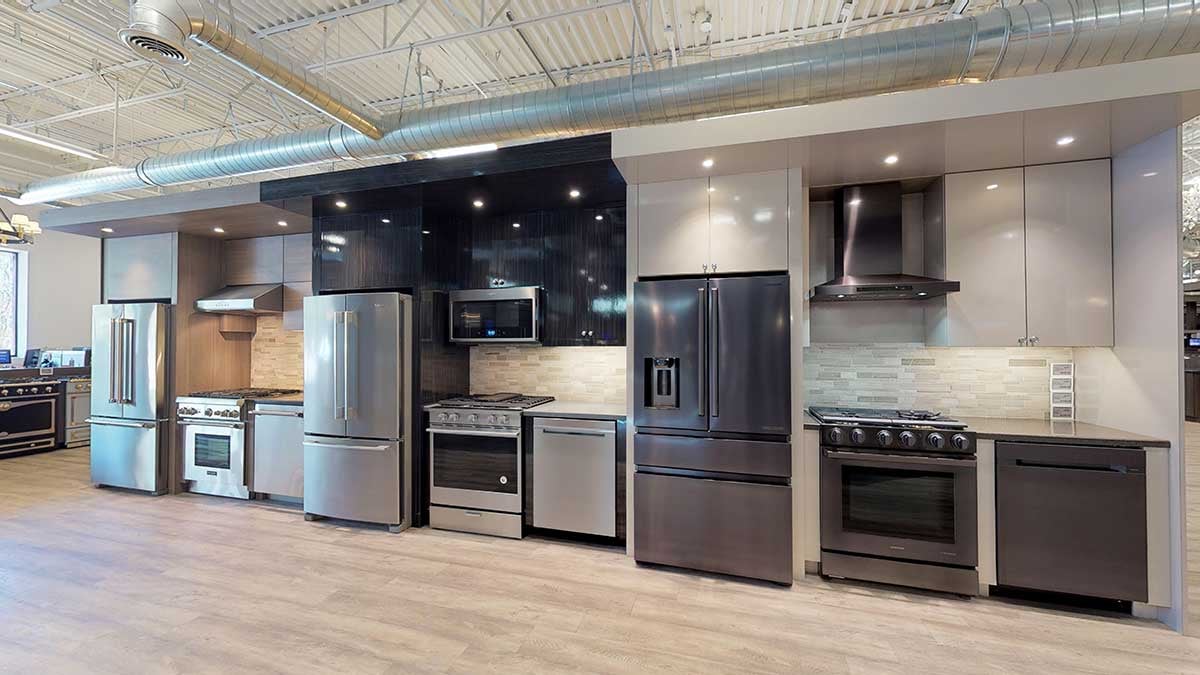 Samsung Appliances Featuring Samsung Counter Depth Refrigerators At Yale Appliance In Framingham
Samsung is an enormous multinational out of Korea. They are huge into electronics, phones, and plenty of other industries.
The appliance division is one of the smallest. However, until recently, they were the fastest-growing company and still are the number 1 selling a single brand in the US.
They have always manufactured in Korea. In 2018, they started to build products in the US to avoid tariffs.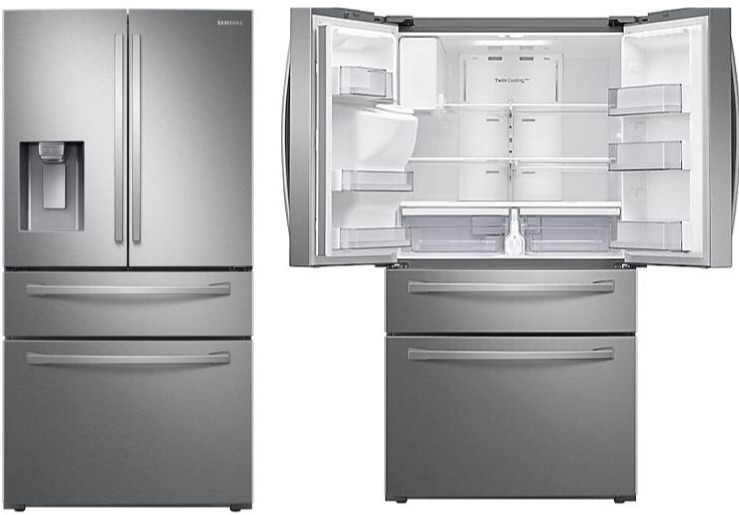 Features:
FlexZone Drawer - A flexible drawer with four different temperature settings for flexible storage.
Fingerprint Resistant Finish - Helps reduce smudges and minimize cleaning.
Wi-Fi and Bixby Enabled
Twin Cooling Plus ®
Adjustable Shelves
High-Efficiency LED Lighting
Accessibility (ADA Compliant)
Ice Max
Bosch Vs. Samsung Counter Depth Refrigerators
| | | |
| --- | --- | --- |
| | Bosch Counter Depth Refrigerator B36CL80SNS | Samsung Counter Depth Refrigerator RF24R7201SR |
| Capacity (Cu. Ft.) | 21 Cu. Ft. | 22.6 Cu. Ft. |
| Ice Maker | Yes | Yes |
| Ice Dispenser | No | Yes |
| Interchangeable Second Drawer | No | Yes |
| Shelves | Glass | Adjustable |
| ADA Compliant | No | Yes |
| Wi-Fi Compatibility | Yes and Bixby-Enabled | Yes with Home Connect |
| Reliability | N/A | 12.65% |
| Price | $2,999 | $1,899 |
Bosch and Samsung are different in production. Let's see what they have in common.
Similarities Between Bosch And Samsung Refrigerators
First, Samsung and Bosch have a few features in common. They both have WI-FI capability. Bosch is also Alexa enabled. They are both known for style, and both are nice looking refrigerators.
Bosch is a little better on the inside with metal cooling in the back - metal absorbs cold better, so your items will be chilled quicker when placed against it.
The single shelf is better than the divided shelf in Samsung - you can load fruits and vegetables faster.
Differences Between Bosch And Samsung Refrigerators
1. How They Keep Food Fresh
Bosch is also a better refrigerator for keeping food fresher. Like an $8,000 Sub-zero or other expensive built-in refrigerators, Bosch has two compressors and two evaporators to keep the freezer, and refrigerator compartments separate, so the moist, warmer refrigerator scents and tastes do not end up in your colder drier freezer.
Think chicken liver aroma in your frozen strawberries - it won't happen in this Bosch.
Samsung's not bad either and is second-best among other refrigerators. But they have a similar process with one compressor and two evaporators, but Bosch is technically better.
2. Second Drawer Flexibility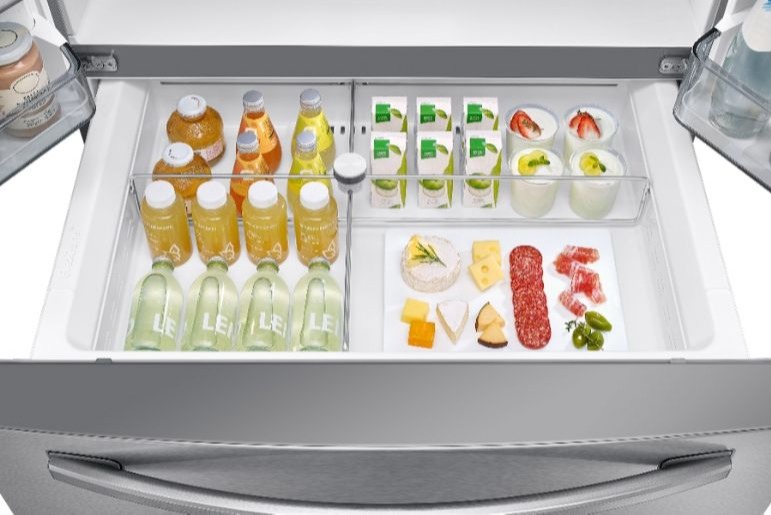 Samsung Counter Depth Refrigerator RF24R7201SR With FlexZone Drawer
Samsung does have some useful features, as well.
The drawer above the freezer can be converted to be either refrigerator or freezer. If you need more freezer storage, Samsung can switch by pressing a button. In the Bosch, this can only be a refrigerator.
Bosch Counter Depth Refrigerator B36CL80SNS With Second Drawer
3. How They Distribute Ice and Water
In Samsung, you have an ice and water dispenser versus just an ice maker for the Bosch. The convenience of a dispenser is great, but it is also our number 1 repair.
Sending a cold cube through a warmer than freezing refrigerator is a recipe for leaks. It's not a tough repair, and you will still have refrigeration when it occurs.
4. Price
Samsung is almost $1000 less than the comparable Bosch refrigerator, depending on when you buy it. Comparing prices should be easy, but it's not.
There are five best times to buy an appliance: Black Friday, Labor Day, Tax-Free Weekend, July 4th, Memorial Day, and Presidents' Day. The prices can drop by 10-35% during those times.
Then Bosch will have their 15% kitchen deals. Samsung has 10% off for whole packages.
The price difference is a significant consideration depending on when you buy, and if you are purchasing other appliances.
5. Reliability
Reliability is a huge consideration.
Samsung is the best at 12.65% repaired in the first year versus 26.85% for counter depth French doors based on our 36,487 service calls logged last year.
Most Reliable Counter Depth French Door Refrigerators For 2019
| | | | |
| --- | --- | --- | --- |
| | Service Qty | Shipped Qty | Service Ratio |
| Signature Kitchen Suite | 2 | 33 | 6.06 % |
| LG | 6 | 71 | 8.45 % |
| Samsung | 133 | 1051 | 12.65 % |
| Fisher & Paykel | 41 | 261 | 15.71 % |
| Whirlpool | 7 | 44 | 15.91 % |
| Maytag | 1 | 5 | 20.00 % |
| BlueStar | 3 | 14 | 21.43 % |
| Bosch | 105 | 408 | 25.74 % |
| Jenn-Air | 270 | 780 | 34.62 % |
| Liebherr | 6 | 15 | 40.00 % |
| Amana | 3 | 7 | 42.86 % |
| KitchenAid | 152 | 334 | 45.51 % |
| Blomberg | 25 | 30 | 83.33 % |
| Grand Total | 807 | 3062 | 26.36 % |
In terms of Bosch, there is no repair data yet. You see their non-Bosch manufactured products in this table, not the new ones.
However, if there is a knock on Samsung, it would be their inability or delay in some regions of the country handling problems when they happen. Bosch, at least in the Boston area, has a better reputation for service.
Then again, we service what we sell and repair both brands. However, you should check in your area before you make any appliance purchase.
To see a full report of our most reliable counter depth refrigerators, click here for our free Counter Depth Buying Guide.
Which Counter Depth Refrigerator Should You Buy?
That depends.
Bosch is now the best freestanding refrigerator in terms of keeping food fresher for a prolonged time.
It is more expensive but less so in a Bosch package at up to 15% off during some promotions.
Samsung may have better features and is much less expensive than the comparable Bosch.
In the end, it depends on whether you are buying other appliances and how reliable the Bosch refrigerator reveals itself to be in the future.
Additional Resources
Want some more information about counter depth refrigerators? Get the Yale Appliance Counter Depth Buying Guide with features, specs, and detailed profiles of the major brands. Well over 620,000 people have read a Yale Guide.
Related Articles:
Why Should You Trust Us?
It seems that every appliance review has nothing but glowing comments about almost every product, yet you read customer reviews and they are almost universally bad.
We are here to fill in the disconnect. We'll give you the best features, and the drawbacks as well, including reliability based on over 37,000 calls performed by our service team just last year. Our goal is to give you ALL the information so you know what's right for you.
Please consider subscribing or adding to the conversation in the comments below. We appreciate you stopping by.
A Note About Pricing
Pricing on this blog is for reference only and may include time sensitive rebates. We make every attempt to provide accurate pricing at time of publishing. Please call the stores for most accurate price.