Best Looking 30 Inch Chimney/Pyramid/European Hoods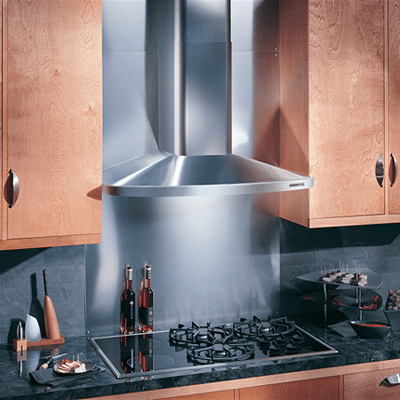 Chimney hoods are triangular shaped, European inspired vents. They are considered the most attractive hood option and often are the focal point of the kitchen.
There are two considerations for any vent. The primary function function of the hood is to remove steam, grease, smoke and odors that can stain walls and damage cabinets. 4 gallons of grease can accumulate in a poorly vented kitchen per year. Venting is about the right size hood, good blower speed or CFM as well as good ducting to push the smoke and heat. We cover all that in the Yale Ventilation Buyers Guide.
The second function is style. As I said before, chimney hoods are the best looking of all ventilation. Let's look at the top 5.
Best 30 Inch Chimney Hoods
Yale branded hood RH00630S - $799.99

Yale has a non-branded chimney style hood exclusively manufactured to the highest quality standards at a reasonable price. There is no logo on it so it will match with many brands of appliances. If you're venting the hood to the outside this will be good for any free standing, slide-in-range, or a 30" professional range.

600CFM internal blower can be vented to the outside or re-circulate back into the kitchen
3-Speed easy to use electronic controls located on the front center of the hood. If you set this on medium and you want to shut the hood off, you can go directly to the power button. With other brands you need to scroll through the different power levels to shut the hood off.
(2) 50-watt halogen bulbs in the front of the hood that covers the total cooking service and also comes with 2 mesh filters that are easy to take in and out and safe to wash in the dishwasher.
Zephyr Venezia ZVE-E30S - $1129.99

Zephyr Ventilation, a division of Nortek, started to manufacture vent hoods in 1997 by the founder Alex Siow. Mr. Siow developed professional-grade hoods for the home. The first series were called Power-Series. These hoods had higher CFM's with better air quality and self-cleaning filter-free technologies never available before. In 2000, Zephyr introduced the Europa Collection with different types of designs that gave some style over the range. This Venezia ZVE-E30S is part of the Europa Collection.

715CFM blower that vents to the outside or re-circulate. It has great amount of power compared to similar types in its class.
24" deep which gives you a better capture area.
A unique feature is the DCBL Suppression System which uses a DC brushless motor that uses 77% less energy. This makes it one of the quietest hoods on the market.
Multi-level LED lights which doesn't get hot and has a 68 year life span.
The control panel is like a circuit board in a computer system. It controls the DCBL Suppression System, user interface, LED controls and the DC motor controller while managing the distribution of energy to the different components.
Jenn-Air Euro-Style JXW8030WS - $1399

Jenn-Air was founded in 1947 by Louis Jenn in Indianapolis, Indiana. The company started out by manufacturing and marketing industrial fans to be used in commercial and industrial applications. In 1961, they designed a fan which can be integrated with a cooktop range. This was the first downdraft vented range. This became a revolutionary idea in the appliance industry. Jenn-Air was also amongst the first to offer convection in ovens.

Maytag Corporation purchased the Jenn-Air brand. When Maytag Corporation started failing, the company was then sold to Whirlpool. Jenn-Air has become popular with a 300 million dollar investment in cooking, most notably wall ovens and professional ranges from its parent company.

600CFM blower can be vented to the outside or recirculate back into the kitchen
4-level fan speeds to allow you more control of the ventilation for the best performance
LCD display control on the front of the hood (a little more difficult to use because you need scroll through the options to turn on and shut off the hood)
Gives you an independent timer and a heat sensor which automatically goes on if the heats getting too hot from the cooking surface
(2) halogen light bulbs located in the front of the hood
Sensor that tells you when it's time to clean the filters
Broan Chimney Hood RM523004 - $669.99

The history of Broan ventilation systems started back in 1932 when Henry Broan first developed and produced a kitchen fan named the "Motordor Fan". Broan manufactures a large variety of residential ventilation products like kitchen range hoods, indoor air quality products and ventilation fans. In 2000, Broan Mfg. Co., Inc. turned into Broan-NuTone LLC, after merging with Aubrey Manufacturing, Inc., Rangaire LP and NuTone Inc.

370CFM internal blower (low compared to other hoods)
3-speed slide controls for the fan
Adjustable speed blower which prolongs the life of the blower
Comes with (2) 20-watt halogen bulbs with only one light level. Most hoods in this class have 50 watt halogen bulbs with two different settings.
Comes with two aluminum filters which are dishwasher safe.
Heat sensor which automatically goes on if the cooking surface is getting too hot
Best by Broan K4130SS - $1749.99

Best is a division of the Nortek Companies which is based in Providence RI. Nortek is the manufacture and developer of Residential Ventilation, Technology Solutions, Display Mount Solutions, Residential Heating and Cooling, and Commercial Air Solutions.

500CFM internal blower
The slide controls are hidden from view
Combination of stainless and aluminum mesh filters which are dishwasher safe
Has a heat sensor that detects excessive heat and automatically goes to the highest setting
The lighting is two halogen bulbs with two level settings
Which is Best?
It really depends on how you cook which is the biggest factor in determining the blower. You need more CFM. You can use anything if you are just boiling water. Wok, stir fry, griddle and especially grill cooking needs way more
The Broan hood is the lowest cost, but has less CFM power, and wattage on the bulbs.
The fit and finish is not as nice as other chimney hoods.
The Best by Broan hood has a low CFM power of only 500 but it does have
great lighting. The quality of the hood is very good as as the overall styling but you are paying a hefty price.
I really like the Zephyr. It has the highest CFM at 715. The hood has great lighting with LED bulbs. It's also deeper so there is more capture space. The controls are more complicated to use since you have to scroll through the different levels to determine what setting you want to be on.
The Jenn-Air is a nice hood. It has a nice fit and finish with good lighting and 600CFM. The only problem like the others is scrolling the control to turn the hood off and on. Believe it or not, some people do not like the large Jenn-Air logo at eye level.
Last but not least is the Yale non-branded vent hood. I like this hood. It has good lighting, a good overall fit and finish, but best of all is a great value for the price.
Related Articles
Additional Resources
Download the Yale Ventilation Buyers Guide with specs, features and inside tips on how to properly size as well as duct any hood. Well over 40,000 people have read a Yale Guide.
| | |
| --- | --- |
| | Neil Katz has been in appliance sales at Yale for over 25 years. Neil spends time following the Sox and Patriots and watching the stock market. |
Why Should You Trust Us?
It seems that every appliance review has nothing but glowing comments about almost every product, yet you read customer reviews and they are almost universally bad.
We are here to fill in the disconnect. We'll give you the best features, and the drawbacks as well, including reliability based on over 37,000 calls performed by our service team just last year. Our goal is to give you ALL the information so you know what's right for you.
Please consider subscribing or adding to the conversation in the comments below. We appreciate you stopping by.
Neil Katz
Neil Katz has been in appliance sales at Yale Appliance for over 25 years. Neil spends time following the Sox and Patriots and watching the stock market.

Schedule a showroom visit with me
A Note About Pricing
Pricing on this blog is for reference only and may include time sensitive rebates. We make every attempt to provide accurate pricing at time of publishing. Please call the stores for most accurate price.