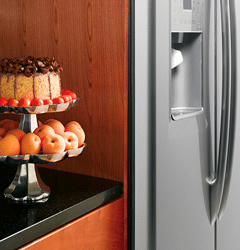 The two most important appliances to consider in a renovation are the stove and refrigerator. Naturally, they have the most options to consider, and one of the biggest considerations is a shallow AKA a counter depth refrigerator.
Updated November 2013
Quite simply, a counter depth refrigerator is 24 inches deep and does not protrude into the kitchen. Although shallow is more functional in island installations, most people buy counter depth for aesthetics. The kitchen looks cleaner and more linear without the sides showing.
There are three types of counter depth refrigerator available: Regular, Professional and Integrated. They all differ in features and price. We will look at each.
Regular Counter Depth Refrigerators
Blomberg
BRFB1040

Samsung
RF197ACRS

Frigidaire
FGHC2342LF

Jenn-Air
JFC2089WEM
A regular counter depth is a less deep refrigerator. Every manufacturer will produce the most common size of 36 inch wide (36 is the most common cabinet size). Sizes also vary from 33" wide to 24" wide for smaller galley type kitchens.
Main advantage to this type of refrigerator is price. A regular counter depth will start at around $1,299 for a side by side (refrigerator and freezer on each side) to a French door (or side by side top with a pull out freezer) up to $3,500 for a few more featured models like GE Cafe or Electrolux. Small Tip: Buy the same manufacturer for multiple rebate opportunities.
Professional Counter Depth Refrigerators
Sub-Zero
BI36

Jenn-Air
JF42NXFXDW

Sub-Zero
648PRO
A professional counter depth has the compressor on the top and a more commercial appearance. Sizes are 30, 36, 42 and 48 inch in width and 84 inch height with the most popular width neing 36 inches
This niche was created and still dominated by Sub-Zero. Their product is still technically superior with recent advances like an air scrubber, which scrubs gasses off food in the refrigerator. They also have a vacuum seal, two compressors and magnetic crispers, which are designed to keep food fresher for a longer period of time.
Other units like Liebherr and Jenn-Air(I like their 42 inch french door) have a similar look for much less money, but a professional refrigerator will cost $6,000-16,000.
Integrated Counter Depth Refrigerators
Thermador
T36IT71NNP

Miele
KF1911SF

Sub-Zero
700TCI

Liebherr
CS-1311
Integrated is a new trend in refrigeration. It is 24 inches including the panel, so the refrigerator is designed to be completely hidden behind cabinets. In a regular or professional, the unit is 24 inches PLUS the door. In essence, it is opposite to the more in your face professional counter depths. You can buy integrated in columns; 18, 24, 27 and 30 inches of all refrigerator and freezer or choose the regular 27 and 36 inch combination units. Integrated columns allow flexibility for placing refrigerators and/or freezers in different areas.
Thermador, Bosch, Miele and Gaggenau are all manufactured in the same factory and were early pioneers of columns, but Sub-Zero has really compelling products as well. They aren't cheap with prices approaching and sometimes exceeding a professional refrigerator depending on the combination. Prices start at $6,399.99 to $8,999. Liebherr is a less expensive option at roughly $5,000-$5500
Choosing the right counter depth refrigerator is first about budget with the regular unit being much less expensive. Then, style becomes a factor. Do you want your refrigerator the focal point or hidden?
The choice is yours.