A professional range is aesthetically similar to a restaurant range with high output burners, but is insulated and rated for home use. You do not have to worry about special sprinkler and venting systems like you would with a commercial range installation. A Pro is also warm to the touch and you and your kids will not scald your hands by touching the door unlike a commercial range.
Updated November 2013
That being said it does cost more to purchase a professional range. Almost all professional ranges have a few similarities like...
Convection: Fan forced heat to maintain an even temperature.
High Output Burners: BTU output ranges from very hot at 15,000 to an inferno-like 22,000 BTU.
Simmer: Low temperature output for sauces and soups. Thermador is the lowest, but it is intermittent. Wolf and Viking maintain temperature more evenly.
Now lets look at the unique specs of each range. We will use dual fuel 48". 30" and 36" ranges have similar features just smaller profiles.
Wolf DF486 Professional Range: Wolf is the only company offering twin convection in the main oven, which allows for more precise cooking. Wolf also simmers extremely well with each burner maintaining a constant simmer of 500 BTU. The top is available with more combinations like an infrared grill and french top as well as a griddle. Buy a Sub-Zero with a Wolf and receive a $1000 rebate (and $250 for every additional Wolf product, up to $2,500 total).
Wolf: Best simmer control on all the burners, twin convection in the main oven for better distribution of heat and the best indoor (infra-red grill).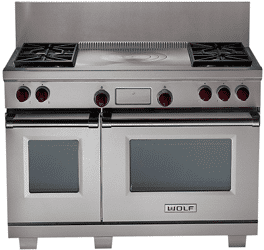 Thermador PRD48JDSGU Professional Range: Thermador has really changed this industry in terms of features with a steam oven and warming drawer standard on their 48" range. Steam is the most healthy way to cook, as it injects moisture so the nutrients are not baked out like traditional ovens (subscribe to our cooking newsletter if you want to be invited for a steam oven demo).
The Thermador Harmony also adds a warming drawer, which can maintain food without dehydration for up to three hours. The top has a powerful 22,000 BTU burner and two burners with ultra low simmers of 200 BTUs. Thermador offers rebates of free dishwashers and hoods with purchase of a stove and refrigerator.
Thermador: 2 great simmer burners, 22,000 BTU burner, steam oven and warming drawer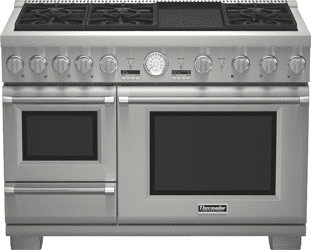 Viking VDSC4856GSS Professional Range: The original professional range has been improved with an 18,000 BTU burner and improved simmering on every burner. Viking is also available in every color of the rainbow. Viking was acquired by Middleby in 2013.
Viking: Still a great name, ability to design with color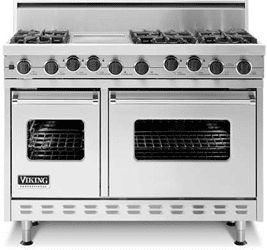 Jenn-Air JDRP548WP Professional Range: The retooled Jenn-Air is a very interesting range with two 20,000 BTU burners and state of the art controls. The JDRP548WP has a LCD screen for clock, timer and "doneness" control. The griddle is infused (love that word) with chrome, so it is much easier to clean. Jenn-Air has rebates and a free dishwasher with the purchase of the range. Jenn-Air does not offer a grill in their pro range line.
Jenn-Air: Great overall value: 2 20,000 BTUs, best griddle, twin convection and best controls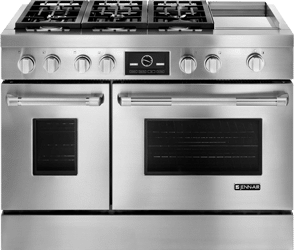 Best 48 inch Professional Gas Range
Which one is best? That depends (doesn't it always). Wolf and Jenn-Air have twin convection in the main oven for better heat distribution especially for baking, but Wolf has the most cooking cycles like proofing and dehydrate. Thermador has the lowest simmer on two burners, but Wolf has the lowest consistent simmer on all the burners at 500 BTU. Wolf also has the best grill, because it is infra-red.
Thermador has a steam oven and a warming drawer whereas all the others have just an oven. I really the steam oven (if you use it) and the warming drawer is great for two working parents or cooks. Jenn-Air, however, should be considered for power and overall value.
So no clear winner...what do you think?
Related Articles
Additional Resources
Download the Yale Pro Cooking Buyers Guide with specs, features, BTU outputs of every range annd insider buying tips. Well over 25,000 people have read a Yale Guide.
For an invitation to a private chef cooking demonstration sign up for our Cooking Newsletter.