Buying 33 inch refrigerators is tough due to a dearth of available products. In fact, it is the toughest product to find for such a common specification (you are probably looking right now). There are only three. We will look each and the whole counter depth segment.
Counter Depth vs. Professional vs. Integrated
To review, a counter depth refrigerator does not protrude from the cabinet except for the doors and handles.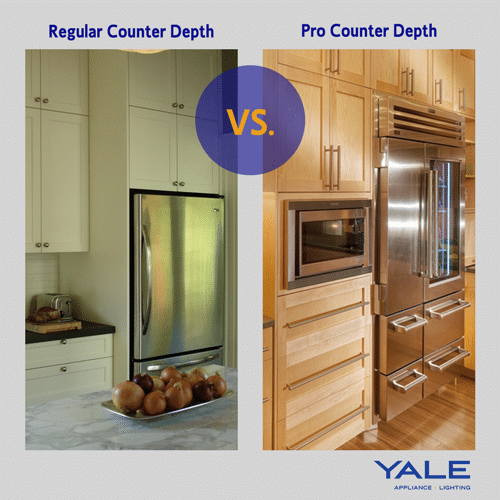 A professional counter depth like Sub-Zero or Viking is similar, but has the compressor on the top. An integrated counter depth refrigerator does not protrude from the cabinets including the doors.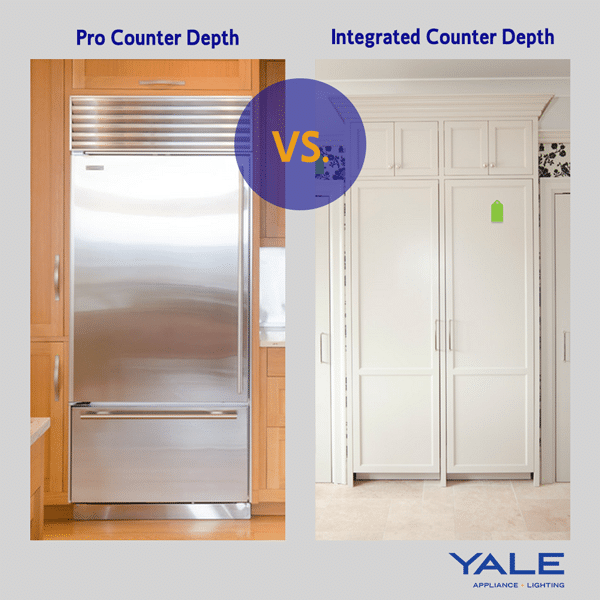 Appliances are manufactured to fit within cabinets. For example, dishwashers are 24 inches wide to fit a 24 inch cabinet. Stoves are most commonly 30 inch to fit a (you guessed it) 30 inch cabinets. Appliances are pretty standard in that regard. You do not see a 22 inch dishwasher or 32 inch stove.
For refrigerators, the most standard and popular cabinets are 30 and 36 inch, followed by 33 inch. Every manufacturer markets several 36 inch products in counter depth. It is by far the most popular size. In 30 inch only the professional companies produce a counter depth.
For 33 inch, only three companies currently offer a 33 inch counter depth refrigerator.
33 Inch Counter Depth Refrigerators
Samsung RF18HFENB

(only available in stainless steel)

Fisher & Paykel RF170WDRUX5

Electrolux RF170WDRUX5
Samsung RF197ACRS $1499: Samsung is the largest at 20 cubic foot. Remember, counter depth has less cubic foot due to less depth. Options in this series include just stainless steel.

Fisher & Paykel RF175WDRUX5 $2139: Fisher & Paykel is a New Zealand company known for baby incubators and a double drawer dishwasher (same concept, I guess). Currently, they have the only water through the door models and have a gaggle of these types of refrigerators at the same price just with different door aesthetics.

RF170ADUSX4 $2299: The RF170A series come in a French door with a bottom freezer.
E522BRXU5 $1899: The E522B series come in a standard door with a side swing bottom freezer.
Fisher & Paykel models listed above are with ice and water on the door, however all series have the option of no ice and water, or with the dispenser on the door.
Electrolux EI32AR80QS $2349: Then, there is this inexplicable product. The Electrolux is an all refrigerator or all freezer unit. These are designed to look more like a professional built-in column, as you would typically have a refrigerator and freezer side by side. Since a 33 inch counter depth is typically purchased for a small kitchen, that's not a popular option. You can also buy a cheaper version in Frigidaire.
Which Do I Choose?
Well the options are sparse to say the least. Samsung makes the most sense until there is an issue. Fisher & Paykel is the best looking, and there are a number of different styles with and without water.
Electrolux and its cheaper cousin Frigidaire are good if you have an island. You can always add a small under cabinet unit for extra space.
Related Articles

Additional Resources
Get The Yale Counter Depth Buyers Guide with features, specs of counter depth, professional counter depth and integrated refrigerators as well as inside tips to all the brands. Well over 85,000 people have read a Yale Guide