Yale Corporate Chef Saba Wahid Wins Chopped
May 13th, 2021 | 8 min. read
By Saba Wahid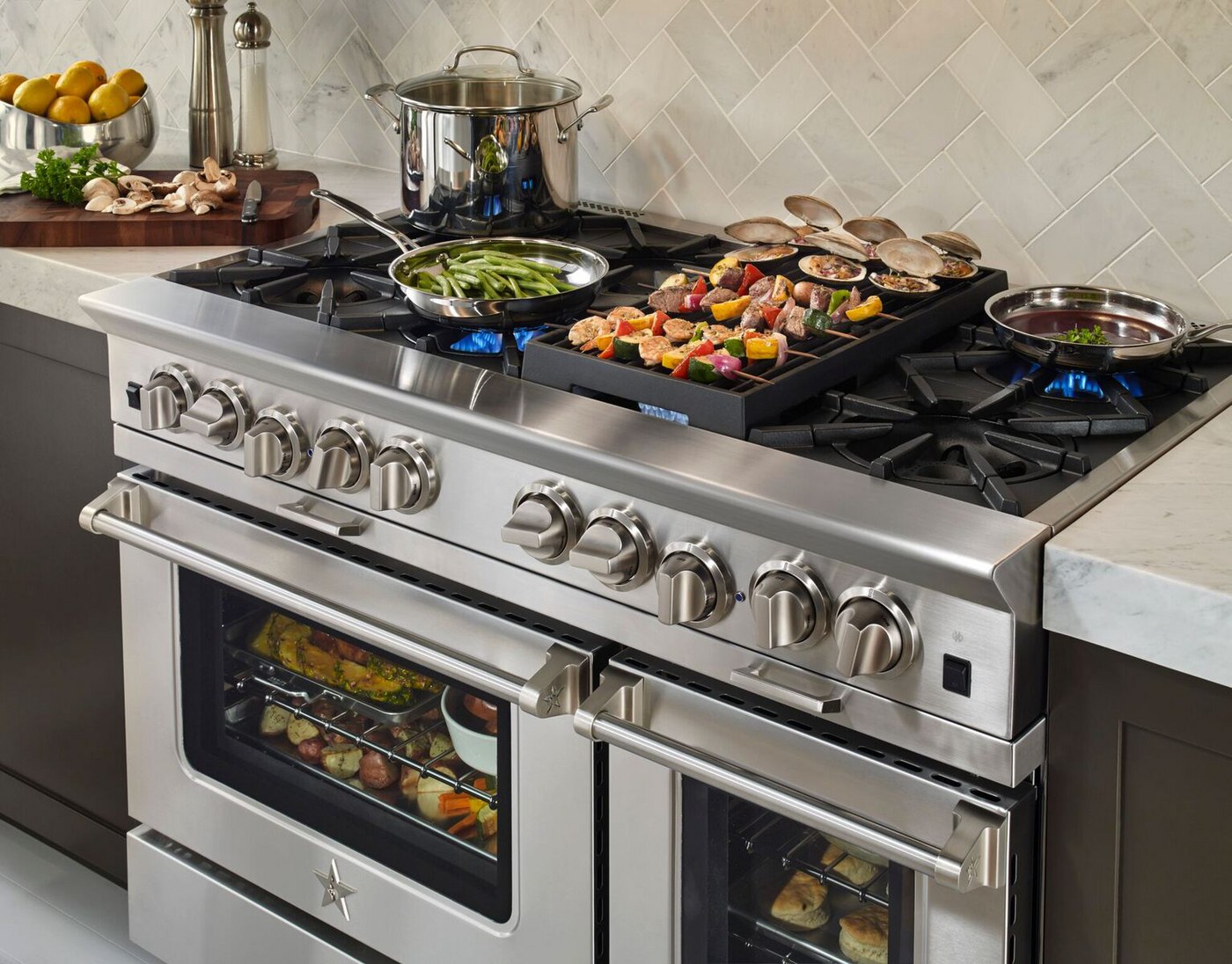 Editor's Note: Saba has been our chef for the last three years. We have had a company chef for about 15 years.
People are always surprised to learn we have a company chef. Sales and marketing can give you features, benefits, and reliability ratings.
You still have to use it once the unit is installed. Most newer cooking technology like steam, speed, and Smart cooking is new.
We wanted to have someone dedicated to helping you with that learning curve.
One of my first encounters with Saba was after one of her cooking demos. It was a lentil dish with six other ingredients that I wouldn't normally associate with really anything.
It was spectacular. Great food is about combining different flavors, savory and sweet for something remarkable.
It was no surprise to me that she won this year's Chopped.
We will be rolling out promotions with free cooking lessons with Saba when you use the Yale Card with qualifying products.
Who better to teach than a Chopped Grand Champion?
Yale Corporate Chef Saba Wahid Wins Chopped
My world has always been surrounded by food at home and professionally. Having worked in restaurants straight out of college, I always knew this was my calling.
Once I decided to make a career out of it, everything seemed to fall into place. It hasn't been an easy road, though, because I felt I constantly had to prove myself over and over to validate my career choice.
Winning Chopped and earning the title of Grand Chopped Champion has been the ultimate validation.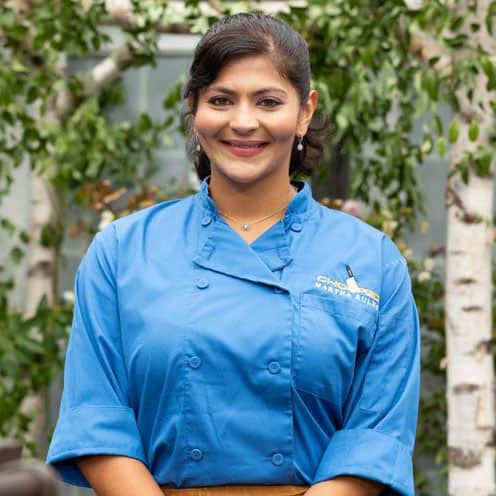 Yale Appliance Corporate Chef Saba Wahid
Competitive cooking is difficult. It's not always about cooking your food but about "playing the game."
Like any other competition, there are rules and restrictions, along with additional twists and turns that keep you on your toes and require you to pivot in a high-pressure scenario.
This is an entirely different skillset from just cooking!
Time management has always been a forte, and I typically work well under pressure. But the combination of cooking with time limits on national TV under the watchful eye of Martha Stewart, Marcus Samuelson, and Marc Murphy is not where I thought I would be applying these skills!
I was shocked when I got a message from the casting company about competing back in June 2020. I wasn't taking it very seriously, especially since I wasn't working at the time (furloughed due to COVID-19 restrictions) and was occupied at home taking care of my six-month-old baby.
I went through the whole casting process with several skype interviews, phone calls, and applications. A few weeks later, in mid-July, I received confirmation that I was cast!
At this point, I had to go with it.
From the moment I decided I would compete in the special Chopped: Martha Rules series on Food Network, I started intense training at home. My husband would pick up random ingredients on his way home from work, and we then had a timed mock competition almost every evening leading up to the competition.
We watched every episode of Chopped we could find to understand how the game was played and what the judge's expectations were. What it always came down to was highlighting the basket ingredients and making it taste good.
They were sometimes lenient with the presentation, as long as the flavors were there.
Once I understood the formula and had a decent amount of training under my belt, I felt mentally and physically prepared.
I had no idea what to expect from the competition, but I was going in with a positive attitude and determination.
The following are my winning chopped dishes from the first round to the grand finale. I hope you enjoy it.
Winning Chopped Dishes: First Round
Mystery Basket Appetizer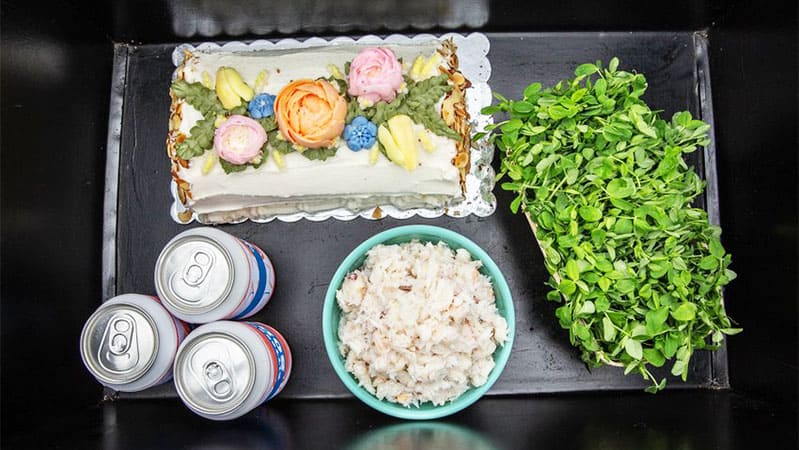 Peekytoe Crab, Garden Party Cake, Pea Tendrils, and Bittersweet Soda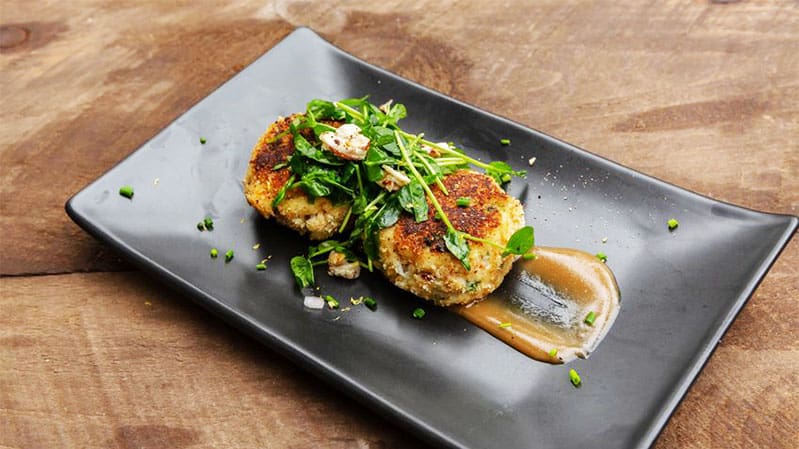 Round One Appetizer by Chef Saba Wahid
I immediately thought of making crab cakes in the appetizer round when I saw the Peekytoe crab meat.
I incorporated my signature flavor and spices and allowed the crab meat to shine by using minimal breadcrumbs.
I reduced the bittersweet soda down and used the icing from the garden party cake to help offset the bitterness.
I noticed the bittersweet soda reduction was still missing some savoriness, so I added in some tahini, then brightened it up with the lemon.
Martha Stewart tasted this sauce and loved it!
Lastly, I made a quick salad to serve on top of my crab cakes. Initially, I wanted to pair the pea tendrils with some frisée but noticed another chef had grabbed the frisée.
All I had to work with was spinach, so I grabbed that and created a chiffonade which I paired with the pea tendrils, and tossed everything in a lemony vinaigrette.
I was able to use the BlueStar range and gently fry off my crab cake patties. Working at Yale Appliance has its advantages.
Then I used the power burner on the BlueStar range to quickly reduce the bittersweet soda.
The dish came together beautifully and got me through to the next round.
Since another competitor also made crab cakes, they had to automatically compare our crab cakes against one another.
Mystery Basket Entrée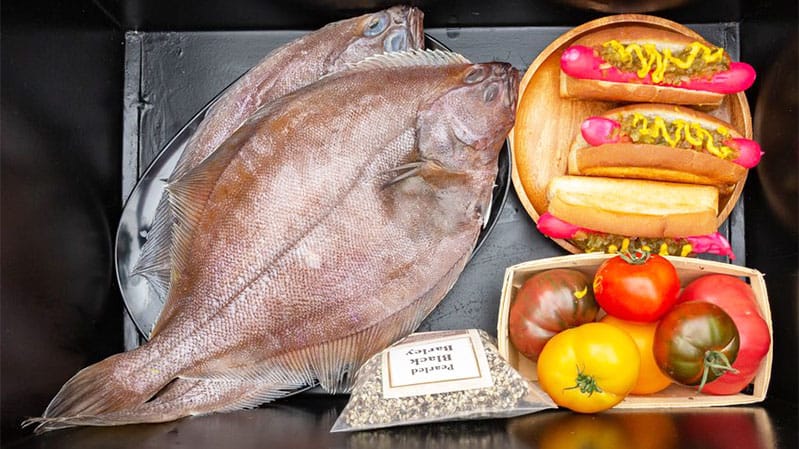 Red Snapper Hot Dog, Whole Fresh Flounder, Heirloom Tomatoes, and Pearled
Black Barley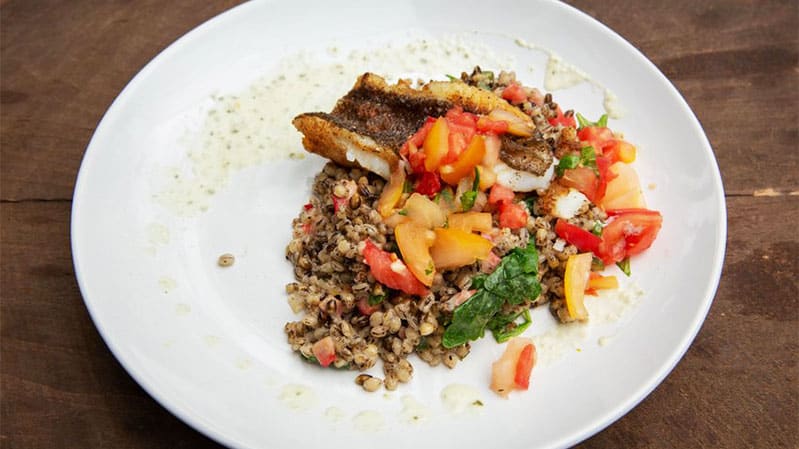 Round One Entrée by Chef Saba Wahid
The entrée round was a bit more challenging.
Several items were time-consuming, such as the black pearled barley and breaking down the whole fresh flounder.
I started by cooking the pearled black barley because I know it will take at least 25 minutes to tenderize.
I used some of the water that was already boiling on the stovetop, and combined it with the barley along with some aromatics,
Then reduced the heat down to a simmer, allowing the barley to cook slowly.
I then started breaking down the flounder, which proved to be a daunting task.
On top of that, Martha Stewart was standing over my shoulder and watching my every move.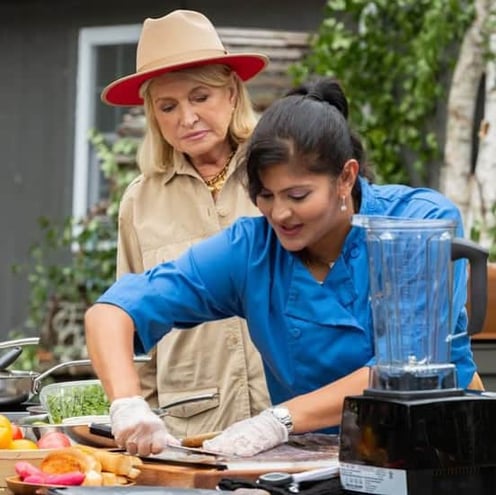 Once I had broken down the fish, I seasoned it with some spices and began to sear it, skin side down in the pan.
Next, I started on the red snapper hot dog, which I chopped up very small, and began to sauté with some shallots and jalapeno in olive oil.
Once the vegetables had cooked, I added a touch of cream to round out the flavors and bring some depth to the dish.
After the barley was cooked, I added it to the cream, shallot, and jalapeno sauce, along with some fresh arugula, plus salt and pepper.
Lastly, I had these beautiful heirloom tomatoes, which I wanted to keep the integrity of as much as possible.
I decided to go with a fresh tomato salsa with basil, garlic, olive oil, salt, and pepper and placed this on top of seared flounder and barley.
I also created a quick sauce to drizzle on top to reduce the cream and pickles from the red snapper hot dog.
Mystery Basket Dessert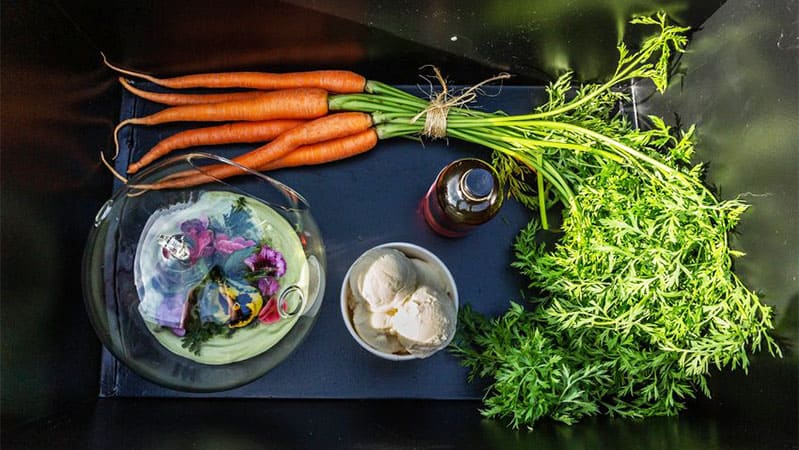 Fresh Carrots, Match Green Tea Garden Terrarium, Sweet and Salty Ice Cream, and
Maple Syrup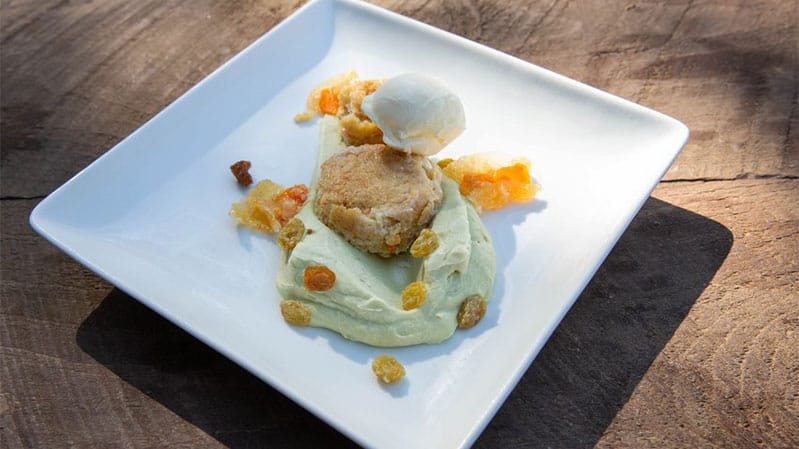 Round One Dessert by Chef Saba Wahid
As soon as I saw the carrots, I decided to make a carrot cake.
I knew it would take at least 23-26 minutes to bake the carrot cake in the oven.
I put the maple syrup into the cake batter, along with the melted sweet and salty cream ice cream, which I used as a substitute for the milk.
Since I was using a familiar Bluestar Platinum convection range, I had an advantage.
There was a separate switch on the side to turn the convection on. I immediately switched it on and threw my cake in the oven.
This decision cooked my cake faster and more evenly, and additionally, I did not open the oven door multiple times to check on it.
It's a mistake a lot of chefs make in the Chopped kitchen.
Next, I took the matcha terrarium and combined it with some mascarpone and cardamom.
This added a little body to the pudding and allowed for a silky texture based on the plate.
With 6 minutes left on the clock, I had a white chocolate ganache in the works but still hadn't quite utilized the sweet and salty cream ice cream.
I decided to combine the white chocolate ganache with the sweet and salty cream ice cream to make a "cold" ice cream base in the ice cream machine.
I was informed earlier by the crew that the ice cream machine could churn cold liquids in 4 minutes, so I went for it!
I also had some candied carrots in the works, which were slowly crystallizing in the sugar, which I would use as my garnish.
With 2 minutes left on the clock, I checked on my cake, and it was done.
I used a ring mold to cut out two round pieces of the cake and quickly plated that along with the Matcha Terrarium cardamom mascarpone cream.
With 1 minute left, I ran to the ice cream machine and luckily had a beautiful ice cream that had set.
I ran back to my station and, with 30 seconds left, scooped the ice cream onto the plates, sprinkled some golden raisins, and that was the end of the dessert round.
Winning Chopped Dishes: Grand Finale
Mystery Basket Appetizer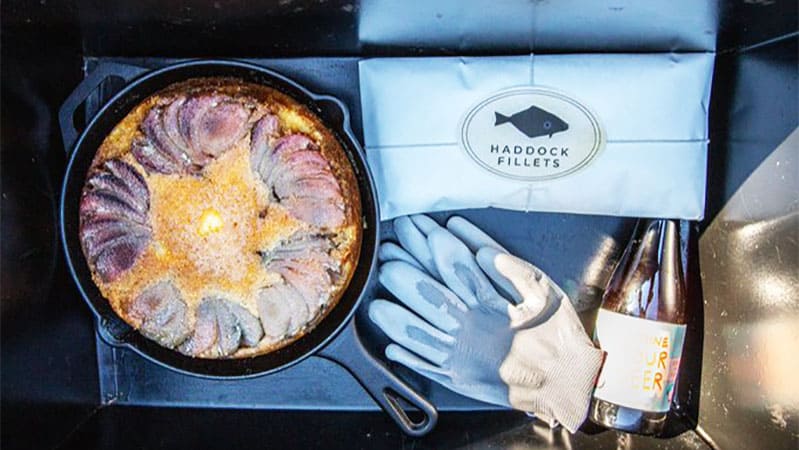 Plum and Pear Skillet Cornbread Cake with Haddock Fillets, Sour Beer, and Gardening Gloves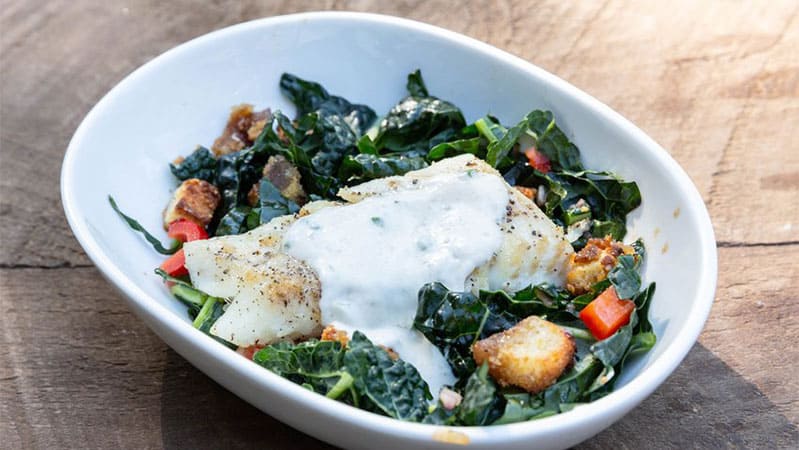 Grand Finale Appetizer by Chef Saba Wahid
This was the first round of the finale, and we started with a twist! Normally there are four mystery ingredients in the basket, but this time we found three, plus a pair of gardening gloves.
Martha Stewart informed us we had to forage for our final ingredient in the local garden. This was an unexpected and time-consuming task!
They did not give us any extra time, and we're still expected to make the whole appetizer, including the foraging, in 20 minutes.
The pressure to finish this dish was high in this round, so I decided to go with a salad. In retrospect, I wish I had done something more with the kale, but at the time, with the clock ticking, it was an executive decision I had to make.
For this dish, I made a chiffonade of kale and paired it with roasted red pepper, which I made on the direct flame of the BlueStar range.
I used the Sour Beer to make a dressing and croutons out of the skillet cake, which was baked in the convection oven.
The Haddock was dusted with some light spices and then pan-seared in a hot pan. I then topped the salad with a creamy yogurt sauce to round out all the flavors in the dish.
This round was difficult for all the competitors, and the judges were pretty harsh with all of their commentary.
They didn't say anything great about any of the dishes, but they said the least bad things about mine, which made me feel somewhat safe.
Mystery Basket Entrée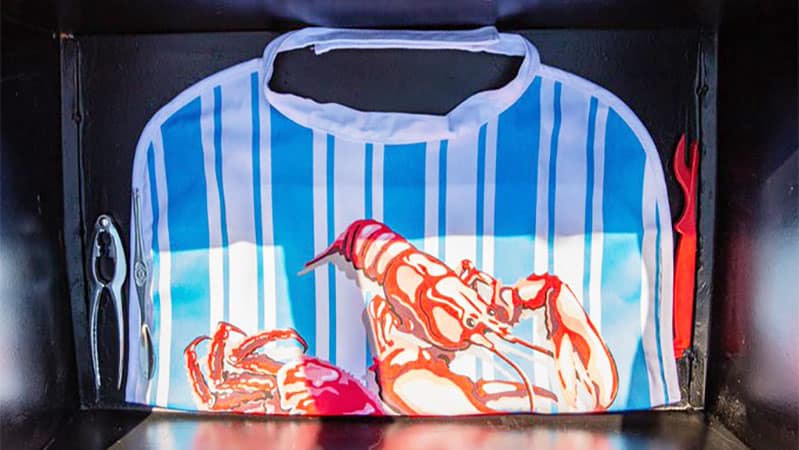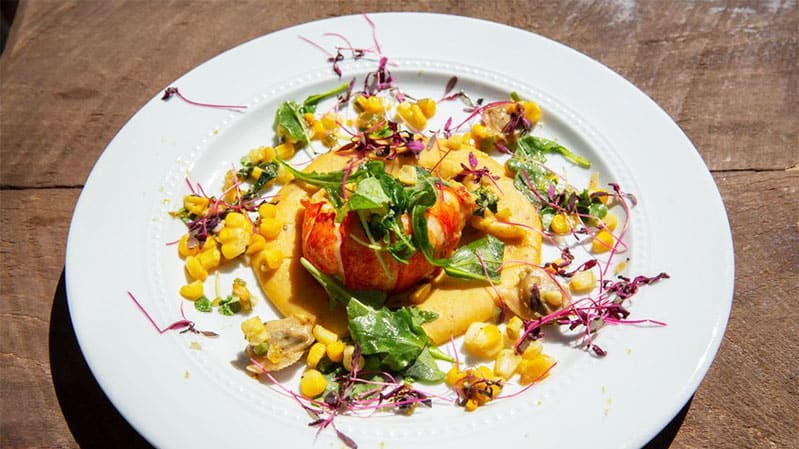 Grand Finale Entrée by Chef Saba Wahid
This was my favorite challenge! Although it was tricky to utilize food that was already cooked, I enjoyed pairing the ingredients with flavors that were close to my heart!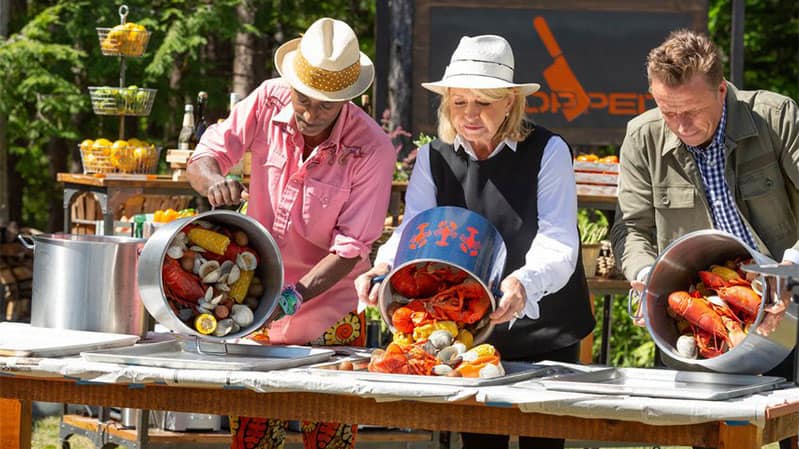 Lobster Bake Ingredients from Marcus Samuelson, Martha Stewart, and Mark Murphy
As soon as I saw the lobster, I knew it would pair beautifully with spiced lentils, and I was also able to incorporate the corn into the lentil puree for more depth of flavor.
I lightly sauteed the little neck clams with a corn and jalapenos succotash. I lightly poached the lobster in butter and spices to infuse the flavor but not overcook it.
Everything came together beautifully, and I was proud to represent my style of cooking. The lentil recipe I had adapted from my mother's and took it to the next level. This dish wowed the judges.
Mystery Basket Dessert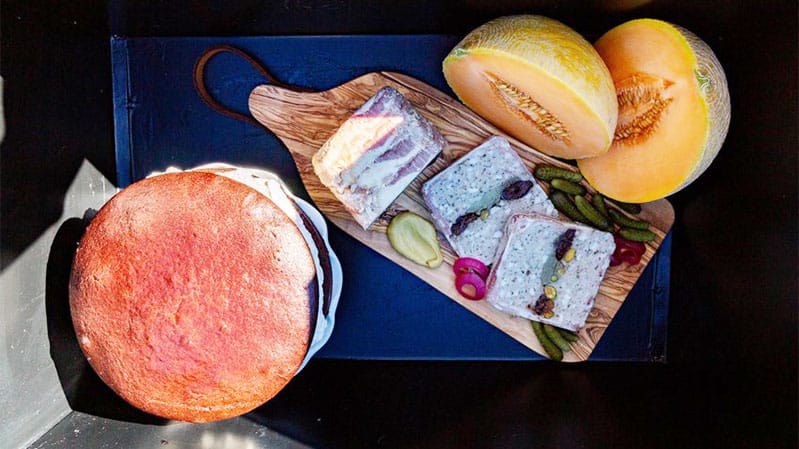 Giant Whoopie Pie, Pork and Liver Terrine, Divergent Melon, and Fresh Cow's Milk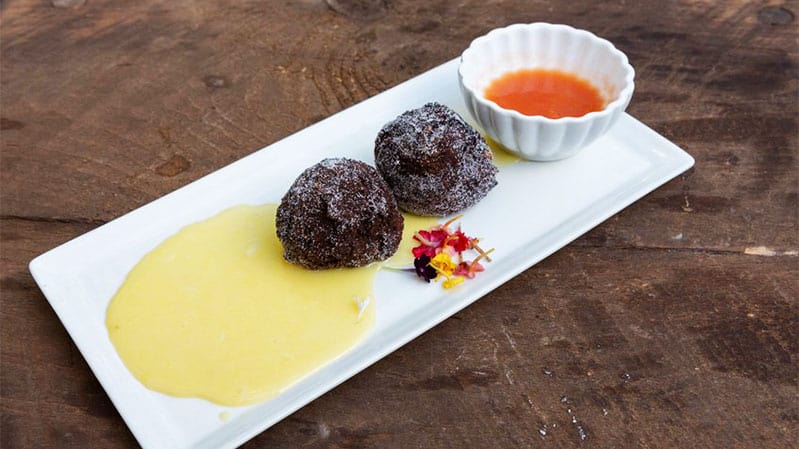 Grand Finale Dessert by Chef Saba Wahid
This was another challenging round, which kept everyone at the edge of their seats!
We opened our dessert baskets, only to find three mystery ingredients. The fourth ingredient was another of Martha's twists!
We were required to go and milk a real cow for fresh milk (we used pasteurized milk to cook with, though), and only once we completed this task were we able to start making our desserts.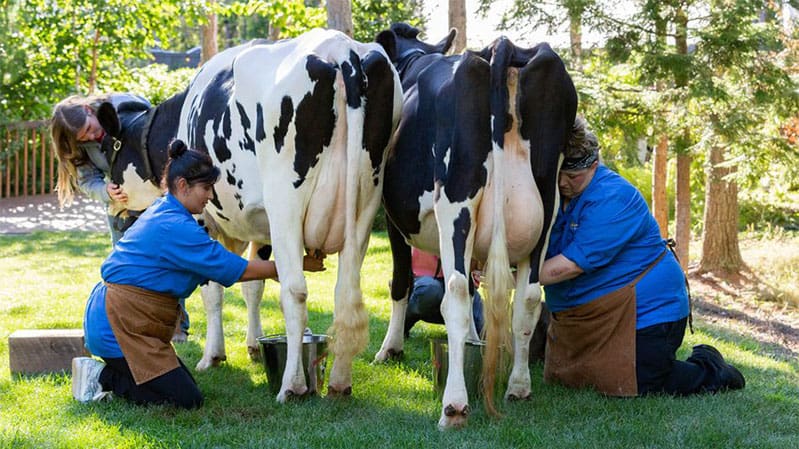 Chef Saba Wahid Milks a Cow for Chopped's Dessert Finale
I used the Fresh Milk to make a Cremeux, a pudding-like dessert. It really allowed the milk to shine. I then used the Giant Whoopie pie and the bacon from the terrine (which I crisped up separately) and the fresh milk to make a fritter.
I had to work the batter a little but ended up with the perfect texture!
The melon was the last challenge, and many people would be surprised to learn that I hate melon! I find them to be very sweet, and I prefer somewhat tart and even bitter fruits.
I decided to pair the melon with raspberries to counter the sweetness and turn it into a puree. That was not my original plan, but it was the only move I had left at that stage in the game.
I wish I could have done more with this dish, but I did the best I could with time restrictions and cow milking. I was exhausted by the end, and as soon as they called time, I burst out crying. I was crying happy tears because it was over, but also because I missed my baby so much!
It was a small sacrifice to make for this huge career milestone!
Final Thoughts
I'm so lucky to have had this opportunity, and I feel like I can be a better chef with people like Martha Stewart, Marcus Samuelson, and Mark Murphy backing me up!
I had to take a non-traditional path to pursue my dream career, but that just proves that anything is possible when you put your mind to it. If there is something that you are passionate about, hard work, determination, and perseverance will prevail!
Additional Resources
Have questions on appliances? Read the Yale Appliance Buying Guide with the 10 most frequently asked questions, the best time to buy appliances as well as detailed profiles of all the brands. Well over 820,000 people have read a Yale Guide.
Related Articles:
Why Should You Trust Us?
It seems that every appliance review has nothing but glowing comments about almost every product, yet you read customer reviews and they are almost universally bad.
We are here to fill in the disconnect. We'll give you the best features, and the drawbacks as well, including reliability based on over 37,000 calls performed by our service team just last year. Our goal is to give you ALL the information so you know what's right for you.
Please consider subscribing or adding to the conversation in the comments below. We appreciate you stopping by.
Saba is the resident Chef at Yale. She will teach you how to use your new oven, cooktop, or range. She is skilled in every new feature, including steam, induction, convection of all types, air frying, and sous vide. Saba is also the reigning Chopped Grand Champion crowned by Martha Stewart herself. Saba is incredibly versatile with all different types of cuisine. After just one session with her, you will be a better chef.

Saba has also been featured in numerous publications such as Mashed, Eater Boston, the Boston Herald, and the Framingham SOURCE.
A Note About Pricing
Pricing on this blog is for reference only and may include time sensitive rebates. We make every attempt to provide accurate pricing at time of publishing. Please call the stores for most accurate price.