Should You Buy a Gaggenau Steam Oven? (Reviews / Ratings / Prices)
Gaggenau products are synonymous with luxury, quality, and elegance.
The Gaggenau combi-steam oven was one of the first to hit the residential market almost 20 years ago.
It still maintains this solid reputation with its precision controls and near-perfect food results.
Gaggenau appliances are made in Germany, and although they are one of the most expensive appliance brands on the market, they claim to have a 20-year lifespan, which is more than most appliance brands.
Not only are Gaggenau's steam ovens aesthetically stunning, but they deliver consistent results due to the variety of cooking modes and technology.
So is the price tag worth the investment for this steam oven?
I will review the various modes of Gaggenau's combi-steam oven, discuss my cooking tests, and list the pros and cons.
For this article, I will be referring to the 30" plumbed Gaggenau 400 Series combi-steam oven, the BS485612, which retails for around $9,899.
Short on time? Get our free Speed + Steam Oven Buying Guide
Gaggenau 400 Series Combi-Steam Oven Review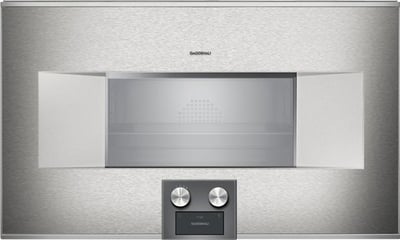 Let's start with the best features of a Gaggenau steam oven: technology and aesthetics.
This Gaggenau combi-steam oven is only available as a plumbed unit. You can order it with a left or right swinging door.
They are also available in either 24" or 30" sizes, but the internal cavity will be the same for both.
The 30" combi-steam oven is meant to sit above and in line with a 30" wall oven.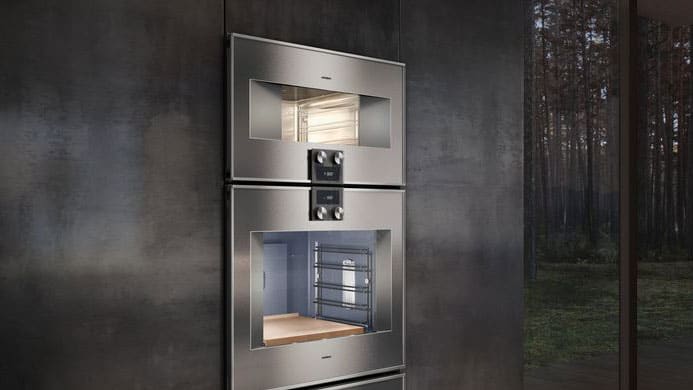 Gaggenau 30-Inch Steam Oven Installed Over a Wall Oven
It is a statement piece in the kitchen but also delivers quality food consistently.
This high-end steam oven is the only steam oven that offers a self-clean mode. Descaling has to be done separately using a tablet instead of a cartridge.
The required cartridge transforms your steam oven into an efficient cleaning machine with a "good as new" inside during self-cleaning. It operates similarly to a dishwasher.
The drain is also a key feature for those who are concerned about cleaning.
Gaggenau's steam oven also offers a full surface grill and broiler, which sits behind a ceramic glass plate.
You can use the broiler on its own or combined with humidity to quickly tenderize foods as they brown on the outside.
The Gaggenau glass oven door is glazed and thermally coated four times over, making it extremely insulated and comfortable to touch even when the oven is operating at high temperatures.
Combi-Steam Oven Modes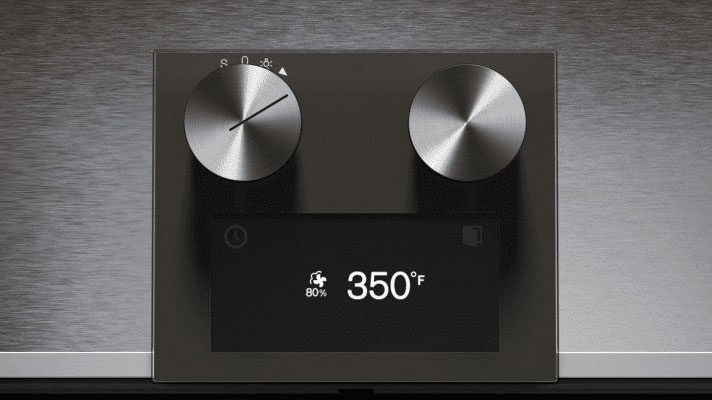 Gaggenau Steam Oven Controls
There are various cooking modes available with this oven, but listed below are the basic combi-steam modes and recommendations for each one.
Gaggenau Combi-Steam Oven Modes:
100% Humidity - Steaming Low Temps
80% Humidity - Braising 300 F-340 F
60% Humidity - Roasting 300 F-350 F
30% Humidity - Baking
0% Humidity - Finishing at Higher Temperatures
This Gaggenau combi-steam oven also offers a sous vide mode. This was one of the first combi-steam ovens that you could program in 1-degree increments.
Gaggenau Steam Oven Cooking Tests
Since this was one of the first ovens to introduce the method of sous vide cooking in steam ovens, I was able to test various things here and then try them out in our other combi-steam ovens.
You can watch the video about sous vide cooking using the Gaggenau combi-steam oven!
My second test was with custards, both savory and sweet, and they cooked to perfection.
The key to perfect consistency is understanding your oven temperatures for each protein or what you want your result to be.
When using the steam oven as a bain-marie, it's important to wrap your foods items in plastic wrap or foil so the condensation in the oven does not compromise the texture of the final dish.
The savory custards require about an hour to an hour and a half to be fully set. It might seem like a long time, but it's time you can spend doing other tasks.
Additionally, the oven is also very forgiving when steaming. You would rarely have anything overcooked or dried out if it spent a couple of extra minutes in the oven.
My Pot De Cremes (sweet pudding and custard) also came out flawlessly. It's the same method I used for the savory custard and took about the same amount of time.
I have also done the standard cooking test with grains, vegetables, and proteins on full steam and achieved satisfactory results in line with other steam ovens.
One of Gaggenau's unique features is the Broil with Humidity mode with two broiling levels to choose from.
With this mode, I tested out some small halved Brussels sprouts at humidity level two on high.
In about 12 minutes, I was able to beautifully tenderize the inside of the Brussels sprouts while the outside crisped up and browned.
This mode would be ideal for denser vegetables and proteins since it uses two different heating sources to cook your food.
This can also be used as a fantastic finishing mode to crisp up some chicken skin roasted in Combi Steam mode without drying it out.
Gaggenau Steam Oven Problems
Even this beautiful high-tech oven will have some problems that arise, but Gaggeanu does claim a 20-year life span on their products.
Through my research, I have found that if the exit or waistline is not at least four inches below the exit port, you will receive an error message. I have not come across this issue because it sounds like an install issue.
If this is being used as a secondary "specialty" oven, there won't be any issues regarding capacity.
However, if you are looking for a single oven solution in your kitchen due to lack of space, you might want to consider the Miele XXL or Thermador steam ovens.
How Does the Gaggenau Steam Oven Compare to Other Steam Ovens?
First, the Gaggenau combi-steam oven is more expensive than a Miele, Wolf, or Thermador steam oven by a few thousand.
However, Gaggenau has better options to control the steam. It has a unique aesthetic.
Miele has similar features with more intuitive control.
It may have the most robust functions compared to other steam ovens, but I would only recommend this oven for a real culinary enthusiast.
Read More: Gaggenau vs. Miele Steam Ovens
Should You Buy a Gaggenau Steam Oven?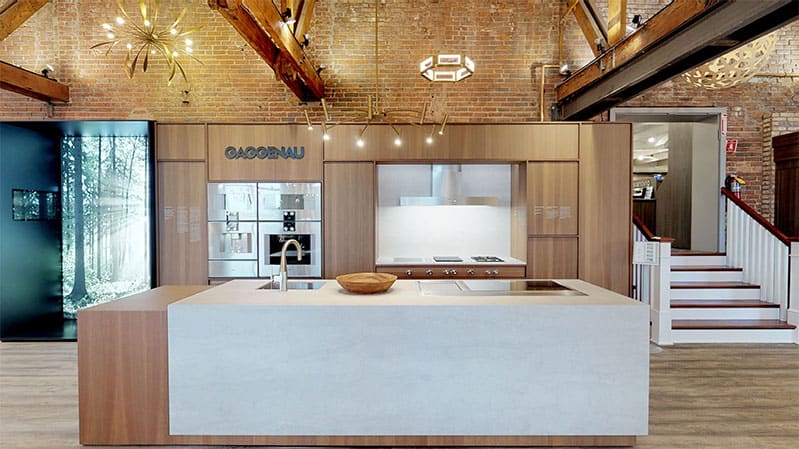 Gaggenau Kitchen Appliances at Yale Appliance in Boston
It truly depends on your cooking preferences and lifestyle.
If you appreciate precision when cooking and achieving perfect results, then you should consider a Gaggenau steam oven.
Yet, if you prefer to get your dinner on the table quickly and want a steam oven with basic oven functions, then the Gaggenau steam oven may not be right for you.
Not to mention, it's almost double the cost of other comparable steam ovens.
However, for the lifespan of 20 years, as Gaggenau claims, that price tag may be worth it.
Read More: Best Steam Ovens
Frequently Asked Questions
1. How much does a Gaggenau steam oven cost?
The Gaggenau steam oven costs $9,899.
2. What can you cook in a steam convection oven?
You can cook anything in the Gaggenau steam oven. The only limitation is size.
Read More: Everything You Can Cook in a Steam Oven
3. Can you reheat food in a steam oven?
Yes, you can reheat all sorts of foods in the Gaggenau steam oven. You would just select the mode depending on what you would like your result to be.
Read More: The Benefits of Cooking With Steam
Additional Resources
Get the Yale Speed and Steam Oven Guide with features, specs, and inside tips to all the steam and speed ovens like Wolf, JennAir, Thermador, Gaggenau, and more. Well over 1 million people have read a Yale Guide.
Related Articles:
Why Should You Trust Us?
It seems that every appliance review has nothing but glowing comments about almost every product, yet you read customer reviews and they are almost universally bad.
We are here to fill in the disconnect. We'll give you the best features, and the drawbacks as well, including reliability based on over 37,000 calls performed by our service team just last year. Our goal is to give you ALL the information so you know what's right for you.
Please consider subscribing or adding to the conversation in the comments below. We appreciate you stopping by.
Saba Wahid
Saba is the resident Chef at Yale. She will teach you how to use your new oven, cooktop, or range. She is skilled in every new feature, including steam, induction, convection of all types, air frying, and sous vide. Saba is also the reigning Chopped Grand Champion crowned by Martha Stewart herself. Saba is incredibly versatile with all different types of cuisine. After just one session with her, you will be a better chef.

Saba has also been featured in numerous publications such as Mashed, Eater Boston, the Boston Herald, and the Framingham SOURCE.
A Note About Pricing
Pricing on this blog is for reference only and may include time sensitive rebates. We make every attempt to provide accurate pricing at time of publishing. Please call the stores for most accurate price.