This Samsung refrigerator is the fourth most searched single product on our website.
You would think it would be a Bosch dishwasher, or an inexpensive washer or dryer but there are some real reasons behind the popularity.
It is a very good product in a niche category of 33" wide counter depth refrigeration.
So, we will look at the counter depth refrigerators, Samsung as a company and review the product itself to see if it is worth your consideration.
Short on time? Get our free Counter Depth Refrigerator Buying Guide with features and reviews of all the major brands »
Counter Depth Refrigerators
Counter depth refrigerators have become more popular because they do not protrude out of your cabinet and into the kitchen. Take a look: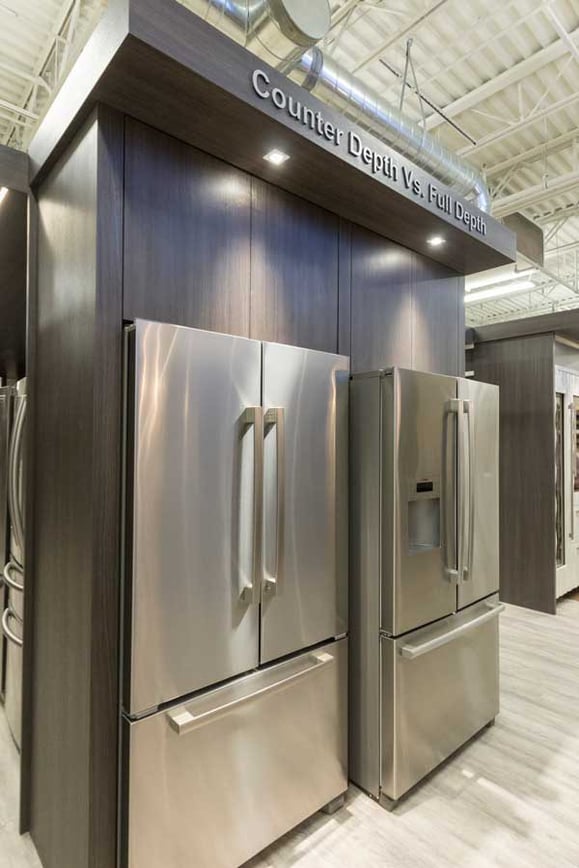 Display at our Framingham store
Most counter depths are offered in the popular 36" width. However, in many
kitchens, especially in the city, the cabinet sizes are the smaller 33" and 30" widths.
Samsung, GE and Fisher Paykel are the only companies marketing a 33" width counter depth refrigerator, so there are only a few viable options.
Samsung
Samsung was founded in South Korea in 1938 as a trading company. For about 30 years they expanded into textiles, insurance, retail, security, and also food processing. They didn't expand into the electronics business until the 1960's.
For many years they have been known for their electronics and cell phones. In the past decade Samsung has become a major player in the home appliance business.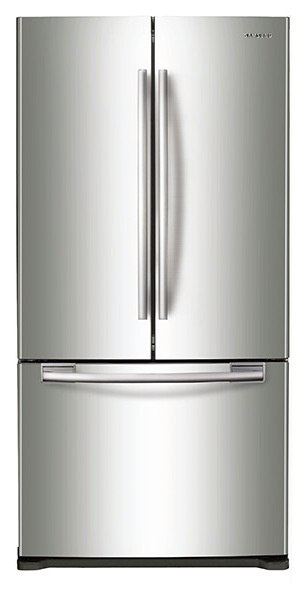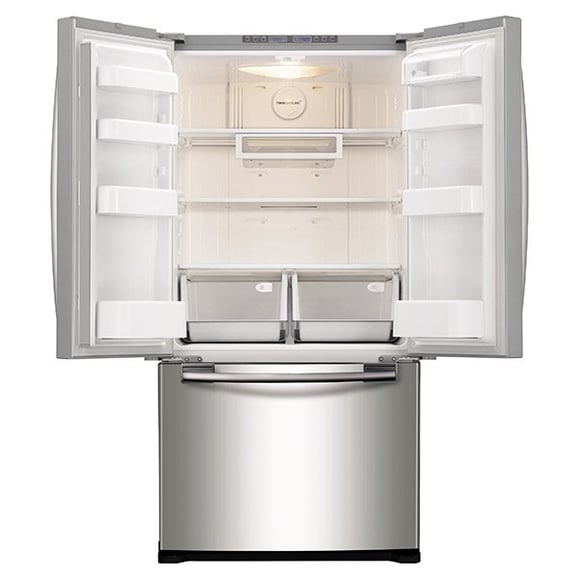 Features:
17.5 Cubic foot capacity
2 gallon storage bins on the door
LED lighting
Twin cooling system
Filtered ice maker in freezer
Power freeze and power cool options
Humidity controlled crispers
Digital temperature control
Highlights
This refrigerator has some nice features, like LED lighting. Also, the twin cooling systems do not allow the moist refrigerator air and the dry freezer air to mix, so there is less freezer burn. This also eliminates taste cross over between the refrigerator and freezer.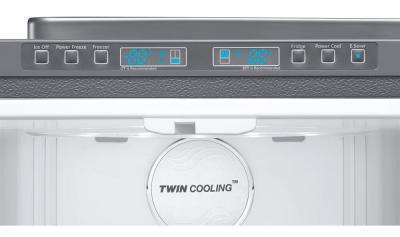 However, this refrigerator has two main benefits. The first is its 33" width, but most importantly, the price is only $1,249 (at this writing). GE and Fisher Paykel are $500 - $1,000 more.
Should You Buy?
Short answer: yes. It's a really good refrigerator at an unbelievably low price. The GE does have an external water dispenser, but it does costs more.
Word of Caution: Samsung is both new and incredibly successful. There are drawbacks in availability and service after the fact due to surging demand. In this case, the demand is warranted.
Additional Resources
Looking for more information on counter depth refrigerators? Get The Yale Counter Depth Buying Guide with features, specs and inside tips to all the brands. Over 120,000 people have read a Yale Guide.