36 Inch Side-by-Side Professional Counter Depth Refrigerators (Reviews)
Side-by-sides used to be the premium look in refrigeration, but much of the trend has shifted to bottom freezer French doors models. You have more refrigeration in a French door as well as lateral storage for odd shape casserole dishes.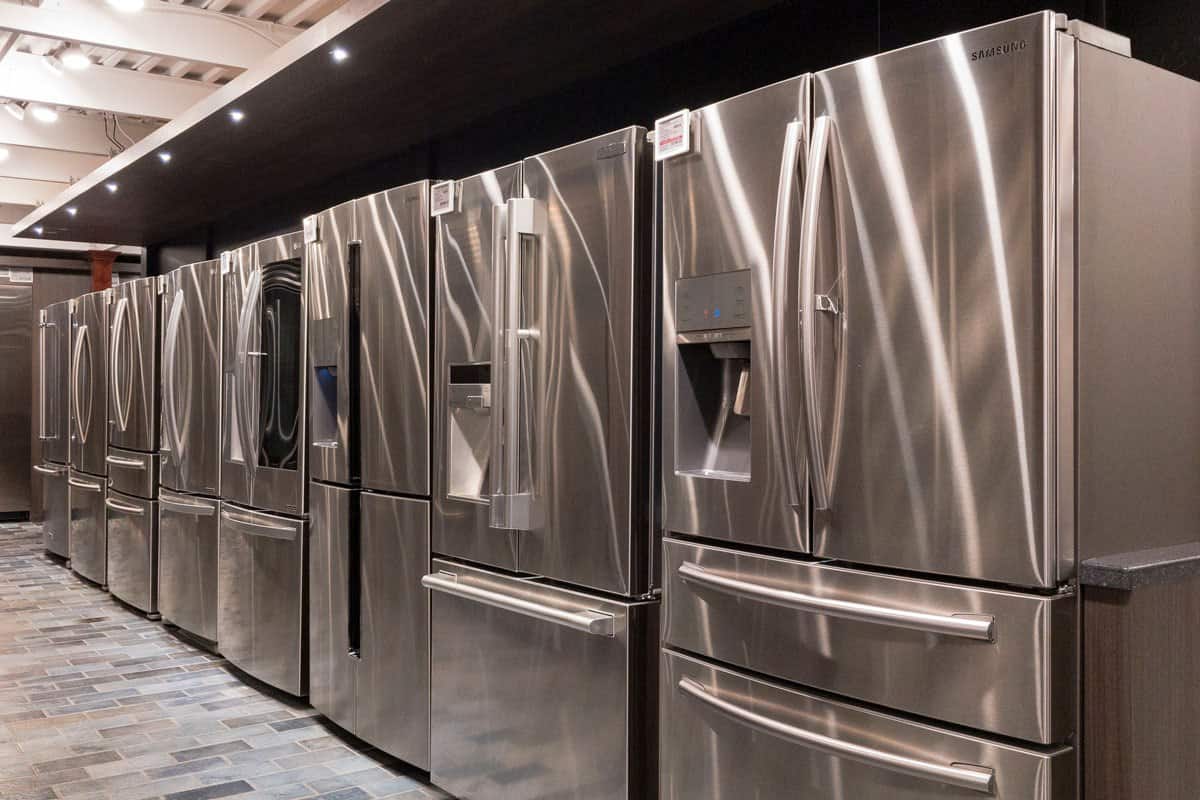 French Door Counter Depth Refrigerator Display at Yale Appliance + Lighting
Still, side-by-sides offer more freezer space and more organized storage. Side-by-sides are also available in the wider 42 and 48-inch widths, but 36 inches is still the most common.
There are not as many 36-inch-wide built-in side-by-side refrigerators. Only three major brands are available being Sub-Zero, KitchenAid, and GE Monogram (Viking, True, and Liebherr also have models but comprise a very small share of the market).
Let's take a look at the best 36-inch side-by-side professional counter depth refrigerators.
Sub-Zero
Sub-Zero is the pioneer in this category and is still the best so we will start with their 36" wide side by side.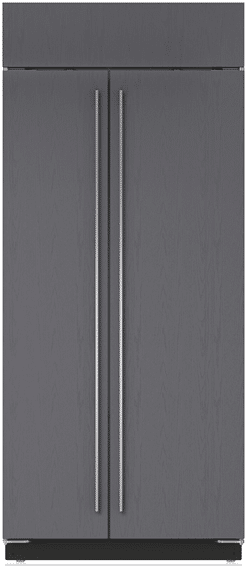 Sub-Zero Features:
Dual Refrigeration System: Two motors, one for the refrigerator and one for the freezer There is no sharing of air which keeps things fresher longer and no transfer of odors.
Air Purification System: Reduces odors, bacteria, viruses, and the ethylene gases given off by fruits and vegetables which cause premature ripening and spoilage.
Filtration System: Filters the water that supplies the icemaker
Adjustable shelves and easy close drawers
Sub-Zero is most known for creating a single unit refrigerator/freezer with two compressors.
One for the refrigerator side which means high humidity so that food like lettuce doesn't dry out and spoil.
The freezer has its own compressor with no humidity so that you don't get freezer burn and/or frost.
You also do not have the odors and tastes transferring from refrigerator to freezer like other units, so your frozen food will taste better. Think fresh fish in a single compressor unit. That taste and odor will transfer to your ice cream
Sub-Zero also features an air scrubber. This electronic cleaner "scrubs" the ethylene gasses off spoiling food to maintain freshness. It also eliminates cross-contamination to other foods, so they stay fresher as well
Their vacuum seal gasket, magnetic crispers are all designed to keep air out preserving the life of your food.
Sub-Zero
Short on time? Get our free Counter Depth Refrigerator Buying Guide
GE Monogram
For those looking for a lower price, there is GE Monogram. GE is widely sold through larger builders, but available in a few stores. Perhaps this might change under new parent company Haier.
To be transparent, we have not sold GE since 2013.
ZISS360DKSS Stainless Steel - $8,499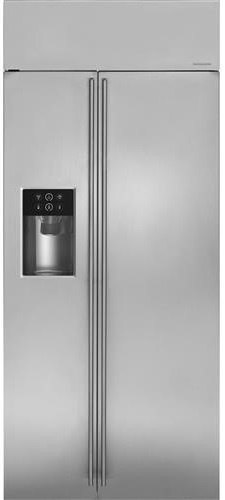 ZISB360DK Panel Ready - $7,499

GE Monogram Features:
Temperature Management System: provides even distribution of air inside the refrigerator
Climate Control Drawer: Allows you to express chill or thaw items
Water Filtration
Gallon Door Storage
The lighting has improved, and they now have an app for it. This allows you to control the temperature with your cell phone and check the status. It is still a single compressor, single evaporator unit.
KitchenAid
KitchenAid is similar to GE Monogram as it is a division within the larger Whirlpool company.
(This is their only option in 36" wide built-in)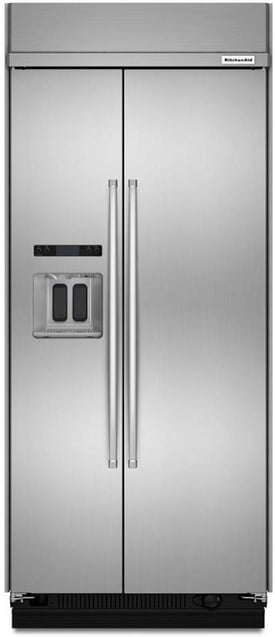 Here are some KitchenAid features:
ExtendFresh Temperature Management System: ensures items remain fresh for maximum taste and texture
Produce Preserver: extends freshness of fresh ingredients
Ice & Water Dispenser
Pure Filtration System: reduces impurities in water and ice
Gallon Door Storage
SatinGlide Crispers: glide nicely and last longer
PrintShield Finish: gives you fingerprint resistant finish and easy cleaning
KitchenAid is the only one with a dispenser of the three. KitchenAid's Produce Preserver keeps your fresh ingredients crisp and fresh by neutralizing the over-ripening effects of ethylene gases (given off by certain fruits and vegetables).
All three brands provide side-by-sides with similar, overall dimensions but will have different cabinet cutout dimensions. For replacing an older unit, you should know the locations of the electrical and water lines.
Integrated vs. Professional 36-Inch
Although the article is about 36-inch professional (pro) refrigerators, there are now 2 different ways to buy a 36-inch refrigerator.
A professional 36-inch is pretty straightforward. It has a compressor on the top to emulate a restaurant.
A new trend is the integrated look. For a 36-inch, you would buy two smaller 18-inch columns.
Integrated refrigerators are flush to the cabinet whereas a pro refrigerator's doors will protrude.
We usually recommend the integrated with panels because you cannot distinguish between the cabinet and refrigerator.
A pro refrigerator is more of statement piece in stainless.
Counter-Depth, Professional + Integrated Refrigerators [VIDEO]
Final Thoughts
It's been 5 years since we updated this article. Monogram has added wifi functionality. KitchenAid has the dispenser.
However Sub-Zero is still the only company with two compressors, air scrubber and vacuum seal. It's kind of baffling, because those features should have been copied since 2013.
So much like 5 years ago, your choice is the better Sub-Zero or choosing a lower priced, less featured unit.
Additional Resources
Read the Yale Counter Depth Refrigerator Buying Guide for features, specifications and insider buying tips to all counter depth refrigerators. Well over 330,000 people have read a Yale Guide.
Related Articles:
Steve Sheinkopf
My goal has always been simple: I want Yale to be the best retail experience anywhere. I have tried to create a compelling environment for customers and employees alike.
A Note About Pricing
Pricing on this blog is for reference only and may include time sensitive rebates. We make every attempt to provide accurate pricing at time of publishing. Please call the stores for most accurate price.