Differences Between Charcoal, Gas, Professional Gas, and Pellet Grills (Reviews / Ratings)
I hate to say it. But there is no one best type of grill. Well, there is one best grill, but you won't read much farther after learning the $14,000+ price tag.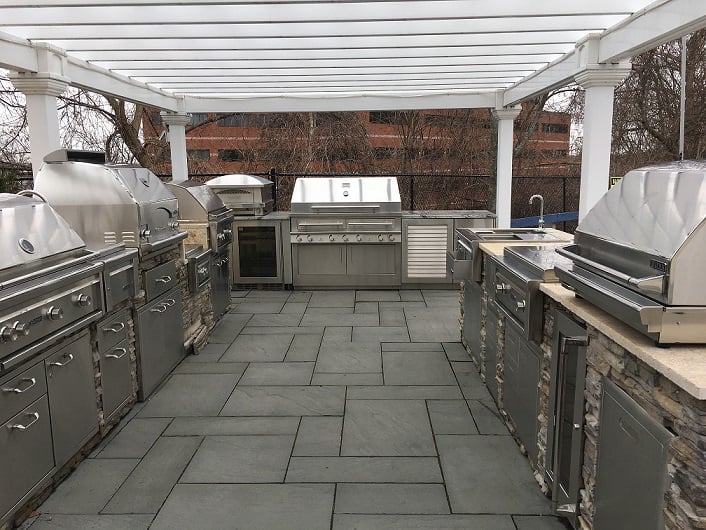 You do now have more choices and brands for grills than ever. You can buy Weber, Char-broil, Napoleon, and MHP for a value type of gas grill.
If you like better output, infrared sears, smoker options, and rotisserie, then Lynx, Hestan, DCS and Kalamazoo are great choices.
You may like a smoker or the ability to infuse flavor. Pellet is another type of outside cooking using wood pellets for heat and flavor.
Traeger has been the name for pellet style grills. But be careful, many people are oversold on pellet styled, so we will set expectations properly in this article.
Traeger Pellet Grill TFB88PUB - $999.99
Charcoal is the last type of grill. The $199 Smokey Joe was my first, and nothing beats charcoal for texture and smokey flavor. Most professional grill competitors use a mix of wood and charcoal for a reason.
Since there is no best grill, I will show you the advantages and disadvantages of each. In the end, you will understand what type of grill is right for you and your family.
I will also briefly cover brands briefly as well. You can read about brands more in-depth in other articles.
(Click here for our New Grill Configurator to find the perfect grill for you)
Pellet Grills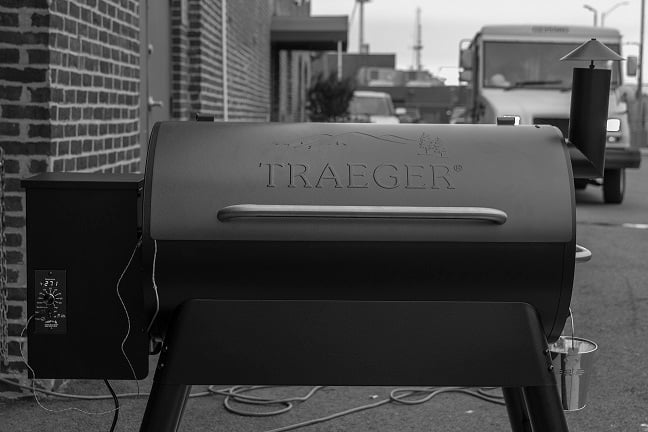 How it Works (According to Traeger):
"Our wood pellet grills use an auger to move hardwood pellets from the hopper to the firepot within the grill. The higher the set temperature, the more pellets dispensed into the auger.
Once in the fire pot, a hot rod ignites the pellets, starting a fire. A fan then stokes the flames, creating convection heat, (just like an oven) to cook your food in the grill evenly. A drip tray sits over the fire pot, keeping direct flames off your food while catching drippings to help prevent flare-ups"
How You will Use it (According to Us)
Basically, you will load the hopper with your favorite pellet flavors. The grill creates an even convection heat ideal for smoking and lower temperature cooking.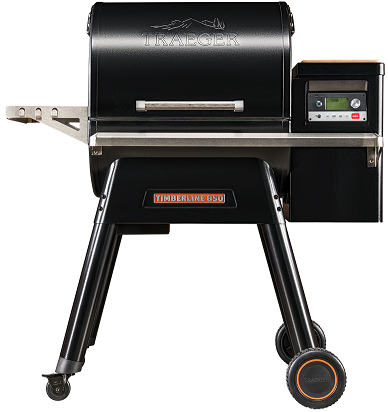 Traeger Timberline TFB85WLE - $1,799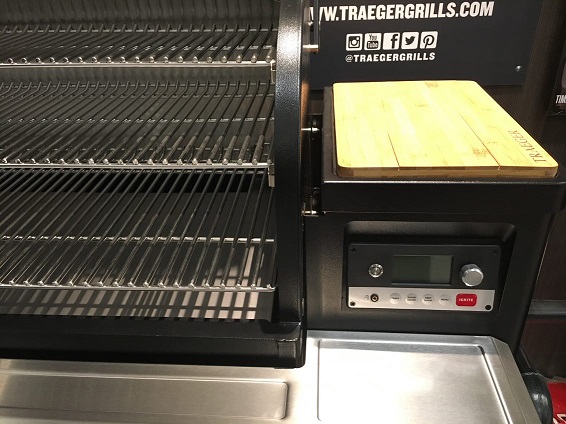 Pros of Pellet Grills
First, you can add flavor in a way you cannot in gas. The thermostat is set for 5-degree increments, so unlike grills, you can keep a more consistent temperature without maintaining constant vigilance over your grill.
You also do not have to open, check and turn the meat over like a gas grill. Their Wi-Fi works. You can be notified through an app on your phone.
Cons of Pellet Grills
If you want to quickly throw a burger on before the game, then Traeger is not the right product for you.
The max temperature to a Traeger is 500 degrees not 900 like a gas grill. Consequently, you do not have the "char", speed and searing capabilities of a gas grill.
Traeger is a good product if you understand its not a grill. It more of a smoker with an ability to cook like a convection stove.
Charcoal Grills
Weber Charcoal Summit 18501001 - $1,999
Charcoal is the best grill for adding smokey flavor. It can also be completely portable in many grills.
Pros of Charcoal Grills
I have owned a few grills, and nothing beats charcoal for texture and smokey flavor.
The Weber Charcoal Summit is a large charcoal grill and has a small LP tank to start the coals quicker.
Cons of charcoal grills
Charcoal grills require supervision. You have to add charcoal, build it up properly and constantly watch your food.
Like a pellet, it is not fast, so plan that burger well before game time.
Regular Gas Grills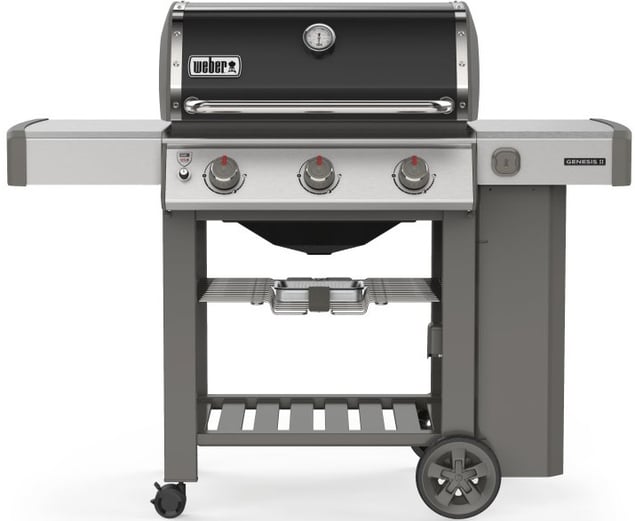 Gas grills are easy. They can reach high temperatures and can be regulated easily by simply turning the knob. They are simple to use.
Pros of Regular Gas Grills
You can cook that burger quickly and evenly. It is simple to use and pretty durable as well.
Cons of regular gas grills
You have speed but gas lacks texture and flavor of either the charcoal or pellet style grills/cookers.
Professional Grills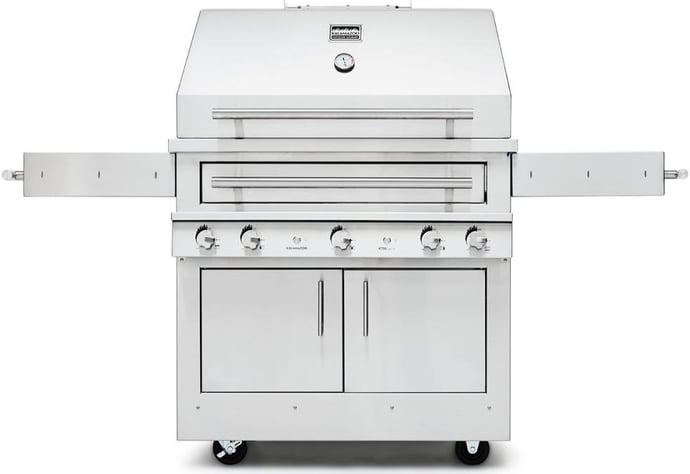 Instead of 6,000-10,000 BTU per burner, a pro grill will have 23-29,000 with solid stainless construction and a load of extras like infrared sear, rotisserie, charcoal trays and smoker baskets.
Pros of Professional Grills
You can cook a lot very fast. You can use the rotisserie up to 50 pounds in one of these grills.
Infrared searing is a more direct, intense heat to sear the fastest. You have smoker baskets to add smokey flavor as well.
Every grill is good.
| | | | | |
| --- | --- | --- | --- | --- |
| | Hestan | Kalamazoo | DCS | Lynx |
| Fuel Type | Natural Gas (NG) or Liquid Propane (LP) | Natural Gas (NG) or Liquid Propane (LP) | Natural Gas (NG) or Liquid Propane (LP) | Natural Gas (NG) or Liquid Propane (LP) |
| Grill Type | Built-In or Freestanding | Built-In or Freestanding | Built-In or Freestanding | Built-In or Freestanding |
| BTU Output | Up to a total of 118,000 BTU | Up to a total of 110,000 BTU | Up to a total of 92,500 BTU | Up to a total of 69,000 |
| Smoking Capabilities | No | Yes | Yes | Yes |
| Rotisserie | Yes | Yes | Yes | Yes |
| Infrared | Yes | Yes | Yes | Yes |
| Side Station | Yes | Yes | Yes | Yes |
| Finish | 12 Designer Color Options | Stainless steel or marine-grade steel | Stainless Steel | Stainless Steel |
| Warranty | 1 year parts and labor | 2 years parts and labor | 2 years parts and labor | 1 year parts and labor |
However, Kalamazoo is the best with a hybrid drawer system, so you can cook with charcoal, wood, and gas. However, Kalamazoo starts at 13,000 and has a 4-8 week lead time in the season.
Cons of Professional Grills
It is expensive…..You can do more, but the price starts at $5,000. The flavor and the texture is still better in the other grills.
Wi-Fi in Grills
Unlike appliances currently, Wi-Fi has value for grilling. You do not have to be tethered to a grill anymore while entertaining.
The Traeger Wi-Fire and IGrill from Weber allow you to receive alerts on your phone rather than standing over your grill.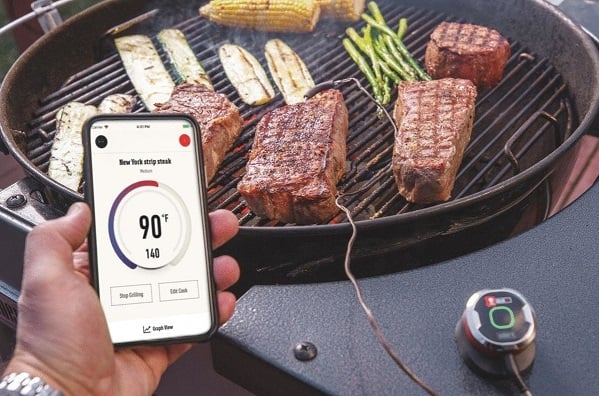 Weber iGrill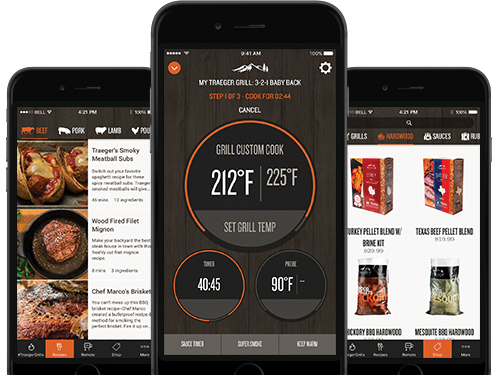 Traeger Wi-Fire
What Type of Grill Is the Best?
It depends. There is value in all types.
Pellet is more like an outside range. It allows you to add any number of flavors and is consistent in temperature.
You can set this grill in the morning at a low temperature and have your food done in the evening for dinnertime.
There is nothing like food from a charcoal grill for texture and smokey flavor, but you have to watch it consistently and load it every time properly.
Gas is about speed, searing, and char, but not necessarily added flavor. Pro ranges have some of that ability but at a much higher price.
So what you should buy depends on how you will use it and cooking preferences. You do have good options in any style.
(Click here for our upcoming Grilling Demos )
Additional Resources
Get our free BBQ Grill Buying Guide for reviews of all the major brands. Over 510,000 people have already found answers in a Yale guide.
Related Articles
Why Should You Trust Us?
It seems that every appliance review has nothing but glowing comments about almost every product, yet you read customer reviews and they are almost universally bad.
We are here to fill in the disconnect. We'll give you the best features, and the drawbacks as well, including reliability based on over 37,000 calls performed by our service team just last year. Our goal is to give you ALL the information so you know what's right for you.
Please consider subscribing or adding to the conversation in the comments below. We appreciate you stopping by.
A Note About Pricing
Pricing on this blog is for reference only and may include time sensitive rebates. We make every attempt to provide accurate pricing at time of publishing. Please call the stores for most accurate price.