Best Undercounter Beverage Centers (Prices / Reviews / Ratings)
Beverage centers are the most popular type of undercounter refrigerator because they can hold everything.
They have more flexibility to hold wine bottles, at least 80 cans of beer, and other cold drinks, unlike all refrigerator types. Wine coolers are great, but they only store wine.
You would almost need a separate refrigerator to hold food along with a wine cooler or a separate wine cooler to hold wine with an all-refrigerator model.
The beverage center can do both in a 24-inch size.
There are tons of brands to consider. Many are decent like Perlick, U-Line, Marvel, Jenn-Air, GE Monogram, and Electrolux, to name a few.
In this post, you will learn about the best beverage centers from True, Sub-Zero, KitchenAid, and our own Yale brand.
Then we will look at the reliability and find out which beverage center is right for you.
There are vast differences between the models, so your decision depends on the features and price.
Let's take a look.
Short on time? Get our free Undercounter Refrigerator Buying Guide
Best Beverage Centers For 2019
True TBC24RSGB
TBC24RSGB
Features:
True Precision Control
Stainless Steel Encapsulated Glass Shelves
TrueFlex Shelving System
True is a commercial refrigeration company based out of St Louis. They started manufacturing residential products in the last five years.
This beverage center is an impressive, well-built unit. It's all stainless on the inside with a convection fan on the back to maintain a consistently cool temperature.
Stainless steel is the best material for the inside of your refrigerator. It absorbs and maintains cold air better than any other surface.
True is so well-built, it's rated for outside kitchens and bars.
The shelves glide out as well. You can even accent the inside lighting with your choice of 14 different colors.
True is the most expensive at $3,999, but it's the only refrigerator built to this standard.
Sub-Zero UC24BGORH
Features:
Panel ready design
Fits in anywhere
Even has wine storage!
Spill-proof glass shelves
Bright interior lighting
Sub-Zero is based out of Madison, Wisconsin, and pioneered built-in refrigeration for the home since 1945.
This may be the only time Sub-Zero is less expensive than any other brand in any category. It is significantly less than True at $2500 but lacks the stainless steel interior and better shelving.
Sub-Zero does, however, have a better seal to keep food fresher for a more extended period. They are also the only brand with a crisper bin for fruit and veggies.
You can now buy a Sub-Zero beverage center for an outdoor kitchen for $500 more.
Yale Brand UBV24C01AG
- $1,799
UBV24C01AG
Features:
5-Year Warranty
Field-Reversible Door
Electronic Capacitive Touch
LED Lighting
Our brand is not stainless steel on the inside, and you only have three interior colors, unlike True. It lacks the dual-zone or crisper bin like a Sub-Zero.
However, it is the least expensive at $1,799 with a 5-year warranty included, and it's reliable at under 6% repaired within the first year.
KitchenAid KUBR304ESS - $1,999
Features:
Two Temperature-Controlled Zones (For Beverage Cellar)
4.8 cu. ft. capacity with 14 wine bottle capacity
Auto-Light Interior LED Lighting
SatinGlide(R) Metal-Front Racks
I wasn't expecting to rate a KitchenAid beverage center so highly, but it's the only dual zone unit, meaning you can store different beverages at different temperatures.
Soda and beer can be kept colder on the top and separated from red wine on the racks below. Only wine bottles can be placed below for that second zone, so you lose some flexibility.
Which Undercounter Beverage Center Is The Most Reliable?
Most Reliable Beverage Centers for 2019
| | | | |
| --- | --- | --- | --- |
| | Service Qty | Shipped Qty | Service Ratio |
| KitchenAid | 0 | 43 | 0.00 % |
| Whirlpool | 0 | 6 | 0.00 % |
| Perlick | 0 | 2 | 0.00 % |
| Zephyr | 0 | 2 | 0.00 % |
| Thermador | 0 | 2 | 0.00 % |
| Danby Appliances | 0 | 1 | 0.00 % |
| Subzero | 4 | 143 | 2.80 % |
| Yale Exclusive | 16 | 291 | 5.50 % |
| Marvel | 6 | 69 | 8.70 % |
| Jenn-Air | 15 | 89 | 16.85 % |
| U-line | 5 | 27 | 18.52 % |
| True | 9 | 21 | 42.86 % |
| Grand Total | 55 | 696 | 7.90 % |
The reliability and repair rate of beverage centers is excellent at 7.9% compared to the overall appliance reliability of 13.6%.
Undercounter refrigerators have lower repair rates than refrigerators in general. Refrigerators have a repair rate of over 26%.
You would expect that because beverage centers don't have temperamental features like ice makers, dispensers, and French doors.
KitchenAid, Sub-Zero, and the Yale brand are less than 6%.
True, on the other hand, is 43%. The good news is, they tend to be minor repairs, as opposed to compressor malfunctions.
The bad news is it's still 43%.
This is a company supplying major commercial installations like supermarkets and delis. Given their sophisticated refrigeration experience, we all expect this number to drop.
Which Undercounter Beverage Center Should You Buy?
You have four very different products. Each has its specific advantages.
True is the best built, but it is the most expensive. Sub-Zero has an excellent overall product, especially if you may be storing fresh veggies.
With dual zones, KitchenAid can keep lower temperatures for white wine or higher temperatures for red wine. This gives you the best temperature flexibility.
Yale is a good beverage center with a great warranty at the best price.
It depends heavily on your budget, where you're installing it, and what you're storing.
Frequently Asked Questions About Beverage Centers
1. What is the ideal temperature for a beverage center?
It depends on what you are storing and how cold you like your food. All have temperature controls ranging from
2. Why are beverage enters so expensive?
They have similar compressors as larger units and have better controls and electronics in most cases. They also are made to fit in between cabinets and under the counter.
3. Can I buy just a cheap freestanding refrigerator?
You can, but the freestanding units breathe from the back. The compressor will seize when you place it between cabinets due to overheating and lack of airflow.
4. What's the difference between an undercounter and freestanding refrigerator?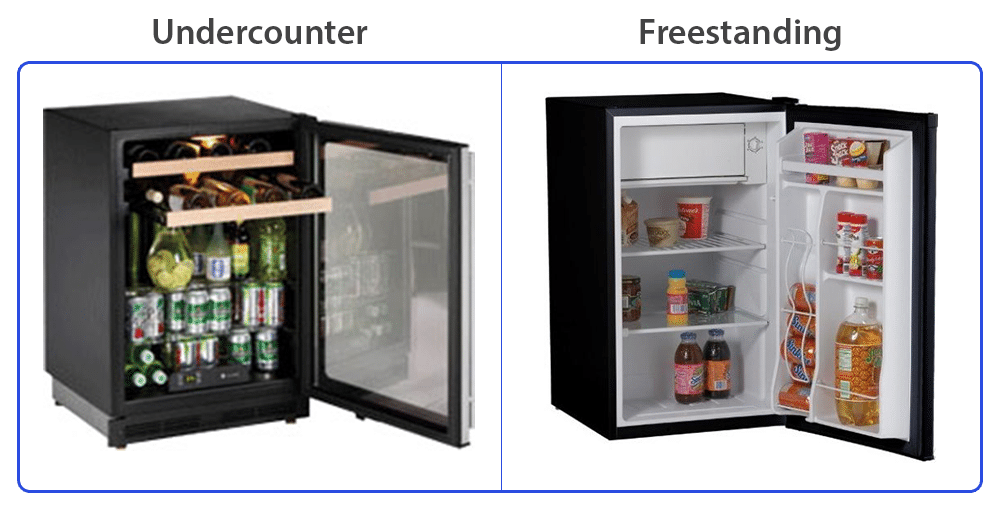 The main difference is the compressor location.
Undercounter refrigerators breathe from the front and will not overheat between cabinets.
Freestanding units breathe from the back and will overheat between cabinets.
Undercounter refrigerators are made of steel instead of plastic with better controls and racks. The freestanding units are much cheaper.
5. What Is The Difference Between A Beverage Center And A Wine Cooler?
There are tons of differences between the two.
The beverage center can store a few bottles of wine versus just wine in a wine cooler. For example, the Sub-Zero beverage center will hold seven bottles and the wine cooler will hold 46
The decent wine coolers will preserve wine better than a beverage center. Sub-Zero has two distinct temperature zones for different wines, as well as less vibration and better humidity control to keep the wine from spoiling.
Beverage centers can store food, whereas the wine cooler does not.
Your decision depends on whether you are storing wine, notably better wine. If its a few bottles, the beverage center is fine
Beverage Center Vs. Refrigerators
They are similar, but beverage centers can hold wine bottles in individual racking. You do not have to rack for wine in a refrigerator.
6. Can You Panel An Undercounter Beverage Center?
In most brands, like Sub-Zero, True, Marvel, U-Line, you can. Our brand, however, is stainless only.
7. What Sizes Are Available For Undercounter Beverage Centers?
Ninety-five percent of the units are 24 inches wide. The other 5% are 15 inches wide. Undercounter units are all 34 inches tall and less than 24 inches deep. The dimensions fit a standard cabinet - almost the same size as a dishwasher.
Additional Resources
Get the Yale Undercounter Refrigerator Guide with features, specs and inside tips to all the beverage centers, refrigerators, freezers and ice makers. Over 620,000 people have read a Yale Guide.
Related Articles:
Why Should You Trust Us?
It seems that every appliance review has nothing but glowing comments about almost every product, yet you read customer reviews and they are almost universally bad.
We are here to fill in the disconnect. We'll give you the best features, and the drawbacks as well, including reliability based on over 37,000 calls performed by our service team just last year. Our goal is to give you ALL the information so you know what's right for you.
Please consider subscribing or adding to the conversation in the comments below. We appreciate you stopping by.
A Note About Pricing
Pricing on this blog is for reference only and may include time sensitive rebates. We make every attempt to provide accurate pricing at time of publishing. Please call the stores for most accurate price.