Best Undercounter Beverage Centers (Prices / Reviews / Ratings)
Beverage centers are the most popular undercounter refrigerator on the market. Unlike a wine unit or traditional refrigerator, a beverage center is designed to store wine as well as soda, water and beer.
Because beverage centers are designed for various drinks the internal temperature on average can range from 35 to 65 degrees.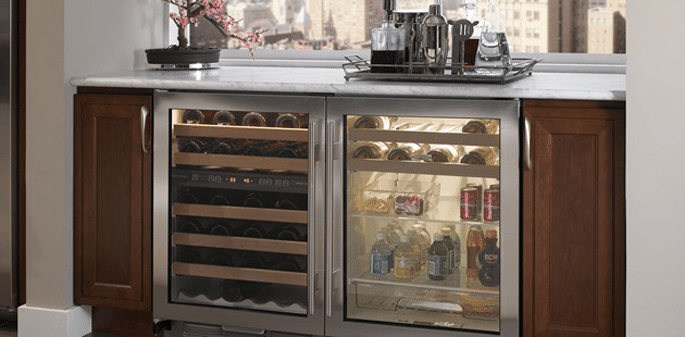 Short on time? Get our free Undercounter Refrigerator Buying Guide
Freestanding vs. Built-In Undercounter Refrigerators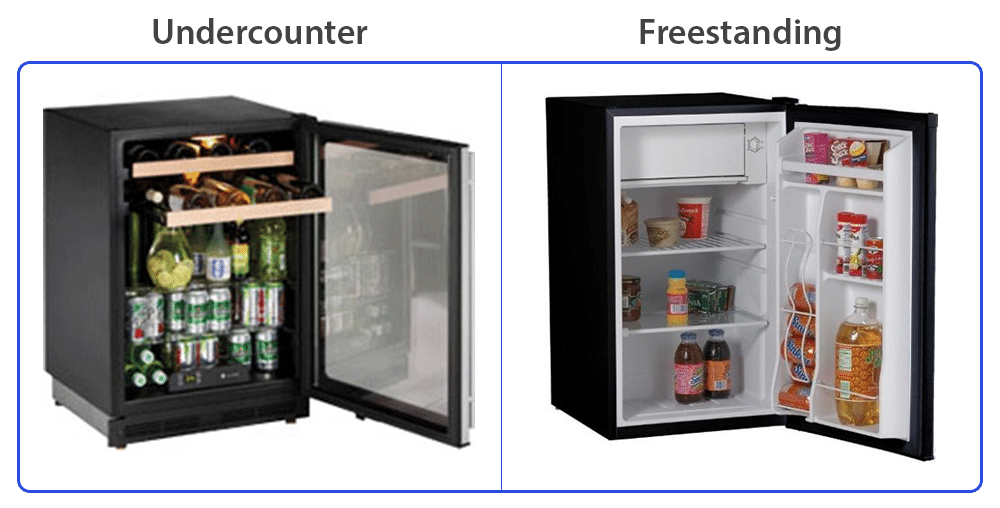 There is a huge difference in price and features between freestanding and undercounter compact refrigerators.
Freestanding is much less expensive than a built-in. However, the built in has better shelving, steel cabinet, temperature control and can be built-in between two cabinets.
In essence they are two different products.
Best Beverage Centers for 2015
Jenn-Air
Jenn-Air was founded in 1947 in Indianapolis, Indiana focusing on industrial fans. In 1961, Jenn-Air integrated the fan into a range introducing the first down-draft cooking appliance. The company has since expanded its line to include a full assortment of kitchen appliances.
In 2006, Jenn-Air was purchased by the Whirlpool Corporation. Jenn-Air's corporate headquarters today are in Benton Harbor, Michigan. Their beverage centers are produced by Sanyo and are assembled in Mexico.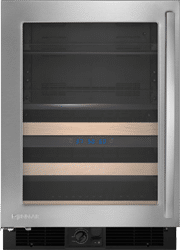 U-Line
U-Line has been a consistent pioneer in the under counter refrigeration market. The company was started in 1962 by Henry Uihlein with the first under counter ice maker. In 1971, U-Line then introduced the 1st under counter fridge/ice maker combo.
In 1985, they were the first U.S. manufacturer to introduce a 3-temperature zone wine unit for residential use. Having the fridge and wine technology, they introduced the beverage center. Today U-Line products are designed and assembled in Milwaukee, Wisconsin.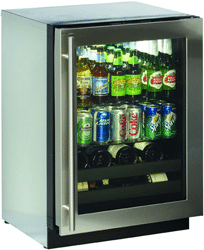 U-Line 3024BEVS
Sub-Zero
Back in 1943 in the basement of his Madison, Wisconsin home, Westye Bakke started the Sub-Zero company. Sub-Zero quickly became one of the most recognized manufacturers of quality built refrigeration products. Staying close to its heritage Sub-Zero manufactures their beverage center in Fitchburg, Wisconsin.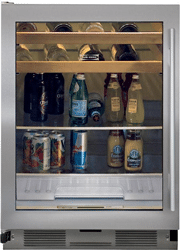 Sub-Zero UC-24BG/S
True
True refrigeration was founded in 1945 by Frank Trulaske and his father in their Lenox, Missouri home. It was there they built the industry's first 40 cubic foot upright freezer.
Later in the 1960's, True introduced the commercial flat top bottle cooler, which is still manufactured today. In the early 1970's, True began selling to the food service industry. When you walk into your grocery or supermarket, the refrigeration is probably True.
(See more about True and why their products are so different in our free Undercounter Refrigerator Buying Guide)
About 15 years ago, True started to produce its brand of commercial products to the residential market. True continues to move forward with this commercial design featuring LED lighting and all stainless steel interiors, just like their commercial product.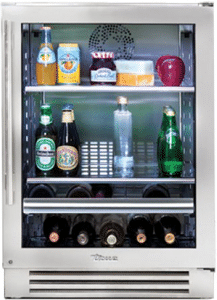 True TBC-24-R-SGA
Beverage Center Feature Comparison
Jenn-Air JUB248LWRS

U-Line 3024BEVS

Sub-Zero
UC24BG/S

True
TBC-24-R-SGA

Total Capacity

5.4 cu. ft.

4.9 cu. ft.

5.7 cu. ft.

5.8 cubic ft.

Temp. Range

3 indiv. zones
36-70

34-65

34-45

33-47

UV Glass Door

Yes

Yes

Yes

Yes

LCD Display

Yes

Yes

Yes

Yes

Wine Bottle Capacity

22 Bottles

11 Bottles

16 Bottles

13 Bottles

Flush Installation

Yes

Yes

No

Yes

Glass Shelves

2

3

2

Convection Cooling

No

Yes

No

Clear Utility Crisper

No

No

Yes

No

Interior Color

Black

Black

White

Stainless Steel

Convection Fan

4"

4"

No

6"
Beverage Center Benefits
One of the first things you notice is the Jenn-Air has the smallest capacity at 4.7 cubic feet. However, Jenn-Air does offer 2 controls for different temperatures as well as the largest wine storage area, storing 22 bottles. It's a decent value at $1,999.
True, however, is the largest at 5.8 cubic feet. Their lighting allows you the flexibility of having a white, blue or amber interior led light. The colored lighting looks quite impressive inside the commercial stainless steel interior. The True beverage center also is the only beverage center with a 6 inch cooling fan. The 6 inch fan maintains better temperature temperature than the 4 inch fans of the other brands. I also like the commercial pedigree and the 3-year warranty.
U-Line offers the largest temperature range of 34-70 degrees however you do not have different temperature zones. U-line also has the least amount of wine storage at 11 bottles. The unit looks the best of the four with a panel, because you do not see the hinges.
Next to True, the Sub-Zero has the second largest overall capacity at 5.7 cubic feet. The Sub-Zero features a unique see-through crisper on the bottom of the beverage center. The crisper provides a storage area for items such as lemons and limes needed for mixed drinks.
Sub-Zero offers plenty of wine storage at 16 bottles. The beverage center will feature a full two-year warranty, and at $2,149 it is a solid choice.
Preference
So which one do I prefer? The Jenn-Air at $1,999 offers two separate temperature zones and 22 bottles of wine storage capacity. For real wine drinkers this may be a nice benefit. If you do not mind spending the extra money, True is quite impressive. I love the interior lighting, stainless interior, commercial quality and the 3-year warranty.
Additional Resources
Get the Yale Undercounter Refrigerator Guide with features, specs and inside tips to all the beverage centers, refrigerators, freezers and icemakers. Over 60,000 people have read a Yale Guide.
Paul Groux
Paul Groux has been with Yale Appliance + Lighting for over almost 20 years, specializing in appliance sales. He is a former U.S. Army Paratrooper and has completed two Boston marathons.

Schedule a showroom visit with me
A Note About Pricing
Pricing on this blog is for reference only and may include time sensitive rebates. We make every attempt to provide accurate pricing at time of publishing. Please call the stores for most accurate price.