Lynx Sedona vs Lynx Professional BBQ Grills (Reviews / Ratings / Prices)
It's that time of year again. The time when the cold, dreary, gray days are hopefully gone. A time when the birds are out chirping, the trees are starting to show signs of life, and the flowers are starting to bloom. With this nice weather, we all start to prepare to grill! So let's get started by talking about a couple of different grills on the market.
When talking about grilling, we need to discuss the premium trendsetters for the industry. That would defintiely include Lynx Professional and Lynx Sedona.
What makes these grills so special compared to others? And what are the differences between the two? In this blog, we will investigate Lynx as a company and its two most favored grills.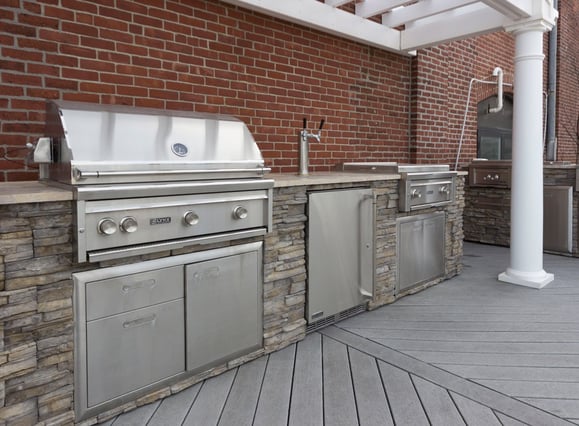 Short on time? Get our free BBQ Buying Guide
Lynx Grills
Lynx, located in California, started in manufacturing commercial stainless steel products for restaurants under the name Beca for 30 years. In 1996 they decided to start making grills under the Lynx name and since then have become the innovators of the industry.
By combining quality materials and fine craftsmanship, Lynx was the first to manufacture a premium grill with a wide array of outdoor cooking products for people seeking to build their outdoor kitchens. With grills ranging from 27 inches to 54 inches, the options are plentiful.
First, let's dive into learning about the most popular grill, the 42-inch freestanding Lynx Sedona.
Sedona vs. Lynx Pro Grills
Lynx Sedona Freestanding Grill L700PSFR - $4,270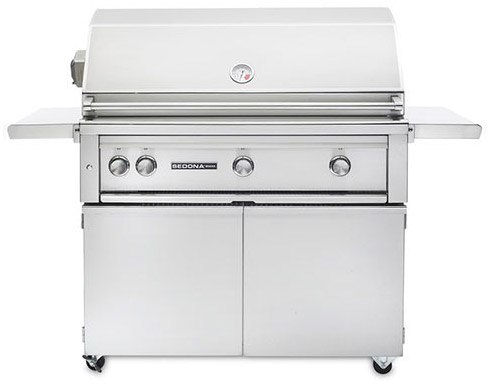 When discussing the quality of any product, I always like to point out how it is built. When looking at either grill, you will notice that for the most part, everything is welded together. For instance, the handles and hinges are gracefully melted to the doors and the body of the grill is fused together.
There are fewer components, meaning fewer failure points. In short, when you weld everything together, you have a much stronger structure. This will help to hold up over time, especially to our tough weather conditions in New England.
Of course, when talking about grills, the BTU (British Thermal Units) output is a must. Each stainless burner on the Sedona is capable of producing 23,000 BTUs. For comparison, the best Weber Summit, has 10,000 BTU burners.
This is excellent for quickly heating the grill up and, of course, searing. One option you can add to this grill is to add an infrared ProSear burner.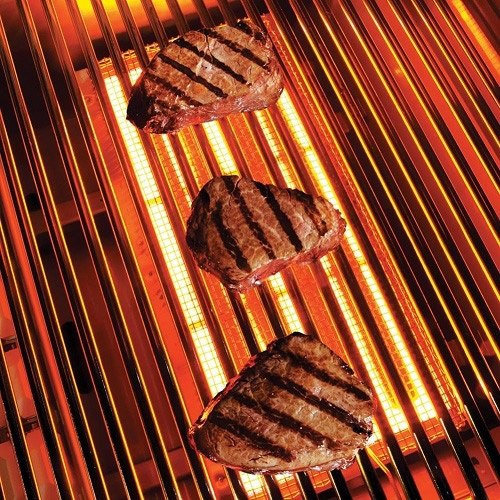 This burner is what Lynx has been known for. Their ProSear burner allows you have complete temperature control, even at its highest output for that quick sear, or very low allowing you to cook more delicate foods, such as scallops. Most other grills have one temperature searing, so searing veggies and other water soluble foods can be a problem.
As for the stainless burners, the Sedona has ceramic briquettes which are designed to evenly distribute the heat across the entire grilling surface. No more cold spots! The briquettes enhance flavor as you cook and the drippings hit them, infusing smoke back into what you are grilling.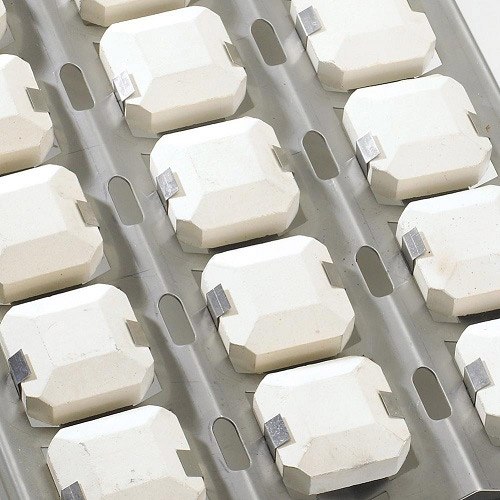 With their backlit knobs and internal halogen grill surface light, it allows easy viewing for night time grilling. The Sedona comes with stainless steel grates, which is good for heating up quickly and do a better job of holding up over time.
With the exterior temperature gauge, you won't have to guess when your grill is ready to start cooking. One of the best design features on this grill is the insulated bull nose. That is the front part of the grill. What that means is that it is safe to touch when the grill is on.
If you have young kids who love to touch everything, getting burned is not a concern. And lastly, the Sedona grill comes with the hood assist. When opening the grill, it is assisted by a system of springs, that make it effortless.
Sedona Features:
Stainless steel burners producing 23k BTUs
Hood assist springs
Internal halogen lighting
Backlit control knobs
Optional rotisserie
Insulated bull nose
Ceramic briquettes
Stainless steel grates
Lynx Professional Freestanding Grill L42PSFR-2 - $6,589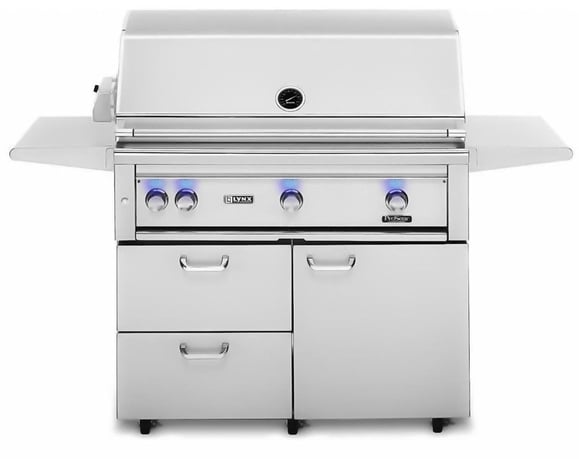 Tons of people ask what really sets these two grills apart. At the end of the day, you want to know why they are paying a premium for the Lynx grill compared to the Sedona.
Yes, you do get most of the features from the Sedona on the Lynx. These include the interior lighting, the ceramic briquettes, hood assist, backlit controls and the temperature gauge. Now that we know what they share, let's talk about the differences.
One of the coolest features you can get in the Lynx is the ability to get their Smart Series grills. This allows you automated cooking from your smartphone. They have a learning algorithm that LEARNS how you prefer your food cooked, and will dial in the grill to get the food there. Talk about the robot uprising!
By downloading their app, you can monitor your food anywhere. Busy entertaining your guest? Don't worry, the app will notify you when the grill requires your attention, and let you know when the food is done. No longer are the days of you missing out of party shenanigans because you were manning the grill. Now you get to participate in the fun too!
The biggest upgrades from the Sedona to the Lynx are the cast brass burners and the optional Pro sear 2 Trident burners. The cast brass burners allow for a higher BTU output at 25k per burner. This means even faster preheat and burners that hold up better over time.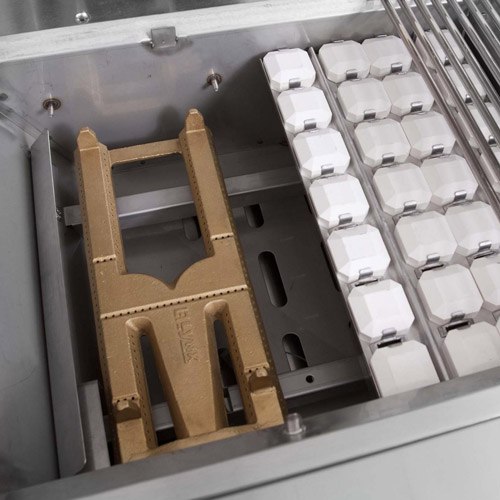 The Pro Sear 2 trident burner is much like the Pro Sear burner on the Sedona, but this one comes with a lifetime warranty along with the ability to get an all Pro Sear grill. That's right, the entire grill can be Pro Sear burners.
With the Lynx, you also get a body that is made up of thicker gauge stainless steel. This will help to extend the life of your grill. They have also added a wind fin that will help block the wind while grilling. This helps while grilling on those windy days to maintain a consistent temperature. The rotisserie comes as a standard feature on any Lynx grill that has a 3 speed motor with 2 roasting positions.
Ever wanted to get into meat smoking? The Lynx gives you a removable smoker box that uses wood chips or smoker pellets. This can sit directly on the grate over any burner. How easy to use is that!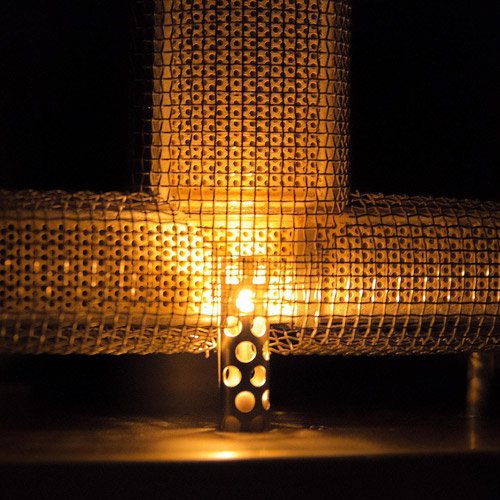 One thing you have probably never even thought about on your grill is the ignitor. That is until you try to light your grill and it doesn't ignite and you keep trying then POOF! You just singed your eyebrow! Lynx has upgraded their ignition system with a hot surface ignitor that ensures you a safe and efficient ignition.
To sum it up, the additional features the Lynx has that the Sedona doesn't include:
Optional SmartGrill by Lynx (certain models)
Cast brass burners with 25k BTU output
Thicker gauge stainless steel construction
Optional all ProSeer 2 Trident Burners
Wind fin
Removable smoker box
Standard rotisserie system
Hot surface ignitor
Final Thoughts
Both are great grills. For $2,300 more, you have a better burner and sear. I like the voice activated Lynx, but it may be too expensive and over-the-top just yet.
You do have the ability to smoke your foods on the regular Lynx, and with the wind fin, the regular Lynx will be better on the water and other windy areas.
Additional Resources
Download the Yale BBQ Grill Guide with BTU ratings, features and specs of every major grill. Almost 220,000 people have read a Yale Guide.
Related Articles
Why Should You Trust Us?
It seems that every appliance review has nothing but glowing comments about almost every product, yet you read customer reviews and they are almost universally bad.
We are here to fill in the disconnect. We'll give you the best features, and the drawbacks as well, including reliability based on over 37,000 calls performed by our service team just last year. Our goal is to give you ALL the information so you know what's right for you.
Please consider subscribing or adding to the conversation in the comments below. We appreciate you stopping by.
Eric Trexler
Eric is an Appliance Sales Consultant at Yale Appliance. Eric came to sales from the custom installation department and has expert insight on what happens behind the scenes. He is devoted to making sure every customer has the best experience that Yale has to offer. Eric grew up in Maine and loves the outdoors, from fishing to dirt biking.
A Note About Pricing
Pricing on this blog is for reference only and may include time sensitive rebates. We make every attempt to provide accurate pricing at time of publishing. Please call the stores for most accurate price.