Should You Buy A Traeger Wood Pellet Grill? (Reviews / Ratings / Prices)
June 16th, 2020 | 5 min. read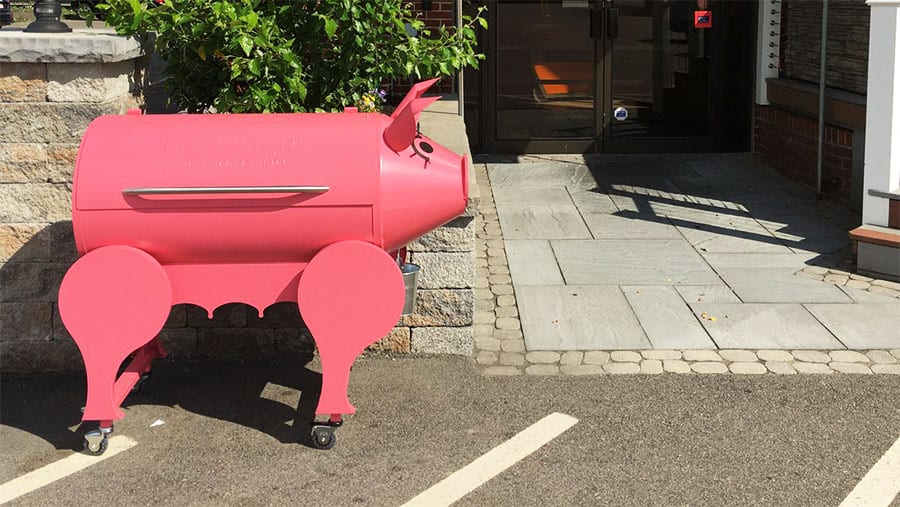 Traeger pellet grills are the single most polarizing product sold today.
Half the people rave about it. The other half despise it.
This article will help you determine if you will love a pellet grill or forgo a gas or charcoal grill.
In this article, we'll cover Traeger's pellet grills, how they work including a video, and then we'll compare them to charcoal and gas grills.
Keep in mind, a pellet grill is not a grill in the classic sense.
Traeger Grills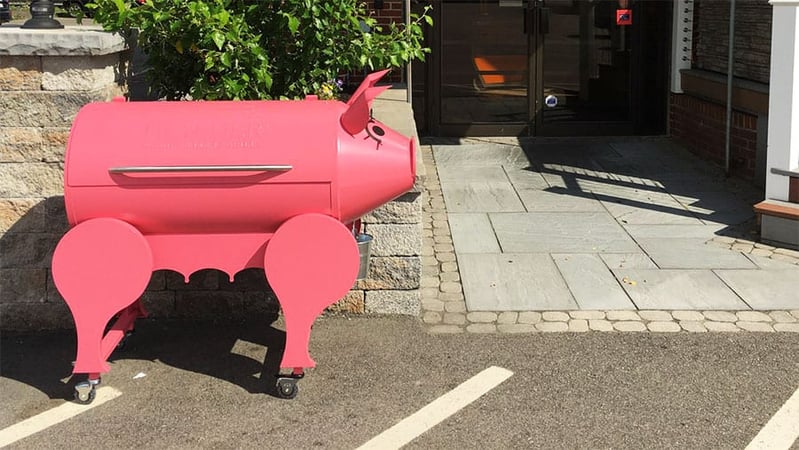 Traeger Lil' Pig Wood Pellet Grill at Yale Appliance in Boston
Traeger Grills is an Oregon-based company known for using all-natural flavored wood pellets.
Joe Traeger was about to cook for his family when he discovered that his gas grill was in flames.
The following day, he decided to build a grill using wood pellets to ensure a fire and flare-up free summer barbecue.
In 1988, the first Traeger grill was produced.
Traeger Grills has since expanded to 6 models of barbecue grills, along with smokers, spices, sauces, rubs, and even apparel. They owned the patent on wood pellet stoves until 2005.
How Does A Traeger Wood Pellet Grill Work?

A motor turns a screw-like device, an auger, to feed the burn pot. The pellets are then ignited and exhausted by the chimney.
Traeger also has air convection. A 4-inch convection fan feeds the burning pellets air allowing them to burn hot and efficiently while circulating the heated, smoke-filled air around the food.

Wood Pellets for Traeger Grills
The grill moves the heat around the meat, just like convection style cooking in an oven.
This air induction system allows the grill to be "sealed" underneath, which means you can use it when it's windy (cold or warm) to smoke, roast, bake, and grill.
The last thing to note is the grease management system. It has a slanted grease tray moving the grease out of the grill into a bucket.
It's recommended to line the tray with tin foil for easy cleanup. This system also prevents flare-ups leading to burned and overcooked food.
Advantages Of Traeger Pellet Grills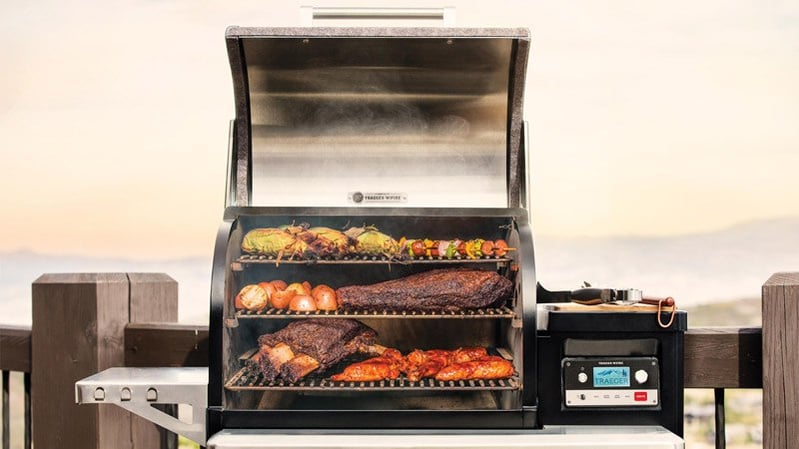 Open Traeger wood Pellet Grill Smoking Meat and Vegetables
The advantages of pellets versus gas grills are flavor, smell, and health.
But the main advantage is taste. The pellet grill lovers will invariably ask, "What does gas taste like?"
All of the Traeger pellets are all-natural wood. The wood also makes it taste better than gas or charcoal.
Flavor

Four flavors of 14 FDA approved wood pellets for Traeger Wood Pellet Grills
They have 14 different flavors of pellets, including hickory, mesquite, apple, pecan, and even Summer Shandy. Perfect for not only infusing flavor into the meat but also baking cookies or pie.
No Flare-Ups
It grills, smokes, bakes, and roasts without any flare-ups using indirect electric heat, not gas. Indirect electric heat does not have flare-ups like gas.
The Auger is also not exposed to drippings like gas burners.
Temperature Control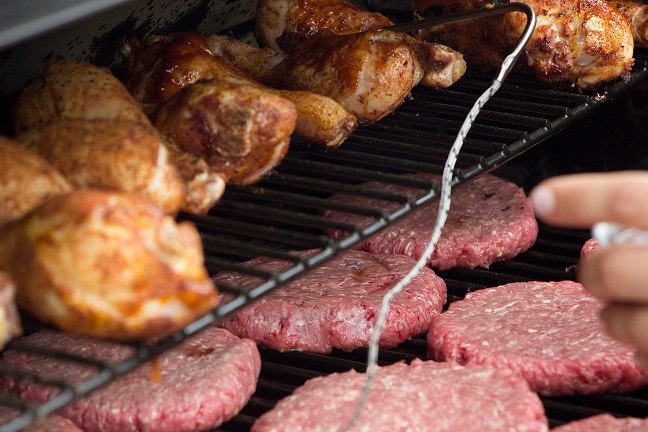 Chicken & burgers tested on a Traeger Wood Pellet Grill at Yale Appliance in Framingham
The second is temperature control. You just set it, and the grill will maintain a consistent temperature even if the weather is unfavorable.
Like an electric range, you can set a Traeger in 5-degree increments. You cannot do that in gas or charcoal.
You can cook precisely by the recipe and have the added benefit of no flare-ups due to temperature fluctuations like on a gas or charcoal grill.
You can set an electric grill at a lower temperature than gas because the gas blows at lower temperatures.
Because pellets are electric, not gas cooking, you are not tethered to your grill like gas. Seriously, how often do you check the food in your oven inside your house?
Wi-Fi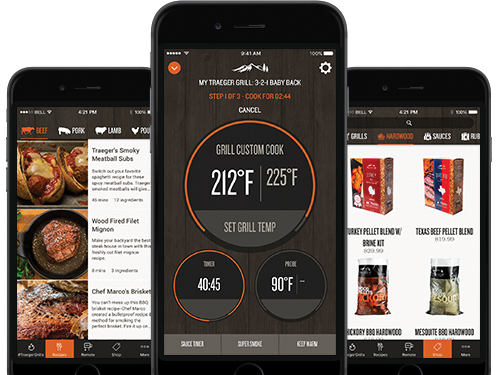 Traeger WiFire SetUp
All Traegers and most pellet grills have Wi-Fi built-in so you can set it for a certain time.
The grill also alerts you when your food is cooked. You also have access to many recipes through Traeger.com.
Some of them are pretty creative and will eliminate guesswork.
Environmentally Friendly
Traeger grills use real wood, all-natural wood pellets, which burn within a controlled system offering great convenience, confidence, and flavor.
Traeger pellets are FDA approved, and their flavors can be blended for dozens of more flavor options. The burning pellets do not harm the environment.
Disadvantages Of Traeger Pellet Grills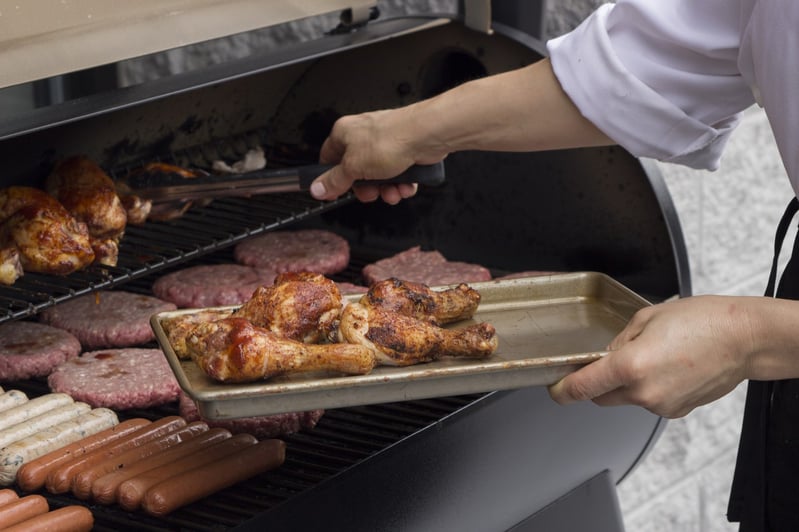 Grilling test on a Traeger Wood Pellet Grill at Yale Appliance in Framingham
Pellet grills are not grills in the classic sense.
A Traegers' max temperature is only 500 degrees, so it's more of a wood-fired outside stove with Wi-Fi control.
So, you need to consider two main problems before buying a Traeger or any conventional pellet grill.
You will not be able to cook fast. Your Weber, Lynx, DCS, or any other type of gas or charcoal grill heats to 900 degrees.
So you cannot quickly cook a couple of burgers and dogs before a game. It's like cooking in an electric wall oven.
You also do not have that grilled or "char" composition like a charcoal or gas grill.
Lastly, the construction of the cover is thin and loses a ton of heat when opened. With that loss in heat, it will take even more time to cook.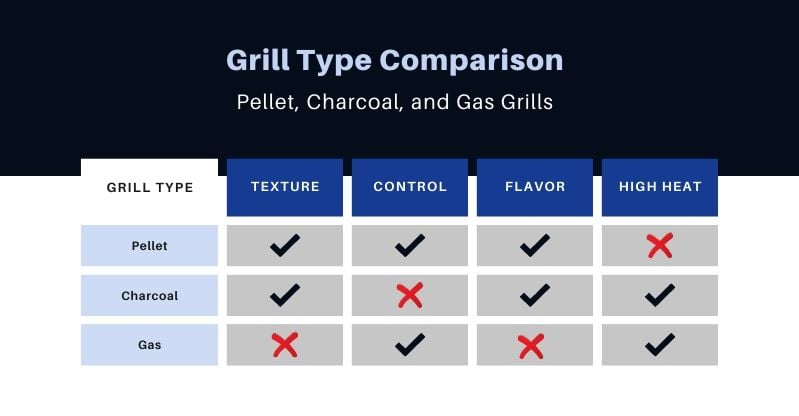 Most Popular Traeger Pellet Grills For 2020
The Pro Series is one of Traeger's most advanced models, offering better temperature control, sturdier construction, and upgraded features. For a clear understanding of what each has to offer, take a look at the following models:
Traeger Pro 575 Pellet Grill - $799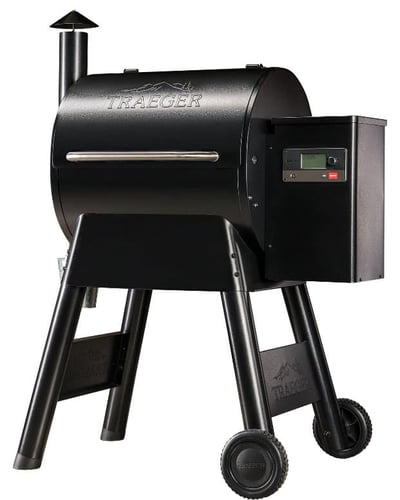 For a smaller size, you can do the above Pro Series 22-inch grill. The redefined Pro grill has a linebacker-like sawhorse chassis for stability.
The brawny new side-lift bar provides even weight distribution and has solid all-terrain wheels.
Features:
Pro D2® Controller - As easy as using an oven. Just turn the dial to the desired temp, hit ignite, and you're Traegering.
Wi-FiRE® Technology - Allows you to monitor and adjust your grill anywhere.
Pro D2® Direct Drive - Improves searing, and lets you cook low and slow or hot and fast.
TurboTemp® - Lightning-fast start-up times and quicker recovery.
GrillGuide® - Step-by-step cooking instructions and alerts for over 1,500 recipes in the Traeger app.
Main Rack easily holds 16 burgers | four chickens | 24 hot dogs | five-rib racks
Larger TFB78GLE 780 sq in the cooking area
Traeger Ironwood Series 885 Pellet Grill - $1,499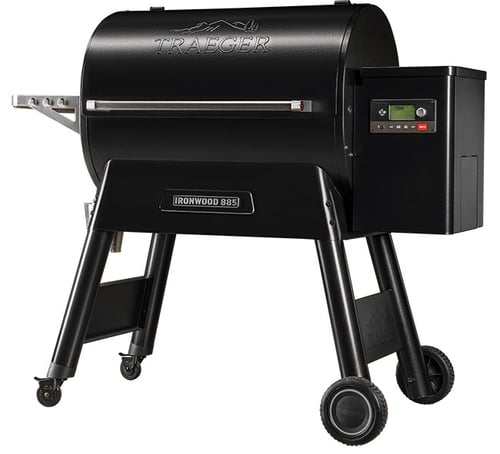 The Ironwood series has a double-walled chamber and a downdraft vent, keeping smoke in the chamber longer. It also has a larger hopper than the pro.
Features:
Ironwood D2® Controller
Wi-FiRE® Technology
Ironwood D2® Direct Drive
TurboTemp®
GrillGuide®
Double side-wall insulation
Pellet Sensor
885 sq inches of cooking surface
Traeger Lil' Pig Pellet Grill - $1,599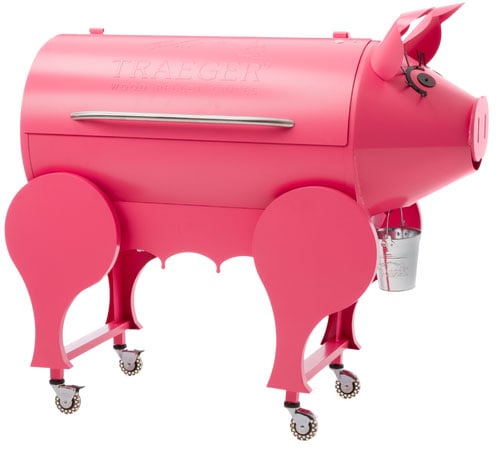 Pictured above is the famous LIL' PIG grill model.
I can't write this without throwing the Traeger pig grill into the mix. With 425 square inches of grilling area, you have enough space for up to 16 burgers.
From its snout and long lashes to its curly tail, the charming details make Lil' Pig a conversation-worthy centerpiece for any backyard.
Traeger Timberline Series 1300 Pellet Grill - $1,999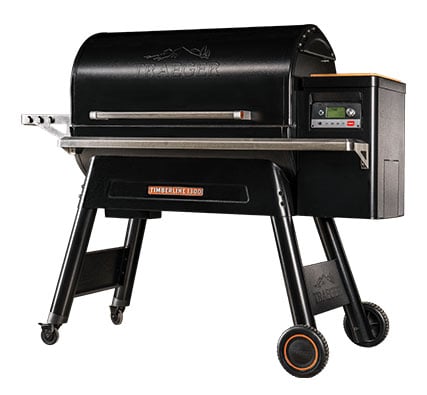 Traeger's Timberline Series 1300 wood pellet grill is their largest and most well-constructed grill.
Features:
Timberline D2® Controller
Wi-fire® Technology
Turbotemp®
Grillguide®
Three Tiers Of Stainless-steel Grates
Double Wall Stainless-steel Interior Insulation
Pellet Sensor
Magnetic Bamboo Cutting Board
Concealed Grease Management System
1300 Sq Inches Cooking Capacity
Should You Buy A Traeger Wood-Pellet Grill? [VIDEO]
Should You Replace Your Gas Grill For A Traeger Wood Pellet Grill?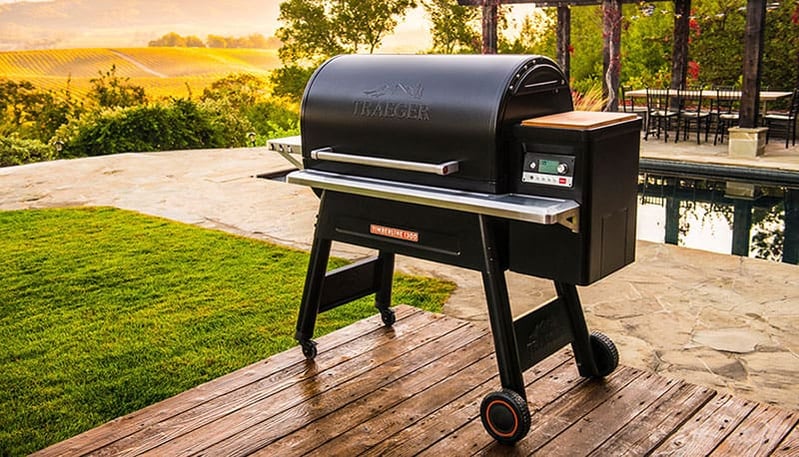 Traeger Wood Pellet Grill
Maybe.
Pellet grills are best suited for smoking and "low and slow" cooking.
You have better temperature control on a Traeger, and you won't have to flip a burger every five minutes.
You can also smoke a roast for eight hours and have it ready after work with countless flavor combinations.
If you are the type of person who can wait or plan, you will love a pellet grill.
However, if you love to sear and char your food, a pellet stove cannot. Its 500-degree max temperature cannot sear or cook quickly.
So that BBQ you are planning with eight burgers, ten hot dogs, and five pieces of chicken will probably not go well with a pellet grill - unless you start it hours ahead.
If you are that type of griller, then you will despise a pellet grill.
That said, how will you use your grill?
Additional Resources
Get the Yale BBQ Grill Buying Guide with features, specs, and tips to all the brands. Over 820,000 people have already found answers in a Yale Guide.
Related Articles:
Why Should You Trust Us?
It seems that every appliance review has nothing but glowing comments about almost every product, yet you read customer reviews and they are almost universally bad.
We are here to fill in the disconnect. We'll give you the best features, and the drawbacks as well, including reliability based on over 37,000 calls performed by our service team just last year. Our goal is to give you ALL the information so you know what's right for you.
Please consider subscribing or adding to the conversation in the comments below. We appreciate you stopping by.
Steve Sheinkopf is the third-generation CEO of Yale Appliance and a lifelong Bostonian. He has over 38 years of experience in the appliance industry, and he is a trusted source of information for consumers on how to buy and repair appliances.

Steve has also been featured in numerous publications, including the New York Times, Consumer Reports, The Boston Globe, Bloomberg Radio, the New York Post, The Wall Street Journal, and Entrepreneur, for his knowledge of how to buy appliances and appliance repair.

Steve is passionate about helping consumers find the best appliances for their needs, and he is always happy to answer questions and provide advice. He is a valuable resource for consumers who are looking for information on appliance buying, repair, and maintenance.

Despite being the worst goalie in history, Steve is a fan of the Bruins and college hockey, loves to read, and is a Peloton biker. The love of his life is his daughter, Sophie.
A Note About Pricing
Pricing on this blog is for reference only and may include time sensitive rebates. We make every attempt to provide accurate pricing at time of publishing. Please call the stores for most accurate price.