Should You Buy a Traeger Wood Pellet Grill? (Reviews/Ratings/Prices)
Free Delivery & Assembly of Grills Over $499
Wood pellet grills have become the rage for people who like to grill with flavor. Traeger Grills invented the technology, so we will explain who Traeger is, how a wood pellet grill works, and then compare it to gas grilling.
By the end, you will know if this is a product for you.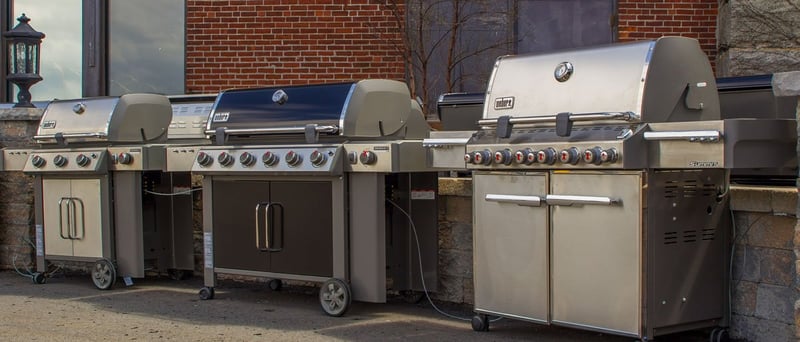 Traeger
Traeger Grills is an Oregon-based company known for using all-natural flavored wooden pellets. Joe Traeger was about to cook for his family when he discovered that his gas grill was in flames!
The following day, he decided to build a grill that uses wooden pellets to ensure a fire and flare-up free summer barbecue. In 1988, the first Traeger grill was produced.
Traeger Grills has since expanded to 6 models of barbecue grills, along with smokers, spices, sauces, rubs, and apparel. They owned the patent on wood pellet stoves until 2005.
How Does a Wood Pellet Grill Work?
A motor turns a screw-like device called an auger to feed the burn pot. The pellets are then ignited and exhausted by the chimney.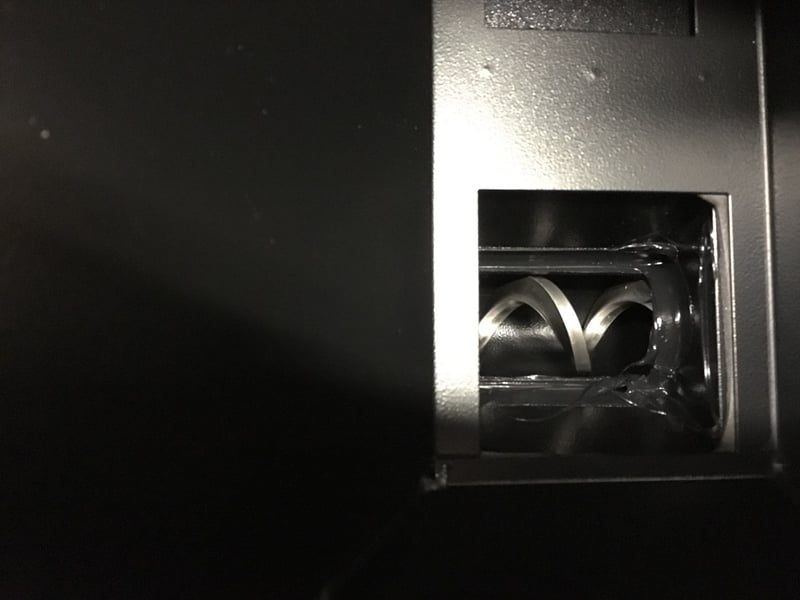 Auger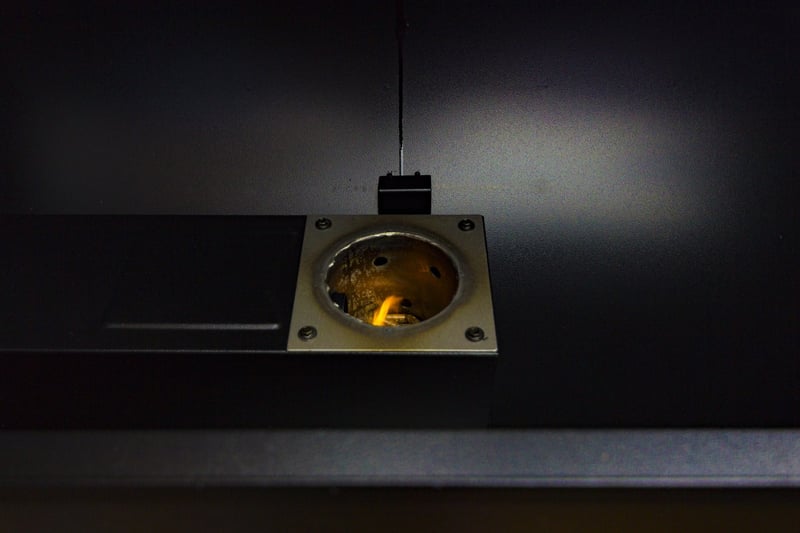 Burn Pot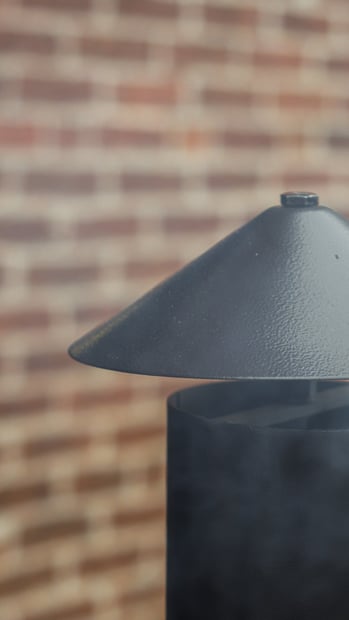 Chimney
Advantages
Some of the advantages for grills that use wood pellets versus gas grills is flavor, smell, and health. All of the Traeger pellets are all-natural wood. The wood also makes it taste better than gas or charcoal.
They have 11 different flavors of pellets including hickory, mesquite, apple, pecan, and even cherry. Yes, you can actually bake cookies or a pie right on a Traeger grill!
What Can a Wood Pellet Grill Cook?
Traeger is one of the "hottest" brands on the market thanks to an impressive and innovative product line. Depending on your budget and grilling needs, they have a variety of Traeger options. First, why pellet grills? It grills, smokes, bakes, and roasts without any flare-ups using indirect electric heat.
It can cook BBQ, roast beef, or bread pudding at the touch of a button. That's right, it's automatic - set it and forget it. And everything, no matter what you cook, comes off the grill with a hint of a delicious wood smoke flavor by using a fan assisted smoking system.

Differ

en

t

Models
The Pro Series is one of Traeger's most advanced models, offering better temperature control, sturdier construction, and upgraded features. For a clearer understanding of what each has to offer, take a look at the following models:

For price and smaller size, you can do the above Pro Series 22" grill. The redefined Pro grill has a linebacker-like sawhorse chassis for stability. The brawny new side-lift bar provides even weight distribution and has solid all-terrain wheels.
Features:
572 sq. in. grilling area

Main Rack: 22" x 19", Extra Rack: 22" x 7"

Digital Pro Controller with Advanced Grilling Logic and Dual Meat

Pellet Hopper Clean-Out, change pellet flavors on the fly

Main Rack easily holds 16 burgers | 4 chickens | 24 hot dogs | 5 rib racks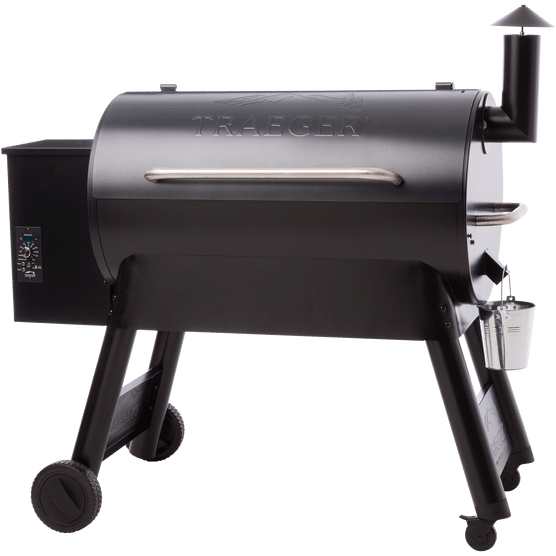 The rugged body style has a sawhorse chassis for stability. The brawny new side-lift bar gives even weight distribution and has solid all-terrain wheels. The digital pro controller maintains a +/- 15-degree F temperature control in warm weather.
Features:
884 sq. in. grilling area (24 burgers plus 16 more on the extra rack)
Main Rack: 34" x 19", Extra Rack: 34" x 7"
Digital Pro Controller with Advanced Grilling Logic and Dual Meat Probes
Pellet Hopper Clean-Out, change pellet flavors on the fly
Digital Pro Controller with Advanced Grilling Logic that maintains +/- 15°F
2 Meat Probes that allow you to monitor food temperatures on the LCD display

EZ-Drain Grease System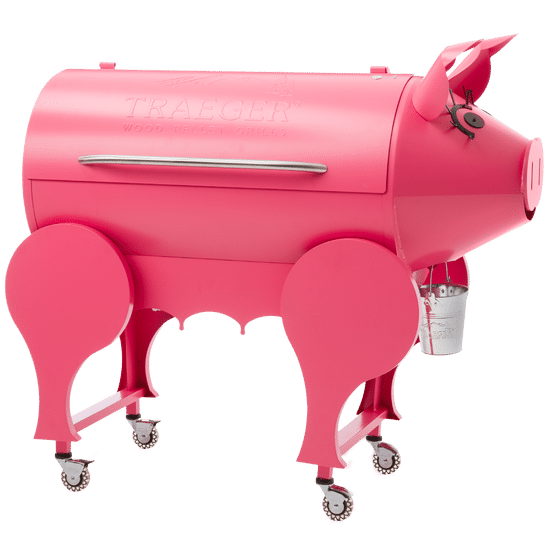 Pictured above is the soon to be famous LIL' PIG grill model.
I can't write this without throwing the Traeger pig grill into the mix. It infuses food with the hardwood flavor you expect from a Traeger grill. With 425 square inches of grilling area, you have enough space for up to 16 burgers. From its snout and long lashes to its curly tail, the charming details make Lil' Pig a conversation-worthy centerpiece for any backyard.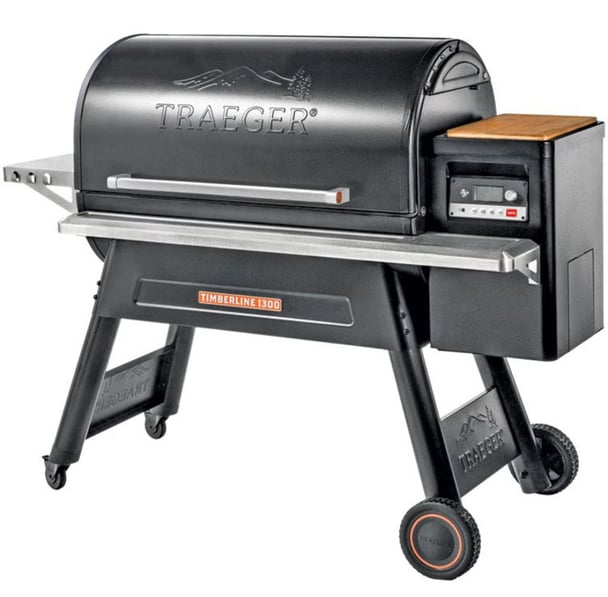 Grill on-the-go with the Timberline's Wi-FIRE® controller, by changing temperatures, setting timers, and accessing your recipe arsenal, all from your phone via the Traeger App. This is just one of the cool features in the above grill.
Features:
1300 sq. in. grilling area
Meat Probe
Traeger Downdraft Exhaust® system
Super Smoke & Keep Warm mode
Custom Cook Cycles
Concealed Grease Pan
Stainless steel side shelf with hooks and grill grates
Easily holds 60 burgers | 12 chickens | 82 hot dogs | 14 rib racks
Magnetic Bamboo Cutting Board
So, Should You Buy a Traeger Grill

?
Among the many advantages of cooking on Traeger grills, there seem to be 4 features that truly separate them from others using gas or charcoal.
First and foremost is the fuel. All other grills use propane, natural gas, and/or charcoal. All grills fueled with one of these require you to be present to babysit the grill.
Traeger grills use real wood, all-natural wood pellets, which burn within a controlled system offering great convenience, confidence, and flavor. Traeger pellets are FDA approved and come in 11 flavors that can be blended for dozens of more flavor options. The burning pellets do not harm the environment.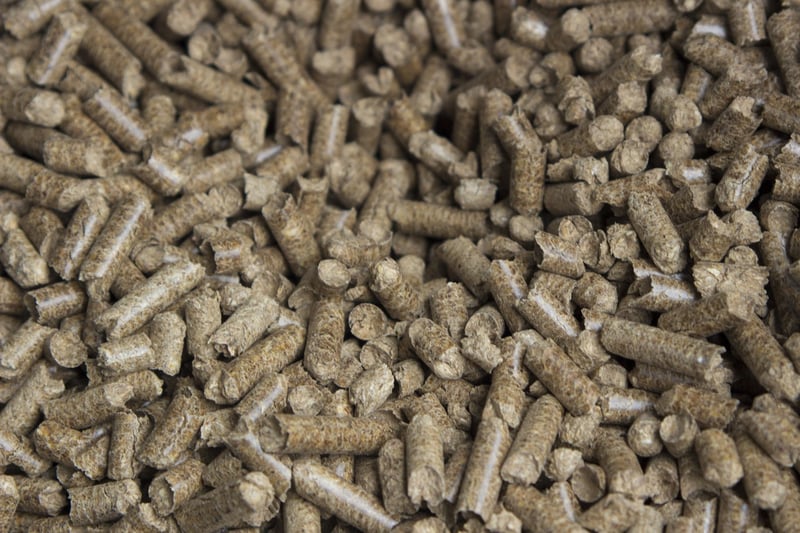 The second is temperature control. You just set it and the grill will maintain a consistent temperature even if the weather is unfavorable. It makes it easier to cook with since you don't have to worry about flare-up or burning due to temperature fluctuations like on a gas or charcoal grill.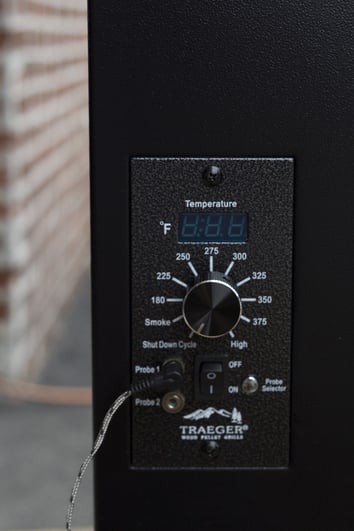 Traeger also has air convection. A 4-inch convection fan feeds the burning pellets air that allows them to burn hot and efficiently while circulating the heated, smoke-filled air around the food. The grill moves the heat around the meat just like convection style cooking in an oven.
This air induction system allows the grill to be "sealed" underneath which means that you can use it when it's windy (cold or warm) to smoke, roast, bake, and grill.
The last thing to note is the grease management system. It has a slanted grease tray that moves the grease out of the grill into a bucket. It is recommended to line the tray with tin foil for easy cleanup. This system also prevents flare-ups that can lead to ruined food.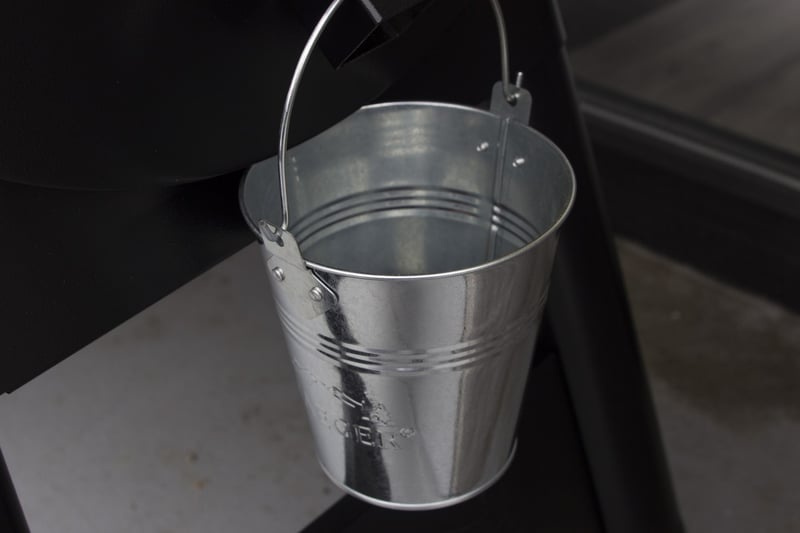 Traeger Grills are built to be easy to use and versatile. Use it as a grill, BBQ, smoker, or a wood-fired convection oven. All of which will have that wood smoke flavor. If you want great flavor, this is a good choice.
Should you replace your grill with a Traeger?
Maybe, it depends on what and how you like to cook.
It does take about twice as long as a normal grill to cook which is one of the reasons for the flavor. It is an electric grill (yes Bostonians, you can place this on your roof unlike propane), so its max temperature is about 500º and cannot quick sear food like a Lynx or Hestan grill.
If you like to grill and sear quickly, then this is not the product for you. However, for flavor and the ability to cook anything without flare-ups, then you should definitely consider a Traeger.
Additional Resources
Want more information about BBQ Grills? Download our BBQ Buying Guide for detailed reviews and up to date information on all the best brands. Well over 250,000 people have already used a Yale Buying Guide.
Related Articles:
John Ramsay V
John Ramsay V has been in major kitchen appliance sales for over 17 years. John enjoys Theology, politics and sometimes gets into trouble because of it!

Schedule a showroom visit with me
A Note About Pricing
Pricing on this blog is for reference only and may include time sensitive rebates. We make every attempt to provide accurate pricing at time of publishing. Please call the stores for most accurate price.